March 19, 2008
The Institute of Warranty Chain Management:
Membership opens this spring and certification courses begin in the fall. Yet some people still wonder why it's taking so long. The reason is a perceived need by the board to develop content and services to retain members before recruiting them.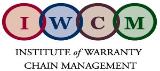 The imminent opening of the Institute of Warranty Chain Management and the proposed membership fee of $125 per year were hot topics at the recent Warranty Chain Management Conference.
Although they're separate entities, they're somewhat intertwined, most obviously in the form of the warranty world's leading couple: Alison and Glen Griffiths.
Speaking as president of the iWCM, Glen Griffiths delivered an update to the WCM on the imminent opening of the institute. But he began his presentation with a bit of a description of what Hewlett-Packard Co. has been doing to cut its warranty costs, which basically came down to creating a focus upon warranty by assigning people to the task of understanding and explaining it.
For instance, he said that a few years ago, HP was spending 4% of product revenue on warranty claims. Now, it spends around 3% of product revenue on warranty claims. However, during the intervening years, the company has grown from $74 billion to $104 billion in size, so the dollar amount spent on warranty has actually grown by roughly $90 million. How best to explain to top executives why that is a good thing?
"You call that success?" they might ask, he said. And it's basically those kinds of questions he wants to prevent from being asked, by creating a mechanism to help him explain why it really is a success, even if spending has gone up. "This is about arming our managers and our warranty professions with the right information," he suggested, so that they can properly answer those kinds of questions.
Griffith said it also helps explain why Hewlett-Packard has made such a big commitment to both the Warranty Chain Management Conference and now to the Institute of Warranty Chain Management. Paying some attention to the topic of warranty and shining some light upon it can turn it into a black art understood by few into a new type of science that can be replicated and compared and improved upon by thousands of warranty professionals using the same tools and metrics. What HP did to harmonize and normalize warranty metrics within its own company can someday be applied across other companies and other industries.
Opening Day Only Months Away
But if "When do the courses start?" was one of the top questions asked, "Why is it taking so long?" was one of the unspoken thoughts on many people's minds. But those anxieties are likely to dissipate soon, because membership is likely to begin in another two or three months while courses will be launched within six months.
Had the 14-month-old institute gone the route of employing full-time staff for its startup, events might have proceeded more quickly. "But we're a non-profit, so we've been set up by volunteers giving up their own time," Griffiths said.
Griffiths said that the reason membership has not yet been opened has to do with priorities. First, the institute wants to develop offerings that will attract and keep members, rather than the other way around. It's a bit of a chicken-or-egg situation, he suggested.
"As a Board of Directors, we don't want to open membership until we feel we have enough services to deliver to the members that they'll stay," Griffiths told the conference. "And it's taken us time to do that." But he and the rest of the board feel the timing isn't as critical as the content.
Towards that goal, the iWCM revamped its Web site in late February, upgrading it significantly from the structure it had previously. Visitors are now greeted with a flashy five-pane graphic that advances left to right using concise bullet points that detail Who We Are, What We Do, Why Join, Join Now, and Contact Us. At the top are nine more choices, half of which turn into drop-down menus upon mouse-over.
There's a tab for "members" that links to a screen asking for a user name and a password, and there's a tab for "training" that simply states, "coming soon."
Education, Training & Content
The institute exists, Griffiths said, "to promote the mission and the vision of warranty as a recognized profession." The mission to do that, he said, "is about providing a unified voice for advocacy at a later stage, and also to drive capabilities through standards development. And then we also will get to the stage of good and professional competencies via education and Webinars. But we're also working fairly heavily on building a knowledge base around warranty."
Griffiths said membership should open up in May or June. Individual memberships will be priced at $125 per year. He suggested that everyone add that amount into their warranty claims total now so they can expense it later, "and nobody will ever notice." But all joking aside, he said the institute wanted to make the fee affordable to a wide variety of people in a cross section of jobs and industries.
Corporate memberships will also be available, but final pricing has not yet been announced. One option under consideration is to increase the value and appeal of corporate memberships by coupling them with discounts on training. Griffiths said HP already does this with some other industry associations -- negotiating special rates for its employees by signing up for corporate memberships -- so that experience will provide a template for the institute.
HP also provides something of a template for the education and training plans of the institute, Griffiths said. He said that recently, an HP vice president lamented to him about the scarcity of qualified candidates for an opening in his division for the position of a warranty director. And worst, there was neither a certification program to help him screen in qualified candidates nor an education program to help someone make the jump into warranty from another closely-related field such as R&D or service.
"He had great people with fantastic track records, but none of the people knew even one of the processes that they'd be required to manage in the organization," Griffiths relayed to the conference attendees. "He had no candidates that really knew the end-to-end warranty chain and could provide evidence that they could work across the complexity in this area."
Build It Or Buy It?
That experience and others like it left HP with a stark choice: either spend a few years and a few million dollars to develop an internal warranty education capability itself, or rely on the institute to develop it and then pay to have it offered to HP's warranty professionals of tomorrow. And, he added, it's probably much the same dilemma facing human resources departments in the automotive, aerospace and appliance industries: how to we find and train warranty professionals?
Therefore, with HP's blessing, Griffiths and the institute will make it a priority to develop a robust and ongoing warranty training and certification process that will benefit a wide range of companies, including HP. Those who pay for corporate sponsorships may secure the benefit of playing host to the actual classrooms, rather than having to put its people up in a hotel in a nearby city.
Initially, the institute will offer three courses in the third quarter: one built around warranty fundamentals, one built around warranty metrics and benchmarking, and one built around warranty statistics and analytics. And then, Griffiths said, if those go well, the institute hopes to follow on with a few more courses by the end of the year, built around topics such as financial accounting, legal aspects of warranty, and perhaps design for warranty.
He said there are still some openings in the committees that are developing these courses, as there are in departments and committees across the institute. He said he's looking for a technical writer who can help the institute develop more content, and he's looking for people who can help take these courses into the online world.
"One thing I will say, and I will be frank with you," Griffiths added, "I am not looking for committee members and people who just want to watch what's happening. I actually want people who can get off their backside and do something."
And then Griffiths asked the several dozen people in the audience who were already deeply involved in the institute to get off their backsides and stand up, so that everyone else could see who they were. "My goal is next year everybody stands up," he said.
Seat Savers Need Not Apply
One worry he has is that some companies might seek to assign somewhat reluctant employees to join the institute, and then those employees express their unhappiness with the job by doing as little work as possible. "We're looking for a commitment from the individuals involved. Ultimately, we're not looking for people to represent their company but for them to represent themselves. Although we're looking for a broad set of perspectives from different industries."
The institute already has very good representation from the fields of computers and electronics, and is building up a slate of members from automotive, appliances, and aerospace, he said. He'd like to see more people come forth from the homebuilding industry as well as from the extended warranty side of these industries. But more than anything, what the institute needs are skills: people good at technical writing, people good with statistics, people from the legal community.
Earlier this week, reached by phone on the other side of the world, Griffiths said that in the two days following his WCM speech, quite a few of the 305 conference attendees stopped by the institute's booth to add their names to the list of volunteers and future members.
"Our short-term priority was to finish staffing up the current training modules that are under development, and we did achieve that," Griffiths said. "We also had a couple of companies express an interest in not only sponsoring the organization, but also around us developing more targeted training. We also had a couple of people come through and offer to fill some of the critical committee positions that we still had open. So all in all, it was a very good outcome. A lot of the team went away quite jazzed up afterwards."
Griffiths said that after the conference, he and Alison concluded that roughly two-thirds of the WCM 2008 attendees were not at any of the previous three annual meetings, which probably meant that they were hearing about the institute for the first time. He said that if he had it to do all over again, he might have spent more time in his speech going over the group's history, for the benefit of the new folks. But he consciously tried not to go over old ground, so as not to irritate the veterans.
"The ball is definitely moving forward," he said. "I'd be happier if it was moving faster. But as I'd mentioned at the conference, the key decision that we'd made as a board was to delay the opening until we were comfortable with the service offerings that we've got, rather than rush it to market."
He said the institute is now engaged in checking off items on a "go live list" that is comprised of critical milestones that need to be met before membership is opened. "There are some obvious things, such as that we have to be able to do credit card processing, and we have to decide on what kinds of membership cards we're going to have," he said. And then some things are already coming together, such as the increased breadth of white papers on the Web site.
Best Paper Award
To provide an incentive for warranty professionals to develop content for the institute, last year they decided to launch a best paper competition that culminated in an award ceremony directly after Griffiths completed his presentation.
"This is all about encouraging people to write about warranty, to talk about warranty, to get involved in warranty as a profession," he said.
The winner for 2007 is Sai Sundarakrishna, a research scientist in the General Motors Product Design Group located in Bangalore, India.
"The reason this paper won the award," Griffiths said, "is there is a lot of really good thinking behind it. It was very well-written, and very clear and concise. And we actually think that a potential standard could come out of this work in the future."
Sundarakrishna's paper delved into the psychological ramifications of a warranty event -- a topic that few others have explored. While it was somewhat heavy on the math, its conclusions were quite simple and straightforward. Sundarakrishna said he actually read about the call for papers while reading Warranty Week last summer. "I did not have any expectations" when he submitted the paper, but he said he did his best with it and hoped everything else would go well.
"Warranty Chain Management is one of the greatest initiatives I have seen in the warranty industry," Sundarakrishna later told Warranty Week. "And for the first-ever best paper award, winning that is really something."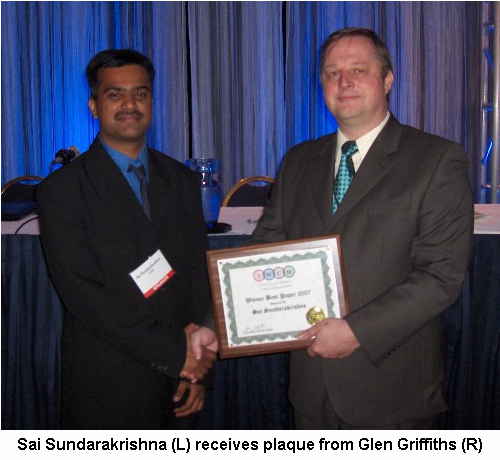 For his first place win, Sundarakrishna received a plaque from Griffiths along with airfare to and from San Diego, a room in the Hyatt, and complimentary admission to the conference. But Sundarakrishna said he's also looking forward to some non-financial benefits in the future. "For me, the biggest prize will be how do I take this forward, by building some cross-industry standards. That's the ultimate prize for me," he said.
Griffiths said the institute intends to present a best paper award every year. "One of the goals of the institute is to encourage literature and discussion around new warranty techniques," he said. If all goes well, the competition will open in August and close in December, he added.
Meanwhile, at the institute's booth in the back of the WCM dining hall, everyone wanted to know when they can take these certification courses. And while there's not yet been an announcement of a firm time and place, things are looking good for a fall 2008 launch. With fingers crossed, they're hoping to finish developing the content of at least the first three modules by late summer.
Introduction to Warranty
The introductory course in the suite is appropriately called Warranty 101, relying on the nomenclature of college-level courses to indicate its positioning at the entry level. The warranty metrics and warranty statistics courses are positioned as follow-on courses, and in years to come the institute will probably develop what amount to upper-level or even graduate-level courses aimed at experts.
Independent consultant Robert Mueller will be in charge of training development, while Daryl Kreskowiak of General Motors is developing the 101 module. Athena Insight's Dorothea Kuettner is heading the statistics and analytics module team, while HP's Camila Morrison is heading the warranty metrics and benchmarking effort.
Mueller, who retired from a decades-long career at Hewlett-Packard five years ago, is formally the chair of the institute's training and development subcommittee. As principle of RHM Associates in Menlo Park, Mueller has been performing consulting work for clients such as HP, Sun Microsystems and Agilent Technologies, around the topics of product development and warranty cost management.
"My background is to look at warranty as a mechanism for us to put real dollars and cents on the cost of quality," Mueller said. His background is also in physics and research, and more specifically, how to make hardware and software products more reliable. "But my real passion is how do we educate professionals in the warranty domain? There are a few books on it, but that's about it. There are no courses. There's none. Zip. Zero."
Mueller said he's tried to get some warranty courses going at places such as junior colleges, but those proposals haven't gotten very far. Basically, he sad, most college students don't yet recognize warranty as something they need to know about. "And that's something we need to change."
Following the ASQ Example
The institute wants these courses to give warranty professionals both a broad and an in-depth view of the warranty process, Mueller said. "In breadth, what we're thinking about in terms of certification is basically the foundational certification process, much as the Project Management Initiative does, or as the American Society for Quality does. We want to develop a similar base of a body of knowledge, training opportunities, and certification processes."
And much as is done with university degrees, Mueller said he's hoping the institute develops at least two levels of certification: basic and advanced. These three courses are designed for the basic level, but the follow-on courses will be more advanced.
Mueller is a current ASQ member and a former IEEE member, so he's compiled professional certifications for himself over the years in addition to his masters degree in physics. "I also teach actively at the community college level," he added, and has taught courses on behalf of the consulting firm Ops A La Carte LLC. So he's familiar with the process from both sides of the teacher's desk.
Camilla Morrison, a warranty program manager within HP's consumer ink jet business unit, is leading the development of a metrics and benchmarking training course. "This training is being set up not only to help educate people, but it's also part of the certification process that the iWCM is starting to put in place," she said. So yes, all that's taught definitely will be on the test.
On the Job Training
Morrison said she's been deeply involved in warranty benchmarking for at least four and a half years. And this is exactly the kind of course she said she wishes she could have taken back in 2003 when she was asked to develop an expertise in the warranty field.
"That's one of the things that motivates me to do this," she said, "to help others that move into a warranty position. Maybe they've been in other areas of an organization. But now they are working in a warranty role. Or maybe they need to work with others in warranty. I would like to help educate them about what's important -- what are some of the things that are 'got'chas' -- and just to help people to understand, because warranty costs are so important within an organization."
Morrison said one reason she's so involved in metrics is because it helps people gain visibility of a process that sometimes not so obvious. As the old saying goes, you can't manage what you can't measure.
She expects the first offering of the metrics course to be scheduled for the fall. "We'd like to get at least the content developed by then," she said. "And then we'd have to deploy the class. But that's a lot of different other work that different people will have to be involved with."
The first few iterations of the warranty metrics course will likely be conducted in person, probably in the form of an eight-hour class, but eventually Morrison said she hopes to also offer it as an online Webinar where the instructor would be in one city and the students would be watching on a screen at their desks, wherever in the world that might be. In that form, the course might be broken into multiple smaller units of a few hours each. But it won't be one of those self-paced Web courses, she added.
"My group is pretty well staffed," Morrison said. Her team now includes Mike Roberts from Ford, Tom Washburn from HP, Jeff Stewart from Takeuchi, Jim Kelly from Equiguard Inc., Sheila Cardines from Caterpillar, and Slade Rowland from Glynn General, she said. Although so far nothing is set in stone, some of those folks may want to adapt and customize the course to fit their own internal training needs, as will other corporate members.
Meanwhile, the statistics and analysis working group, with Dorothea Kuettner as its chair, also includes Tavant's Ed Staats, Aculocity's Vadim Kozyrkov, Jamie Riggs, and USC professor Wallace Blischke. The warranty 101 effort chaired by Daryl Kreskowiak also includes Brian Berg from MediaKube and William Eliason from Sun Microsystems.
Next Steps
Griffiths said almost everything the institute does for the rest of the year will be put towards one of three major goals: opening membership, launching the courses, and developing content. Towards that latter goal, he said, at least two more initiatives are in negotiation.
"We're actually in negotiation with Manufacturing Insights," Griffiths noted, "and we're looking at whether we'll get discounts to some of their reports." He said the board is also working on a deal allowing the institute to post some warranty-themed papers written by members of the Institute of Electrical and Electronics Engineers Inc. in return for those authors receiving iWCM membership cards.