June 5, 2008
Green Warranties, Part Four:
Solar cell manufacturers betray their youth and inexperience when it comes to warranty accounting. Very long warranties, new technology and rapidly increasing sales don't make their jobs any easier.
Ultimately, whether your talking about gasoline or biofuels, diesel or coal, it all goes back to the power of the sun, and the process by which plants are able to store that energy like a battery. "Green energy" sources such as wind or hydropower depend upon the weather, which again depends upon the sun.
With the exceptions of nuclear power (atomic fission), geothermal (the earth itself) and tidal power (the moon with an assist from the sun), virtually every type of energy we use depends on our ability to tap the sun's power by reversing the chemical processes that stored it away in the first place. So why not cut out the middleman and go directly to the source?
Solar power currently depends upon photovoltaic cells, which for the past 50 years or so have been built with some of the same materials used to manufacture semiconductors. When the sunlight hits the cells, they give off an electrical charge, which after some filtering and processing can be used to power electrical equipment. Early units were able to convert only about 1% of the sun's energy into electricity, but today's technology has boosted that rating up to 28% efficiency. And some of the latest prototypes promise to boost that efficiency rating above 40%.
Sometimes the solar cells are used where there's no other source (satellites, water pumps, remote monitoring devices) and sometimes the solar cells are installed on the roof or in a field and plugged into the existing electrical grid. Homeowners with such systems installed frequently report that their electric meters run backwards, as they sell their excess power to the local electric company. Other systems have ways to store the energy for use at night.
The Solar Supply Chain
As in the computer or automotive industries, there are the companies that sell complete solar cell systems to end users, and then there are their suppliers. And as is the case within the broader semiconductor industry, there are companies making the devices and then there are the companies that make the machines that manufacture the devices. The big difference is that solar energy technology is still relatively new, and many of the companies in this supply chain are barely out of the start-up phase. And even among the veterans, more than half their sales have taken place in the past two years, meaning that there's a slim amount of field experience and relatively few installations that are more than a tenth of the way through their predicted lifespans.
As in other industries, the combination of young companies and new technology results in long warranties. Warranty durations of up to 25 years are common, and five-year warranties are actually a bit on the short side. While it's ironic to hear of companies born in 2004 touting warranties that will last until 2033, the truth is that pioneering customers need that reassurance in order to feel good about the predicted longevity of the technology they're about to buy. Whether any of these companies live long enough to see their warranties expire through natural causes is an entirely different question to ponder.
We looked at a dozen publicly traded American companies that are part of the solar energy supply chain in one way or another. We wanted to determine whether there is such a thing as a "typical" or "normal" rate of warranty in the industry, as there seems to be in aerospace, appliances, computers, and automotive. But what we found was that few of these companies' warranty accounts are stable enough to measure. Five didn't even bother to report their warranty expenses, leaving us with only the seven examples detailed below.
In addition, sales are growing so swiftly that the bulk of any given company's future warranty expenses won't become material until these brand new installations are at least a few years old. Industry growth rates have been better than 40% a year this decade, leading to price increases for the raw materials and a near-shortage in some cases. Now, with the spike in the cost of fossil fuels and the increasing interest in emission-free sources of energy, a hot industry is only getting hotter, if you'll pardon the pun.
Adolescent Accounting?
When you look at the warranty accounting of hundred-year-old companies like Ford, or even when you look at mature computer companies, their stability can be seen through the flatness of the lines that measure the ratio between sales and warranty expense. Warranty claims rates may go up or down, but not by much, and there's not a lot of change from one year to the next.
None of the charts below can be called stable. There is no typical or normal rate of warranty in the solar energy industry because it hasn't been around long enough to leave a trail. Some of these charts look like they were drawn by oversugared toddlers with permanent markers. Even the thirty-something-year-old track record of Applied Materials Inc. (Figure 8) looks more like the purple mountains than the fruited plains. And Applied Materials is only partially in the solar business.
Let's start our solar warranty tour with SunPower Corp., the San Jose-based makers of everything from home-sized solar cell systems to entire solar-driven power plants. Sales have skyrocketed from under $11 million in 2004 to nearly $775 million last year. And warranty expense is beginning to follow a similar incline.
In Figure 1, we also see what we'll call the "solar effect," where young companies set aside absurd and seemingly arbitrary amounts of initial sales revenue as warranty accruals, and then reduce those rates to sensible levels as sales ramp up. SunPower reported no warranty claims until late 2005 ($17,000 in the third quarter), yet by the middle of 2006 it had nearly $2 million in its warranty reserve fund, thanks to a persistent habit of overaccruing.
Figure 1
SunPower Corp.
Warranty Claims & Accruals, 2003-2008
(in percent of sales and millions of dollars)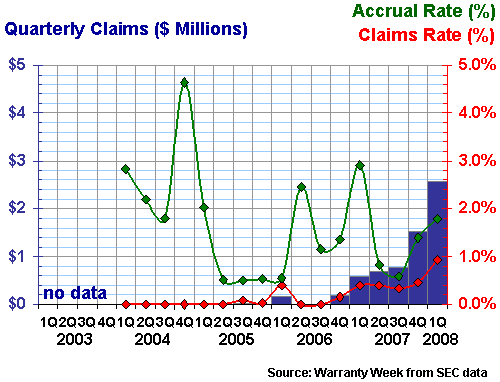 Of course, the company is warranting relatively new technology for periods up to 10 years, so perhaps it made sense to set aside 3% or even 4% of sales just in case its performance didn't live up to its billing. And in fact, in 2007 and 2008 as warranty expenses began to grow, the company displayed a more realistic approach to accruals, keeping the rate below 2% of sales.
Evergreen Solar (Figure 2) is an even more extreme case of a company preparing for the worst, only to see it never arrive. Yes, there is actual data on the chart below for all of the past five years. But except for 2007, there have been no reported warranty claims. And in 2005 and 2006, there were no warranty accruals either. And its warranty reserve fund balance stood at $705,000 for multiple years, until the company added $92,000 to it in early 2008. And there were no warranty claims, so the balance grew to $797,000.
Figure 2
Evergreen Solar Inc.
Warranty Claims & Accruals, 2003-2008
(in percent of sales and millions of dollars)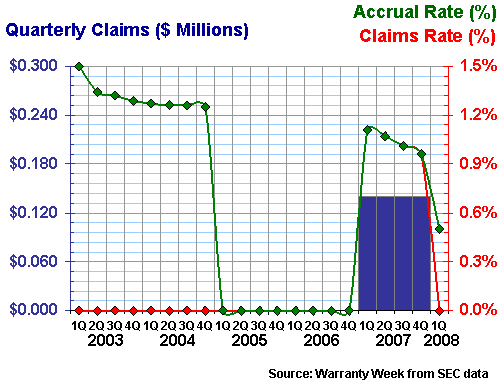 In its annual report, Evergreen directly addresses the uncertainty which it faces when it comes to predicting future warranty expenses:
Problems with product quality or product performance may cause us to incur warranty expenses and may damage our market reputation and prevent us from achieving increased sales and market share.

Consistent with standard practice in the solar industry, the duration of our product warranties is lengthy. Our current standard product warranty includes a five-year warranty period for defects in material and workmanship and a 25-year warranty period for declines in power performance beyond specified levels. We believe our warranty periods are consistent with industry practice. Due to the long warranty period, we bear the risk of extensive warranty claims long after we have shipped product and recognized revenues. Although we have sold solar panels since 1997, the substantial majority of them have been operating for less than two years. The possibility of future product failures could cause us to incur substantial expenses to repair or replace defective products. Furthermore, widespread product failures may damage our market reputation and reduce our market share and cause sales to decline.
In other words, it pays to be cautious when you're guaranteeing products for decades to come. But that $705,000 reserve was built in years where sales totaled $30 million. How exactly would that amount still be sufficient to cover the $160 million in product sales made in 2006-07?
Solar Laminates
Energy Conversion Devices is in the solar business through its United Solar Ovonic LLC subsidiary, which makes lightweight yet durable solar panels that are installed on roofs using a peel-and-stick method. The materials are warranted to retain more than 80% of their rated power output for 20 years.
Sales of the solar panels have steadily increased, from $58.7 million in fiscal 2005 to $87.5 million in 2006 and $98.4 million in 2007. Warranty expense has gone in the other direction, peaking at just under $500,000 in calendar 2004 and falling under half that amount in calendar 2005. The seemingly excess accruals made in 2003, as seen below in Figure 3, were reversed in fiscal 2005 and 2007 through withdrawals of funds from the reserve fund.
Figure 3
Energy Conversion Devices Inc.
Warranty Claims & Accruals, 2003-2008
(in percent of sales and millions of dollars)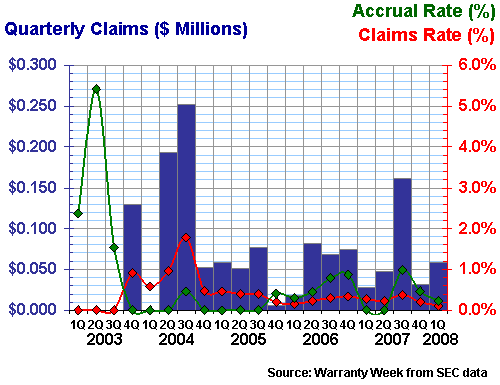 Were it not for the spikes in 2003 and 2004, the company's warranty expenses would be relatively stable. In the past 42 months, the company's claims rate has remained within a tight band of 0.1% to 0.5%, while accruals have remained in a range between 0.2% and 0.8% (except during quarters in which the company removed funds from the reserve). It's as if the company went through a learning curve before figuring out its warranty equilibrium.
And that's perhaps the story for the whole solar energy industry. Young companies selling low volumes of new technology want to impress customers with boasts of longevity, but they don't figure out what those guarantees really cost until they go through a few years of trial and error.
First Solar (Figure 4) provides yet another example of this phenomenon. In calendar 2004 the company set aside $1.9 million to finance future warranty expenses, equal to 14% of that year's $14 million in sales. In calendar 2005, sales more than tripled to $48 million and the company set aside one-third as much, dropping its accrual rate to 1.3%. And the claims rate has yet to exceed 1.3%, so the warranty reserve fund has grown and grown, exceeding $9.2 million by the end of March 2008.
Figure 4
First Solar Inc.
Warranty Claims & Accruals, 2003-2008
(in percent of sales and millions of dollars)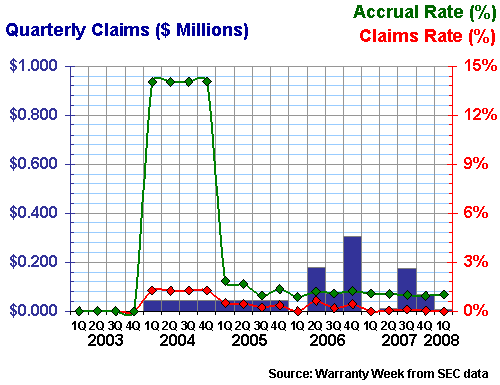 Claims also dipped, leaving the company with a reserve fund capacity that most recently surpassed 3,400 months. In other words, if you're paying out around $2,670 a month in claims, $9.26 million is going to last for almost 290 years. And if that sounds absurd, at the end of March 2007 the company held $3.36 million in its reserve while paying out $333 a month. That would have lasted them 839 years.
Solar Water Pumps
WorldWater & Solar Technologies Corp. is a company that specializes in solar-powered water pumps, used in remote locations where neither electricity from the grid nor fuel for the generator is a viable option. The company's AquaMax systems are also being installed as a backup power source for municipal water pumping stations, to be used in case of a blackout. That job normally falls to diesel generators.
As can be seen in Figure 5, WorldWater's claims spiked during the second quarter of 2007, and the company's claims rate briefly touched 4.4%. Or to put it another way, nearly half the claims the company has paid out in the past five years were paid out during that quarter.
You really have to struggle to see the claims paid in 2005, a year in which the claims rate stood close to 0.2%. There were no claims reported in 2003 or 2004, yet the company's accrual rate varied from 0% to 2% during that period. Lately, though, the company has kept its accrual rate close to 1.6%.
Figure 5
WorldWater & Solar Technologies Corp.
Warranty Claims & Accruals, 2003-2008
(in percent of sales and millions of dollars)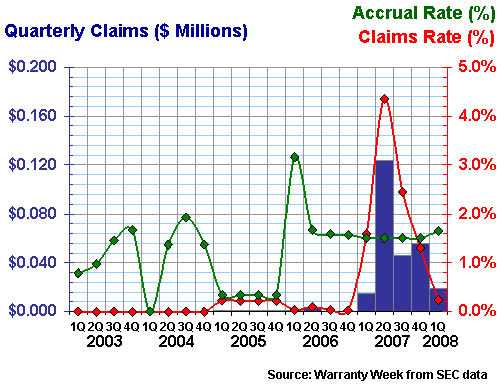 Akeena Solar Inc. was formed in 2006 through the merger of Fairview Energy Corporation Inc. and Akeena Corp. In the nine quarters for which warranty data has been reported, the company's claims rate exceeded 0.3% just once, and its accrual rate has never been below 0.3%.
As can be seen in Figure 6, that one bad quarter accounted for more claims than all the other quarters combined. This is what happens with new technologies sold at low volumes. The cost of a few warranty repairs can't be averaged across millions of units, so the claims rate spikes. But that still doesn't explain why the company was accruing at such a high rate before that quarter, and why it accrues at half that rate now.
Figure 6
Akeena Solar Inc.
Warranty Claims & Accruals, 2003-2008
(in percent of sales and millions of dollars)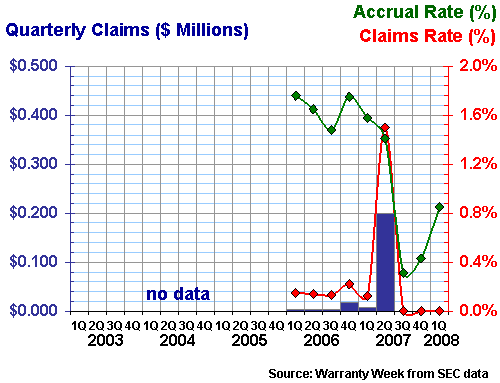 Something very similar happened at Spire Corp., which saw claims soar in the second quarter of 2006, only to fall back again in 2007. Interestingly, the company had for three years kept its warranty reserve at precisely the $50,000 level, by adding back in accruals that were exactly equal to the amounts paid out in claims. In 2003, claims equaled $22,107 and so did accruals. In 2004, claims equaled $18,676 and so did accruals. In 2005, claims equaled $29,650 and so did accruals.
If the company were actually calculating accruals based on the future warranty cost predicted for current sales, this is about as likely to happen as a coin landing on its side. But from the numbers, it's more likely that the company decided to maintain a $50,000 reserve fund balance, and to do that it added funds at precisely the same rate they were being spent. So the red line for the claims rate has disappeared behind the green line for the accrual rate, until they separated in early 2006.
Figure 7
Spire Corp.
Warranty Claims & Accruals, 2003-2008
(in percent of sales and millions of dollars)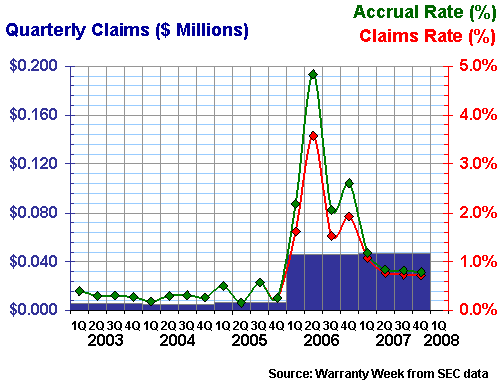 The last two years have seen Spire's claims jump noticeably, but so have the company's sales of photovoltaic solar cell manufacturing equipment, solar cell testers and assemblers. The company states that its manufacturing equipment has been installed in approximately 190 factories in 50 countries. It also makes some solar cells itself, as well as some medical equipment, but the solar cell manufacturing equipment accounts for around 60% of total revenue.
The solar cell manufacturing equipment is warranted for one year on parts and 90 days on labor. The solar cells are also warranted for one year for parts, but are warranted to retain at least 80% of their rated electrical power output for 20 years. The company also has a medical business unit that makes catheters and a semiconductor fabrication operation that makes both solar cells and custom chips. Warranty expenses from these operations is likely to be minimal.
So those are the seven publicly-traded and U.S.-based solar cell manufacturers that report warranty expenses. There are others based in China and in Europe, but their warranty expenses are not disclosed.
Two More Examples
We have two more examples, but these are warranty snapshots of companies for which solar is only part of their product line. So it's unlikely that a major portion of their warranty expenses arise from sales of solar cells or solar manufacturing equipment. Still, they're in the industry, so we thought we'd include them here.
Applied Materials has been in the semiconductor fabrication equipment business since 1967. But it didn't enter the solar cell manufacturing equipment business until 2006. And while sales in the company's Adjacent Technologies segment have soared thanks to increasing interest in its solar cell manufacturing equipment, that unit's sales still comprises less than 3% of total company revenue. So very little of the data in Figure 8 pertains to solar energy.
Still, the warranty data in Figure 8 more closely approximates the image generated by a stable company than any of the seven charts that precede it. First, neither the claims rate nor the accrual rate have ever hit zero, and second, claims and accruals shadow each other without ever precisely duplicating each other. And while there are definitely peaks and valleys in the image below, there are none of the wild gyrations one can see in Figures 1 through 7.
Figure 8
Applied Materials Inc.
Warranty Claims & Accruals, 2003-2008
(in percent of sales and millions of dollars)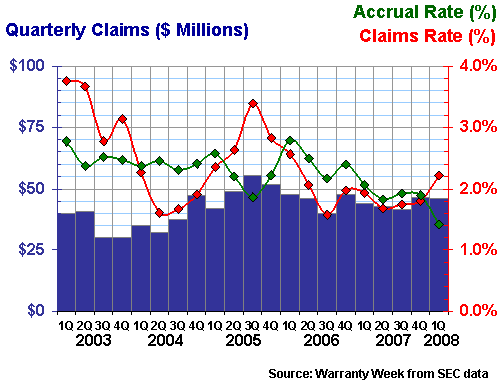 Call it a coincidence, but ever since the company entered the solar energy industry its warranty expenses have both stabilized and decreased. Since the beginning of 2006, claims have remained within a range of 1.6% to 2.6%, and claims per quarter have remained below the $50 million level.
While Applied Materials is primarily in the manufacturing equipment end of the solar business, Cypress Semiconductor is more of a semiconductor manufacturer. And in fact, its involvement in the solar industry comes primarily through its majority ownership of SunPower Corp., the company depicted in Figure 1.
SunPower maintains its own warranty reserve, so those expenses are unlikely to be included in the data below. But again, we present them just for the sake of showing what the warranty snapshot of a mature and stable company looks like.
Figure 9
Cypress Semiconductor Corp.
Warranty Claims & Accruals, 2003-2008
(in percent of sales and millions of dollars)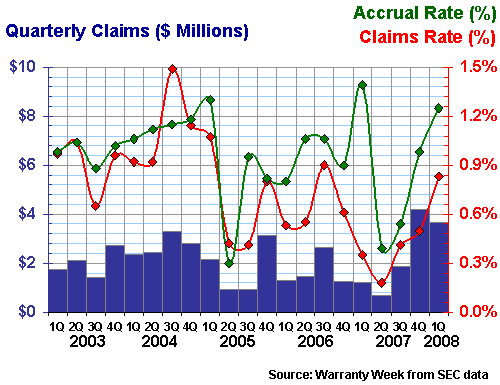 Actually, come to think of it, there's hardly a flat line to be found in Figure 9. At Cypress, warranty expenses always seem to be either soaring or plummeting. So maybe stability and maturity are still in the future for both the semiconductor industry and the solar cell segment within it? Perhaps the technology is changing so fast in both industries that neither can predict their warranty expenses with any degree of accuracy?
Made in the Shade?
While most would agree that solar energy has a bright future ahead of it (sorry, another bad pun), we again have to marvel at the degree to which some of these few-year-old companies rely on 20- or even 25-year warranties. And as common as it is to read that "Solar Company X is the next Microsoft," the list of mature and stable companies already dabbling in the solar industry makes one wonder how much opportunity exists for one small company to grow into such a dominant role.
We failed to find any pattern in the warranty expenditures of these companies, except that there seems to be a pattern of chaos, of seemingly arbitrary guesses and approximations, and of sudden starts and stops to both the inflows and outflows from the warranty reserve fund. Marketing hype aside, which of these first seven charts looks like a long term winner?