June 27, 2008
Computer Warranty Providers:
Like a dog that doesn't bark, what hasn't happened to the likes of Apple, Seagate, and other warranty providers in the computer industry is more remarkable than what did. Meanwhile, HP, Sun, IBM, 3Com and Cisco continue to slowly but surely reduce their warranty costs.
Warranty claims in the computer industry continue to fall as a percentage of revenue, though some of the individual companies have recently seen an upturn.
U.S.-based computer makers reported $1.36 billion paid in warranty claims during the first quarter of 2008, up slightly from the $1.30 billion reported in the first quarter of 2008 but down as a percentage of product revenue: 2.7% this year vs. 2.9% last year.
To finance future claims, U.S.-based computer makers also set aside a little more in accruals, but because of increasing sales, it amounted to a slightly lower percentage of their product revenue. Accruals in the first quarter amounted to $1.40 billion, up from $1.26 billion. But as a percentage of revenue, the accrual rate fell from 2.8% to 2.7% in this year's first quarter.
It doesn't sound like much, and perhaps that is the theme of this week's newsletter. Although the high tech computer-and-telecom sector is the second-largest source of warranty expenses after automotive, it is a sector where warranty changes come slowly, because the expense is managed so closely and a high degree of automation is a given.
Not Prone to Big Changes?
Eighteen of the 110 companies we include in the computer, data storage, and telecom/datacom sectors are among the largest companies covered in the recent Top 100 Warranty Providers newsletter on June 12, but only a handful made it into any of the top ten lists. Why? They're not prone to big changes in their warranty expenses -- neither up nor down -- because stability is so tightly maintained in terms of both product quality and the cost of repairs.
As in the recall-plagued automotive industry, when something goes wrong in computer manufacturing, you read about it, be it cracked screens, bad batteries, or overheating graphics coprocessors. And while some of those maladies have impacted some of the companies described below in the past, so far 2008 has been a relatively quiet year. So let's celebrate this relative stability and lack of change by highlighting the warranty story of ten of the top warranty providers within the computer. data storage, and datacomm industries.
Hewlett-Packard is by far the largest warranty provider in the computer industry, paying out more in claims last year than Dell, IBM, and Apple combined. But HP also has the revenue to spread those expenses around, so it ends up paying out only 3% or so of product sales in a typical quarter.
In Figure 1 below, two trends are immediately apparent. First, HP used to pay out more than 4% of its product revenue in warranty claims, before a concerted effort was made to cut these warranty expenses. Second, that downward trend has now reversed itself, with both warranty claims and warranty accrual rates creeping back upwards in late 2007 and early 2008.
Figure 1
Hewlett-Packard Co.
Warranty Claims & Accrual Rates, 2003-2008
(as a percentage of product revenue)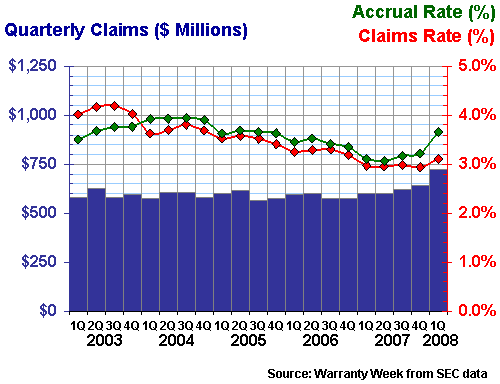 We should note that the HP fiscal year ended in October is counted here as the calendar fourth quarter, and the fiscal first quarter ended in January is counted as the calendar first quarter. Dell in Figure 2 below ends its fiscal year in January, so what it calls the fourth quarter is transposed here to the calendar first quarter. In all cases, the quarter ended in January, February, or March 2008 is counted as the calendar first quarter, unless the quarter ends in the first week of January (in which case it is counted as the fourth quarter of calendar 2007).
Another Unremarkable Warranty Story
The Dell figures are further complicated by an accounting restatement that we covered in depth in a November 7, 2007 newsletter. For years, Dell used to mix its product warranty and extended warranty figures together in its Form 10-K and Form 10-Q financial reports, but since then it has provided separate accounting for each. We've been able to go back and retroactively correct the record back to 2005, but the figures for 2004 and 2003 remain estimates.
Outside of that restatement, Dell's warranty story is also relatively unremarkable, except for the massive spike we see in Figure 2 that was reported for the quarter covering August, September, and October of 2005. By the way, because Dell isn't as forthcoming as some of the other manufacturers about the split between hardware, software, and service, we've used our own estimate for Dell's warranted product revenue, which is used in the fraction to calculate the claims and accrual rates.
Figure 2
Dell Inc.
Warranty Claims & Accrual Rates, 2003-2008
(as a percentage of product revenue)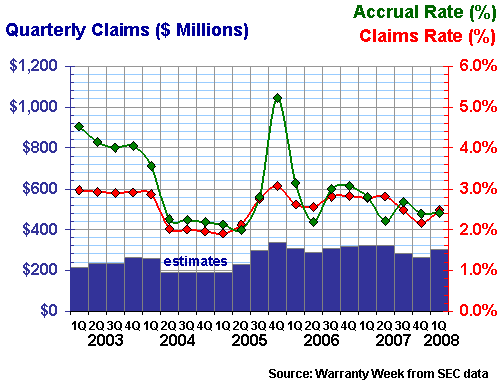 It would not be prudent to compare one company against another, however. Dell's most recent claims rate of 2.5% does not in and of itself mean that it makes better computers than HP (3.1%), IBM (3.2%) or Sun Microsystems (3.7%). First of all, the product line is different, tending more towards the consumer end of the business where shorter warranties are more common. Second of all, we can't be sure what is and isn't being counted as a warranty expense by each company, although we have to believe they've been consistent over time.
Third of all, these charts don't say much about the changes in these product lines, such as when HP and Dell backed away from the handheld class of computers that have cause such a headache for Palm Inc. (see Figure 10) or when IBM sold off its laptop line to Lenovo in May 2005. In regulatory disclosures right before that sale, Lenovo noted that the ThinkPad's warranty costs were much higher than IBM's as a whole, which explains why IBM almost immediately began reducing its accrual rate once the sale was final.
Figure 3
IBM Corp.
Warranty Claims & Accrual Rates, 2003-2008
(as a percentage of product revenue)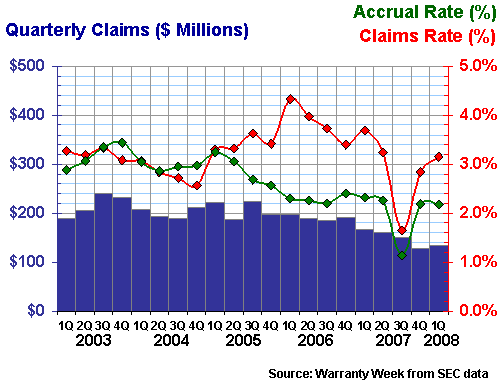 The claims rate always lags behind the accrual rate, however, because accruals are figured as a percentage of current sales based on future expectations, while claims are more or less what it costs this year to fix computers sold last year. IBM did eventually see a drop in its claims rate to 1.65% during the third quarter of 2007, but it's since bounced back to the 3.0% range. Except for that one-quarter dip, accruals have remained in the 2.2% to 2.4% range for the past two years.
Sun Microsystems, on the other hand, has turned in a relentless downward trend for much of the past five years. It hasn't been enough to ever rank the company in the top ten in terms of annual cost reductions, but for the record the company has cut its claims rate by 14% since the first quarter of 2007 and has reduced its accrual rate by 7% during the same period. It also has reduced its warranty reserve balance by more than 9%, freeing up around $21 million to be applied towards other expenses.
Figure 4
Sun Microsystems Inc.
Warranty Claims & Accrual Rates, 2003-2008
(as a percentage of product revenue)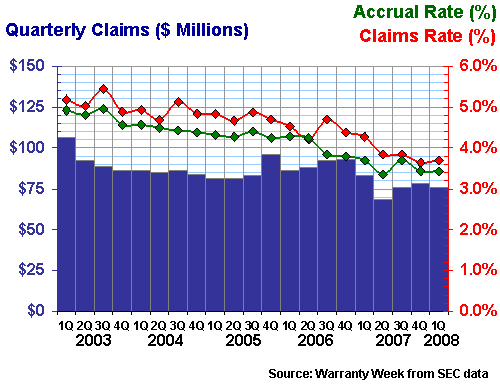 Apple is perhaps the best example of damage control in the computer industry. In Figure 5, one would have to look hard to find any evidence of the iPod's alleged defects, which were covered in the press in recent years almost as relentlessly as the Microsoft Xbox 360's red ring of death. And as problem-plagued as handheld devices are known to be (again, see Figure 10), there's scant evidence here that last year's launch of the iPhone has caused warranty costs to soar.
In contrast to Dell, Apple is very forthcoming with information about its hardware, software and service revenue split, so we're not mistakenly including song downloads or other non-warranted revenue sources in these calculations. Granted, Apple's warranties tend to be shorter than others selling into the business and education markets, but what's truly remarkable is how what could have turned into a warranty crisis was instead managed as a fixable problem. And as the most recent year's worth of data suggests, the problems are now in the past.
Figure 5
Apple Inc.
Warranty Claims & Accrual Rates, 2003-2008
(as a percentage of product revenue)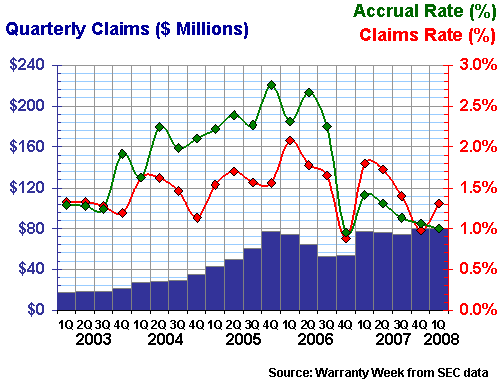 The Cisco Systems chart isn't as flat as HP's or Sun's, but it's sloped in the same relentlessly downward direction. And again, Cisco has reduced both its claims and accrual rates, but not by enough to rank it a mention in any top ten list. The claims rate is down from 1.6% to 1.4% from the first quarter of 2007 to 2008, while the accrual rate is down from 1.7% to 1.5% during the same period.
Figure 6
Cisco Systems Inc.
Warranty Claims & Accrual Rates, 2003-2008
(as a percentage of product revenue)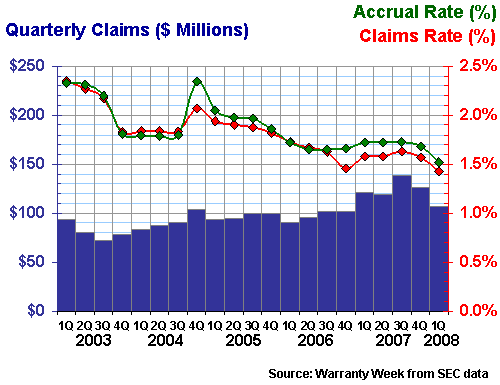 The telecom/datacom equipment industry, it should be noted, has seen exactly the opposite trend. The claims rate and accrual rate for the 84 companies in this sector has climbed during the past year, from a weighted average of 1.5% to 1.7%. Among the larger players, declines by Cisco, Juniper Networks Inc., UTStarcom Inc., and 3Com Corp. were more than offset by big increases for Nortel Networks Corp., Garmin Ltd., and Netgear Inc.
Speaking of 3Com, look at the story of the past three years for this maker of datacom gear. Back in 2004, the company's claims rate almost touched six percent while in 2003 it was accruing almost 5.5% of its product revenue to finance future warranty claims. Now its claims rate is 3.3% while its accrual rate is 3.1%. But as silent as the company was in those years about how high its warranty costs used to be, so it is silent now about the progress it's made. Sorry, 3Com, it's your turn to be in the spotlight.
Figure 7
3Com Corp.
Warranty Claims & Accrual Rates, 2003-2008
(as a percentage of product revenue)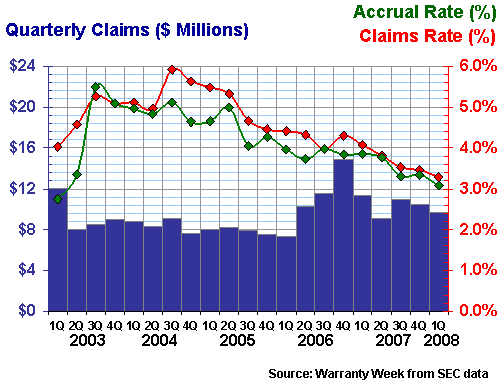 Year over year, both 3Com's claims rate and accrual rate are down by around 20%. That wasn't enough to get the company onto any of the top ten lists in the June 12 newsletter, but it's still quite an achievement.
Diverging Claims and Accrual Rates
Turning to the data storage industry for a moment, there's a strange divergence under way in that the overall claims rate is down while the overall accrual rate is up. Both of the industry players we've spotlighted below helped set the direction of this trend. Seagate has seen its claims rate fall 40% in the past year, yet it has raised accruals by 17% during the same period. Western Digital has cut its claims rate by 9% but has raised its accruals rate by 2%.
The trend for Seagate's accrual rate, in fact, has been upwards for several years, as can be seen in Figure 8. In fact, one could almost spot the moment the merger with Maxtor took place (it closed on May 19, 2006, as marked by the big jump in second quarter 2006 claims). What's notable is how that upward trend of two years ago has now given way to the downward trend of the past year, as if the parent company has finally gotten a handle on its acquisition's quality problems and warranty expenses.
Figure 8
Seagate Technology
Warranty Claims & Accrual Rates, 2003-2008
(as a percentage of product revenue)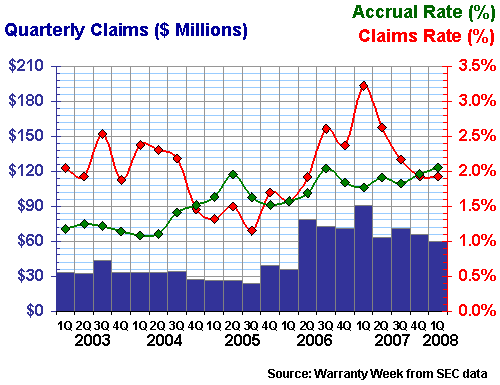 Western Digital made no such move to acquire a major competitor, though it did join in with Seagate and others in the move to lengthen disk drive warranties to as long as five years. But the expected spike in warranty costs that should have followed that move is nowhere to be found in Figure 9. Again, as with Apple, what's remarkable is what didn't happen.
Figure 9
Western Digital Corp.
Warranty Claims & Accrual Rates, 2003-2008
(as a percentage of product revenue)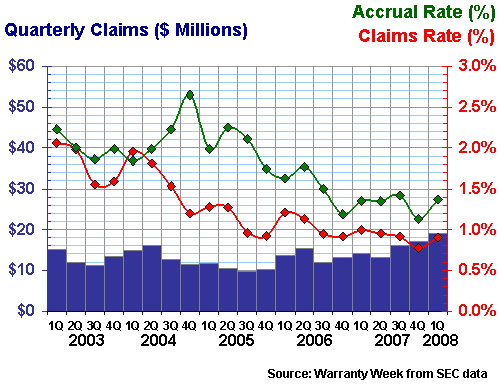 By the way, as that June 12 newsletter went to press, Quantum Corp. had yet to file its annual report with the U.S. Securities and Exchange Commission. It did so the next day, revealing a 25% increase in its claims rate and a 28% increase in its accrual rate. Fortunately, a dozen other companies reported even bigger increases, so Quantum would not have made it onto any of the top ten lists featured in that newsletter.
No News Is Good News?
We didn't want to make this newsletter completely about no news being good news, however (or is it good news being no news?). And we've flogged the Xbox 360 so much in the past year that we thought it should be someone else's turn for a change. And so, as has been much-alluded to, in Figure 10 we spotlight the deteriorating warranty situation at handheld computer and smart phone maker Palm Inc.
There are some situations, such as with computer printers, where the high cost of warranty has more to do with low initial hardware prices and a reliance on the sale of aftermarket supplies for profits. This isn't one of those. Palm long ago separated its hardware sales from sales of the operating system and software. And it's never held a stake in the carriers that provide the wireless services. So this is a pure hardware-only warranty cost calculation.
In our opinion, what you see in Figure 10 is a company in crisis. Any time a claims rate goes above 5%, something is not right. And when it goes above 8%, one should call the fire department. But at this point, a 5% claims rate would be a return to normal for Palm.
Figure 10
Palm Inc.
Warranty Claims & Accrual Rates, 2003-2008
(as a percentage of product revenue)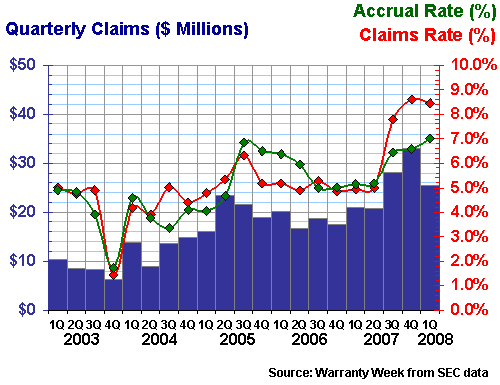 Palm kept its claims rate close to that 5% red line for seven quarters before it spiked to the current range. And its accrual rate has never been higher, at least not since warranty reporting began in 2003. So what the company is saying with a current 7% accrual rate is that it expects to spend at least that much on the units it sells now, which means it doesn't see claims falling back to the "normal" range soon.
HP and Dell were wise to back away from the handheld industry, which seems to attract trouble like a horseshoe magnet attracts iron, and of course IBM is now free of the laptop's higher-than-average warranty expenses. In general, the smaller the computer the higher its warranty costs. But again, isn't it remarkable that neither the iPod nor the iPhone seems to have ruined Apple? And isn't it remarkable that the move to five-year warranties doesn't seem to have ruined the disk drive makers? Sometimes what doesn't happen is more interesting than what does.