July 24, 2008
Aerospace Warranties:
Though the industry trend is upward, some aerospace companies have managed to reduce their warranty expenses significantly over the past five years. But a few have recently seen their warranty costs go back up.
After jumping 11% last year, warranty claims in the aerospace industry were up again during the first quarter of 2008. The reported claims of some 51 aerospace companies topped $472 million in the quarter, up almost 23% from the first quarter of 2007.
Though product sales were also up, claims rose faster, so the collective claims rate of these companies inched up from 0.9% to 1.0%. The accrual rate was also up, to 1.1% from 1.0% a year ago, as accruals rose from $385 million to $486 million.
In the chart below, the upward trend is obvious. For the past four quarters in a row, both claims and accruals have rose, both in raw dollars and as a percentage of sales.
Figure 1
Aerospace Manufacturers
Warranty Claims & Accrual Rates, 2003-2008
(in $ millions and % of sales)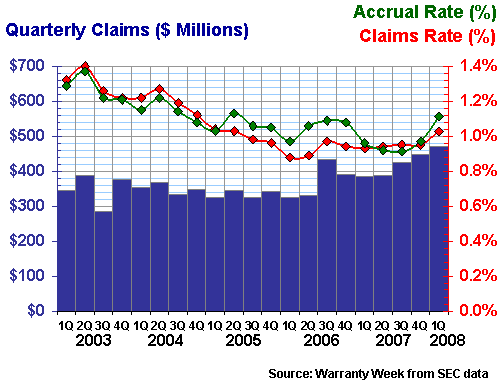 Big jumps were seen in the claims rates of B/E Aerospace Inc. (+422%); Garmin Ltd. (+89%); Teleflex Inc. (+54%); United Technologies Corp. (+27%); and Boeing Co. (+25%). Big declines in the claims rate were seen for FMC Technologies Inc. (-48%); Goodrich Corp. (-25%); General Dynamics Corp. (-21%); DRS Technologies Inc. (-15%); and Rockwell Collins Inc. (-13%).
The claims rate is computed by dividing reported claims by product sales. Very long warranties are common in the aerospace industry, however, which means that the claims may have been paid on products sold five or even ten years ago. Also, when sales increase or decrease, it has a major effect on the claims rate, even when the amount of claims paid remains constant.
Changes in Accrual Rates
Accruals are more proportional to current sales, in that the money is set aside at the time a product is sold. When these percentage rates change, it's not because of sales volumes. Instead, it has more to do with changes in the product mix, in product quality, or in the expected future cost of repair.
With that in mind, big jumps in accrual rates were reported by Teledyne Technologies Inc. (+87%); Garmin Ltd. (+74%); United Technologies Corp. (+45%); DRS Technologies Inc. (+40%); and Harris Corp. (+27%). Big decreases in accrual rates were reported by Teleflex Inc. (-41%); General Dynamics Corp. (-32%); Rockwell Collins Inc. (-24%); Trimble Navigation Ltd. (-17%); and Textron Inc. (-15%).
The size of the warranty reserves kept by the 51 companies also grew in the first quarter, though they've been close to $4 billion for the past year. However, in proportion to claims paid, they've been decreasing over that time period, as shown in the chart below.
A year ago, aerospace companies maintained a warranty reserve of $3.9 billion at a time when they were paying out $128 million in claims per month, meaning that their reserves were equivalent to more than 30 months of claims. But in the first quarter of 2008, they paid out claims at a rate of $157 million per month, so that ratio between claims and reserves had dropped to 25.6 months.
Figure 2
Aerospace Manufacturers
Warranty Reserves, 2003-2008
(in $ millions & capacity in months)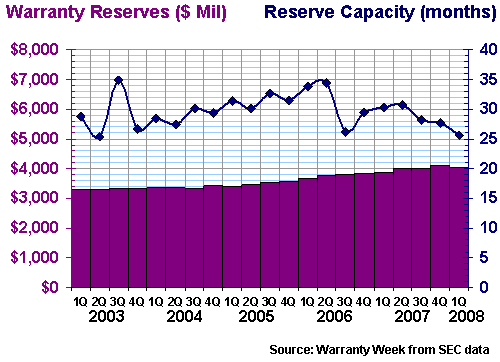 Keep in mind that the reserves-to-claims ratio for all manufacturers has been close to 17 months for much of the past five years. In the aerospace industry, however, the ratio has been as high as 35 months, and for individual companies it has been even higher than that.
At Boeing, for instance, the ratio between claims and reserves stood at 78 months at the end of 2005, at a time when the company paid out $10 million per month in claims and kept $781 million in its reserves. It has since been stabilized at around the 51-month level, which still means that the company feels it needs to keep more than four years' worth of claims in its warranty reserve.
In Figure 3 below, we can see a company that basically halved its claims payments in 2005 and has kept its claims rate and accrual rate close to 0.6% of commercial product sales ever since. And with no major ups or downs in recent years, there's really no news to be found.
Figure 3
Boeing Co.
Warranty Claims & Accrual Rates, 2003-2008
(in $ millions and % of sales)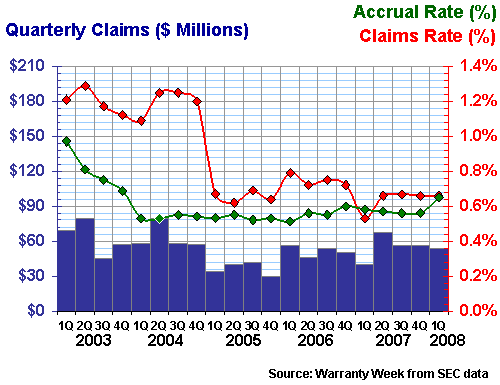 At Textron, however, one sees a company that's now at the low end of a multi-year downward trend. Since the first quarter of 2006, the company's claims rate has fallen from 1.8% to 1.5% and it has cut its accrual rate from 2% to 1.4%. In the chart below, annual data for 2003 to 2005 has been averaged over four quarters. But the data since 2006, when accruals peaked and began their decline, has been released quarterly.
Figure 4
Textron Inc.
Warranty Claims & Accrual Rates, 2003-2008
(in $ millions and % of sales)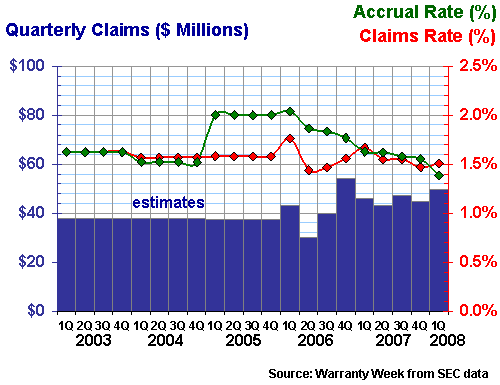 Textron manufactures everything from Cessna airplanes and Bell helicopters to commercial lawn mowers and golf carts, and reports a combined warranty figure for all of them. But in its annual report for 2007, the company listed multi-million dollar improvement in Cessna's warranty costs as one of the major reasons for its profit increases. Specifically, the company said its Sovereign and CJ3 production lines were producing lower warranty costs than initially anticipated, so the company was reducing its accruals per unit sold.
Adjusting for New Product Launches
At General Dynamics, meanwhile, a recent two-year downward trend for warranty costs follows a three-year downward trend in 2003-2005. In both cases, warranty accruals suddenly spiked and then slowly declined, as is typical with a new product line launch in the aerospace industry. The Gulfstream division, which is where most of the company's warranty expenses originate, introduced the G450 in 2003 and the G150 in 2006. Once those product lines matured, however, warranty costs declined.
Figure 5
General Dynamics Corp.
Warranty Claims & Accrual Rates, 2003-2008
(in $ millions and % of sales)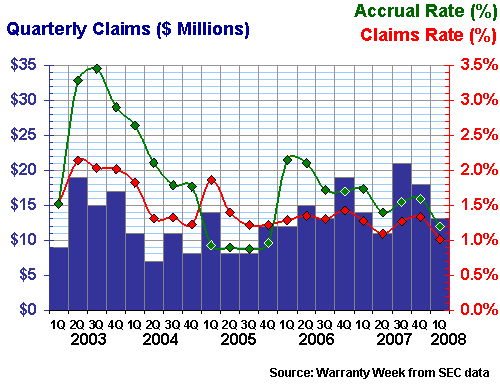 United Technologies, like Textron, is engaged in several industries at once. The bulk of its revenues come from HVAC and elevator installations, and only 21% of its revenues are attributable to commercial aviation, so we don't usually include the company in the aerospace category. But we include it here because as the chart below illustrates, the company's warranty costs are on their way back up after years of declines.
Figure 6
United Technologies Corp.
Warranty Claims & Accrual Rates, 2003-2008
(in $ millions and % of sales)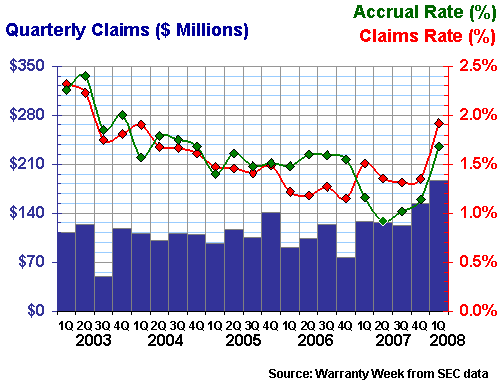 The company's Carrier unit last year settles a class action lawsuit regarding allegedly defective secondary heat exchangers in some furnaces it sold, and reserved an additional $36 million towards the end of 2007 to finance claim settlements. But there's little warranty news regarding the company's aerospace units, specifically Pratt & Whitney, Hamilton Sundstrand, and Sikorsky Aircraft. If anything, the recent news of Airbus' A380 delays and Boeing's 787 delays would have reduced the revenue and therefore the warranty costs of suppliers such as them.
Five Years of Cost Cutting
Rockwell Collins is engaged in the avionics and communications sectors of the aerospace business, in addition to the in-flight entertainment system sector. Its five-year record of continued warranty cost reductions is among the most consistent of all manufacturers within or outside the aviation industry. However, its claims rate is still a little on the high side for a supplier. As in the automotive and computer industries, most aerospace component and parts suppliers are typically paying out much less than 1% of revenue in warranty claims.
In Figure 7, the company's steady reduction of claims cost from 3% of revenue in early 2003 to only 1.2% in early 2008 is illustrated, along with its reduction in accrual rates from a 2003 high of 3.1% to a 2008 low of 1.6%. Notice how claims paid per quarter have more or less remained the same at the $12 to $16 million level through the whole period, which means that sales grew while costs remained the same.
Figure 7
Rockwell Collins Inc.
Warranty Claims & Accrual Rates, 2003-2008
(in $ millions and % of sales)
Woodward Governor, makers of turbine parts used in both jet engines and the electrical power grid, has turned in a much less consistent warranty cost pattern over the past five years. Its accrual rate has been as high as 1% and as low as 0.4%, and its claims rate has followed a similar path. The company said quality improvements helped drive its warranty costs down in 2007, but it has offered no reason for recent increases.
Figure 8
Woodward Governor Co.
Warranty Claims & Accrual Rates, 2003-2008
(in $ millions and % of sales)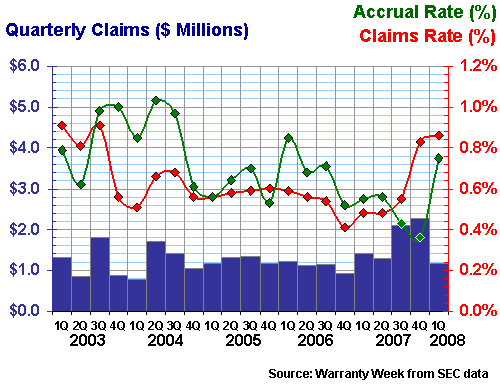 Finally, Moog Inc., makers of flight controls and industrial machinery, competes with units of Textron, United Technologies, and others for sales to OEMs such as Boeing. And it reports the same 0.4% to 0.6% claims rates that are typical of aerospace suppliers. And like Woodward Governor, its warranty track record shows lots of variation over the years and no clear trend. However, in late 2007 and early 2008, both its accruals and claims look to be on a downswing.
Figure 9
Moog Inc.
Warranty Claims & Accrual Rates, 2003-2008
(in $ millions and % of sales)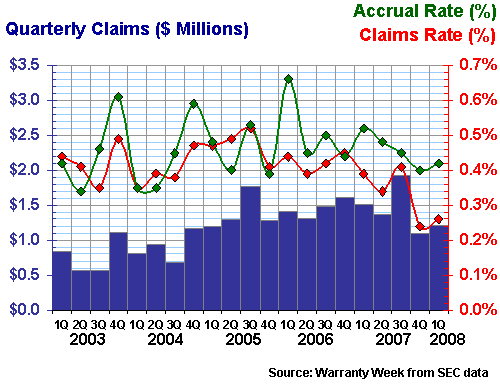 Overall, 22 of the 51 aerospace companies we track have reduced their accrual rates in the year between the first quarter of 2007 and 2008. The other 29 have increased their accrual rates. On the claims side, however, 36 companies have seen their claims rate fall while only 15 have seen it rise.
The collective accrual rate is up 15.5% in the past year while the claims rate is up 10.7%. Aerospace warranty reserves, however, are up less than 4%, which suggests that the companies are content to operate their warranty programs with less of a financial cushion than they did in the past.
One exception is Moog, which thickened its warranty reserve to $9.1 million as of March 31, up from $6.7 million a year ago. However, it's been fattening its warranty reserve as long as it's been reporting the balance: In March 2003 the balance was $1.5 million, then it was $3.5 million in 2004, $4.8 million in 2005, and $5.4 million in March 2006.
It's not as if claims are soaring, and more reserves are required. As one can see in Figure 9, the claims total only once exceeded 0.5% of sales revenue and has been below that level for 20 of the 21 quarters listed here. Yet Moog has built an ever-thickening reserve cushion for itself equal to 23 months of claims, up from 11 months' worth two years ago and only five months' worth in March 2003. So it's not only doubling in size; it's also doubling in its capacity to pay claims.