July 30, 2008
Warranty Research Report:
There are only a few more days to download free copies of the latest report from the Aberdeen Group. Using survey data, it finds a huge correlation between metrics, analytics, and success in warranty management.
Before the offer of free copies of the latest Aberdeen Group research report on warranty management expires this Friday (August 1), we thought it would be useful to spotlight some of its major findings.
Back in April, the Aberdeen Group surveyed 170 different companies, asking a variety of questions about the structure and characteristics of their warranty operations. It then used some of the metrics to rank the companies as leaders, laggards, or middle of the pack, and then looked for possible reasons why.
Published in late May under the title of "Forging the Warranty Chain," the 24-page report was then offered to four underwriters -- ServiceBench, SAS Institute, Tavant Technologies, and ExpressPoint Technology Services -- to distribute to their customers at no charge. One of those sponsors -- ServiceBench -- has been offering free copies to all Warranty Week readers who click on this link: http://www.aberdeen.com/link/sponsor.asp?spid=30410351&cid=4881.
Steps to be Taken
Essentially, the report finds that while most companies are paying more attention to warranty, many aren't paying enough attention to produce improvements. While most have automated claims submission and processing tasks, many haven't given warranty the proper focus in terms of organizational changes. And most have yet to leverage the warranty data they collect in terms of using it to improve production or product design.
"Despite progress made against key warranty chain improvement initiatives, service and warranty management executives still wrestle with post-sale customer satisfaction issues and escalating warranty costs in their efforts to transform service organizations," the report states. "Aberdeen found that these executives are revising business processes and adopting technology solutions to better manage warranty workflow, enhance claims administration, reduce costs, and implement a closed-loop analytic-driven warranty chain."
Two years ago, Aberdeen published a report that found 86% of these executives believing that effective warranty management was important to their companies. But at the same time, most felt dissatisfied with their companies' warranty performance.
This time, 83% said it was still important, while 56% of respondents said that warranty management is more important to their organizations now than it was even two years ago. But they're still mostly dissatisfied with their companies' warranty performance.
Escalating warranty costs and customer satisfaction issues were two of the top reasons cited by respondents, as is detailed in Figure 1 below. More than half of respondents cited one or both of these factors as pressures driving their warranty chain improvement initiatives, while less than a quarter of them mentioned either fraud or quality-related issues.
Figure 1
Pressures Driving Warranty Chain Improvement Initiatives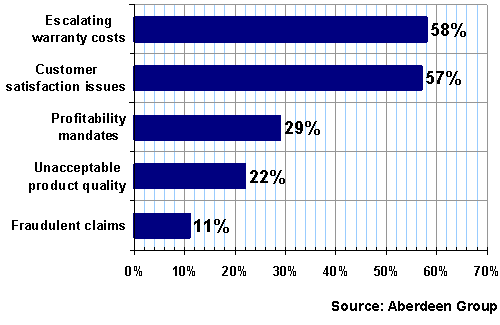 Among those who reported escalating warranty costs, 40% of the respondents cited escalating product costs, while 33% cited escalating spare parts costs and 22% cited escalating personnel costs. In a way, this is great news for warranty professionals, because it suggests there won't be any effort to reduce headcount to cut costs. Instead, the emphasis will be placed on reducing the frequency and/or cost of defects.
Aberdeen asked each respondent to estimate the typical amount of time it takes their companies to process a warranty claim, and the typical cost of warranty claims in terms of percent of revenue. And it asked them to estimate how these metrics have changed over the past two years.
Those answers were then used to divide respondents into three groups: best-in-class, industry average, and laggards.
The best in class group (the top 20% of respondents) reported an average claims processing time of 2.7 days. The industry average group (the middle 50% of respondents) said it took about 2.8 days -- only marginally longer than the top group. But the laggards averaged 11.1 days to process a claim. And, as we shall see further down this page, they were less likely to know it took 11.1 days.
Cuts in Claims Processing Time
Compared to two years ago, the top group reported an average reduction of 26% in the time it takes to process a claim. The middle group reported only a 4% reduction, and the bottom group reported only a slim 1% reduction.
Perhaps more importantly, the top group reported a 13% reduction in their claims rates versus two years ago. The middle group reported no change, and the bottom group reported an average 5% increase in the percentage of revenue consumed by warranty claims.
Aberdeen did not list any of the members of these groups in the report itself, and the report's author, Micky Long, has now left the company and was unavailable for comment. So we took a look at our own statistics to see what kind of companies might qualify for each of these labels.
Among the top 50 American warranty providers, as measured by the amount they spend on claims, those that cut their claims rates by the most (comparing the start of 2006 to the start of 2008) were: Apple Inc., Nortel Networks Corp., Jarden Corp., IBM Corp., and AGCO Corp. Those that saw their claims rates rise the most were Microsoft Corp., Garmin Ltd., Palm Inc., Lennar Corp., and Pentair Inc. Among those that saw little or no change were Dell, Hewlett-Packard, GM, Navistar, Cummins, Fleetwood Enterprises, and Ingersoll-Rand.
Now we don't know if any of those companies actually participated in the Aberdeen study, but if they did, their data would have heavily weighted the leader, laggard, and average segments, respectively. All Aberdeen revealed about the respondents was that they were overly heavy into computer hardware (16%), software (8%) and services (8%), and overly light on the automotive industry (only 7%). There were no figures for appliances, aerospace, medical equipment or sports equipment, so we'll just have to assume they fell below the 7% threshold.
Missing Automotive Perspective
About 45% of warranty claims dollars are automotive or heavy equipment, so they were drastically undercounted. So were the appliance and home furnishing industries. It's not this way in sales of warranty software. Among the top tier of warranty software and service providers, the car and truck companies are the best customers, along with the appliance guys, and in some cases they're the inspiration for the products and services they sell. Their perspective is under-represented in this report.
In all the charts below, we've identified the responses of the leaders in green, the middle in yellow, and the laggards in red. What we're looking for is what characteristics might have helped the leaders cut their claims cost and processing time?
Let's start with warranty software. In Figure 2 below, it's readily apparent that most of the companies have implemented some kind of warranty claims processing software. Whether it's homegrown spreadsheets programmed decades ago or whether it's the latest Java code purchased last year from a leading software vendor, we don't know. But as the data shows, 69% of the leaders and 61% of the laggards have something in use that they call a claims processing system. So clearly that's not a factor.
Figure 2
Warranty Software in Use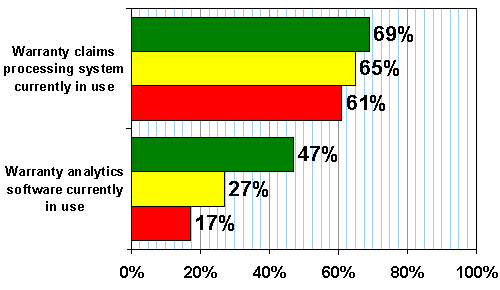 What might be a factor is the use or absence of warranty analysis software. While 47% of the leaders said they have warranty analysis software in use (and again we know nothing qualitative about their software), only 17% of the laggards said they did. So one could infer that warranty analysis software can help a company cut its claims cost and/or claims processing time.
Next, we looked at Aberdeen's findings on the management structure of responding companies. Here it's pretty clear that there's a difference between the management structures in place at the companies that showed the most and least improvement over the past two years.
According to the Aberdeen report, 70% of the leaders said they had an integrated warranty management organization combining all service functions in one place, and they had a senior executive (VP or higher) in place with oversight responsibilities for warranty management.
Figure 3
Management Characteristics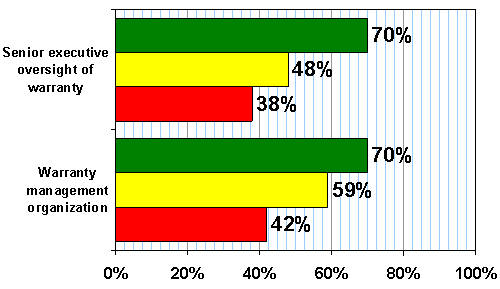 In contrast, only 42% of the laggards had a warranty organization in place, and only 38% of the laggards had a senior executive in charge of warranty. Of course, that doesn't mean that if you appoint a VP of warranty and give him or her a warranty team to manage, that costs will fall. But it does mean that those who cut costs were more likely to have those elements in place.
Next Aberdeen looked at a pair of metrics that explain a lot about the responses. Plain and simple: those who measure their claims rates and processing time are more likely to notice the measurements. Or perhaps more cynically: those with falling claims rates and decreasing processing times are more likely to measure them. And in terms of slogans: you can't fix what you don't measure.
Figure 4
Performance Measurements Employed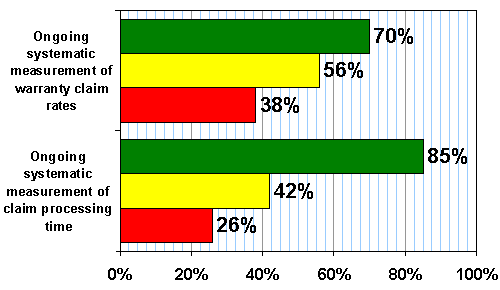 Aberdeen said 85% of the leaders measure claims processing time, and 70% of the leaders reported measuring their claims rates. But only 26% of the laggards measured their claims processing time, and only 38% of the laggards measured their claims rates. This is astonishing. They're so basic and fundamental, along with
It's not so much that they don't measure, therefore they're laggards. Instead, we suspect the presence or absence of measurement systems helps determine whether they can measure improvement. In other words, they're leaders because they pay attention to warranty and therefore they know when their costs decline. And they're laggards because they have no idea where they stand or whether things are improving.
The best-in-class group said they measure themselves in numerous ways, including total warranty cost (73%), customer satisfaction (68%), claim processing time (68%), first call resolution (59%), and warranty cost per product (59%).
The Aberdeen report also suggests connecting warranty systems to both product lifecycle management software and reverse logistics systems. It found that 58% of best-in-class warranty providers also used PLM systems, while only 20% among the others used them. And 60% of the top group had depot repair management systems, as opposed to 37% among the others. There is as of yet no commercial system that does all three: warranty, PLM, and depot repair, but the author foresees integration.
On average, respondents said only 56% of their warranty service events included a service technician. The rest were either replacements or customer self-repair. This is where the low turnout from automotive companies is especially felt. How many auto companies fix their own vehicles or let their customers do it?
Outsourcing Some But Not All
As seen in Figure 5, the best-in-class companies were more likely to outsource repair operations and less likely to outsource claims administration.
Repairs, returns and exchanges -- those can be outsourced. Aberdeen said the best-in-class companies reported an average 11% drop in their repair, return and exchange expenses over the last two years, as opposed to a 2% increase for the others.
Figure 5
Warranty Outsourcing Plans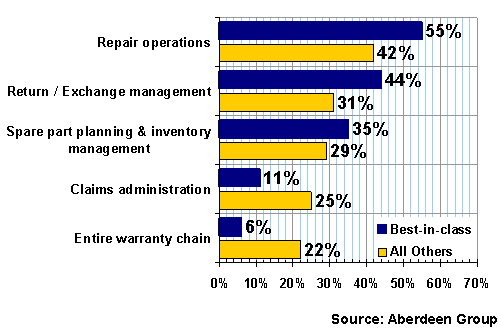 Also, take a look at that last response again: 22% of the middle and lower companies planned to outsource the entire warranty chain, which only 6% of the best-in-class companies planned to do.
It would be fun to ask how many of those responses were serious and how many were just wishful thinking by tired warranty professionals willing to give it all away and go into retirement.
What lingers from Figure 5 is the unwillingness of best-in-class companies to outsource claims administration but their willingness to outsource repairs. For 89%, claims administration is a core competency they want to keep in-house. But repairs are preferred in-house by only 45% of the best-in-class companies.
Demographic Info
Most of the respondents worked for companies with $50 million or more in revenue, which to us suggests warranty costs of $500,000 and upwards. Only 32% worked for companies with under $50 million. Seven in ten live in North America, one in ten from Asia, and 16% of the responses came from Europe. Twenty-four percent were VP or above.
In conclusion, the report leaves one with a final plea to integrate warranty with reverse logistics and PLM:
"Effective warranty management still represents solid strategic value to a majority of service executives. It's also a continuing source of challenge to those tasked with ultimately driving customer satisfaction and cost efficiency. Organizations have made significant strides in basic process automation and optimization with completed initiatives centered on workflow and administration.

"Linking an optimized reverse logistics and repair process to a streamlined warranty chain will generate additional efficiency. And making use of analytics to close the service-to-design loop will result in better product quality and an overall reduction in warranty claims. Connecting warranty analytics with a formal product lifecycle process and automating the information flow across those systems should be an ultimate goal of leading organizations."