September 25, 2008
Furniture & Appliance Warranties:
At the half-year mark, warranty costs are creeping up as sales slowly decline for some well-known brands. But others have seen sales rise and warranty costs fall.
With homebuilding in a deep downturn, one would expect that the manufacturers of furniture, fixtures, appliances, and other homebuilding materials would also be feeling the pain. And while some have seen sales fall, few have seen declines on the scale of the builders.
Warranty costs have always taken a bigger chunk out of the sales of appliance makers than they did for fixture or furniture manufacturers, and that trend still holds. But for any company it's going to be a problem if you have to fix last year's products with this year's revenue, and there's less revenue, because those rising costs are going to make an even bigger impact.
Furniture makers are for the most part still paying out around 1% of their revenue in warranty claims, and appliance makers are still paying out 3% or more. But, as the following brief tour of some of the representative companies details, the gap is narrowing. Top appliance makers such as Jarden Corp. are cutting their warranty costs, while top furniture brands such as La-Z-Boy Inc. are paying out more.
Recliners & Chairs
Let's start our tour with La-Z-Boy, makers of recliners, sofas, and other residential furniture. Its roster of warranty durations cross a wide spectrum, ranging from one year to lifetime on coverage parts, and from no warranty to lifetime warranties on labor, depending upon the model and the component. For instance, the motors in its power-operated recliners have three-year warranties for parts and one-year warranties for labor. The heating pad, if any, has a three-year parts-only warranty with no coverage for labor charges. The wood and metal frames have lifetime warranties for parts but only one year of coverage for labor. Leather or fabric have one-year warranties for both defects and labor, but numerous exclusions apply.
In cost terms, the company had enjoyed more than four years of warranty claims and accrual rates in the range of 0.5% to 0.9% of revenue, but in the past four quarters costs have escalated to around 1.2% of revenue. The mid-year 2008 claims rate is up 30% from a year ago and the accrual rate is up 33%. Quarterly claims payments have crept up for the past two years, though the company's only $5+ million quarterly payout was in early 2003. Warranty reserves are little changed over the past year, with a balance near $14 million.
Figure 1
La-Z-Boy Inc.
Warranty Claims & Accrual Rates, 2003-2008
(in $ Mil & percentage of product sales)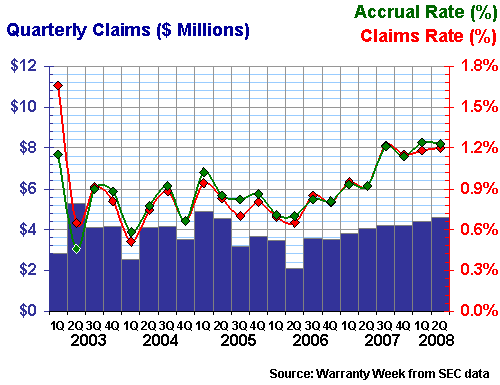 The company said it reduced its long-term warranty reserve balance in 2007 because it noticed that most warranty claims were made within one year, or not at all. La-Z-Boy now classifies 64% of its warranty reserves as current liabilities, down from 68% a year ago. Sales in the fiscal year ended April 26, 2008 were down 10%, and were down another 6.6% year-over-year in the fiscal quarter ended July 26.
Herman Miller Inc. is a manufacturer of highly stylish tables and chairs, for both home and office. In 1923, the Herman Miller Furniture Company was named after the father-in-law of the company's founder. His brother-in-law founded the Howard Miller Clock Company 14 years later.
Long Warranties
Because some of the company's designs are iconic, classic, museum-quality pieces, counterfeits and knock-offs are a continuing problem. However, the real thing is differentiated not only by its quality, but also for a comprehensive 12-year warranty that covers both parts and labor. Service parts are covered for three years, and molded plastic chairs for only one year.
Over the past five years, the company's warranty costs have been stable to declining. As can be seen in Figure 2, warranty costs suddenly dipped in early 2005 and again in late 2006. From the end of the company's fiscal year on June 2, 2007 to the end of the next fiscal year on May 31, 2008, claims and accrual rates rose somewhat from slightly below 0.7% to slightly above 0.7%. Sales grew slightly. The company's warranty reserve has remained relatively unchanged at the $15 million level.
Figure 2
Herman Miller Inc.
Warranty Claims & Accrual Rates, 2003-2008
(in $ Mil & percentage of product sales)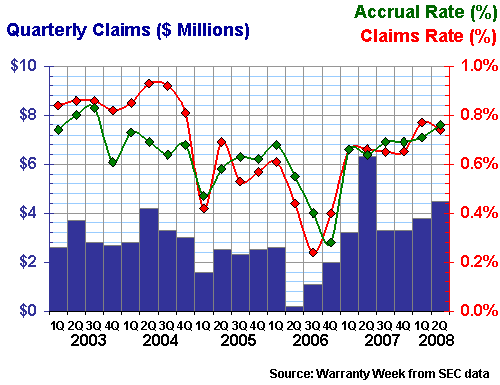 HNI Corp. is actually a collection of seven companies, chief among them the office furniture brands of HON, Allsteel, Maxon, Gunlocke, Paoli, Whitehall, Basyx, and Lamex. Omni Workspace Co. is a one-stop shop that can help a company do anything from creating a floor full of cubicles and modular furniture to packing it all and relocating. HNI also sells prefabricated fireplaces and related products under the brand names Heatilator, Heat & Glo, Quadra-Fire, and Harman Stove.
Wooden chairs are warranted for 12 years. Cafeteria tables and school furniture are warranted for 10 years. Items such as folding chairs are warranted for five years. The warranty includes labor costs, but excludes claims based on what the company determines is normal wear and tear.
HNI had turned in a rather stable warranty cost pattern for several years, but as can be seen in Figure 3, costs began escalating in early 2008. The accrual rate is up 42% in the year to June 2008, and the claims rate is up 47%. Sales during the first half of 2008 are down around 4%. The warranty reserve has increased by about $2.5 million in size over the past year, ending June with a balance of about $13.1 million.
Figure 3
HNI Corp.
Warranty Claims & Accrual Rates, 2003-2008
(in $ Mil & percentage of product sales)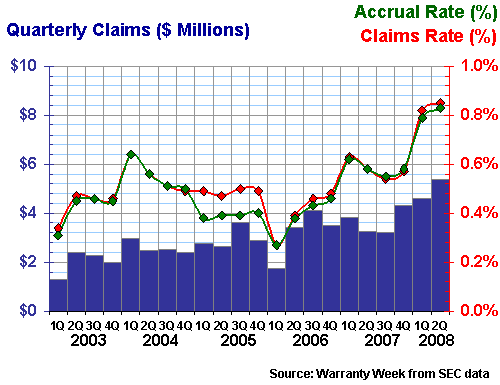 Other office furniture market leaders have also generally kept their warranty costs below 1% of sales. Steelcase Inc. reports a warranty claims rate around 0.5% of sales, while Knoll Inc. reports a rate closer to 0.9%. Kimball International Inc. is lower yet, with claims rates typically close to 0.1% of revenue.
From office furniture, let's next move on to appliances. While Whirlpool Corp. is the clear leader in major appliances such as washers and refrigerators, there are a handful of American-based companies making what might be called personal or counter-top appliances.
We covered NACCO and its Hamilton Beach and Proctor Silex operations two weeks ago in the September 12 newsletter on off-road vehicles. This time around, we'll look at Helen of Troy Ltd. and Jarden Corp., which between them have dozens of familiar brand names.
Helen of Troy Ltd., named of course after the woman whose beauty was so striking that her abduction launched a major war, is itself a major force in the beauty industry. Major brands include Vidal Sassoon, Brut, Dr. Scholl's, and Revlon, and in a more hard goods sense, OXO, Wigo, and Hot Tools. But rather than the ancient city of Troy, the company is actually based in Bermuda, though the name Helen of Bermuda doesn't have quite the same ring.
Holiday Sales Cycle
One can almost see the holiday effect in the data of Figure 4, with the sales cycle peaking in the fourth quarter (thus driving warranty claims rates down) and falling in the second quarter (having the opposite effect). Accrual rates are not as clearly seasonal, but are highly variable in their own right. For what it's worth, the claims rate in the half-year ended May 31 was down from 4.5% in 2007 to 3.6% in 2008, while the accrual rate was down from 4% to 3%. But give it a few months and it will probably be right back up there again.
Figure 4
Helen of Troy Ltd.
Warranty Claims & Accrual Rates, 2003-2008
(in $ Mil & percentage of product sales)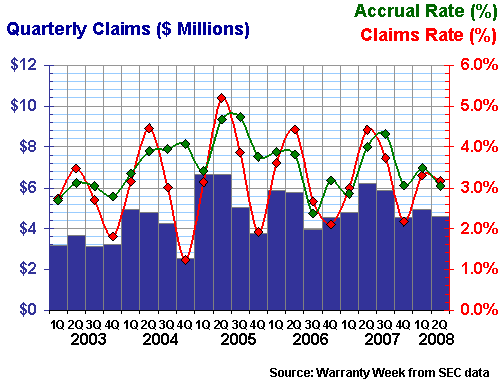 Jarden Corp., meanwhile, has over the past three-and-a-half years scooped up such notable brands as Coleman, Sunbeam, First Alert, Oster, Crock-Pot, K2, Rawlings, Bionaire, Holmes, Mr. Coffee, Patton, and Rival. Some of its products, such as Bicycle playing cards and Diamond kitchen matches, can trace their history back more than a century.
The company was once part of the Ball Corp., and until 2002 was named Alltrista Corp. It first began reporting its warranty expenses in 2005, which is why only half the chart in Figure 5 has been filled in with data.
Note that both claims and accrual rates since 2005 have been primarily within the 3-to-6% range. It's the same territory that Helen of Troy wanders, and, we suspect, the household appliance operations of NACCO and others.
Recently, Jarden's warranty costs have been on the downswing, with the claims rate falling from 4.5% at mid-year 2007 to 3.2% this year, and accrual rates falling by almost a full percentage point. At the same time, the warranty reserve balance has grown by $12 million to the $80 million level by June 2008.
Figure 5
Jarden Corp.
Warranty Claims & Accrual Rates, 2003-2008
(in $ Mil & percentage of product sales)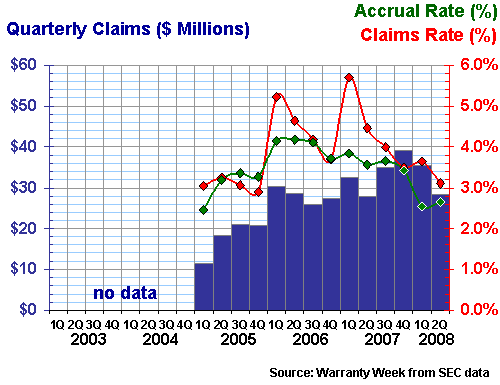 For our last four companies in the spotlight this week, we'll have to skip around the house a bit. Sealy Corp. is among the top brand names in the bedding industry, but among warranty providers it's more of a midsized name.
In the first half of 2008, Sealy paid out nearly $10 million in warranty claims, up significantly from the $7.8 million level in the first half of 2007. And because sales volumes also fell, the warranty claims rate jumped from 1% to 1.3%. The accrual rate more than doubled, from 0.8% to 1.8%, over the same period.
Figure 6
Sealy Corp.
Warranty Claims & Accrual Rates, 2003-2008
(in $ Mil & percentage of product sales)
The first-half jump is clearly apparent from the data in Figure 6. What's unclear is the reason behind it. Sealy said that thanks to "a new and improved product return process that allows it to better track and match claims received to the sales for which those claims were initially recorded," it was actually able to justify the removal of nearly $4.5 million from its warranty reserve through a change of estimate.
The company made no mention of any reason behind the new accrual rate, or the jump in claims. And despite the change in estimate, at $15.1 million in size, the company's warranty reserve is now more than a million dollars larger than it was a year ago.
Dealing With a Downturn
Masco is a conglomeration of multiple separate product lines, including KraftMaid cabinets, Delta and Peerless plumbing fixtures, Behr paints, and Arrow Fastener hand tools, among others. In Figure 7, warranty costs are in the typical range seen for furniture companies, but they also show some of the seasonality seen with personal appliance companies.
Compared to a year ago, the claims rate is up slightly while the accrual rate is down slightly. Sales were down significantly during the six-month period, however, which explains the former while excusing the latter. The warranty reserve fund grew by $7 million to $125 million in size.
Figure 7
Masco Corp.
Warranty Claims & Accrual Rates, 2003-2008
(in $ Mil & percentage of product sales)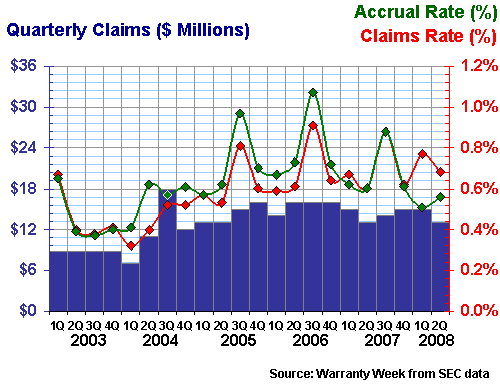 Fortune Brands is by far the most diversified company in this week's spotlight. One part of the company sells Jim Beam, Canadian Club and Maker's Mark whiskey. Another part sells the Titleist and Pinnacle lines of golf balls. And then there's the warrantable stuff, such as the Moen line of faucets and the Master Lock brand.
To arrive at the percentages for the data in Figure 8, we're looking at just the warranted product revenue. So it's not diluted, if you'll pardon the pun, by the other sources of revenue. However, the company hasn't reported its warranty costs for the past two quarters -- only the balances in the reserve fund -- so we had to estimate the 2008 data.
Figure 8
Fortune Brands Inc.
Warranty Claims & Accrual Rates, 2003-2008
(in $ Mil & percentage of product sales)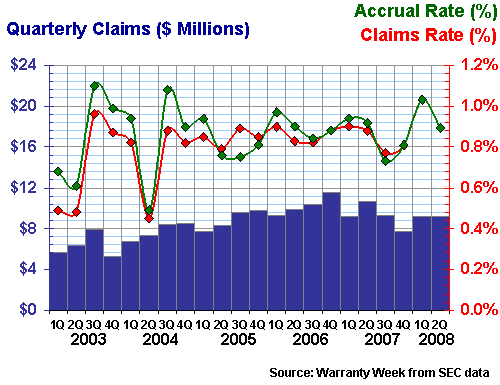 In spite of the lack of fresh data, Notice first how steady and predictable the company's warranty costs have been for the past three years, hardly ever straying outside the 0.7% to 1.1% range. Notice also that these data points are in the same range as Masco. And, we suspect, it's the same vicinity where American Standard and Kohler would be if they reported warranty data (American Standard was taken private in 2007 by Bain Capital Partners and Kohler remains privately-owned). So let's call this the plumbing zone: under one percent and above half a percent. That seems to be the natural rate of warranty in this particular industry.
Thinly Padded Warranty Fund
Finally, we present the carpet warranty data of Mohawk Industries Inc. The company also sells Dal-Tile ceramic flooring and Unilin wooden floors, but most of its warranty expenses arise from the carpeting line of business.
The data in Figure 9 isn't all that remarkable -- after years near 1%, the company's warranty expense rates climbed to 1.5% then 2%. But what is remarkable is how thinly the company has always stocked its warranty reserve. Except for one instance at the end of 2005, Mohawk has been content to keep barely six or seven months' worth of reserves on hand, despite its issuance of warranties with durations of up to 20 years.
Figure 9
Mohawk Industries Inc.
Warranty Claims & Accrual Rates, 2003-2008
(in $ Mil & percentage of product sales)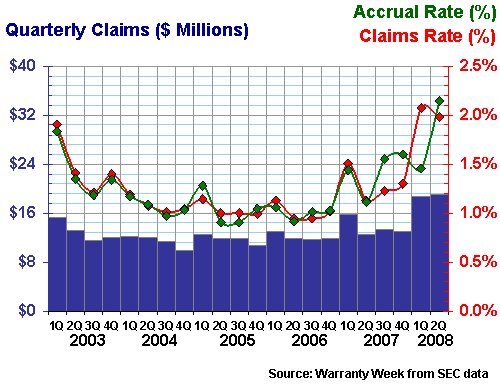 There are numerous exclusions in the terms and conditions, and until this year they've helped the company avoid the elevated claims rates one might expect to accompany 20-year warranties. But to its credit, the company has gradually increased its reserves in proportion to claims, increasing the June 2006 balance of $25 million to $30 million by mid-2007 and $42 million by June 2008. Still, with claims arriving at a rate of more than $6 million a month, that equates to less than seven months of reserves -- same as it's been for years.