October 30, 2008
Warranty Institute Opens:
The Institute of Warranty Chain Management begins accepting memberships this weekend, more than two-and-a-half years after forming. The Web site's almost done, some 60 white papers are waiting to be downloaded, and a training program for warranty professionals is scheduled to begin in March.
At long last, the Institute for Warranty Chain Management is about to open for business.
Membership applications are scheduled to launch on Saturday, November 1, though the infrastructure is now in place to accept them immediately. Warranty professionals interested in becoming members can go to the IWCM Web site at www.iwcm.organd click on the "Join Now" link to sign up and pay by credit card (Visa, MasterCard or Discover).
The IWCM traces its roots back to a meeting held in March 2005 as part of the inaugural Warranty Chain Management Conference in San Francisco. Several attendees met informally one morning to discuss warranty metrics and benchmarking, and continued the conversation via emails and conference calls throughout the following year. All agreed that the creation of a formal organization for warranty professionals was a good idea.
At the second WCM Conference in Las Vegas in 2006, a call went out to attend a post-show meeting across the street at the Luxor Hotel, at which the launch of a formal association was proposed. By the time of the third WCM Conference in Tampa, IWCM president Glen Griffiths was able to report that a charter had been drafted and registration as a non-profit California corporation had been achieved in December 2006.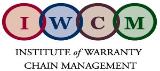 Logoworks, a Utah-based company acquired by Hewlett-Packard Co. last year, was contracted to design the IWCM logo. Griffiths, whose day job is at HP, said the graphic design company was told to create something that suggests a chain, with interlinked letters.
In March of this year, at the fourth WCM conference in San Diego, Griffiths reported the launch of a revamped Web site and a schedule for the opening of membership and training courses. At the time, he said membership would open in two or three months while courses would be launched within six months. As it turns out, that schedule was a bit optimistic -- the Nov. 1 launch date is a little under eight months later, and the new date for training courses to begin is a little over 12 months later.
So why the delay?
"It took a bit longer to be ready for the launch than what we hoped for in the beginning, but it took us longer to develop the training and find a sufficient number of papers and presentations," noted Kjell Hammarstrom, chair of the IWCM's communications and networking committee. "We didn't want to launch and open up for membership before we had that available for members."
White Papers Available
As of opening day, there should be around 60 different white papers available on the Web site for download by members, and at least the first course in the comprehensive training and certification program has been scheduled for March 10, just before the Warranty Chain Management Conference opens in Orlando.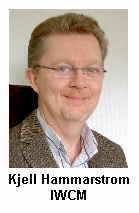 "I'm a bit impatient myself," Hammarstrom said. "I would have hoped we could have delivered this quicker. But all the people that are engaged in this do this in their free available time. And from that perspective, I think it is a challenge to have a proper institute like this delivered any faster."
Hammarstrom said the founders were worried that if they opened prematurely with little of value to show to those who signed up, people would have lost confidence in the institute. Instead, they decided to wait until the document library was built up and the training and certification programs were ready to begin. "So members would really get something when they signed up, rather than just a slide show," he said.
Griffiths also agreed that the delay will in the long run benefit the membership. "I would like for it to have gone faster," he said. "It has been longer than I would have ideally liked. But the reality is that as a non-profit, it's based on support from members of the community. It's relying on a lot of volunteer time. And we've had a lot of people put in a lot of time to get it to where it is."
The key, he said, will be to get people to not only join, but to become engaged in the organization. And to do that, he said the Institute needed a good initial library of papers, and a good initial set of training and certification courses.
Volunteer-Driven Group
Marianne Grant, principle of MGEA Associates, a consultancy based in Long Beach, CA, and the vice president of the IWCM, compared the pace of progress with the Institute to the process she knows well at another volunteer-led organization: the Automotive Industry Action Group.
"I think it is comparable in the sense that they are volunteers in both cases," Grant said. But it is not comparable, she added, in terms of the size of the central (and paid) staff. "AIAG has a fairly reasonably-sized [paid] staff whose job it is to support the projects that AIAG does, and to provide some of the infrastructure such as Web sites, and so on. In the case of the IWCM, everything has been done by volunteers. And we have been creating an Institute from the bottom up."
Grant also subscribes to the theory that a successful organization would first need to give people a reason to join before giving them the ability to join. "We said from the very beginning that it is imperative that the Institute, before it is launched, has a couple of key components: a decent Web site and a good training component," she added. "And I think it was worth the extra time to be sure the quality was there, so that when we did launch, and people go to that Web site for the first time, and attend classes for the first time, they will realize why we made those decisions. And it will be a sustainable organization. It will not be something that will just be there and then disappear fast, because it didn't have that infrastructure."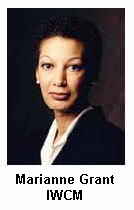 Grant compared it to the process of having a baby. The job doesn't end with the birth; at that point it's just beginning. "Now that baby is going to grow into a person," she said. "It's the growing up part that you have to consider too."
Members won't be required but will be strongly encouraged to contribute content to the Web site, Grant added. "We want people telling us where to find content if it's not their own, and we want them contributing it if it is their own, and we want them to realize that it's a valuable place for their content to be."
And members will be encouraged to join some of the committees, and to contribute to the collecting pool of knowledge in terms of discussions of personal experience and suggestions for best practices, both on the cost side of warranty as well as on the revenue side.
Readers interested in contributing a white paper should do so through the "Contact Us" section of the Web site, which is accessible to both members and not-yet-members.
Best Paper Award
Once again, the IWCM will make a "Best Paper Award," with the exact terms and conditions to be posted on the Web site and the eventual prize to be announced at the annual meeting. Grant said the competition will be open to both members and non-members, though she hopes that anyone choosing to enter also chooses to join the IWCM.
Last year's winner was Sai Sundarakrishna, a research scientist in the General Motors Product Design Group located in Bangalore, India. His award-winning paper delved into the psychological ramifications of a warranty event -- a topic that few others have ever explored. For his troubles, he won airfare to and from San Diego, a room in the Hyatt, and complimentary admission to the conference, along with a plaque and an opening-day presentation during the conference.
Membership Terms & Conditions
Individual memberships will be priced at $125 per year, and will be renewable on the anniversary of the date a member first signs up. A reduced-fee $50 membership will be offered to retired workers and to students. Membership will be open worldwide. But payments must be made by credit card in U.S. dollars.
The $125 individual price was decided long ago, Grant said, through a combination of research and educated guesses about what the market will bear. "We surveyed [attendees of the WCM Conference] and looked at some professional organizations," she said, "and also thought about affordability. We wanted it to be something that somebody starting in the business would be interested in and would be able to manage, as well as somebody more senior. So we put that all into the pot, and decided that $125 was something that, if you ended up having to pay it yourself, you probably would do that, provided you thought you were getting value for that money."
Corporate membership prices were finalized at an October 28 meeting. There will be three levels: Platinum, Gold, and Silver. Each will include a set number of complimentary individual memberships, plus a discount on additional individual memberships. And each level includes a discount on tuition for the training curriculum.
The Platinum corporate membership level will cost $20,000 per year and will include 40 complimentary individual memberships and a 15% discount on additional memberships, plus a discount on training and certification fees, and recognition on the Web site, including a logo and link to their own Web site.


The Gold corporate membership level will cost $15,000 per year and will include 15 complimentary individual memberships and a 15% discount on additional memberships, plus a discount on training and certification fees, and recognition on the Web site.


The Silver corporate membership level will cost $7,500 per year and will include a 15% discount on individual memberships, plus a discount on training and certification fees, and recognition on the Web site.
Grant said that corporate memberships secured before March 31, 2009 will not expire until December 31, 2011, giving founding sponsors 33 months of benefits for the price of 12. "After that, it will go into the annual cycle," she said. This added benefit will be publicized in a series of letters now going out to prospective corporate members, Grant added, but those who cannot wait can send a message to inquiries@IWCM.org to get all the details.
Training Starts in March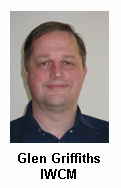 Griffiths added that the membership processing software is in place, membership cards are ready to be printed, and the IWCM is now ready to accept members. Most of the necessary Web site work has also been completed, and attention is now shifting to getting the training and certification courses ready for a March 2009 launch.
Current plans call for either one or two training modules to launch the day before the March 11 opening of the WCM conference in Orlando. The first course to be launched will be called Warranty Fundamentals, also known as Warranty 101 or W101. This course it aimed at introducing the complete end-to-end warranty chain and will provide an overview of the inter-relationship and dependencies across the warranty chain, he said.
If all goes well, that face-to-face course will be polished up based on the feedback of that inaugural Class of '09 and could be offered in the future through the Web as a virtual course. Bob Muller, principle of RHM Associates in Menlo Park CA, heads the committee putting the final plans together, Griffiths said.
This is just the first of five of the required courses in the curriculum. The next in the series is W102: Warranty Metrics and Benchmarking, to be followed by W103: Warranty Statistics and Analysis. W104 is Warranty Tools and Processes, and W105 is Warranty Finance & Cost Estimation.
All the freshman courses can be taken individually or in a series that will lead to professional certification. But first, before they get to that, there are two more levels to complete.
The five freshman courses are expected to require a total of 48 hours to complete, in units of roughly three to four hours per course. Following those required courses, advanced students will need to make choice of at least 32 hours' worth of electives, choosing from among:
W201, Design for Warranty
W202, Warranty and Supply Chain
W203, Warranty and the Law
W204, Warranty Service & Support
W205, Extended Warranty Management
W206, Warranty Management of Large Systems
W207, Warranty & Competitive Advantage
W208, Warranty Contracts & Cost Recovery
After completing their required and elective courses, students on track for a diploma as a Certified Warranty Chain Management Professional (CWCMP) will need to complete a 40-hour case study on a warranty-related topic. Only then, after they've put in at least 120 hours of training, can they take the CWCMP certification exam.
Prospective students interested in any of the courses should send a message to training@iwcm.org. Warranty 101 will launch in March 2009, and the other 100-level courses will follow. The electives come next, and the full suite of courses plus the exam should be available by early 2011. This is one of the reasons, Grant said, why the founding corporate membership benefits were stretched to end in 2011: to coincide with the first graduating class.
Some of the companies expressing an interest in procuring the warranty training for their staff members have asked if it would be possible for the trainers to come to their companies. This and/or migration to online Web-based learning are highly likely, thus reducing the need for certification candidates to take time off from work and travel.
Newsletter Launches
The IWCM expects to hold its annual meetings during the annual WCM Conferences, Hammarstrom said. In between annual meetings, the Institute will keep in contact with its members through the quarterly online newsletters that his committee will publish. But, he said some members will inevitably also gather at other warranty-related conferences throughout the year, such as the Marcus Evans warranty show in Vienna at the end of January and the IQPC warranty show held in the U.S. each September.
The IWCM and the WCM, he noted, are closely aligned but remain separate entities. And the IWCM fully expects to list and promote other warranty shows on its Web site besides the WCM. But the WCM is expected to remain the primary opportunity for IWCM members to continue to meet, because it was after all the place where many of them first met. Then again, for people such as Hammarstrom (based in Sweden and working for Sun Microsystems), perhaps there will be occasions to gather at warranty events closer to home?
"I think the first step is to see how many members we get, and where they live, and if we see there are a good number of people living in Europe, then perhaps there could be regional meetings," he said. "But I think that's something to look into for the future."
Hammarstrom said he won't be writing the actual newsletter, but he and his committee members will be helping to get it produced and distributed. He said it will be published as a Web page, and then notice of its publication will be broadcast in an email message containing just the address of the Web page. The first two quarterly issues will be open for public access, but eventually they will move into the members-only section of the IWCM Web site.
The first issue will be published in early November, with future issues to follow quarterly. Warranty professionals interested in contributing articles to future issues should send a message to Hammarstrom through the IWCM Web site's "Contact Us" section.
Elections Scheduled
Griffiths said his three-year term as president of the IWCM will officially begin this weekend, and he fully intends to serve until Nov. 1, 2011. "I'm looking to stay on as president to get the Institute beyond launch and fully functioning with a healthy membership base," he said. Others, he said, may choose to step aside next year, after having served on an interim basis since 2006. And there may be additional openings within the board of directors that will likely be filled during a special election in March.
"As a board, we've been very focused on getting opened," Griffiths said. "For some of the people, what they wanted to do was make the Institute a reality. And now that they've got there, we're going to talk through as to whether they want to continue."
There are still several openings on some of the committees, he added. "I've actually approached a number of people who indicated an interest at the last conference," Griffiths said, "and I'm still looking for people who can engage with the next set of training modules that are going to be developed over the next two to three years."
During that period, he said, education and training will be the IWCM's primary focus. As mentioned above, the first CWCMP certificates are expected to be awarded in 2011. "In a later stage, if our members are looking for an ability to petition on their behalf, and various other things further down the road, then it has to come from the membership and from an identified need. But I think the key thing that we need to deliver to our membership now on opening and for the next few years is to help them learn more about the warranty space and help them become more effective as warranty managers," he said.
Right now, Griffiths said the board is still debating whether to hold the first formal annual meeting of the IWCM during the morning of the Warranty Chain Management Conference's workshop day (March 10) or perhaps just before the welcoming reception that evening.