January 29, 2009
Early Warranty Data:
While only a few dozen of the hundreds of warranty reporting manufacturers have filed their year end 2008 financial reports so far, very few of these early filings reflect the turmoil one would expect, given the gloom of recent headlines. Are these early filers the exceptions? Or are things really not as bad as they seem?
The four months since the September 15 collapse of Lehman Brothers have been among the most uncertain in decades, if not generations. Sales are said to have come to a standstill in many industries as consumers stop spending, employers start contracting, and everybody's worries increase about the future. Some say it's the worst ever, while others say it's bad but it's still going to get worse.
Well, the future is here. It's earnings season for the end of 2008, and we're getting a first look at not only the sales totals for the major producers of manufactured good during the last three months of the year just ended, but also their associated warranty expenses. And when we use those numbers to calculate year-end warranty claims rates and accrual rates, we've discovered that it's far from the worst ever.
In fact, it all looks pretty routine. Outside of a maker of recreational vehicles and a maker of computer graphics boards, it looks more or less like any other quarter. Some are up; some are down. Let's put it this way: if not for the barrage of bad news from the car companies and of course the banks, one would be hard-pressed to find evidence of a recession in the early numbers we've seen so far.
Sales Gains & Declines
Of the 28 warranty-issuing manufacturers that have so far filed their financial reports for the fourth quarter of 2008, 16 have reported gains in product sales and 12 have reported declines. Among the large warranty providers reporting sales gains were Navistar International Corp., Deere & Co., and Medtronic Inc., which we profile below. Dell Inc. was among the large warranty providers reporting sales declines, as was Palm Inc., Nvidia Corp., and Thor Industries Inc.
Not all companies end their fiscal years on Dec. 31, of course. But we track warranty expenses based upon the calendar year, so some fiscal-to-calendar year mapping is frequently necessary. Therefore, we designate any fiscal period that ends on any day between October 4 and January 3 as the fourth calendar quarter of 2008. And that means we already have warranty spending reports from a few dozen companies that end their years or quarters in October or November.
In addition, some companies that end their fiscal years on March 31, June 30 or September 30 have already filed their reports for the quarter ended December 31, so they're a week or two earlier than most of their peers. Since most of the annual reports won't arrive until the end of February or the beginning of March, and since we plan to present some pre-show coverage of the Warranty Chain Management Conference in upcoming weeks, we thought it to be a good time to take a first and early look at year-end financial filings.
Computers: Business As Usual?
Let's start with the computer companies. Hewlett-Packard Co. ends its fiscal year on October 31, and Dell ended its third fiscal quarter on the same date. Apple Inc. ended the first quarter of its fiscal year on December 27, and filed its quarterly report with the U.S. Securities and Exchange Commission less than four weeks later, on January 23. Normally, it takes five or six weeks for most companies to file their Form 10-Qs with the SEC.
A quick look at the HP chart below reveals that warranty expenses have been rising steadily for the past four quarters. And that upturn can't be blamed on product sales, which were up by 9% for the year. Normally, the percentages fall when sales rise, because last year's products are being fixed with this year's expanded revenue pool. But for HP, the claims rate rose from 2.9% to 3.3% over the past year and the accrual rate rose from 3.2% to 3.7% over the same period.
Figure 1
Hewlett-Packard Co.
Warranty Claims & Accrual Rates, 2003-2008
(as a percentage of product sales)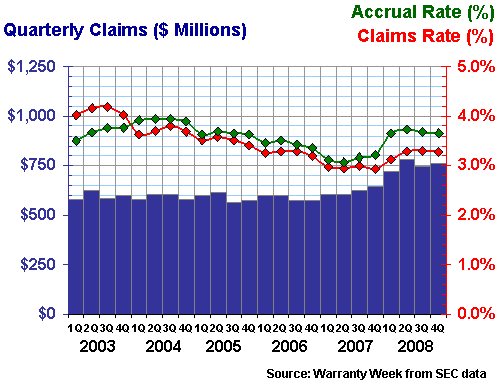 For Dell, meanwhile, sales fell by 5% in the quarter ended October 31. And claims also fell, from $1.19 billion in calendar 2007 to $1.10 billion in calendar 2008. But in this case, at least, the traditionally inverse relationship between sales and claims rates held. In the quarter ended October 31, the claims rate was 2.5% and the accrual rate was 2.0%. A year ago, the claims rate was 2.2% and the accrual rate was 2.4%. As can be seen in Figure 2 below, that means the lines crossed, and claims now exceed accruals. However, both rates remain within the 2% to 3% range they've carved out for themselves over the past six years.
Figure 2
Dell Inc.
Warranty Claims & Accrual Rates, 2003-2008
(as a percentage of product sales)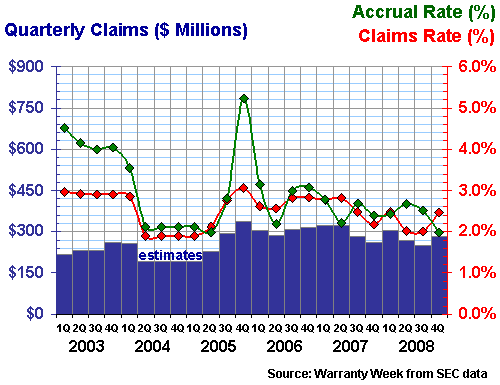 Interestingly, Dell's product warranty reserve grew by $81 million to $1.02 billion while HP's warranty reserve grew by $238 billion to $2.6 billion. That means HP allowed its warranty reserve to expand at a slightly faster rate than Dell did, but both allowed them to grow significantly.
Apple, it turns out, allowed its warranty reserve to expand at an even faster rate, growing from a balance of $237 million on December 29, 2007 to $265 million on December 27, 2008. Yet it was able to reduce both its claims rate and accrual rate over the intervening year. As can be seen in Figure 3, Apple's claims rate fell from 1.0% to 0.9% while its accrual rate fell from 1.1% to 0.9%. And product sales were up by 5%.
Figure 3
Apple Inc.
Warranty Claims & Accrual Rates, 2003-2008
(as a percentage of product sales)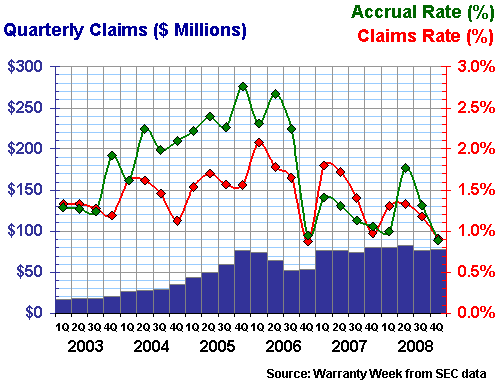 Elsewhere in the high technology industry, we now have fourth calendar quarter reports from Microsoft Corp., Cisco Systems Inc., 3Com Corp., Palm, and Nvidia. Warranted product sales for Microsoft, Cisco, and 3Com were up while warranted product sales for Palm and Nvidia were down.
The claims rate for Nvidia skyrocketed by 172% (a clear sign of trouble) while the claims rates for the other four were actually down. Palm and Nvidia increased their accrual rates while the other three cut theirs. And Nvidia's warranty reserve jumped from $23 million to $200 million in the year ended December 1, 2008, thanks to its well-publicized troubles with defective graphics processing boards.
Trucks & Tractors: Business As Usual?
The automotive industry is a bit more traditional. Fiscal years for all but a handful of companies end on December 31. And very few file their financial reports with the SEC within three or four weeks of the end of their quarters. So the only early warnings we have from the automotive industry so far come from Deere & Co., Navistar International Corp., and Thor Industries Inc.
As can be expected, conditions in the recreational vehicle industry are desperate. Sales of new homes are way down, as are sales of new cars, so it's no surprise that sales of new homes on wheels are also way down.
For Thor, in fact, sales were down by 43% in the quarter ended October 31, 2008. Claims jumped from 2.2% to 3.3% and accruals jumped from 2.4% to 2.6%. And the company allowed its warranty reserve balance to contract by $7 million to $59 million. That's about what one would expect from a major player in an industry under enormous strain from the credit crisis.
Deere and Navistar, however, declined to follow the same script. For the fiscal year ended October 31, Deere saw sales grow by 20% and Navistar saw sales grow by 21%. Of course only six weeks of those fiscal years were in the post-Lehman Brothers era, but the point is that any sales gain is noteworthy. And 20% sales gains are unexpected.
In Figure 4, it's clear that Deere is still following its seasonal pattern, with claims and accruals peaking in the winter and bottoming out in the spring quarters. Claims did hit a six-year high of $194 million in the quarter that included August, September and October 2008, but higher sales helped keep the ratio down. For the most part, however, it looks like business as usual.
Figure 4
Deere & Co.
Warranty Claims & Accrual Rates, 2003-2008
(as a percentage of product sales)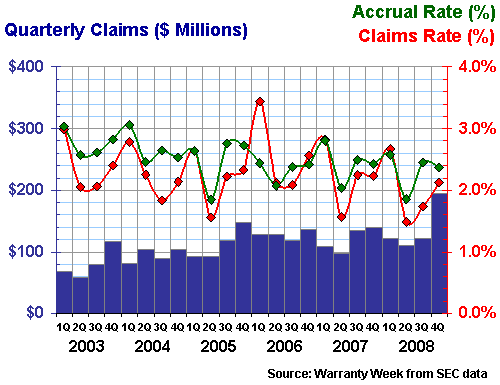 Navistar, meanwhile, also continued business as usual, which is all the more remarkable considering what was happening to the passenger car and light truck/SUV companies. In fact, Navistar saw lower claims paid in dollar terms as well as a lower claims rate in percentage terms during the last three quarters of its most recent fiscal year than it did in the corresponding quarters of fiscal 2007.
Meanwhile, Navistar's accrual rate, although it's distorted by the accounting treatment of the diesel engines it sells to Ford Motor Co. (Navistar sells them "as is," deferring the settlement of any associated warranty expenses until the lawsuits are settled), was lower in fiscal 2008 than it ever was before.
Figure 5
Navistar International Corp.
Warranty Claims & Accrual Rates, 2003-2008
(as a percentage of product sales)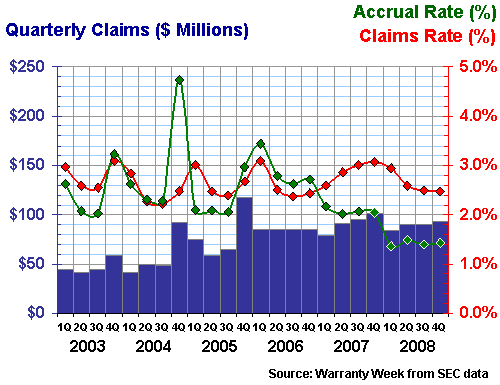 These are desperate times, of course, for Ford and General Motors. But it's not so bad for Navistar and Deere, at least. And in the computer industry, there's no sense of collapse at HP, Dell, or Apple. It's more or less business as usual.
At this early point in the year-end data roundup, the only major players for which sales really did "fall off a cliff" are Thor Industries and Nvidia. And the latter's crisis is self-inflicted rather than imported from Wall Street.
Medical Equipment: Business As Usual?
The only major medical equipment warranty provider to file its end-of-year financial report so far is Medtronic Inc., makers of pacemakers and surgical instruments. Medical equipment is supposed to be one of the few bright spots on Wall Street in the post-Lehman era. And Medtronic did not disappoint, reporting a 16% sales gain in the first half of its latest fiscal year.
As of October 24, Medtronic's claims rate had risen marginally from 0.18% to 0.22%, while its accrual rate was actually down, from 0.26% to 0.16%. The company's warranty reserve balance, meanwhile, remained steady at $39 million. In Figure 6 below, in fact, it looks like 2005 (when the pacemaker recalls occurred) was the year of crisis.
Figure 6
Medtronic Inc.
Warranty Claims & Accrual Rates, 2003-2008
(as a percentage of product sales)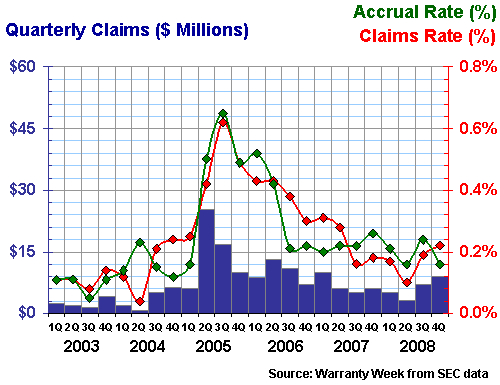 In the appliance industry, Helen of Troy is the only major player to report so far. And sales in the quarter ended November 30 were down 12% from the year before. So it's not surprising that the claims rate rose in response. But wait. It rose from 2.16% to only 2.19%. That's literally a rounding error. And the accrual rate actually fell from 3.1% to 2.8%. Clearly, this company isn't following the script either.
Figure 7
Helen of Troy Ltd.
Warranty Claims & Accrual Rates, 2003-2008
(as a percentage of product sales)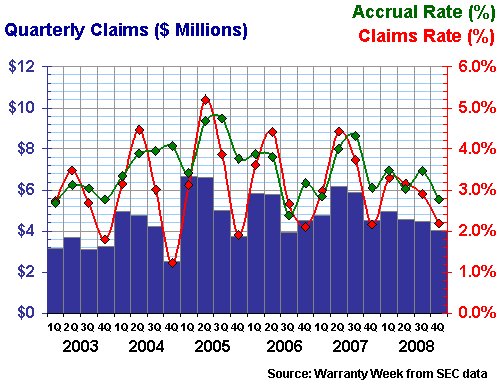 If anything, Helen of Troy is diverging from a looping script it has written for itself over the past six years, with claims always peaking in the quarter ended May 31 and always bottoming out exactly six months later in the quarter ended November 30. This past year, there was no real "peak," because the quarter ended May 31 was below even first quarter levels. But at least the fourth quarter's levels were lower than the first three's.
Granted, the sales and warranty experience of Helen of Troy's shavers, curlers, hair dryers, and other personal appliances does not have any bearing on the trends we'll see when the makers of major appliances file their financial reports later this winter. And the trends we see with farm equipment and heavy trucks now will probably not be repeated by the car companies when they file their annual reports in a month or two. However, there's nothing unusual or remarkable in the data we've seen so far, except how it doesn't seem to follow the bad news script.
Downturn in Furniture Sales
From the furniture industry, we have reports from two major warranty providers: Herman Miller Inc. and La-Z-Boy Inc. Both saw sales fall, but not by tremendous amounts. Herman Miller saw a 6% decline in sales of office furniture in the quarter ended November 29, while La-Z-Boy saw a 9% decline in sales of household furniture in the quarter ended October 25.
In warranty terms, Herman Miller kept its claims rate at exactly 0.65%, while its accrual rate fell from 0.69% to 0.61%. That means the company has been able to keep both its claims rate and its accrual rate between 0.6% and 0.8% for all of the past eight quarters. And, quite frankly, that makes for a rather boring chart.
Instead, we'd rather present to you the steadily increasing claims and accrual rates of La-Z-Boy. Below 1% for most of the past six years, they've both crept above 1.2% repeatedly in the past 18 months, with its claims rate at least hitting its highest level since early 2003, and its accrual rate coming down slightly from its highest levels ever.
Figure 8
La-Z-Boy Inc.
Warranty Claims & Accrual Rates, 2003-2008
(as a percentage of product sales)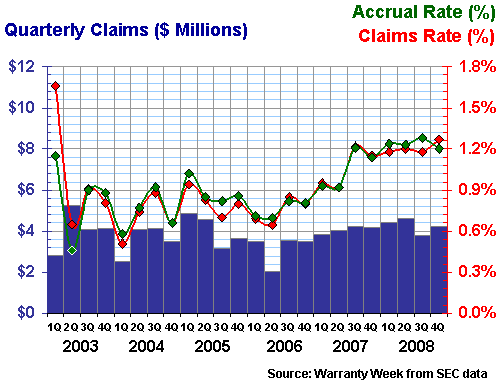 But let's not make it sound worse than it is. A quick look at Figure 8 shows that both claims and accruals have at least stabilized at the higher rate. And the higher rate isn't all that high, compared to the rates seen in Figures 1 through 7 (excepting Medtronic). This is not a crisis.
Significant Downturn Ahead?
So perhaps that's the conclusion we can draw from these early reports: It's not the best of times, but it's not the worst of times either. Sales aren't soaring, but neither are they in free-fall. Some sectors such as recreational vehicles, and, as additional reports arrive, probably passenger cars and new homes also, are undergoing significant contractions. And as those companies attempt to repair last year's products with this year's revenue, warranty claims rates will probably soar in response.
Indeed, of the 28 reports we've gathered so far, seven companies have seen their claims rates more than double in the past year. And four of those companies have seen sales fall by 50% or better. But among them only Nvidia was a top 100 warranty provider during the first nine months of 2008. And given the trouble those defective graphics boards caused for Nvidia's customers, it's no surprise that its sales are now falling.
Also, among the 12 year-end reports we've gathered so far from top 100 warranty providers, only four -- Thor, Palm, Dell, and Nvidia -- saw sales declines. The other eight members of the top 100, in ascending order based on sales gains, were Microsoft, Apple, Cisco, HP, 3Com, Medtronic, Deere, and Navistar. That's right, we said sales gains. That's not a term heard too often in early 2009.