February 5, 2009
Warranty Workshops:
What's the probability that two Russian physicists with degrees from the same university would deliver back-to-back workshops on new statistical approaches to warranty data? On March 10, that's exactly what's on the agenda for the WCM Conference's opening day.
With less than five weeks to go before the opening of the Warranty Chain Management Conference in Orlando, now is the time to take out those calendars and schedulers and ask the most basic question: should I go?
It's not so easy to say yes this year. Travel budgets are down and it's not so easy for a warranty professional to cost-justify spending half a week in the late winter sun of Florida. Then again, when times are tough, learning how to reduce costs takes on some added importance. And the theme of this year's event is "Warranty Management -- Saving Cost & Managing Risk."
Another question is whether to plan on attending any of the pre-conference workshops on March 10. While the basic two-day conference registration is priced at $1,295, each additional workshop is priced at $375. And there are five to choose from -- three in the morning and two in the afternoon.
Increasing Interest in Warranty?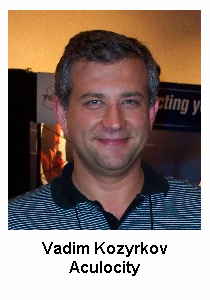 Vadim Kozyrkov, president of Aculocity LLC, said right now -- at the very lowest point of the bottom of this global recession -- may be the best time for companies to look into their warranty processes.
"Five years ago, when everybody's sales were doing fine, nobody paid too much attention," he said. "If my warranty costs were between 2% and 2.5%, I was doing fine. Today, when sales are down, that's the time you really have to pay attention to warranty. And maybe this time, people will listen more attentively."
Kozyrkov said the volume of inquiries at Aculocity was actually up in January, compared to a year ago. Is this a small sign of the beginning of a recovery? Does this mean that the end of last year was perhaps as bad as it gets, and now it's time to rebuild and retool? Or are we looking too hard for the silver lining as the storm gets worse?
"I cannot tell what people will do, but I've been to two conferences already this year," Kozyrkov said. And while the headcount seemed to be down, the level of per capita interest seemed to be up. Perhaps only the most motivated people are still traveling? Or perhaps now more than ever there needs to be a return on an investment of travel time and money?
"You know when you really need to look at your warranty? When things are not that good," Kozyrkov said. During the good times, increasing sales cover all sins. But when sales decline, that's when cost reduction efforts become major priorities. And a dollar saved on warranty becomes a dollar added to income.
"Right now: that's the best time to look into warranty," he said.
Kozyrkov plans to deliver a pre-conference workshop entitled "Warranty Analytics and Reporting: How Real Is Your Real Warranty Situation?" And by real, what he means is how accurate is your own assessment of your own warranty operation?
Why Ask Why?
Kozyrkov said that in the past his talks have focused on how to use different statistical approaches to look at warranty data -- going above and beyond simple measures such as defects per thousand or the claims rate as a percentage of sales. In Orlando, he said he plans to focus on why.
"The curves look nice and they may be statistically correct, but why would I change from the current way I look at warranty data to some new and unknown way?" Kozyrkov asked.
To answer that question, he said he is going to take some actual production data from a few of his automotive clients -- masked to disguise their origins -- and run both the typical tried and true metrics and his own suggested new statistical methods against them. It should then become immediately obvious why his approach is better.
"In the previous conferences, I was showing how to use statistics," he said. "And there was a very strong interest. We had a lot of calls and we had potential implementations. But people still don't understand what it does when they change statistics. So this time, I want to make this bridge -- to show the people it's not just the numbers; it's what you'll see as specific benefits to your business."
The two primary benefits, he said, are lower current warranty costs and better visibility of future costs. Practitioners who follow his approach have a more accurate picture of their warranty costs and know the trends sooner, so they can take corrective action faster.
People and Products
The statistical approaches work across industries, he said. In fact, they seem to apply not only for manufactured hardware. They seem to work just as well for human injuries as they do for product failures. Next year, Kozyrkov said he may have data from a just-signed contract that uses his statistical approaches to analyze workplace injuries and the resulting workman's compensation claims. And he plans to show how some of the same statistical approaches may be useful in that instance.
"At the end of the day, if you think about it, there's not much structural difference between a car, a plane, or a human," he said. Strictly speaking, in terms of statistics, there are parts, there are failures and defects, and there are repairs and replacements.
"The approach is absolutely universal," he said.
As if to prove his point, there's a morning workshop planned by Sergei Ananyan, CEO of Megaputer Intelligence Inc., that seeks to show how a statistical approach that found its earliest success with near-misses and close calls in the aviation industry has helped a major computer manufacturer extract early warning data from call center transcripts.
Fortunate Coincidences
Interestingly, both Kozyrkov and Ananyan were students at Moscow State University, both have Ph.D degrees in physics (but Ananyan's is in nuclear physics) and both speak English with just a hint of Russian roots. And here they are, delivering back-to-back workshops on new approaches to warranty data analysis at the premier annual event in the warranty industry.
Ananyan, at least, said he never thought of himself as a warranty software kind of guy, although that's precisely why Megaputer will be speaking not once but twice at the WCM Conference. PolyAnalyst, the company's flagship software package, allegedly does wondrous things when pointed at warranty data. But it took a customer to figure that out.
Kozyrkov, meanwhile, came to America eight years ago to help form the online parts sales and warranty claims management department for the operating companies of Grand Vehicle Works Holdings Corp., and later spun that off into Aculocity. There's nothing accidental about his or his company's focus on warranty.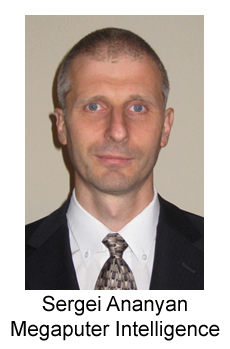 Ananyan came to America 11 years ago to work on the cyclotron facility at Indiana University in Bloomington, Indiana. And while there, he decided that his next move would be to launch Megaputer Intelligence as a software company specializing in structured data analysis.
The word "megaputer," he said, comes from a German-Russian research project in the late 1980s to invent the next generation of central processing units. He had nothing to do with it, though he was attending Moscow State University at the time the project was under way. But he liked the name, so he picked it up after the effort ended.
As his nuclear research wound down, his data analysis efforts ramped up. Megaputer initially secured the rights to distribute somebody else's structured data analysis tools, and now in hindsight even Ananyan admits that it wasn't a very robust product.
"But it gave us the idea that text mining might be very important in the future," he said. So in 2001, the company began developing its own text mining product and since 2002 has been selling it under the name of PolyAnalyst.
Warranty Meets PolyAnalyst
"We never focused specifically on the warranty industry," Ananyan said. Instead, it was a customer that found PolyAnalyst to be useful in its own warranty operations, and that helped turn the company's focus from the very general realm of text mining to the very specific application of warranty data analysis.
"For us, the application is called incident report analysis," he said. And that, in turn, came from the nomenclature used by one of its earliest customers, the Federal Aviation Administration.
The FAA used PolyAnalyst to automatically sift through thousands of incident reports, which are notifications of problems or unusual events that fall way below the level of an "accident." And that, in turn, is based on a 78-year-old technique whereby one analyzes the minor accidents to avoid the major ones.
Back in 1931, a researcher named H.W. Heinrich developed what he called the "accident triangle," and published his findings in a book entitled Industrial Accident Prevention: A Scientific Approach. Basically, Heinrich determined that for every major injury that's placed at the top of his triangle diagram, there may be 29 minor injuries in the middle and as many as 300 minor accidents at the bottom that don't get as much attention.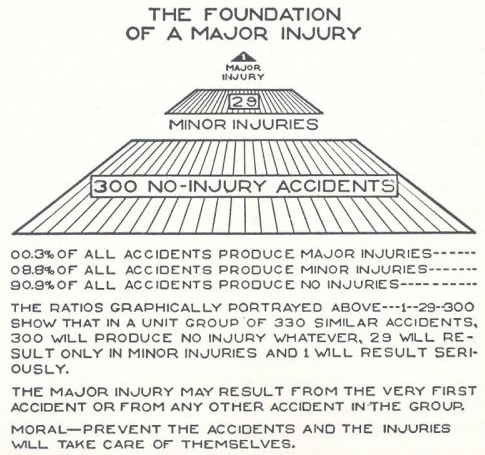 Source: H.W. Heinrich, Industrial Accident Prevention
Yet these minor occurrences frequently contain an early warning of trends that could one day lead to a major accident if they're not detected and corrected early enough. His conclusion: prevent the accidents and the injuries will take care of themselves.
After the FAA conquered its data mountain, the National Transportation Safety Board became a customer, using PolyAnalyst to analyze their equally huge volume of incident reports, looking to spot early warnings of minor trouble spots before they could become major.
Then other federal agencies said "me too," and they also began using PolyAnalyst to text mine their safety reports, again to look for trends that weren't yet major problems. A healthcare company used PolyAnalyst to help it detect insurance fraud. The U.S. Department of Health and Human Services began using PolyAnalyst to help it find insurance claims errors.
And then the idea came to Megaputer to apply its analysis engine to the call center repair notes and service tickets of one of the world's top computer manufacturers. That implementation had nothing to do with aviation or health care, and at least initially, also it seemed to have nothing to do with warranty. But in a now-familiar story, it eventually became all about warranty and the successful analysis of a mountain of facts and figures to spot patterns and trends in the repair data and call records.
Millions of Phone Records
Ananyan said he couldn't name the customer, but said it's very recognizable brand name in the computer industry. "They have a number of call centers," Ananyan said, "and they receive several million phone calls per year. These phone calls are then transcribed by an operator as closely to the customer's own language as can be done.
"The company knew this data was valuable. But they couldn't put their hands around all this information," he added. "They knew that frequently the key issues and early warning signals were in this data. But it was just impossible for them to do accurate categorization manually, because of the volume of phone calls."
Two years ago, the client began pointing PolyAnalyst at the call center transcripts from one division in Oregon, and is about to deploy it in another division in Texas. They still won't allow Ananyan to identify them publicly, but they helped him get the invite to speak at WCM about the value of the software during both the pre-conference workshops and during the conference itself. They even encouraged him to become an exhibitor a year ago, but Ananyan had a scheduling conflict and couldn't make it to San Diego.
He didn't think he was working for a warranty software company then, and he doesn't think he's working at one now. Yet here he is speaking twice at a warranty conference about how a major customer used his product to reduce their warranty costs. So exactly how and when did Megaputer become a warranty analysis software vendor?
"It developed gradually," Ananyan said. The common theme for all its customers is how they use PolyAnalyst to find minor trends in huge piles of data before they become major problems. And that applies to airports as well as call centers.
"It works the same way for warranty," he said. Initially, you have a bunch of unrelated and minor warranty issues, but then you detect a pattern and take steps to either reduce the frequency or reduce the severity of the claims. And then the number of incidents falls, or the level of the incidents becomes even more minor. And then you repeat the cycle.
And just as PolyAnalyst was passed around amongst the safety agencies, now it's traveling from one manufacturer to another. For a major medical equipment manufacturer that also declines to be named, Megaputer is now analyzing call center records to make determinations of not just the frequency of warranty claims, but also their likely severity. Depending upon what was discussed during the call, PolyAnalyst helps the manufacturer make a guess as to how long the trouble ticket is likely to stay open, and how much it is likely to cost them to close it out. That information is then fed to the team looking after warranty accounting, so they can tell whether their accruals are adequate to cover future claims.
Obligation Becomes Opportunity
Ananyan said the medical equipment manufacturer also treats those calls as an opportunity to sell service contracts to those whose warranties are soon to expire. "When the customer calls them with a problem, it might be the best time," he said. "They certainly will listen to you, that this could have been avoided if they had such and such."
These two customer case studies will provide the rough themes of Ananyan's two WCM talks. The first, the March 10 workshop entitled "Deriving Customer Insights Through Text Mining Repair Notes," will discuss how to find a needle in a haystack, and the second, a talk on March 12 entitled "Using Repair Data to Discover Cross-Sell Opportunities," will discuss ways to turn that hay into revenue.
"It's certainly a very innovative way to take advantage of the same data," he said. The medical equipment manufacturer, in fact, found that warranty claims could be reduced if only the equipment was more frequently and more accurately calibrated. What to do? Launch a customer-pay calibration service featuring a trained technician that stops in every once in a while to perform some maintenance.
Another example comes from the data communications equipment industry, where another Megaputer client found that its customers were frequently calling to report minor security problems that were the result of errors in configuration.
Ananyan said that problem was that at the time of purchase, most customers weren't aware of the challenges they faced and the sales force didn't know how to sell services anyhow. But when they called in with those first few questions, they became easy prospects for an upgraded security expert service.
"It's a time when the customer is ready to talk to you. They will listen, because they have this problem. And they will see that the manufacturer is taking care of them. So these will be very happy customers," he said.