March 5, 2009
Warranty Conference:
Economic turmoil is likely to take its toll on WCM 2009 attendance, but those who can make it to Orlando next week will see a series of how-to presentations by some of the biggest warranty providers in the world. Legal and regulatory issues are also on the agenda, and yes, there will be a quiz at the end.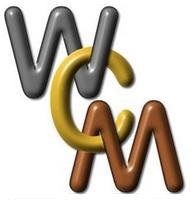 Less than a week to go until the opening of the fifth annual Warranty Chain Management Conference, and it's shaping up to be a smaller but more focused event.
Alison Griffiths, the WCM Conference director, told Warranty Week that she expects around 175 people to attend the conference in Orlando this year, down sharply from the 310 that attended the same event last year in San Diego. In fact, this year's headcount might even be a little below the number of attendees at the first WCM Conference in March 2005.
Recessionary Impact
"Stating the obvious, I think the economy has driven this," Griffiths said. "I know that there are many people out there -- folks who have attended every previous conference -- and they just can't get authorization to travel and incur the expenditure. Also, from my own experience, I know there are a number of people who are no longer employed in the warranty industry."
On the other hand, she said those that are headed to Orlando seem more excited than in years past. Perhaps it's a function of how much more difficult it was to get the authorization to travel than in years past. And perhaps because there are now more events competing for the travel budgets of the typical warranty professional, the people that are headed to Orlando next week are really doing so of their own free will, she said.
If there is a silver lining in the current turmoil, it's that it has served to highlight the importance of warranty management and of good aftermarket sales and service relationships with customers, and the value of keeping that focus despite the reduction in revenue.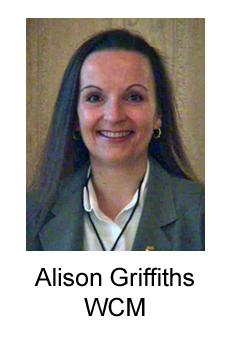 In fact, Griffiths said she wishes there had been more discussion around the economic topic in years past -- to help warranty professionals to prepare for the current downturn.
This year, the big change in the conference format will be more interactivity, Griffiths said. "We take a really hard look at the feedback" from years past, she said, and the top request was for more interaction between the presenters and the audience. "So this year, we have three panel discussions," she said. "One of them is on warranty entitlements. One of them is on best practices within the warranty management framework. And then our final panel discussion is on the whole topic of warranty management in terms of saving cost and reducing risk, which I think in this environment is very current and very relevant."
A few people, Griffiths said, are attending WCM on their own time, taking days off from their jobs and paying their own expenses. "They haven't had company permission," she said, "so they're traveling on their own time -- which I think is absolute testament to the value that this program is bringing to people, and to the depth and breadth of knowledge and experience that the speakers have. I think that says a great deal about the strength and richness of the program, that in this environment somebody is prepared to fund it themselves in order to get there."
Even some of the presenters have been hit by the corporate travel ban, and have had to drop out of the program as a result. Others have found they have other business to attend to, but have arranged for a replacement speaker to fill their slot.
Keynote Replacement Announced
One of those who found they couldn't make it was the scheduled keynote speaker: Hewlett-Packard Co. vice president Rhonda Rubenstein. But in an ironic twist of fate, she arranged for Marc McKenzie, HP's global director of warranty, to take her place.
McKenzie was supposed to be the keynote speaker at the first Warranty Chain Management Conference in San Francisco, but he had to cancel due to illness. So when Rubenstein found she was double-booked for March 11 and couldn't make it to WCM '09, McKenzie was a natural first choice to replace her.
This year, McKenzie said he plans to cover the framework that HP now uses to look at warranty, as well as how HP has chosen to look at the segmentation of the warranty process. The goal is to harmonize how the company looks at warranty across all its product lines and business units. It's a careful balancing act, he said, between looking at warranty from a process point of view or looking at it from a line of business point of view.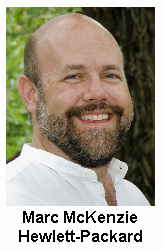 "We actually did a lot of work in the last two years," he said, "to get alignment across the company about what are the actual process elements, and getting agreement between all of our businesses that we're going to use the same language, and the same business architecture for those process elements."
HP, he noted, continues to reduce its warranty costs, but because sales are growing, it's costing the company more than $3 billion a year to satisfy all those warranty claims. HP has at least 40 major product categories -- everything from low-end printers to complex server networks. Around the world, HP employs at least 600 warranty professionals, along with countless others involved in repairs, call centers, finance, and other sectors with a significant link to the warranty operations.
Five years ago, HP formed a Warranty Council to look into warranty matters on a company-wide basis. That council is still going, McKenzie said, and is probably even more of a priority now that gross margins and costs are under such stress. The problem is that there isn't just one way to do warranty within a company as vast as HP.
One Size Fits None?
"In some respects, one size fits none," he noted, "but we are increasingly finding that when we look at that end-to-end chain, there are things we can leverage everywhere," particularly in terms of the information technology used on the back end.
"The point is, it's getting bigger all the time," he said. "So you have to focus, and you have to help people focus on how they can improve those areas." One big success has been in driving down delivery costs, especially by designing products in a way that allows for some customers to self-repair their products with parts shipped to them by HP. Another is to beef up the HP Web site with more step-by-step instructions and video examples, so that it improves the user experience and cuts down on call center costs. And, of course, early warning efforts to improve quality and prevent defects from ever being sold will cut down the need for repairs altogether.
"That's a double win," he said, "because you save all that downstream cost and your customer's happier, because they didn't have a failure or an event they had to deal with."
Another area for potential savings involves the use of remote diagnostics to allow HP to monitor equipment and actually begin to predict when a failure might happen. For instance, McKenzie said a sensor might detect an overheating condition within a system, and analytic software might determine that this condition is usually followed by a disk drive failure. HP could ship a part for customer self-repair, and have it arrive even before the failure occurs.
"The doorbell rings, and it's the UPS guy," he said, "and you open up the box and it's a hard drive from HP. And you wonder why they sent you a hard drive? But the note on the cover says, 'We expect your had drive to fail within the next 72 hours.'"
One area McKenzie said he thinks many companies completely overlook is the warranty entitlement system. This is simply the process of finding out if a given unit is still under a product warranty or a service contract, and if so, what benefits it entitles the user to receive.
Companies that ignore this area do so at their own peril, McKenzie said, because they will end up paying for a lot of repairs that the customers should have paid for themselves. But companies that do try to streamline this area quickly find out what a big task it really is, because it will necessarily have to touch upon items such as product packaging and serial number design that ordinarily aren't in the domain of warranty or service. In a large company, that's a pretty large effort, he said.
Fighting Warranty Fraud
Another large company sending a top-level warranty professional to WCM is General Electric Co. Jeff Moore, claims manager for GE's Consumer & Industrial segment, will be part of Track 12 with a presentation entitled "Taking the Question out of Questionable Claims."
He and Greg Spraker, a national accounts manager at SAS Institute, will explain how a customer care and service organization such as GE Appliances can use analytics software to catch suspect or fraudulent claims before they're paid.
Moore said that about a year ago, Consumer & Industrial installed the package to examine warranty claims for appliances and electronic products. He said GE's Rail Division had been using the SAS software for several years to look at its repair data, with very positive results.
"During a review with our corporate office, we realized there were probably some options there for savings," Moore said. "We did a proof of concept with them, and they were able to point out some pretty big holes we had in our system that would allow suspect claims to get through."
So far, it also seems to have worked out very well for Consumer & Industrial. "It's already paid for the investment we put into the program four times," Moore noted. And that was both better than was expected and faster than was expected, he added. "We knew there would be quite a big number, but we were completely shocked about some of the stuff we found."
And, echoing the experience of other SAS customers (see the section on Sub-Zero in the February 20 newsletter), the software worked perhaps too well, finding an initially overwhelming volume of claims deserving further attention from his auditors. Moore said that like Sub-Zero, GE also had to turn down the sensitivity a bit to bring it down to a more manageable volume.
Now other GE divisions are taking a look at the anti-fraud applications of SAS software, Moore said, and his division is looking at spreading the use of SAS analytics into early warning and service parts applications.
Legal & Regulatory Theme
One aspect about WCM you won't find at most other conferences is a dual focus on both product warranties and extended warranties (service contracts). Another aspect that's also unique is the mix of presenters from not only both the manufacturer and retail sectors, but also from the legal and insurance professions.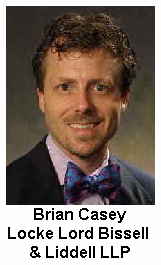 At one point on Wednesday afternoon in Track 9, Brian Casey, a partner at the law firm of Locke Lord Bissell & Liddell LLP, will be co-presenting along with Guy Koenig, senior vice president of reinsurance business development at the Bank of America, in a session entitled "Anatomy of an Extended Warranty/Service Contract Provider's Insurance Partner Relationship."
"The gist of the session is to discuss and present the basic relationships, how they're structured, what the key documents and agreements are, and what the key points within those documents are for structuring the relationship," Casey said. "Being a lawyer, I'm addressing the legal/regulatory/contract matters from the legal side, with respect to the anatomy presentation. And then Guy will play the business side of the issues."
There are numerous permutations possible between an obligor/administrator, underwriter and reinsurance carrier, Casey said. "It's those kinds of relationships that are the subject of structuring and contract negotiations, and those kinds of things. The insurance partner has a high degree of interest to make sure that their administrator/obligor is their business partner, and vice versa," he added.
"If there's a reinsurance relationship between an affiliate of the obligor or the administrator, where the insurance underwriter is reinsuring or retro-feeding risk to a reinsurer that's owned or controlled by the obligor or administrator, then you have a reinsurance contract or a retro contract. And those are sometimes arcane contracts," Casey said.
This session, he said, is aimed at both obligors and manufacturers that need to know more about contracts and relationships. He said he's primarily an insurance lawyer, so this is his main focus.
"If they're looking for a business partner who's an insurance company, under whatever flavor the transaction might be, the purpose of this session is to educate them on the key issues and structuring matters they need to consider, and some contract drafting and negotiation issues that they will likely encounter in developing those relationships," he said.
Panel Discussion on Legal Issues
On Thursday, Casey will be part of a panel discussion on legal issues surrounding warranties, along with attorneys Christopher Karo, a member of the law firm Frost Brown Todd LLC, and Dan Janssen, a partner in the law firm of Quarles and Brady LLP. That panel discussion comprises the second half of Track 14.
During the first part of Track 14, Karo and Janssen will each offer their own legal and regulatory overviews. Karo's opening presentation is entitled "Service Contract Regulation 101." But that will be Karo's second presentation of the day. In the early morning, as part of Track 11, he's scheduled to present a session entitled "Understanding Tax Rules and Accounting Principles Applicable to Warranty and Service Contracts."
In that first presentation of the day, Karo said he will be going over both federal and state taxation rules that apply to both warranties and service contracts. Some of the presentation will be recent case law, while other parts will be so-called private letter rulings. That session also will look at limitations on state taxation, the reporting of warranty income and deductions, and the ways regulators determine whether an offering is insurance or not.
"I think it's going to be geared more towards the tax side, just because there's so much there," he said, "but also hitting some of the highlights on the accounting side as well." The intended audience is the warranty professional that reports to a controller or a Chief Financial Officer, and therefore needs to be aware of how all these tax and accounting rulings can affect them. "It's designed to be an overview," he said -- Warranty Tax Law 101, if you will. And while Karo said he will delve deeply into some topics, he promises that it won't ever get too technical for the non-legal people in the room.
Later on Thursday morning, Karo will deliver his service contract overview, summarizing how they're regulated differently for different products in different states. Again, it's designed to be an entry level overview, explaining topics such as how a service contract differs from insurance, and how the regulation of service contracts has evolved over time.
Warranty Law for Beginners
The 101 designation, Karo said, is intended to flag the presentation as a basic introduction to the topic. At last year's WCM Conference, he said, he took a much deeper dive into the subject, but this year he said he wants to make it a more accessible and broader overview aimed at people who might not know much about service contract regulations.
As with Casey, Karo is an insurance and regulatory attorney who provides regulatory and corporate counsel to consumer product and motor vehicle manufacturers, retailers, and administrators regarding the establishment and maintenance of national service contract programs. He began his legal career in the Florida Department of Insurance, and then went into private practice after five years. Based in Kentucky, he frequently works on national licensing programs and 50-state compliance projects, so it's part of his practice to know the regulatory differences from one state to the next.
After their WCM presentations are completed, both Karo and Casey are headed to San Diego to attend the 2009 spring national meeting of the National Association of Insurance Commissioners. Last year, the NAIC's spring national meeting was held in Orlando, about two weeks after the end of WCM 2008 in San Diego. Someday, perhaps they'll both be held in the same city, in consecutive weeks?
Accounting for Human Behavior
While many of the panelists will talk about the trend towards automating the manual tasks and computerizing the paper-based processes, at least one pair of speakers plan to talk about humanizing the statistics and the math.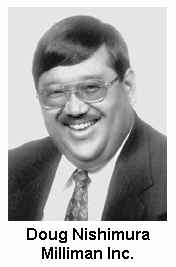 Doug Nishimura, a consultant with Milliman Inc., and Mike Paczolt, an actuary with the same company, plan to jointly present a session entitled "Warranty Profitability: An Actuarial Approach," as part of Track 11.
"We're going to talk about the different approach that an actuary would take versus a statistician," Nishimura told Warranty Week. The idea is to add human factors to the pure math, resulting in a more accurate model that takes behavior into account.
Milliman is a consulting and actuarial firm that typically works with very large companies in areas such as employee benefits, healthcare, and insurance. It has numerous clients in the extended warranty business, including large retailers, manufacturers, and insurance companies.
Nishimura said his background is in statistics, in a career that now stretches back more than 25 years. But as he worked more and more within the extended warranty space, he quickly found that statistics weren't enough, because they didn't take into account the unpredictable nature of human behavior. A different method was needed.
The actuarial model, Nishimura said, injects additional factors such as warranty goodwill and concessions, seasonality, consumer awareness, adverse selection (the tendency of people more likely to break equipment to buy extended warranties), product mix, obsolescence, pipeline claims (the lag time between incurring a claim and getting it input into the system), and claim emergence patterns that differ from the straight line method.
"The actuarial method allows you to put some judgment into it," he said, "and to supplement some of your own data with your past knowledge or industry data. We try to blend mathematics with some other qualitative information. What actuarial science is based on is that the past is indicative of the future."
Nishimura said the results are much more aligned with what actually happens in the real world, particularly in the waning years of the extended warranty contract. "We have found that the predictability of what we call the tail development at the end is sometimes more related to the human factors that really can't be modeled by a straight Weibull distribution," he said.
Taking the Warranty Quiz
Few people really expect warranty law to be all that much fun, but then again few people have seen Helena Haapio in action. Haapio, an international contract counsel with Lexpert Ltd., is scheduled to present a session entitled "Invisible Terms and Creative Silence in B2B Warranties" as part of Track 9.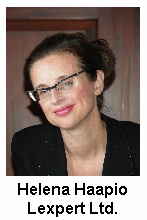 Haapio said she plans to deliver her message with a light and humorous theme, beginning with a true-or-false quiz that's meant to show just how ambiguous language can be. "My topic is about making the invisible visible," she said. Coming from Finland and the European Union, she said she particularly wants her audience to think about what happens if their supply chains extend across international borders.
"We may think that we agree, but we don't. Or we may think that we disagree, but we might actually agree," she said. "And then there may be rights, responsibilities, and remedies that we have that we didn't know of, or that the other party has that we didn't know of."
Haapio said that many of the concepts in her session are taken from the preventive law approach, or the pro-active law approach, as initiated more than 50 years ago by an American law professor named Louis M. Brown. Basically, the preventive approach is to warranty law what early warning is to warranty claims. "He said that it usually costs less to avoid getting into trouble than to pay for getting out of trouble," Haapio said.
Preventive Law Center
"I call myself a contract coach, or international contract counsel," she said, because she helps her client companies prevent legal problems. Haapio said she's both a lawyer and an arbitrator. Interestingly, she has university degrees as both a Master of Law and as a Master of Quality, and also has previous work experience as an in-house counsel. But she doesn't practice law in court.
"I'm not so fond of litigating lawyers," she said. "I know they are needed, but dispute resolution shouldn't be the only way that law is practiced." And that is aligned with the founding principle of the National Center for Preventive Law, which was started by Professor Brown. The NCPL is housed at California Western School of Law, which is also home to the Louis M. Brown Program in Preventive Law. According to its Web site, the NCPL acts as a clearinghouse for information and as a network for those interested in the theory of Preventive Law or how it applies to particular areas of practice or the courts.
Haapio and her colleagues in Europe have adapted some of those same theories and best practices to the area of contracts and warranties, particularly in terms of international trade. They set up the Nordic School of Proactive Law, and later, in an effort to expand the field beyond legal concerns, founded the ProActive ThinkTank as "a forum for business leaders, lawyers, academics and educators to discuss, develop and promote the proactive management of relationships, contracts and risks, and the prevention of legal uncertainties and disputes."
Haapio said she founded Lexpert to help client companies do a better job when dealing with cross-border contracts and warranties, so they can avoid getting themselves into legal trouble down the road. As she told Warranty Week, "Contracts and warranties are too important to be left to the lawyers alone."
She said she wants warranty managers to get more involved in the legal side of the profession, to deal with the root causes of unnecessary disputes, and to help construct the language and eliminate the ambiguities that later on can lead to problems. And these are the people she hopes will come to see her presentation next week in Orlando.
Another aspect she plans to highlight for warranty managers is the bad things that can happen when the contract or warranty is silent about certain rights, responsibilities, or remedies. This, she calls "using silence creatively," which means that one party chooses to leave something unaddressed or ambiguous on purpose, in hopes that this can be interpreted to their advantage later on.
"It is very serious stuff," Haapio said, "but it's fun the way we go through it. I hope it will be exciting, intriguing, and a little bit surprising for the audience."