March 26, 2009
Computer Warranty Trends:
While other industries are seeing claim rates rise and accrual rates fall, warranty providers in the computer industry are seeing claims rise slightly and accruals rise a lot. And it's not so easy to blame those changes on sales declines, or to link them with quality increases.
As easy as it was to find evidence of the recession in the automotive warranty numbers last week (see Warranty Week, March 19), it's more difficult to see it this week in the high tech warranty data.
While both claims and accruals shrank for the automotive OEMs in 2008, they grew for the computer OEMs. While claims soared for the auto parts suppliers, they're up only marginally for computer suppliers such as disk drive and circuit board makers in 2008. And while most automotive companies reduced their accruals in 2008, most of the computer and semiconductor companies did quite the opposite.
The fourth quarter is a different story. Almost everything froze up to one degree or another following the collapse of Lehman Brothers on September 15, and high tech was no exception. Looking at data for sequential quarters, it's clear that even the disk drive, circuit board and semiconductor equipment makers saw a downturn from the third quarter to the fourth quarter of 2008.
An Ever So Slight Upturn
In the computer industry, however, claims actually increased by a tiny margin during the fourth quarter of 2008, up by only $250,000 to $1.290 billion. That's an 0.02% increase! In the chart below, the figures for the third and fourth quarters may look equal, but there is just the slightest upward turn in the curve if one magnifies it to an incredible size.
Figure 1
U.S. Computer Manufacturers
Claims Paid per Quarter, 2003 to 2008
(in $ millions)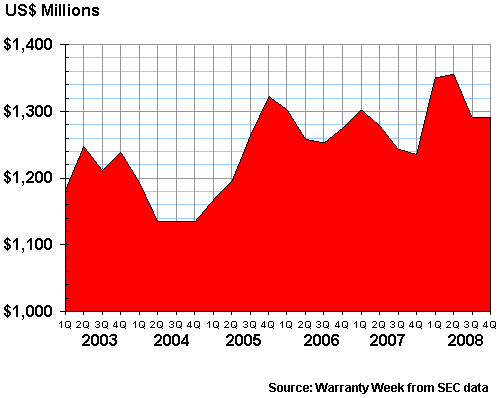 By the way, we're trying to use the same color scheme as has been used in years past, which will hopefully help the reader reconcile this year-end report with others from the past five years. For instance, the computer OEMs in the April 10, 2008 newsletter used red for the computer OEMs, pink for the data storage companies, and yellow for the semiconductor makers.
We should also note that the vertical scale is stretched heavily in some of these charts, to magnify the periodic changes as much as possible. Were it drawn at normal scale, the time series for the last 12 quarters would look more or less flat at $1.3 billion in claims per quarter, with very slight dips once in a while. In other words, despite the jagged look of Figure 1, computer warranty claims are neither soaring nor plummeting. In fact, they haven't changed much since the end of 2005 (although the claims rate has changed in response to sales levels).
For the full year, claims among the dozen or so computer OEMs grew by a more visible 4.5% to $5.286 billion in 2008, up from $5.059 billion in 2007. Within that sector, Dell, Hewlett-Packard and Sun Microsystems were among the OEMs to see their claims rates rise, while IBM, Apple and Palm were among those to see their claims rates fall.
Accruals, meanwhile, grew by an even faster rate in the computer industry, jumping from just under $5 billion in calendar 2007 to $5.655 billion in calendar 2008. That's a 13% increase, and it comes in a year in which accruals for all manufacturers in and out of the computer industry actually fell by 9% last year.
In the fourth quarter, however, computer manufacturers actually did allow their accruals to slip a bit, setting aside only $1.327 billion, an amount down noticeably from the $1.542 billion accrual total seen in the second quarter of 2008 (and far below the peak of $1.658 billion seen in the final quarter of 2005).
Computer makers also bucked the cross-industry trend towards shrinking reserves. While all manufacturers counted together allowed their warranty reserves to contract by more than 10% in 2008, just the computer makers boosted their reserve balances by a collective $246 million to $4.509 billion by the end of last year.
Late and Light Downturn?
It's as if the economic slowdown hit late, and hit light. And while brands such as Palm and Unisys saw warranted hardware sales fall by 20% or more, HP and Apple actually saw sales gains.
Apple, in fact, had that increasingly rare combination of rising sales, falling claims rates, and falling accrual rates. In Figure 2 below, it's even more plain that the company is now on the good end of a downwardly sloping curve.
Figure 2
Apple Inc.
Warranty Claims & Accrual Rates, 2003-2008
(as a percentage of product sales)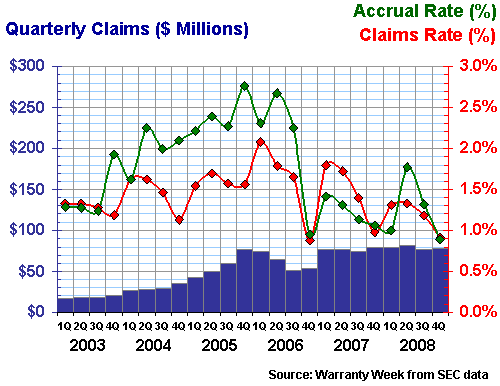 It's the first time in two years and only the second time since 2003 that Apple has turned in claims and accrual rates that were both below 1%. And, as can be seen in the chart, for two years the company has continued to spend a maddeningly consistent $80 million per quarter on claims, no matter what time of year it is.
For a company that spent an unusual amount of time defending its iPhone and iPod product line from allegations of defects, battery problems and lawsuits, things just couldn't be better. If there were any problems back in 2004 to 2006, from the looks of Figure 2 they're now firmly part of the past.
In contrast Palm is still recovering from whatever ailed it. A quick look at Figure 3 suggests that the claims rate is still unusually high, though not as high as it was during the second half of 2007 or the first half of 2008.
Figure 3
Palm Inc.
Warranty Claims & Accrual Rates, 2003-2008
(as a percentage of product sales)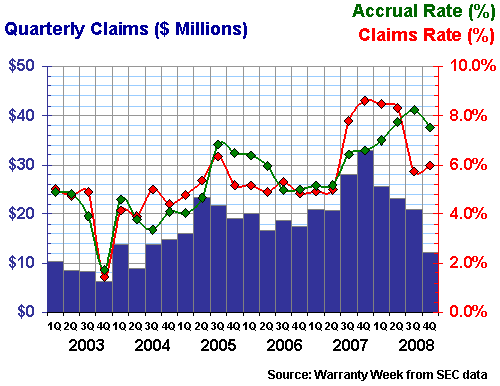 Claims fell to only $12.25 million, but that had more to do with slowing sales than rising reliability. Still, it's far below the $33 million reported for the fourth calendar quarter of 2007.
The company's accrual rate, meanwhile, was down to 7.5% in the fourth quarter, but that's still the third-highest mark it's ever set in the past six years. That's the value of an ever-lengthening data series. We know that warranty costs are high for handheld computers and high-end mobile phones, and we've come to expect 4% to 6% claims and accrual rates. But 8%? That's just too high.
Data Storage Manufacturers
U.S.-based data storage system manufacturers saw a similar pattern in 2008. Claims were up marginally but accruals took a huge jump last year. Compared to 2007, accruals in this sector were up 14.8% to $620 million while claims were up only 0.2% to $561 million.
In just the fourth quarter, however, both claims and accruals fell significantly from third quarter levels. Claims came in at $130 million while accruals came in at $144 million -- $16 million and $18 million, respectively, below third quarter levels. That, we suspect, is closely linked to sales declines.
Figure 4
U.S. Data Storage Manufacturers
Claims Paid per Quarter, 2003 to 2008
(in $ millions)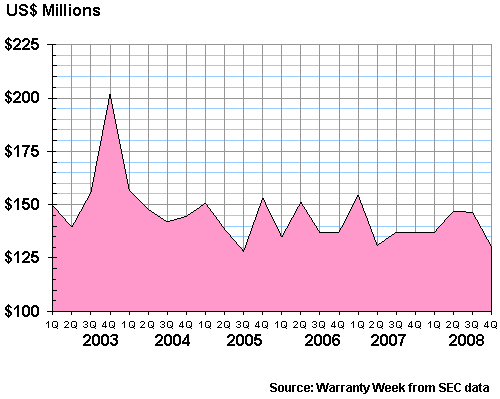 Figure 4 shows the recent decline in claims, which follows almost five years of rather steady claims levels in the $130 million to $150 million range. As with Figure 1 and Figure 7, we've stretched the vertical axis as much as possible so as to better show the fluctuations. But in Figure 4, there's just not much change to report.
The very noticeable spike in the fourth quarter of 2003, by the way, was almost entirely caused by Maxtor Corp., which saw its claims more than double from their historical norm during that period. Claims topped $103 million for Maxtor that quarter, more than $50 million above their before-and-after average. The company was eventually acquired by Seagate, and its warranty problems, we hope, were fixed.
Sales Gains Scarce
Among the largest warranty providers in the data storage sector, only EMC Corp. showed a sales gain last year, although among the smaller players there were also hardware sales gains reported by Emulex Corp., Dot Hill Systems Corp., and Brocade Communications Systems Inc.
At the other end of the spectrum, Seagate reported a 34% sales decline in the fourth quarter while Western Digital saw sales fall 17%. Both also saw claims and accrual rates rise.
In Figure 5 below, we've spotlighted Western Digital, which has the fortune, or misfortune, of having seen both its claims and accrual rates bottom out a year ago. The problem is, now its year-ago comparisons look bad, because its claims rate jumped from 0.8% to 1.4% and its accrual rate went from 1.1% to 1.65%. But the reality is that over the long term, both rates are up recently after a long decline.
Figure 5
Western Digital Corp.
Warranty Claims & Accrual Rates, 2003-2008
(as a percentage of product sales)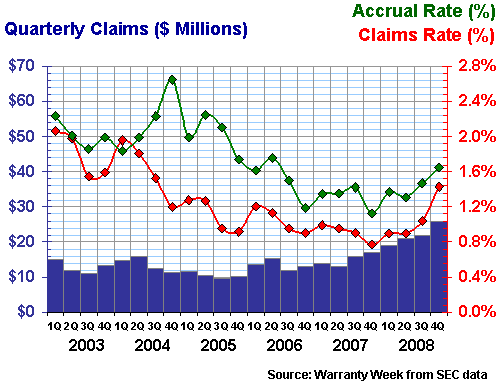 More worrisome is the rise in the claims total from $13 million per quarter at the end of 2006 to $17 million at the end of 2007 and $26 million at the end of 2008. That rise was not matched by an increase in sales, and the climb in the claims rate is the inevitable result.
It's quite the opposite case at Quantum Corp., profiled in Figure 6 below. Claims peaked at $10 million per quarter at the end of 2006, fell to $9.4 million at the end of 2007, and to $4.4 million at the end of 2008. Hardware sales were down 22% in the fourth quarter of 2008, but both the claims and accrual rates were down by 40% from a year before. In other words, sales fell but costs fell faster.
Figure 6
Quantum Corp.
Warranty Claims & Accrual Rates, 2003-2008
(as a percentage of product sales)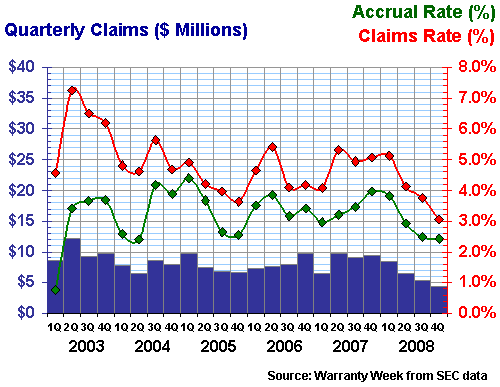 The other item to note is that Quantum is enjoying a substantial multi-year decline in its claims rate. A year ago, claims were a little above the 5% line, which is usually a sign of trouble. But then again, back in 2003 the claims rate went as high as 7.3%.
Note also that despite these high payouts, Quantum always tried to keep its accrual rate between 2% and 4%. At least now, its claims rate is within that range too. That means its warranty reserve is increasing its capacity to pay claims. But it's still shrinking. Back in early 2003, Quantum had $49.6 million in its warranty reserve. By the end of 2006 it was down to $33.6 million. A year ago it was $22 million. And it closed out 2008 at $12.6 million.
But because claims have also been falling, that $12.6 million is equal to what the company pays out in nine months. A year ago, that $22 million was equal to what the company paid out in seven months. That's shorter than the company's average warranty duration, suggesting that the cushion in the reserve fund is a little thin. At least now, it's thickening up a bit.
Semiconductor Warranties
The third segment of the high-tech sector that we wanted to look at this week is another supplier-level industry. The makers of semiconductors and printed circuit boards, as well as those that make the machinery used to manufacture and test those products, typically spend more than the disk drive companies do on warranty. But because their sales are also larger, the percentage of revenue they spend on warranty as a group is much lower.
The makers of the actual semiconductors and printed circuit boards typically spend less than 1% of their sales revenue on warranty claims. For instance, Advanced Micro Devices Inc. reports a claims rate at 0.3% and an accrual rate at 0.6%. Jabil Circuit Inc. is at 0.1% for both measures.
In contrast, those making the production machinery have much higher claims and accrual rates. Asyst Technologies Inc. has a 4.5% claims rate. Novellus Systems Inc. has a 9.3% claims rate. And test equipment maker Electro Scientific Industries Inc. was paying 11.5% of its revenue in claims at the end of 2008.
In Figure 7, we've lumped all of these companies together and found that 75 manufacturers together reported $765 million in claims and $824 million in accruals last year. Claims were up 0.5% from 2007 levels while accruals were up by 8.4%, in much the same pattern seen with computer OEMs and data storage companies.
Figure 7
U.S. Semiconductor Equipment & Printed Circuit Board Manufacturers
Claims Paid per Quarter, 2003 to 2008
(in $ millions)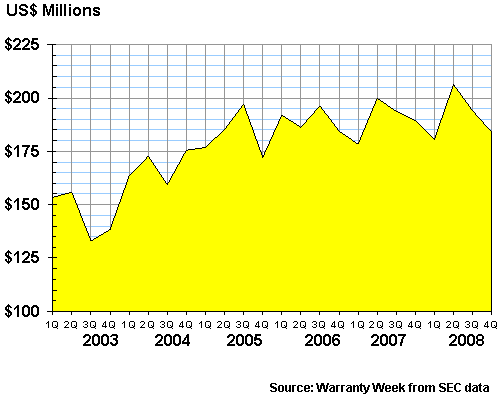 In just the fourth quarter, everything was down. Claims slipped by $10 million from the $194 million level seen in the third quarter of 2008, and were down $5 million from the fourth quarter of 2007. Accruals were down from $182 million in the fourth quarter of 2007 to $148 million in the fourth quarter of 2008.
The Nvidia Effect
Because of the spike caused by Nvidia's emergency accruals in the third quarter of 2008, the decline from the third to the fourth quarter was even steeper. Nvidia accrued $204 million in the third quarter of 2008, driving up sector-wide accruals to $334 million for that period. But then Nvidia accrued only $6.6 million in the fourth quarter, and sector-wide accruals fell by 56%, back down to $148 million.
A snapshot of Nvidia is included in Figure 8. But because the company's accrual rate spiked up to a rate of 23% of revenue in the third quarter, we had to use a logarithmic scale to fit it onto the chart. That logarithmic scale also tends to flatten out the rest of the data, but most of it was reasonably close to 1% anyhow. Just as Maxtor skewed the disk drive data in 2003, so does Nvidia skew the semiconductor data for 2008.
Figure 8
Nvidia Corp.
Warranty Claims & Accrual Rates, 2003-2008
(as a percentage of product sales)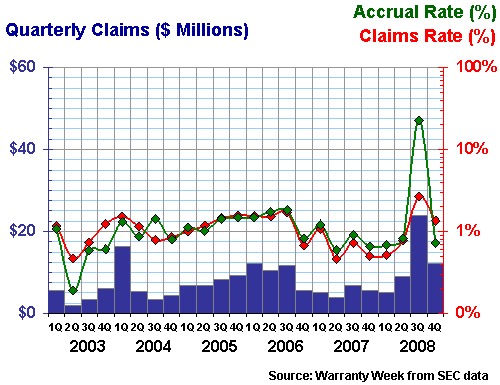 Nvidia's accrual rate was back down to only 0.7% in the fourth quarter of 2008, and even in the third quarter its claims rate never went above 2.7%. But even into 2009 it's still paying for the defective graphics boards it supplied to the major laptop makers over the years, and the company is likely to see elevated warranty costs for some time to come, as those claims continue to come in.
Lam Research, on the other hand, has completely different warranty accounting problems. As can be seen in Figure 9, for almost a year the company's claims and accrual rates were very close to 2.3%, and to each other. And then six months ago, they each went their separate ways in dramatic fashion.
Claims went up (to 3.3%) and accruals went down (to 1%). That reverses the pattern seen in 2004 to 2006, when accruals outpaced claims. Or to put it another way, deposits used to exceed withdrawals. Now, withdrawals are three times as high as deposits. And unless you're an investment bank bailed out by the Treasury Department, that pattern is unsustainable for very long.
Figure 9
Lam Research Corp.
Warranty Claims & Accrual Rates, 2003-2008
(as a percentage of product sales)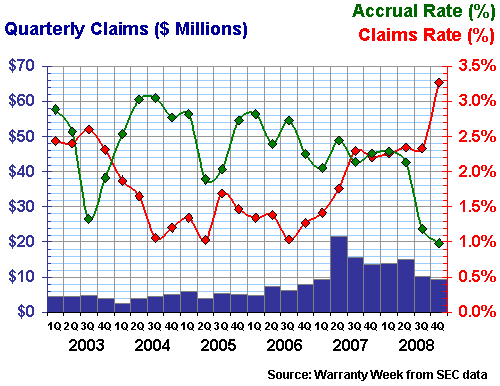 Lam Research's warranty reserves have contracted by an incredible 44% since their peak in June 2008. Sales are down by 54% in the fourth quarter, compared to a year ago. The claims rate is up 48% since a year ago. And the accrual rate was cut from 2.3% to 1%? That makes no sense.
There are at least ten more industry sectors to examine, and we'll get to them in the weeks ahead. Next week, we'll look at two more high-tech sectors: medical equipment and telecom gear. And then we'll turn to the home and appliance sector, and then finally the aerospace industry.
Go to Part One
Go to Part Two
This is Part Three
Go to Part Four
Go to Part Five
Go to Part Six
Go to Part Seven
Go to Part Eight
Go to Part Nine