October 8, 2009
Medical Equipment Warranties:
Doctors, hospitals, and laboratory technicians want sturdy and reliable medical systems, and for the most part the manufacturers that supply them have been steady and predictable. But every once in a while, a massive recall or a production glitch causes warranty costs to spike. And it's when the trend line leaves its historical range that we know there's something wrong.
Makers of medical equipment and scientific instruments have weathered the current recession fairly well. Sales dipped and warranty costs rose, but not by the huge percentages seen in some other industries.
Most importantly, manufacturers are still paying around 0.8% of their product revenue in warranty claims costs, and are still setting aside roughly 0.7% of product revenue as warranty accruals at the time of sale. Those ratios are about the same as what was seen in 2007 and 2008, and are somewhat below what was seen in 2003-2006.
Rising Claims, Falling Sales
In this industry, equipment sales and warranty claims seem to have peaked together, in calendar 2008. For the first half of 2009, warranted product sales are down 20% from the first half of 2008 and warranty claims arising from those products are down 4% over the same period. Of the 87 warranty providers in the industry that have reported their sales for the first half of 2009, 62 saw sales fall and only 15 saw sales rise. Of those same 87 companies, 41 paid out less in claims than they did in 2008, and 46 paid out more.
Below is a simple graph of warranty claims reported each quarter by makers of medical equipment and scientific instruments since 2003. For the first half of 2009, the group reported $344 million in claims paid, down from $359 million reported in the first half of 2008, but actually up a bit from the $321 million reported in the same period in 2007.
Figure 1
U.S.-based Medical Equipment Manufacturers
Warranty Claims Paid per Quarter, 2003-2009
(in US$ millions)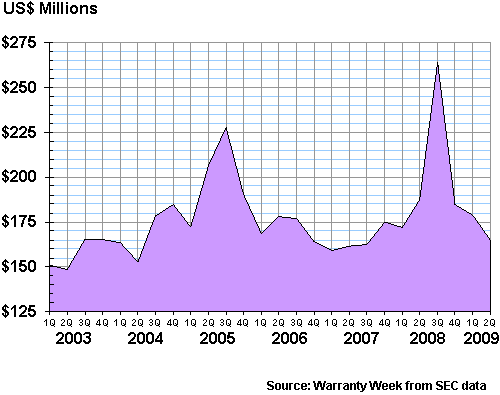 As we reported in the April 2, 2009 newsletter, warranty claims within the medical equipment and scientific instrument industry would have stayed within the $150 to $200 million per quarter range in every quarter since 2003, had it not been for the twin spikes seen in the third quarters of 2005 and 2008. Those spikes, we suspect, were caused by the pacemaker recalls in 2005 and by problems at Eastman Kodak in 2008.
We're happy to report that there have been no spikes so far in 2009, although they seem to always take place during the third quarter. So there may yet be some surprise warranty cost increase about to be reported by one or several industry players in the weeks ahead. In Figure 2 below, the seasonal pattern is obvious. During the fourth, first, and second quarters of each year, both claims and accrual rates are relatively low. And then both rates suddenly jump by anywhere from 0.1% to 0.3% in the third quarter.
Figure 2
U.S.-based Medical Equipment Manufacturers
Industry Average Claims and Accrual Rates, 2003-2009
(as a percentage of product sales)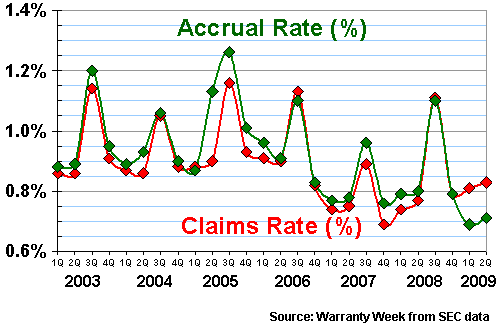 In the lawn equipment and farm machinery businesses, the reason for the annual cycle is obvious: it's the end of the growing season, and there's been lots of heavy usage. For snowplows and snowmobiles, the annual increase in warranty work comes as winter gives way to spring, and therefore as usage gives way to repairs. And in the auto, appliance and computer businesses, there seems to be an annual end-of-year increase, as if the major players are looking for as many expenses to report as possible before the calendar (and tax year) changes.
In the medical and scientific equipment industry, only 14 of the 87 warranty providers end their fiscal years on or near September 30, so the rush to pull expenses into the third quarter can't be blamed on the calendar. Or can it? Perhaps it has something to do with the beginning of the new school year? Or perhaps it has something to do with the end of the government's fiscal year? One would assume that universities and municipal hospitals would be major customers for many of these companies.
As mentioned, the spikes in 2008 and 2005 were caused by Kodak and the pacemaker recalls, respectively. We can't find a reason for the spikes in 2003-2004, or in 2006-2007. But if it happens again in 2009, we would have to conclude that warranty providers in the medical and scientific equipment industry follow a season of their own, for a still-unknown reason.
Varian Associates Offspring Turn Ten
Varian Inc. and Varian Medical Systems Inc. are two of the 14 companies that have chosen to end their fiscal years in the third quarter. So in this, our half-year report, both companies are finished with nine months of their respective fiscal years. Both companies, along with Varian Semiconductor, were spun off from Varian Associates in 1999.
At this point, Varian Medical Systems is the largest of the three, in terms of both sales and warranty payments. It specializes in the manufacture of X-ray equipment and other radiotherapy systems used in the treatment of cancer. It's also branched out into other X-ray applications such as cargo screenings. Varian Inc., meanwhile, is scheduled to be acquired by Agilent Technologies later this year.
There doesn't seem to be any seasonal pattern for the Varian Medical Systems trend lines seen in Figure 3, though in both 2007 and 2008 the highest claims totals were seen in the third calendar quarters (the ending quarters of the company's fiscal year). There was also a two-year stretch where Varian Medical Systems' claims remained below average while accruals stayed close to the six-year baseline, but that period ended in the third quarter of 2008. Since then, claims have risen back to levels they saw in 2004 and 2005.
Figure 3
Varian Medical Systems Inc.
Warranty Claims & Accrual Rates, 2003-2009
(as a percentage of product sales)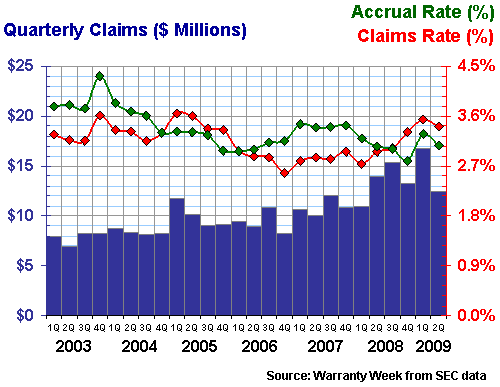 At Varian Inc., however, things have not been so quiet. Warranty claims and accruals stayed below 0.8% for all of 2006 and 2007 and for the first half of 2008. And then in the third calendar quarter of 2008, both rates soared more than ten-fold. They've fallen back to around 3.0% in the three quarters since then, but that's still well above the baseline seen in 2003-2007.
Figure 4
Varian Inc.
Warranty Claims & Accrual Rates, 2003-2009
(as a percentage of product sales)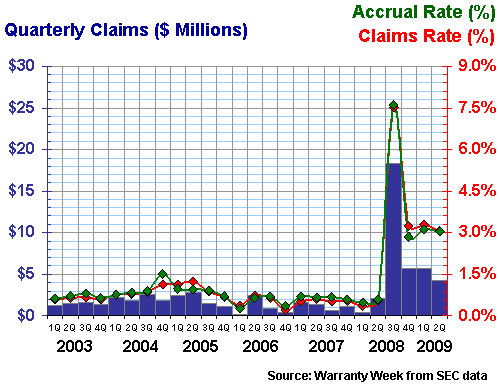 At Medtronic, the spike came in 2005, when a wiring defect triggered a recall of its Sigma Series pacemakers. As can be seen in Figure 5, that crisis caused warranty costs to soar. But ever since, costs have returned to a more normal range, around 0.2% of revenue.
Figure 5
Medtronic Inc.
Warranty Claims & Accrual Rates, 2003-2009
(as a percentage of product sales)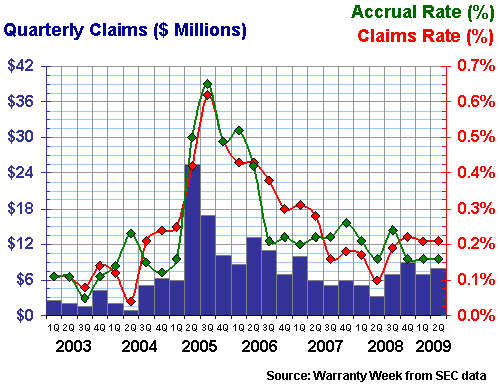 Medtronic's revenue, we're happy to report, was up 8% in the company's most recent fiscal year. The claims rate has doubled in the past four quarters, but that increase was from only 0.1% of revenue to 0.2%. Accruals have remained about the same, while warranty reserves dropped from $43 million to $35 million.
Dental Acquisitions
We last checked in with Sirona Dental Systems in the newsletter dated October 2, 2008, which profiled eight of the smaller warranty providers in the medical and scientific instrument business. That profile recounted how Schick Technologies Inc. acquired the Sirona business in 2006 and took on its acquisition's name. In Figure 6 below, it's pretty clear that while that acquisition increased warranty costs, it also reduced the ratio between those warranty costs and the company's overall revenue.
Figure 6
Sirona Dental Systems Inc.
Warranty Claims & Accrual Rates, 2003-2009
(as a percentage of product sales)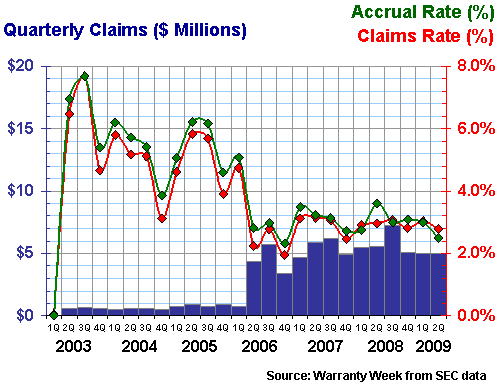 Nothing very notable has happened to the company since the last report a year ago, which in the warranty business is probably a good thing. One would think that warranty has been a very hot topic in recent years at companies such as Varian Inc. and Medtronic, and one would think that the warranty professionals at both companies would welcome the "no news is good news" environment seen at Sirona.
For the quarter ended June 30, 2009, Sirona's sales were down by 3%, but claims were down by 9%. That triggered a reduction in the claims rate as a percentage of sales, from 3.0% in the middle of 2008 to 2.8% in the middle of 2009. The accrual rate has fallen even faster, from 3.6% in June 2008 to 2.5% in June 2009. And the warranty reserve has contracted as well, from $15 million in mid-2008 to $12 million in mid-2009.
Weights and Measures
Mettler-Toledo is a well-known brand name in laboratory balances and analytical instruments, though it also is a major provider of grocer's scales, truck scales, and even postage scales. For the better part of six years, the company kept both its claims and accrual rates very close to 1.1%.
In 2009, however, both the claims and accrual rates have risen to new highs. The culprit, we suspect, is falling sales. While product revenue fell 21% in the first half of 2009, claims fell at a much slower pace, from $8.5 million to $8.1 million. The result was a rise in the claims rate, from 1.2% to 1.4%.
Meanwhile, the amount set aside as accruals was actually increased, from $8.2 million in 2008 to $8.9 million for the first six months of 2009. Combined with the sales decline, that boosted the accrual rate from 1.1% to 1.5% of product revenue. It's still not all that high, but for two years the trend has been upward.
Figure 7
Mettler-Toledo International Inc.
Warranty Claims & Accrual Rates, 2003-2009
(as a percentage of product sales)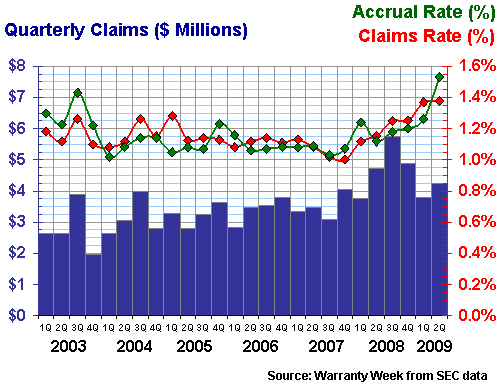 Our final two snapshots are for Hill-Rom Holdings and Invacare. Hill-Rom, formerly known as Hillenbrand Industries, is a premier manufacturer of hospital beds and stretchers. Invacare is a maker of wheelchairs and motorized scooters. As such, while they may have the same customer base as some of the above examples, for the most part they have more in common with furniture or automotive manufacturers than with high-tech electronics or computer makers.
Therefore, it's no surprise to find Hill-Rom in Figure 8 paying out upwards of 2.0% of revenue for warranty claims, far above the industry average as seen in Figure 2. But it is somewhat surprising to see Invacare well under 1.0%, below levels typically seen for other small motorized vehicles such as golf carts and forklifts.
Predictable Warranty Costs
Both companies are predictable and stable when it comes to warranty costs, however. Over the past six years, Hill-Rom has allowed its accrual rate to drop below 1.5% only twice: in early 2005 and then again earlier this year. It rose above 2.2% only once: in early 2007. By June 2009, it was just below that level, but that had more to do with a 12% sales decline than with the actual amount of accruals.
Claims has been a bit more volatile. In early 2003 the claims rate fell to 1.3%, and at the end of 2007 it rose to 2.5%. This year, it's been on the high side, but again that has more to do with sales than with expenses.
Figure 8
Hill-Rom Holdings Inc.
Warranty Claims & Accrual Rates, 2003-2009
(as a percentage of product sales)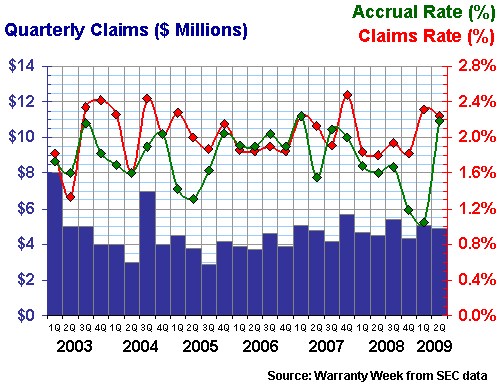 Except for a noticeable dip at the end of 2004, Invacare has also turned in a reasonably stable track record for its warranty expenses. Ironically, both its highest and its lowest claims rates came in 2004. Everything else has been between 0.5% and 0.9%. In the year to June 2009, the claims rate slid from 0.65% to 0.59%, while the accrual rate rose from 0.7% to 0.8%.
Figure 9
Invacare Corp.
Warranty Claims & Accrual Rates, 2003-2009
(as a percentage of product sales)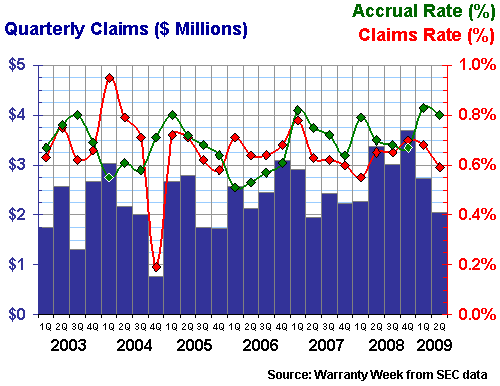 The point is, after six years of detailing their warranty costs in their quarterly and annual reports, these companies have published enough warranty data for outside observers to know what's typical and normal for their industry as well as for their product lines. The tiny fluctuations from one quarter to the next usually have more to do with sales than with actual warranty costs. And it's the relative flatness of the charts that makes the spikes stand out. One could look at the charts above and immediately see which companies have their product quality and repair costs under control, and which don't.
It's when the trend suddenly goes outside these historical ranges that we know there's something wrong. Sometimes, the event is so well-publicized -- as with the pacemaker recalls four years ago -- that its beginning, middle and end can be correlated precisely to the press coverage. But other times, the company says nothing and the press reports nothing, so that by the time the problem is fixed, nobody but some unlucky customers knew anything was broken.