November 12, 2009
Home Warranty Association:
Why are at least 90% of existing home sales in California covered by a home warranty? A mix of court rulings, government regulations, and industry response seems to have reassured home buyers that home warranty companies are both willing and able to pay claims. And thanks to a statewide educational effort, the realtors are able to explain how it all works to their clients.
We're from the government and we're here to help you.
Most businessmen have been trained to run the other way when they hear those words. But decades ago in California, the major home warranty companies actually asked the government to get involved, to help drive out the riff raff, and to help make home warranties a win-win-win for not only the buyer and seller of a home, but also the realtor.
The Home Warranty Association of California turned 25 years old this year, and though it has only seven members, those companies control roughly 95% of the home warranty contracts sold in the state. More importantly, the group estimates that roughly 90% of the existing homes that are sold in the state each year are covered by a home warranty. So those seven HWAC members have a huge share of a huge market with a huge penetration rate for their product.
Why are home warranties so successful in California? It's not just because they have a trade association. It's because that trade association was formed to fill a need that one branch of government created, and another branch of government regulates, while the association spreads the word and educates the buyers, sellers, and realtors about how it all works.
Big Government
In this era where the threat of government involvement in everything from doctor bills to bank manager salaries is fraught with divisiveness, this is one story where there seems to be a happy ending already in place. What makes it all the more remarkable is that the major actors seem to have gotten what they set out to get. But the telling of the tale of how they got there takes a bit of time.
Once upon a time, in the early 1970s, there was a company called Palace Guard operating in California, Maryland, and other areas. They sold home warranties, which in those days were brand new types of service contracts that homeowners could use to cover their major appliances. But they had no backing. They had no surplus. And they had no reserves to cover themselves if, heaven forbid, they went under.
Well, a year later, they went under, and they left a lot of homeowners high and dry. And that bitter legacy they left behind, namely, a reputation that "they don't pay claims," hurt their competitors tremendously as they were just getting started. Just like banks and insurance companies, a home warranty company trades on its credibility. If consumers think the company is soon going to the bottom and will take their warranties with it, well, we all know how that story ends.
California's major home warranty providers, however, saw a different outcome. What if they could join together and set some minimums for the industry? And what if they could get the government to mandate those minimums as a condition of doing business in the state? Wouldn't that raise the credibility of the industry, and help to ensure that another Palace Guard could never happen?
In 1984, the Home Warranty Association of California was formed as a dues-paying association. Co-founders of HWAC included Ray Adams, the founder of Buyers Home Warranty; and Wayne Mauzey, former owner of HISCO Home Warranty Company. Others who were there in the early days include Dan Brinker, executive vice president of American Home Shield; and both Marty Wool and Phil Branson of First American Home Buyers Protection Corp.
Requiring Reserves
As a group, the HWAC met with the California Department of Real Estate and its Department of Insurance, and said they wanted to draft some financial rules and licensing requirements. Ever since, all home warranty companies that are licensed by the California Department of Insurance must set aside 40% of their premiums aside as reserves. In addition, they must set aside $40 per policy for surplus lines. Theoretically, if a licensed home warranty company were to go under, there would still be enough money available in its reserves to pay claims until all its remaining policies expired.
Art Ansoorian, owner of an outside public relations firm that works closely with the Home Warranty Association, provides many of the functions of its executive director. But there really is no executive director, no central office, and no staff. "It's really a lean operation," he said. The members elect a president, vice president, secretary and treasurer each year, and he works with them on press releases, educational efforts, and marketing tasks.
"It's just a gathering of the seven leading companies in the state," he said, "most of whom do business out of the state as well." They try their best to meet quarterly, alternating between San Francisco and Burbank. When that's not possible, they have conference calls.
Back in the 1970s, home warranties were sold with less than one in ten home resales. In the years after HWAC formed, the penetration rate rose to perhaps one in four resales. By 1990 it was half the sales and by 1995 it was greater than three out of four. In the late 1990s the penetration rate for home warranties in California hit 80% and then in this decade it's settled at 90%. Meanwhile, the rest of the country is still at penetration rates California left behind 25 years ago.
Figure 1
Existing Homes Sales in California
Home Warranty Penetration Rate, 1978-2009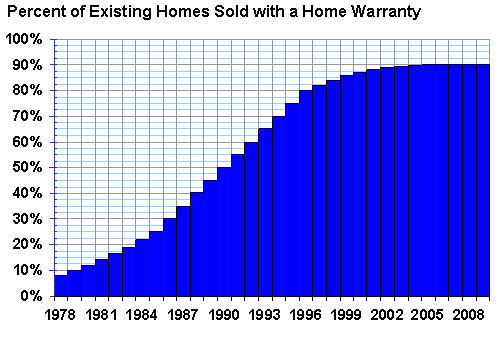 The clear implication is that HWAC somehow had something to do with that. And it did, no doubt, with Ansoorian taking the lead in a public relations effort that regularly touts the value of home warranties to the public. "My job is to communicate the value of home warranties through the media, and we do that on a regular basis with press releases, feature articles, and that sort of thing," he said. "To get the message out. And we send out press releases about market share, preventive maintenance, and consumer-oriented stuff too."
And then there are the educational efforts of the HWAC members and their sales reps. For several years, HWAC has conducted courses for realtors that teach them how to make the required disclosures at the time of sale and how to use home warranty policies to protect them from later liability. The courses are certified by the state's Department of Real Estate, are conducted at the location of the realtors throughout the state, and result in the realtors getting credit for attending.
What do they teach? It's not what you might think: the typical extended warranty sales pitches, how to sell the peace of mind to homebuyers, how to make them buy what most of the consumer watchdogs tell them they don't need. That might work in a car dealership or an electronics store where the seller is rewarded for the sale. But in California, it's against the law for a realtor to get a commission for selling a home warranty policy. Clearly they need another source of motivation.
Court Rulings on Implied Warranties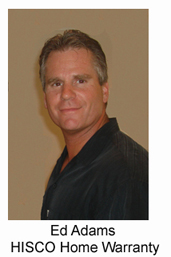 Ironically, it was the state court system that gave California realtors a strong motivation to urge both buyers and sellers to cover their transactions with a home warranty contract. Edward Adams, president of CRES Home Warranty and HISCO Home Warranty, and son of the now-retired Ray Adams who helped co-found HWAC, explained to us how it happened.
"The real reason [for the success of home warranties] is because we have so many statutory requirements that we have to provide for the Department of Insurance, which other states don't have," Adams said. Basically, one set of regulations protects the buyer from concealed defects in the home, while another set of regulations protects the buyer from doing business with shaky insurance companies. Together, these regulations back up the peace of mind emotion that buyers get with some financial and legal protections.
In the old days, existing homes were sold "as is" in California, without any warranties, he explained. It was up to the buyer to look over the purchase, or to bring in their own engineers, home inspectors, or other professional experts to look it over for them. But once the ink was dry on the closing documents, that house was sold, along with all its contents and all its defects.
But then the California courts began to rule that existing home sales should be covered by the same kinds of implied warranties that protect buyers of all sorts of consumer goods. For instance, there's an implied warranty that a ham sandwich is edible at the time it's sold. There's an implied warranty that gasoline hasn't been mixed with salt water. There are implied warranties of merchantability and of fitness for a particular purpose that extend far beyond the realm of new vehicles and electronics where express written warranties are typically found.
Over the years, the courts have also found that implied warranties extend into certain classes of used goods which have otherwise been sold "as is." For instance, courts in many states find that even a used car dealer who sells a jalopy "as is." and who makes no warranties of any kind must ensure that the car's brakes are in good enough working order to stop the vehicle as it's driven home from the dealership. But if the engine block cracks in half the next day, well, the only warranty you have is that you own both halves.
Required Disclosures
In California, though, the courts began to rule that the seller has a duty to disclose certain faults, and that as the representative of the seller, the realtor had a duty to reveal all known defects to the buyer, even if the buyer didn't ask. If the seller concealed a major defect or a known malfunction, the buyer could later sue and win.
In fact, the courts began to rule that the seller and his representatives have a responsibility to the buyer for a year after selling the home -- an implied warranty, if you will, that the seller would pay for any major damage or system failures that arose during that first year.
Meanwhile, the Real Estate Transfer Disclosure Statement (required under California law since 1987) replaced the "as is" sale. It requires the seller to visually inspect items such as built-in appliances and central heating systems, and to fill out a checklist regarding the conditions found. Those who conceal defects are breaking the law, and inviting lawsuits.
Enter home warranties: bought by the seller, promoted by the realtor, and given to the buyer at closing to cover a year's worth of repairs to covered systems. The home warranty replaces the implied warranty, and gives the buyer a way to get needed repairs during that desperate first year, when taxes and mortgage payments begin, when all surplus funds have gone towards the down payment and closing costs, and when cash is otherwise scarce. Rather than suing the seller and/or realtor to get money for a repair, they simply call the home warranty company.
In effect, an express, written home warranty would replace the court-mandated implied warranty, which replaced the "as is" sale. And it protects not only the seller, but also the seller's agent (the realtor) from further court actions brought by disgruntled buyers.
But those claims have to be paid by a reputable company, or else seller, realtor and home warranty company would all end up as co-defendants. In other words, it's not enough to make home warranty sales an essential part of the transaction. Those policies also have to be useful. Repairs need to be made. Claims need to be paid.
"We're their third party complaint department," Adams said. "They call us with a problem, and we take care of it, without the seller getting into any issues with the buyer. You don't have the agents getting involved with that, because we're taking care of the problems that used to fall back onto the realtor."
Transferring the Risk
As a result, to protect themselves and their clients, the realtors are the parties most likely to suggest to the seller that they buy a home warranty and give it to the home buyer. And ironically, they do so even though they aren't being compensated to do so. They do it because it transfers the risk to a company that's equipped to fix the problem: the home warranty company.
And by industry's request, the government is there to make sure that reasonable claims are being paid. Home warranty companies must now submit quarterly financial statements to the California Department of Insurance, and every three years the Department sends out an auditor to look over each licensed company's books. As part of those audits, the Department also contacts select customers as part of a "market conduct audit," which checks to see if the home warranty companies are living up to the terms and conditions of their contracts.
For homebuyers, this tight regulatory environment -- knowing that the home warranty companies are both willing and able to pay claims -- enhances their peace of mind, which drives up their likelihood to renew the policy once the first year is up. And it helps explain why close to 90% of all existing home resales in California are covered by a home warranty. The home warranty gives credible protection to both the buyer and the seller, not to mention the realtor.
It's fairly a comprehensive regulatory environment. In fact, Adams said it took him almost three months to get the HISCO license transferred over to the new owners when CRES acquired the company in May. "They wanted to check us all out," he said. "They wanted to make sure I knew what I was doing, and that the company would grow. And that's fine, because they really have the consumer's interests at heart."
CRES Insurance Services, Adams said, is a major provider of errors and omissions insurance policies to realtors in California. E&O insurance, along with home inspections and home warranties, have grown up together in California as a kind of joint solution to the changing legal treatment of real estate sales by the state court system. The inspectors look for it, the warranties pay for whatever breaks, and the E&O insurance pays for whatever they all miss. And they all take the pressure off the sellers and realtors.
Risk Management Tool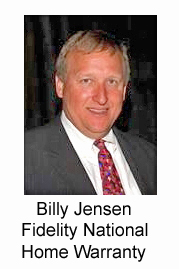 Billy Jensen, president and CEO of the Fidelity National Home Warranty Company, and president of the Home Warranty Association of California, agrees that the primary force driving up home warranty sales in California is the way they can reduce the risk of lawsuits. The courts, he said, "moved it from buyer beware to 'seller, you better disclose.'"
But Jensen said he thinks two other trends have also helped drive up home warranty sales in California. First, the average price of existing homes in the state is towards the very top of the national scale. According to the National Association of Realtors, the average price of an existing home sold in the San Jose area was $566,000 in the third quarter of 2009 -- still the most expensive city in the nation, even after recent price declines.
San Francisco was close behind in second place and Orange County, south of Los Angeles, was in third place. San Diego was in ninth place nationally, and Los Angeles-Long Beach was in 12th place.
Second, the competitive landscape has helped keep home warranty prices relatively low. Assuming that a typical home warranty costs $400 per year, that's less than a tenth of one percent of the price of the home it covers. Considering the size of the price cuts many desperate sellers are willing to make to move a house in such a tough market, a tenth of one percent is nothing. Bottom line, the price of the contract is low, though the cost of the asset it protects is high. So the value of a home warranty as a risk management tool is also high.
Jensen said that in the absence of a home warranty policy, homebuyers typically suspect that the seller and his agent knew or should have known about anything that goes wrong soon after the closing. "And most of the lawsuits -- and California is one of the most litigious states -- are always about disclosure," he said. "The seller didn't disclose or the agent didn't disclose, or somebody should have known."
But with a home warranty, the buyer gets an (800) number to call for repairs. There's no need to contact the seller or his agent, let alone file a lawsuit against them. And there's no need for the homeowner to hunt down a licensed contractor on their own. "They're not spending a lot of time flipping through the Yellow Pages trying to find a plumber," Jensen added.
Educating Realtors & Homeowners
The Home Warranty Association, meanwhile, has educated homebuyers about what a home warranty does, and has educated the real estate industry on how it protects not only appliances, but also realtors. "I think the association has done a good job with public relations, in the sense of getting articles out about home warranty, about their availability, about the risk management tool for sellers and agents, and about the peace of mind for buyers," Jensen said.
It's also doing a good job with its educational efforts aimed at realtors, he said. "We have a class that the various sales reps throughout California can teach, that gives the agent three hours of continuing ed for consumer protection, which they need to renew their real estate license," he said.
Is that likely to travel east? Will home warranties, like everything from fast food to freeways, spread nationwide after getting started in California? In a way, it's already happening, with home warranties in states such as Texas and Arizona scoring very high market penetration rates.
"I would say California really sets the tone for other states," Jensen said. The market for home warranties and the regulatory environment that ensures their success is spreading eastward, into Arizona, Nevada, Texas, and other areas. As seller disclosure laws are strengthened in other states, realtors will increasingly see home warranties as a versatile risk management tool, he predicts. "It goes hand in hand with a lot of the errors and omissions insurance that brokers carry for their companies," he added.