November 19, 2009
Home Inspection Warranties:
It seems like a natural pairing. First the home inspector eyeballs the appliances, and then the home warranty company agrees to cover them. But it's not so simple in a business where honest advice is hard to find, and wariness about conflicts of interest is everywhere.
Home inspections and home warranties are completely different services. Yet they would seem to go together well, like peas and carrots. Or do they?
As we continue our tour of the extended warranty industry, we came across a home warranty company that allows a home inspector to purchase a policy that will warrant their work. Many inspectors provide money-back guarantees in the event that they miss something, but what we're talking about here is a short term home warranty that will actually pay for repairs.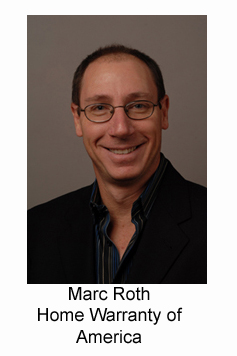 Marc Roth, president of Home Warranty of America Inc., said that for a long time he's been looking at ways to bundle home warranties with more products and services aimed at the homeowner. But what works in one state may not work in another.
"What we're starting to realize is it's more regional," he said. For instance, Roth said the bundling of termite inspection and eradication services with home warranties seems to work best in Texas, where the soil and climate seem to favor the pests. Homeowners will look favorably on a company offering both.
Meanwhile, in California, an offer that includes "green" policies featuring more energy-efficient replacement units seems to resonate with the locals, he said.
In the future, Roth said Home Warranty of America is going to test bundles of locksmith services with home warranties, on the premise that people moving in and out of homes may want a "one-stop shop" for such services. "It's something that we see as almost an automatic when people move in and out of houses," he said. "And so it has more relevance during real estate transactions than it does on any other given day."
The bundling of home warranties with home inspection services, or more properly, extending a warranty cover over the inspections, was something the market brought to him, Roth said. "In going to the trade shows every year, the home inspectors are always asking us for their own niche product," Roth said.
Inspectors Wanted Better Warranties
Some home inspectors simply issued money-back guarantees on their work, offering to refund their fee if they missed something major. Others were already issuing short-term warranties on their work, essentially warranting that the products, units and systems they found to be in good working order would remain that way throughout the home's listing period, plus perhaps the first 30 days after the change of ownership. But he said the inspectors were unhappy with the claims-handling policies of the companies giving them that coverage, and the lack of licenses in states that require them.
"We found it was just a non-licensed warranty company that was offering it for low cost to no cost," he said. It wasn't a very serious offering. One way these companies kept costs down was by making it very hard for the homeowner to later collect on claims. Another way was to defray costs was to sell the homeowner's information to telemarketers who would then solicit the new owner to buy other services. "It was valuable enough as a warm lead to go in and try to convince the consumer to buy an alarm system," he said.
In an industry where reputation and word of mouth was quite valuable, home inspectors were telling Roth that the "free" short term warranties they were offering on their work were making them look bad in the long run. "So what we did was we rolled out a product that said to the home inspectors, 'look, we'll give you a real one, with a company that really does this, that's licensed everywhere.' You may not know it, but you've got liability when you're offering this kind of product to a home inspector, and your offering is not licensed. Maybe they cover the claims. Maybe they don't. But that doesn't change their liability here."
Through Home Warranty of America's Home Inspection Warranty Program, home inspectors can issue what is essentially a short-term home warranty that the seller can pass onto the buyer at the time of sale. Participating home inspectors can purchase a home warranty from HWA that covers inspected systems for the home seller for the listing period of the home (up to 180 days), and then also covers the home buyer for the first 30 days after closing.
Home inspectors pay HWA $40 to cover a single inspection, or they can choose a volume option that can bring costs down to $25 per contract for packages that cover multiple inspections per year. They can choose to absorb the cost themselves, or they can add it into the cost of the home inspection itself, which typically runs anywhere from $250 to $500. Either way, they can say their inspections are warranted by a licensed home warranty company.
Professional Associations for Home Inspectors
HWA requires that all home inspectors in the program must be either a candidate or a member of a professional home inspector association (such as the American Society of Home Inspectors (ASHI), the National Association of Home Inspectors Inc. (NAHI), or the International Association of Certified Home Inspectors Inc. (InterNACHI)), or that they maintain proof of their state license (where applicable).
To help with order entry, HWA maintains a web site at which the home inspector must enter the homeowner's details to begin coverage. Included with the policy are pamphlets, stickers, and follow-up emails that tell the homeowner how to make a claim and how to maintain the units and systems in the home.
"We're giving them essentially the Home Warranty of America home warranty for all of the items that we would normally cover for a consumer or a real estate professional, but for a shorter period of time," Roth said. "So it's not much different than if we were offering it through the real estate professional during the listing period, except that we're tying it to the inspection, and we're requiring them to pay a little bit of money."
As the Home Inspection Warranty is about to expire, 30 days after closing, HWA will invite the new homeowner to sign up for a full-year policy. If the home seller or the buyer should call in a claim during either the listing period before sale or during the 30 days after sale, the service call fee is $100 per occurrence, and the homeowner must pay it at the time of service. Depending on the policy and options selected, service call fees on the full year policies can be half as much.
Better Picture of the Risks?
Roth said he hopes that over time, customers that come into HWA through their home inspector will prove to be less costly. After all, their heating and cooling systems and their major appliances have just been inspected by a professional and the conditions found are listed in the report. For customers that come in through the efforts of a realtor or perhaps through telemarketing offers or Internet solicitations, it is unusual for the home warranty company to have any credible records on the condition of the covered systems. They typically won't find out the condition of the systems until a claim is called in and a repairman is dispatched to the home.
At the same time, the typical bare-bones short term policies offered by realtors to cover a home during just the listing period and the first month after closing usually don't cover the heating and air conditioning systems, unless the homeowner makes an additional payment. That protects the home warranty company against costly claims covered by next-to-no revenue, and perhaps from consumer fraud (put your home up for sale, then "discover" you need a new HVAC system).
"Heating and air conditioning is definitely where the beef is in the home warranty product with respect to the claims," Roth said. "More than half of the claims are going to be heating and air conditioning." So the only way that HWA can afford to include the heating and air conditioning systems in the coverage is if a professional home inspector gets a good look at them before coverage begins.
So is HWA also doing the reverse, telling their inspectors not to warrant any systems in homes that appear to be on the verge of collapse? Roth said no, that wasn't really much of a concern, because the inspector would be able to note that the unit was not in good working order, which would exclude it from coverage. In fact, he said, when the company was putting together the Home Inspection Warranty offering two years ago, home inspectors specifically asked if they could choose which inspections to warrant and which to not. HWA agreed to allow that.
"It's not their niche," Roth said. They do home inspections. They don't sell home warranties. Besides, he said, in many cases the realtor is there first, and already has a home warranty in place, by the time the home inspector arrives. It may actually be the realtor that brings the inspector into the transaction to begin with, recommending them to the home buyer or seller.
"The offering that we're doing is really on the limited side," he said. It's more about protecting the home inspectors and the work they do than about turning the home inspectors into a new sales channel that competes with the realtors. "This is really more on the up-front side to help protect the home inspectors and not as a replacement for the one-year product."
Bundling Home Inspections With Warranties?
But what if the home inspection and the home warranty were part of a bundled offering? What if the home inspector verifies that the appliances and systems are in good working order, and then the home warranty covers them if they're not? That's what happens if they're sold separately, but what if they were sold together?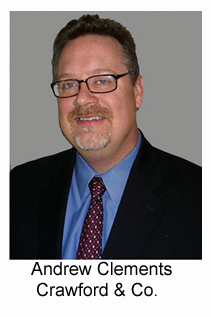 Andrew Clements, vice president of business development, for Crawford & Company's Strategic Warranty Services Division, said he sees some benefits in bundling, but also some major problems.
In a perfect world, the home inspector would deliver a clear and unbiased opinion on the systems, and the claims administrator would deliver a clear and unbiased opinion on coverage by the warranty. But in the real world, opinions aren't always clear or unbiased.
"Typically, the underwriters don't utilize an inspection until a claim has occurred. It's a post-claim inspection," Clements said. "I think there are some opportunities for inspections to be utilized more than they are currently. But typically, the TPAs and the warranty underwriters rely on the contractors to do the inspection and determine what the condition and remedy is."
Crawford is heavily involved in the employment and deployment of home inspectors through class action lawsuits, where the court needs to know actual conditions in affected homes. The court employs Crawford, which dispatches inspectors to go see thousands or even millions of homes, and then the company reports back to the court the conditions it found. Crawford also provides claims administration services, if for instance the court rules there should be a payout to certain homeowners.
Overall, Clements said the home warranty companies have little knowledge about the condition of the systems and appliances they're covering, at least not at the time the home warranty is sold. "They sell the policies most often pretty blind," he said. "They don't really utilize information that's gathered from an inspection. Although the banks use that information to confirm the value of the property, the warranty policies are typically just gathering information related to the size [of the home], how many baths, the age of the home, those type of things."
Pricing the Risk Properly
Typically, there's nobody looking for leaks or rust or corrosion before the policy is written. And the home buyer is typically not in a position to fill in the blanks on systems and units that may have been installed years before they bought the property. So there is only a rough understanding of the risk, and no ability to price the risk correctly.
In the new and existing home warranty businesses, Crawford is currently surveying builders to determine what services would appeal to them, Clements said. Home warranty third party administrators may also find some appeal in the outsourcing of claims management, he said, or perhaps in the provision of unbiased inspection services, either at the time a policy is sold, or after a claim has been made.
"The opportunity is that a lot of these TPAs could benefit from more detailed information gathering that could be provided from an inspection," Clements said. "But it really doesn't come into play until there's a claim." At that point, the TPA dispatches a repairman who doubles as an inspector. And unlike a home inspector, who's looking for potential problems before they occur, a representative of the TPA is looking for reasons to deny the claim.
Clements said he thinks the TPAs would be doing themselves a favor if they could get a professional inspector's opinion about the condition of a home's systems and appliances before extending coverage. "If that information was gathered -- what is the furnace, what's the model number, how old is it, what are all the appliances in the home -- then there could be additional mitigation of risk, and a better assessment of what the policy is actually covering," he said.
In the used auto business, for instance, it is quite common for a TPA to insist on an inspection of the vehicle before writing a service contract. That reduces the possibility of paying claims on pre-existing conditions, and cuts down the opportunities for fraud. But it's not yet common in the home warranty business. And Clements said he doubts the typical homeowner is capable of pulling off the kind of fraud that happens in the used vehicle service contract business.
"The ideal would be for more information to be gathered -- details that aren't currently being captured, such as details about the mechanicals and the building products that are within that home that have been used in the construction, and knowing the warranties of those components, so they can better manage the risk, both for the underwriter and for the homeowner," Clements said. "A lot of times, those details are not being gathered."
Conflict of Interest?
At the same time, Clements said he sees a possible conflict of interest if the home inspector also becomes the sales channel for the full year home warranties. "They have a revenue stream coming from a warranty TPA," he said, "and their inspection results could somehow be jaded by that influence. The real value of a home inspection is unadulterated, unbiased, fact-based information. And most typically when it's a resale, the inspector's role is to find out what repairs need to be done to mitigate the risks to that home buyer."
Clements said he thinks the central problem arises when the home inspector steps out from simply warranting his own work for a short time to becoming the seller of a full one-year warranty. His objectivity may decline as a result. He may not be providing an unbiased accounting, because he has a vested interest in the successful sale of the policy.
"They could steer a blind eye towards an issue that may invalidate them from being eligible for the warranty, which would then stop them from getting the money," he said. In other words, while they're supposed to be working for the homeowner, they're actually working against them, steering bad business to a warranty company that will later have ample reasons to deny a claim.
At the same time, he said he sees no problem with what he calls "those kinds of gap insurances" that Roth is providing to home inspectors, which warrant their work for short periods of time, typically during the real estate transaction and shortly thereafter. "Those policies are enhancements to the selling process," he said. "Then that homeowner is given an opportunity to renew."
It's All Risk Management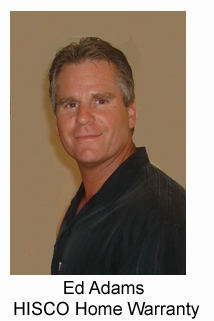 Last week, we introduced Edward Adams, president of CRES Home Warranty and HISCO Home Warranty, in an article about home warranty market conditions in California. CRES, it turns out, is a major provider of errors & omissions insurance, which covers realtors against mistakes they might make in the disclosure process while selling a home.
HISCO, meanwhile, is an acronym that originally stood for Home Inspection Service Company. Back when it opened its doors in the 1970s, HISCO fully intended to get into that business, but along the way it found more success with home warranties alone. In May 2009, HISCO was acquired by CRES.
Adams said home warranties and home inspections have a lot in common. "It's basically all risk management," he said, in case someone makes a mistake. Home inspections protect the buyer before the sale, letting them know what they're about to buy, while home warranties protect them afterwards, in case something was missed. And then there's also title insurance, E&O insurance, and in California at least, natural hazard zone disclosures and environmental reports that also protect and inform the various people involved in the transaction.
"There are all sorts of things that blanket the agents, the homeowner (the seller and the buyer), and the property itself," he said. Who suggests them, who sells them, and who ultimately buys them, however, varies tremendously from one transaction to the next.
"I would love to see bundles out there to save the consumer money," Adams said. But the reality is that the realtor may be contractually tied into one carrier for E&O insurance, and another for title insurance, and yet another for home warranties. And while he said his company has talked to home inspection companies about some kind of partnering arrangement, nothing has become of those discussions.
In California, the realtor cannot profit from his recommendations for these services -- bundled or separately sold -- but that's not a problem in many other states. However, Adams said there would always be a lingering suspicion that the realtor is suggesting a certain combination of carriers or services in return for commissions or kickbacks.
Limited Bundling of Services So Far
Still, there are a few bundles in his repertoire. For instance, HISCO bundles natural hazard zone disclosures with home warranties, and CRES bundles E&O insurance with a risk management program aimed at realtors. "But we've never seen the whole 'closing bundle,' where you have escrow, title, NHZ, home warranty, E&O -- the whole thing," he said.
In regards to conflicts of interest, he said, home inspectors could be influenced by their desire to sell home warranties. However, Adams also said the home warranties are more typically positioned so that they cover what the inspection may have missed. One is the natural complement of the other. And while a home inspector might be suspected of bias if he made that statement to a homeowner, it wouldn't be any more or less true if it were said by a builder, realtor, or repairman.
Also, he said the home inspector is already more likely to be trying to help the realtor close the transaction, so they're already not typically prone to finding every last defect in the building, lest their findings "kill the deal." So there are already potential and subtle conflicts of interest built into the system. They're just not obvious, and they're not overtly financial.
Adams said most home inspectors are more concerned about making their reports appear too authoritative. So they always suggest further inspections by licensed contractors, or they use qualified phrases such as "appears to be working properly at this time." In other words, it's not so much a bias they worry about as it is a statement that's later contradicted by the facts.
Overall, he said he isn't so worried by the possibility of a home inspector sells or promotes a certain company's home warranties. What matters more is whether the inspector is qualified, is properly trained, is licensed (in certain states), or is a member of an accredited group. "I mean, anybody in California with a pickup truck and a flashlight can be a home inspector," Adams said.