January 7, 2010
Expiring Warranty Companies:
With Eagle Warranty closing its doors and US Fidelis halting its sales, the era of fast talk and easy money in vehicle service contract sales may be coming to an end. But they and others have left a giant mess that various attorneys general are only beginning to clean up.
In the new year, we plan to continue our tour of the extended warranty industry, initially focusing on vehicle service contracts and later taking a look at the electronics, computer, appliance, jewelry, and other categories. This week, we'll kick off the automotive coverage with a recounting of two incredibly embarrassing episodes.
The first concerns a vehicle service contract company located north of Scranton, Pennsylvania that shut its doors last month after management allegedly burned through all the profits. The second concerns a cluster of companies located close to St. Louis, Missouri, which have riled not only all 50 state attorneys general but also the U.S. government and several of the provincial governments in Canada, as they called virtually every phone number multiple times to alert its owner that their auto warranties were about to expire.
Hooligan's Holiday
Why them? Thanks to their antics, the mere mention of a vehicle service contract or an extended warranty will either anger or amuse most people, depending upon whether they said yes or no to the persistent callers. For better or for worse, these hucksters became the public face of an industry in which most of the largest and oldest providers try to do the right thing. And to understand which of them wear the white hats, first we need to know which are the outlaws.
Let's start our tour in Pennsylvania and work our way west. Some people say that one side of Pennsylvania is on the east coast while the other side is in the Midwest. Years ago, the state's tourism bureau began using the slogan "America starts here," which made the people New Jersey wonder exactly what country they lived in.
St. Louis, meanwhile, is frequently described as the western-most city in The East, while across the state Kansas City is described as the eastern-most city in The West. Back in 1985, these cities' respective baseball teams faced each other for the first and (so far) last in the World Series, from which the Kansas City Royals emerged victorious over the St. Louis Cardinals (four games to three).
Northeastern Pennsylvania, home of Eagle Warranty Corp., is frequently described as the nexus of the used car service contract industry. Meanwhile, eastern Missouri, or more specifically, the counties north and west of St. Louis, are described as the nexus of the marketing companies that have blanketed the country with their postcards and phone calls in recent years.
Things seemed to be fine at Eagle Warranty in 2008, with net sales coming close to the $20 million mark and claims costs remaining a little below half that level. But ever so slowly, cracks began to emerge that in hindsight now look like the beginning of the end for the company. Now that it's collapsed, it has drawn the attention of law enforcement agencies who are sure to begin asking questions about where all the money went.
Kickstart My Heart
As fast as money was coming into the company, Eagle Warranty president Charles Yaskulski seemed to find non-business-related reasons to spend it. One Chevrolet Corvette just wasn't enough. Why not use company money to buy half a dozen? Flying coach to the West Coast is for peasants. Why not hire a jet? And while you're at it, don't just follow your favorite rock band, Mötley Crüe, around the country on their summer tour. Why not act like them too?
By the time the heavy metal hair band's "Crüe Fest 2" tour pulled into Scranton in early September 2009, rumors were circulating that Eagle Warranty's claims weren't being paid in some states, and its operating licenses in other states such as Texas and South Carolina weren't being renewed. The company began missing payroll in November. Then they gave the sales force a paid two-week vacation. By early December, that had morphed into a one-month layoff. And then on December 10, the company suddenly closed its doors for good.
On December 18, the office of Pennsylvania Attorney General Tom Corbett filed a consumer protection lawsuit against Eagle Warranty, president Charles Yaskulski, and vice president Edmund Yaskulski. But not only that; the Attorney General also obtained a special preliminary injunction freezing all bank accounts, business records and other assets belonging to both the company and the Yaskulski families.
According to the lawsuit, Eagle Warranty failed to honor auto repairs that it had authorized, resulting in consumers receiving repair bills from their local repair shops. In some instances, checks that were sent to consumers or repair shops by Eagle Warranty were bouncing because of insufficient funds, resulting in additional fees or expenses for consumers and repair shops.
The press release also details allegations that Eagle Warranty, along with Charles and Edmund Yaskulski, continued to market and accept payment for used car warranties right up until the moment the business closed, "when they knew or should have known that they would be unable to provide continuing coverage."
Piece of Your Action
The Attorney General's lawsuit seeks refunds for all customers along with civil penalties of up to $1,000 per violation of the Pennsylvania Consumer Protection Law. The lawsuit also seeks to prohibit the defendants from opening another warranty business until the fines are paid and refunds are made. With upwards of 65,000 vehicle service contracts said to be in force, sold at prices between $400 and $2,500 each, the cost of compliance could easily approach the gross receipts of last summer's Mötley Crüe tour.
Just before a court hearing on the asset freeze scheduled for December 22, Eagle Warranty filed for bankruptcy protection under Chapter 7 of the Bankruptcy Code. That's the part of the law that companies use when a successful reorganization is unlikely, and a liquidation is more appropriate. Customers, dealers, and suppliers must now line up for a share of the proceeds of the liquidation.
Nils Frederiksen, the deputy press secretary for Pennsylvania Attorney General Tom Corbett, told Warranty Week that the lawsuit will continue despite the bankruptcy filing. "In Pennsylvania, our consumer protection lawsuits are separate from bankruptcy proceedings, and bankruptcy proceedings do not stay enforcement actions, which is what we're talking about," he said.
"We're obviously going to proceed. We'll identify whatever assets that are available. And we'll ask the court to use those assets to pay restitution to the victims -- in this case the consumers who purchased a product that's now worthless." He said it was too soon to tell whether they'd receive full or partial refunds.
The special injunction and asset freeze went into effect immediately, and was then followed by the December 22 hearing. At that hearing, the judge agreed to release around $3,000 in funds to allow the owners to pay some bills, Frederiksen said, "but beyond that the asset freeze was sustained and the preliminary injunctions remain in place."
Same Ol' Situation
Frederiksen said AG Corbett's office has also demanded that Eagle give it copies of all business records to help it identify all current policyholders, many of whom may have no idea the company has closed, until and unless they need to file a claim. "Hopefully, those people won't have a breakdown and they'll never need to use the warranty," he said. "But they're still going to be victims. And we're still looking to address them in some way or another during the court action."
There are also dealers who are alleging they haven't been paid. But that's more of a business-to-business dispute, Frederiksen said, and is therefore outside the parameters of this lawsuit. "Our action is specifically against the company, and they are the responsible agency in Pennsylvania," he said. "The company and the owners of Eagle Warranty are the ones who are subject to our legal action."
The bigger question is, what will happen to the dealers? Eagle Warranty's policies were sold on a so-called markup basis, which means the dealers determined what the customer should pay based on the profit margin the dealer thought was appropriate. In some of the 12 states in which Eagle Warranty did business, that makes the dealers responsible for paying claims. But in all states, customers will be more than disappointed if the dealer tries to avoid responsibility. So whether they honor claims because of the law or in the name of customer relations, some of these dealers are going to have to absorb the cost.
At some point, there will be two sets of victims: those who can't get refunds, and a growing pool of those who can't get claims paid. Frederiksen suggests that people in both groups file a complaint online with the Bureau of Consumer Protection or call the Attorney General's Consumer Protection Hotline at 1-800-441-2555. He suggests that out-of-state victims also contact their own local attorney general's office or consumer protection agency. "Better that both states have records of the complaint," he said.
The Show-Me State
Missouri, located very near the geographic center of the United States, is commonly referred to as a bellwether state, in that its people almost exactly mirror the demographic, economic and political diversity of the nation. If it's not mainstream in Missouri, it's not a national trend. Most famously, the only U.S. presidents that failed to carry the state in the last hundred years were Barack Obama (in 2008) and Dwight Eisenhower (in 1956).
The Greater St. Louis area has become one of the country's largest cities, and also is the home of major companies such as Emerson Electric, Anheuser-Busch, Enterprise Rent-A-Car, Monsanto, and Energizer Holdings. But in recent years, St. Louis has also gained for itself a reputation as the source of the plague of "expiring warranty" telemarketing scams, which Warranty Week first reported on in an August 14, 2008 column about a meeting held in a hotel near the city's airport, convened to find a way to stop the "robo-calls."
That plague reached its climax last year when an automated system used by one of the companies unwittingly called a U.S. Senator's mobile phone while the Senate was in session. Soon, the Senator made the Federal Trade Commission strengthen its national "do not call" rules to specifically outlaw these "robo-calls" as of September 1, 2009, except in very specific cases where the consumer requested in writing to be called. However, that was far from the end of the story.
Matthew Hathaway, a reporter for the St. Louis Post-Dispatch, has chronicled the rise and fall of the "robo-call" industry as a local story for his newspaper. Hathaway has written what will hopefully soon turn out to be a prize-winning series of articles on the now-infamous "expiring warranty" scam, which was perpetrated primarily by companies clustered in the St. Louis metro area.
Living at the Epicenter
At least initially, Hathaway said, nobody knew St. Louis was the epicenter of the "robo-call" industry. "It was a complete surprise to me -- and I don't think anyone at the newspaper knew -- that this was ground zero," he said. "Even when I was reporting on it, it took a few months before I realized the extent of the industry here."
Some of the perpetrators, in fact, turned out to be based just down the street from his newspaper's offices, but most of them are in the suburbs off to the north and west of the city itself. US Fidelis, for instance, which only last week said it was halting all sales following massive layoffs, is headquartered about an hour's drive away from St. Louis in the city of Wentzville, near the intersection of Interstates 70 and 64. Others are in suburban cities such as St. Peters and St. Charles.
A few months ago, Hathaway and his staff created an online map, using the electronic equivalent of push pins on Google Maps to highlight the location of some 30 vehicle service contract marketing companies that do business in the Greater St. Louis area. That map is still online, and can be reached either by typing www.stltoday.com/mds/news/html/2632 into a web browser or by clicking on the graphic below.
The St. Louis Post-Dispatch's
Extended Service Contract Google Map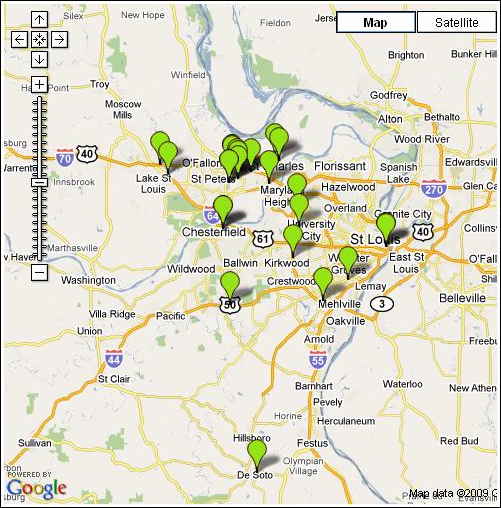 Source: St. Louis Post-Dispatch & Google Maps
"In terms of the story," Hathaway said, "it's been like nothing I've ever covered before." Ten months ago, when he first began reporting on the "robo-callers," he said anonymous sources began to call in and give him additional leads that at first seemed to be wild and crazy, but that later turned out to be correct. "And then you find out about this whole other world of tactics that are really difficult to believe."
For instance, he began with reports of companies that mass-mailed "expiring warranty" postcards or called virtually every phone number in a given area code. Then he heard about companies falsifying the Caller ID information their calls generated. And then in July 2009 his newspaper reported that an Ohio man named Charles Papenfus had been arrested for making terroristic threats against the employees of TXEN Partners, one of the companies based just a few blocks away from the newspaper.
Snake Oil Salesmen?
And then, just when you think you've heard it all, he began to hear about not only the allegedly aggressive sales tactics of the extended warranty companies, but also about a separate breed of "snake oil salesmen" who sold bottles of liquids that allegedly protected passenger cars from mechanical breakdowns, but only if the bottle was correctly added into the crankcase or radiator.
If the "robo-callers" embarrassed the legitimate vehicle service contract companies, these magic elixir companies embarrassed even the "robo-callers." And as these incredible stories about alleged terrorists and snake oil salesmen made it all the way to the national evening news on TV, it simply became more than the local government could tolerate.
In March 2008, then-Attorney General Jay Nixon, who became Missouri's Governor in January 2009, unleashed "Operation Taken for a Ride," which filed lawsuits against five St. Louis-area companies and one Kansas-based company for allegedly using misrepresentation and deception to sell vehicle service contracts nationwide. His office filed assurances of voluntary compliance with two more St. Louis-based companies.
The six businesses AG Nixon filed suit against on March 6, 2008 included:
Certified Auto Warranty Services Inc. of Lenexa, Kansas,

Dealer Warranty Services of St. Charles,

National Auto Warranty Services Inc. of Wentzville, aka US Fidelis,

National Dealers Warranty Inc. of St. Peters,

Smart Choice Protection of St. Louis, aka Direct Dealer Warranties, and

TXEN Partners of St. Louis, aka Service Protection Direct, aka United Warranty Solutions.
The two that settled AG Nixon's allegations immediately were:
Carhill Enterprises of St. Louis, aka Consumer Protection Services, and

Warranty Activation Headquarters of St. Louis.
And then in November 2008, the people of Missouri elected Chris Koster to succeed Jay Nixon as Attorney General. AG Koster continued to litigate the cases against the "Operation Taken for a Ride" companies. But then in recent months, his office decided to deepen the investigation to not only include the "expiring warranty" misrepresentations and the "do not call list" violations, but also the "snake oil salesmen" and the companies that made it as difficult as possible for consumers to obtain a refund.
The six businesses AG Koster filed suit against on November 12, 2009 included:
Dealer Warranty Services of St. Charles,

Dealers Warranty LLC of St. Charles, dba MOGI,

Extended Warranty Corporation Inc. of St. Peters, dba Key Protection Group,

National Dealers Warranty Inc. of St. Peters, dba StopRepairBills.com,

U.S. Auto Warranty of St. Peters, and

Warranty Activation Headquarters Inc. of St. Louis, dba Nationwide Automotive Protection.
The four businesses AG Koster filed suit against on December 29, 2009 were:
Consumer Protection Services of St. Louis,

Dealer Preferred Warranties of St. Charles, aka CarSafe,

Dealership Services of St. Louis, and

Dealership Warranties of Maryland Heights, aka National Vehicle Protection Services.
The question is, have they missed anyone? Some of these companies have been sued multiple times. In fact, Doug Ommen, chief counsel of the Missouri AG's Consumer Protection Division, told Warranty Week that the case filed by AG Nixon in March 2008 is not only ongoing, but is about to be broadened. "We are continuing to pursue that litigation, and just recently filed leave to amend the petition to expand the litigation to cover additional allegations of fraud and deception," he said.
Top of the List
Earlier this week, AG Koster's office issued a press release listing the top 10 consumer complaints and scams reported to his office in 2009. It was no surprise that vehicle service contract complaints led the list, with many of the close to 1,000 complaints pouring in from out of state. But what caught our attention was what he said about the local service contract industry:
"Unfortunately, Missouri has become the Silicon Valley for auto service contract scams," AG Koster said in the press release. "These bait-and-switch schemes thrived by fooling consumers into thinking they were buying true extended warranties for their vehicles. In reality, consumers were getting little, if any, coverage for their money."
In response, Ommen said AG Koster has directed the Consumer Protection Division to increase the pressure on the local industry to comply with the law. These latest lawsuits raise the bar considerably. Ommen said the allegations that were brought under "Operation Taken for a Ride" involved primarily allegations of deception in the mailings (implying links to the dealer and/or the automaker) as well as the no-call violations. But even after that March 2008 filing and the settlements that followed, the Attorney General's office continued to receive complaints about fraudulent business practices. So last year it expanded the investigation to look deeper into additional areas such as the handling of refunds and how cancellations were processed.
Ommen said his division doesn't have jurisdiction over complaints alleging the unfair denial of claims, but he noted that these current actions are being taken against primarily the marketers and sellers of vehicle service contracts -- not their administrators or underwriters. And it would theoretically be the administrators and/or underwriters that would be denying those claims. So it's unlikely that the same companies that generated the complaints about how the policies were sold would also be involved in complaints about how the claims were processed.
Then again, some of these allegations concern the concealment or misrepresentation of the limits of coverage, which later resulted in the denial of claims. And since the consumer doesn't get to see the written terms and conditions until after they've paid, they may have relied on verbal assurances that later turn out to be false. So in a way, the sales process itself lays the groundwork for the later denial of claims. And, of course, some consumers, realizing they were fooled long before there's a claim, are seeking refunds they'll never receive.
Snake Oil Warranties?
These allegations of fraud are bad enough. But some of these companies are selling bottles of engine oil or coolant additives that carry product warranties, and the sales and marketing companies are allegedly confusing buyers into thinking they are purchasing vehicle service contracts that will pay for repairs. Then the companies make it difficult to get a refund and virtually impossible to collect on a claim. But because they're essentially selling an expensive bottle of snake oil that comes with a warranty, they're not subject to any of Missouri's service contract laws.
For instance, the product warranty for an additive called CarGuard, sold by US Fidelis and manufactured by the Choice Manufacturing Co. Inc. of Mahwah NJ, requires that the vehicle's transmission must be serviced within six months of the installation date of the product. Written receipts are required. But handwritten receipts will not be accepted.
One can reasonably predict that very few car buyers will get their transmission serviced within six months, especially if there are no problems with it. And of those who do get their transmissions serviced, very few will obtain completely machine-generated receipts that contain absolutely no handwriting. And for those who make it over those very high hurdles, there are several additional pages of exclusions in the CarGuard warranty's terms and conditions that are sure to frustrate those who aim to collect on a claim.
And if those don't stop you, you're welcome to travel at your own expense to Bergen County, New Jersey, to attend the mandatory binding arbitration session.