March 18, 2010
Warranty Improvement:
The Journey:
The big difference between warranty and transaction processing is the human factor. Caterpillar has found that heeding the human factors has helped it accelerate a global warranty improvement effort significantly, cutting years off a journey that began in 2008.
While much of warranty management story is taken up by the numbers, the data, and the statistics, there's also a human side to the story that's about the people, the problems, and the fixes.
It's the human factors that can make the difference in any effort to improve the warranty process. Sheila Cardines, Caterpillar's global warranty process owner, told the Warranty Chain Management Conference in Los Angeles that a successful warranty transformation project requires the support of both upper management and the people who will be most impacted by the changes.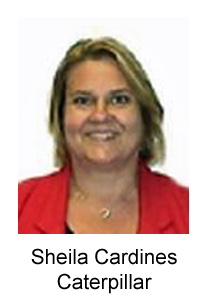 In a March 3 presentation entitled, "Warranty Improvement -- The Journey," Cardines said Caterpillar is two years into what she estimates will be a three-to-five year journey that won't conclude until at least 2012.
Cardines said she prefers to calls it a journey rather than a transformation, because this is part of an ongoing effort to improve the warranty process, rather than a one-time project with a definite beginning and a definite end. And this journey was prompted, she said, by an incredible growth phase that saw Caterpillar grow from a $20.15 billion company in 2002 into a $51.32 billion company in 2008.
"Whenever you're growing that quickly," Cardines said, "you have to keep an eye on core processes and systems."
So she suggested to upper management that it was time to take a closer look at warranty-related processes, and to look for ways to improve them. "If you let it get stale and stagnate, you will have a problem," Cardines said. "It's living and breathing, and it is driven by your customers' experience, telling you what it is you need to do to keep them coming back and buying your product."
Caterpillar began this latest journey by taking a look at its products, and their failure patterns and warranty costs. Its goal was to reduce warranty expense by changing the way it operates both before the product sale and afterwards -- moving the lines on the cost-per-unit graph in the downward direction.
"There are the things that you do once the product's in the field, and there are the things that you do before you actually make a product," she said. "We talk about those as growth curves of our products."
The eventual cost of warranty -- the slope of the line that plots warranty expenses as a cost per unit -- is determined by the choices a company makes both before and after the sale. Before the product is sold, a company can affect warranty cost through engineering, design, manufacturing, and its choice of suppliers.
"That's where you make the most impact," Cardines said. "You design it right. You build it right. You get the right suppliers. If you do these things right, you can control the slope of the line."
After the product is sold, further savings can be gained from improvements in product support and claims processing. "That means working with whoever services your products, making sure they're technically qualified, they have good processes, and they know your warranty," Cardines said. "And then there's the whole piece about claims adjudication, where you can look at whether people are following your policies, if the claims are coming in right, and if you're paying what you're supposed to -- everything you're supposed to pay, but not one dime more. And then the controls that you put in place, whether it be the controls for auditing, the controls for analytics, or the controls for the policies themselves."
Change any of those factors, and you can change the slope of the line yet again. But Cardines said she's always careful to not portray the effort as merely a way of reducing cost.
"People tend to talk about warranty as a cost," Cardines said. "And I talk about it as a value."
To prove this to skeptics, Cardines said she always asks them, "'Have you ever tried to sell your product without warranty?' And the answer is always no. If you can't sell something without it, then it must have a value," she added.
At the WCM Conference, Cardines presented a chart containing 20 warranty-related functions, organized under five different headings. Ten of the functions were shaded blue. Four were shaded gray. And six were shaded blue and gray.
The blue boxes, Cardines explained, are areas she oversees. The gray boxes, she said, are overseen by a counterpart doing similar work in another part of Caterpillar. And the dual-shaded boxes are those where she and someone else share influence or responsibility.
Figure 1
The Warranty Process Model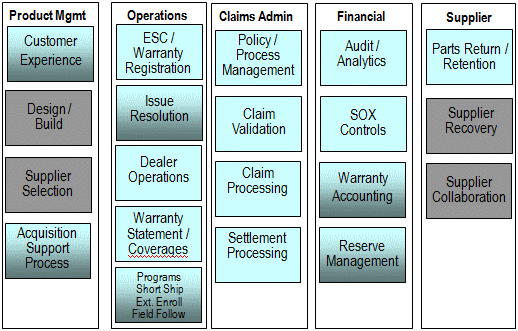 Source: Caterpillar
In a company the size of Caterpillar, Cardines said, no one person could ever really do a good job of overseeing all those areas. Better to find a way to collaborate and communicate effectively with her counterparts in finance, operations, and product management.
Cardines said she spends a lot of time facing the dealers and the customers, gathering their experiences, bringing that information back into Caterpillar, and getting it to the right people. Caterpillar has nearly 100,000 employees in 500 locations in 50 countries. Its dealers, meanwhile, have at least 130,000 employees and at least 1,890 branch locations worldwide.
At the other end of the process, while her team compiles all the failure information, she doesn't have direct control of either the supplier selection process or the efforts to extract and recover reimbursements from those suppliers.
"Our supplier recovery is done by another group in Caterpillar," Cardines said. "But it's my job to feed them all the information they need. And it's their job to share with me the contractual arrangements they make, so that I get the right information in from the field."
But there's a lot more to the story than a series of structures and processes, Cardines added. As she found when documenting the current state of warranty within Caterpillar, there are also cultural and personal perspectives that need to be considered.
"It is a people project," she said. "It is not a cost control project. It is not an IT project. Those two things were so far down on our list. But that's the problem most people have when fixing warranty: They think it's IT, and they think it's money. And really, it's not. It's all about taking care of the customer, and the value warranty adds."
The biggest mistake a company can make while overhauling warranty, she said, is if they overlook the human factors. "They look at their systems. They look at their organizational structures. They look at the processes, and the way they work. But they very seldom look at the culture within their organization or the community they serve. And they very rarely look at the people, skills, abilities, or competencies that are necessary to make you successful."
Cardines included a simple equation in her WCM presentation to illustrate the point:
R = Qs x A
In words, the equation translates to Results equal the Quality of the solution you design, times the Acceptance of that solution.
"And the acceptance piece of that equation," she added, "is all about the culture and the people. The quality of the solution is about the process and the structure."
As a first step in the warranty improvement journey, Cardines sought the approval from the one person who really does oversee the whole company: Caterpillar's CEO. "If warranty touches everything, then you better have the highest level of management on board," she said.
Next, and most importantly, she said she would personally take responsibility for the outcome. "So it was my job to go find those allies. It was my job to form the steering committee. It was my job to define the projects and staff them with the right people. What you need from sponsorship is their backing and true sponsorship," she said. And by true sponsorship, she said she would be occasionally asking them to help her remove some of the obstacles and roadblocks she would run into along the way.
Next, she began to recruit allies from within the organizations that would be most affected by the changes she was proposing. The first step was to paint a realistic and accurate picture of current conditions. The second step is to spotlight what needs improvement and what will be changed, as well as to acknowledge what works fine and what will be left as-is.
"You never fix anything in a silo," Cardines said. "You have to go find those people that have credibility," and you have to convince them that you know where we are and you know where we should go. Then they turn into your sales force, selling your plan to their peers. "Because peers sell peers faster than anybody. So find your allies within the organizations that are impacted."
Because warranty touches so many parts of a company, this process requires lots of communications, whether it's meetings, conference calls, or webinars. But it actually saves time, Cardines said, because the allies become converts, who become missionaries in their own right. Had she not paid as much attention to the people and the cultural factors, what Caterpillar has accomplished in two years might have taken seven or even ten years, Cardines suggested.
Numerous projects are part of the effort, including:
Parts Return / Retention Policy & Process
Dealer Warranty Operations Reviews
Mechanical Pay Business Rules - Short Term
Mechanical Pay Business Rules - Long Term
Global Warranty Guide & Website
Failure Data Timeliness & Accuracy
Warranty Repair Labor Guidelines Process
Warranty Policy Standardization
Claims Administration
Global Audit Process
Warranty Analytics
Caterpillar formed a steering committee to oversee them all, and recruited representatives from various groups that would be impacted, including suppliers, dealers and customers. Caterpillar has warranty staff all over the world, in places such as Panama, Geneva, Singapore, Brazil, Australia, and India, so the committee needed to have a global character.
Because of all the different time zones and languages involved, the committee had to use written and recorded forms of communications well as face-to-face meetings. For dealers and product groups, two-hour webinars were scheduled in the morning, at midday, and at night, so that participants in all time zones could pick whichever was the most convenient. For the warranty professionals within Caterpillar, weekly conference calls were convened. And then for the hard-core members of the team, quarterly meetings rotated from Asia to Europe to North America.
"The idea there was for all the people in Caterpillar to see that we were truly a global team," Cardines said. More than two-thirds of Caterpillar's sales of machinery and engines are made outside the U.S., so it was essential to make this look like a truly global project.
"We spent '08 coming up with all the solutions, and '09 doing the implementations at both Caterpillar and the dealers," Cardines said. "And now, our focus in '10 is to work with our dealers on process improvement."
It's also now time to measure progress, and Cardines said that should be quantified in at least three ways. First, it should be measured financially, in terms of whether the changes have cost or saved money. Second, it should be measured in terms of efficiency, as to whether it has sped up or slowed down the process. And third, it should be measured in terms of quality, not only in terms of product quality but also by the quality of the warranty information coming in from the field.
Another focus for this year is to implement more warranty analytics into the process, which presupposes that the data being analyzed is in good shape. Cardines said she subscribes to the view that analytics will help the company get an earlier warning on problems, and that analytics will give the company a better view of patterns in the data. And that means not only patterns of failure, but also patterns of behavior, such as repeated data entry mistakes, tooling or training issues, or questionable claim attempts.
In this, the middle year of what Cardines said could be a five-year journey, it's still a little early to make a comprehensive list of lessons learned or things that should have been done differently. But now that she's in the middle of this journey, she's able to give some advice to those thinking about starting their own effort.
"At the front end of the journey, don't just try to execute on a good idea," she said. "Go get proper sponsorship. Also, research and validate what you think, outside of your own four walls. Go externally, do some research, see what others are doing, and validate your thoughts. Go ask the people who are impacted by what you're looking at. Paint a clear picture of your starting point and your end goals. And revisit this often."