August 5, 2010
Extended Warranty Insurance Companies:
All four of our imaginary investments are up, with AIG rising the least and Assurant rising the most. And now our hypothetical extended warranty stock fund has grown with the addition of four more insurance companies that also underwrite service contracts.
While it's true that most of the administrators of extended warranties and service contracts are privately held, several of the insurance underwriters that stand behind them are publicly-traded companies that report both revenue and earnings.
Back in the May 14, 2009 newsletter, we looked at the stock performance of four of the biggest underwriters of extended warranties: American International Group Inc., American Financial Group Inc., AmTrust Financial Services Inc., and Assurant Inc. The latter two companies, we should note, are sponsors of this newsletter.
What we did then was to compare where the four companies were in May 2009 to where they were in May 2008 -- the month that AIG raised $7.5 billion through a secondary public offering in which it sold 196.7 million shares of common stock at a price of $38 per share. In a way, that was the beginning of the end -- the last great financial stock sale before the panic began in late summer.
Making a Small Fortune
Anyone who bought any of those AIG shares would have seen a 96% decline, following the Lehman Brothers collapse of September 15, the post-election market lows of November 20, and the even lower lows of early March 2009. In fact, we reckoned that a million dollars invested in AIG in May 2008 would have been worth only $42,100 a year later.
As Figure 1 illustrates, AIG shares (adjusted for a 1-for-20 reverse split in July 2009) fell from $455.20 on Sept. 8, 2008 to $28.80 on Nov. 20, 2008, before bottoming out at $7.00 on March 6, 2009. And then they staged a remarkable comeback, recovering to $36.80 per share by the date of that newsletter.
Figure 1
AIG Common Stock Price
Adjusted for Reverse Splits
(US$ per share, 2008-2010)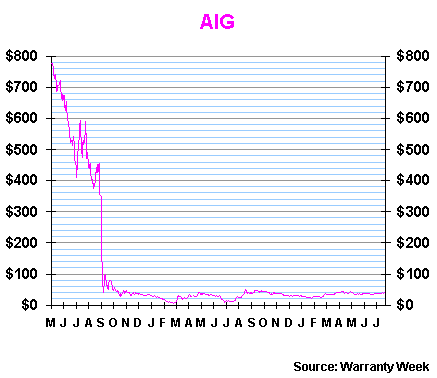 So if our million dollars had become worth $42,100 by May 2009, we wondered, what would it be worth a year later? Would it go back to a million dollars, or would it go all the way to zero? In those crazy days of 2009, either outcome seemed possible.
As it turned out, and as Figure 2 shows in a bit more detail, the stock rallied through the first four months of this year, peaking at $44 in late April before falling back to $39.72 on May 14, 2010, the anniversary date of the article. So our $42,100 would have been worth $45,441 a year later, a gain of nearly 8%. It's not a great return, given the risk, but it's also not a disaster.
Figure 2
AIG Common Stock Price
(US$ per share, 2010)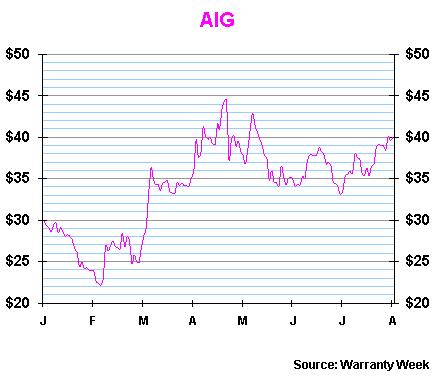 Not much happened in regards to extended warranty underwriting during the period. The AIG WarrantyGuard unit continues to underwrite service contracts for several very large retailers and administrators. However, the parent company did change its name to AIU Holdings Inc. and then to Chartis Inc., as if that might help us forget their starring role in the panic of 2008. Will it now be divested? Will the government sell its stake at a profit? In these crazy days of recovery vs. double dip, anything is possible.
However, WarrantyGuard doesn't even rank a mention in the company's annual report, which makes us wonder what its future prospects will be as the government-owned parent company continues to reorganize, retrench and reinvent itself. The company declined an offer to participate in this article.
Imaginary Stock Fund
Elsewhere in our imaginary stock fund, we also bought $42,100 worth of shares in American Financial Group (parent of the Great American Insurance Group), AmTrust (parent of AMT Warranty), and Assurant (parent of Assurant Solutions). As of 4pm this afternoon, our AIG shares were up 8.42%; our AFG shares were up 48.4%; our AFSI shares were up 53.9%; and our AIZ shares were up 66.1%.
However, as we continue with our tour of the extended warranty industry, first with the home warranty sector and more recently with the vehicle service contract sector, it has become apparent that there are several other major underwriters who were not part of that initial group of four. Some, such as Allianz and Zurich Financial were based abroad and did not sell their shares in New York. Others such as Farmers and Nationwide were mutual insurance companies that did not trade their stock publicly. And a few such as The Warranty Group and GMAC were owned by private equity companies or the U.S. government and were still in a pre-public offering status.
Still, we did manage to find four additional insurance companies that were also major service contract underwriters. And so, we now add to our list Allstate Corp.; CNA Financial Corp.; Old Republic International Corp.; and Protective Life Corp. Our group of four is now a group of eight.
Allstate Underwriting
Allstate is in the service contract business primarily through Allstate Dealer Services, as well as through units such as American Heritage Insurance Services, E.R.J. Insurance Group Inc., First Colonial Insurance Company, Northbrook Indemnity Company, and Pablo Creek Services Inc. But like AIG, its financial reports make no mention of extended warranties or service contracts.
In the first half of 2010, Allstate's property and liability insurance premiums, which would include its service contract activities, declined by 1% to $13.0 billion. However, claims expense and other costs fell a lot faster, so net income for the first half of 2010 is actually up more than 130% to $265 million.
In Figure 3 below, we plotted the daily closing prices for Allstate and Assurant shares during the period of May 2008 to August 2010. Three key contrasts are apparent between the two: first, Assurant fell further and fell faster after the 2008 panic. Second, Assurant hit bottom first ($12.37 on Nov. 20) while Allstate bottomed out later ($13.47 on March 9). And third, Assurant has recovered more ground in 2010 (AIZ closed today at $37.61 to ALL's $29.41).
Figure 3
Allstate & Assurant Common Stock Price
(US$ per share, 2008-2010)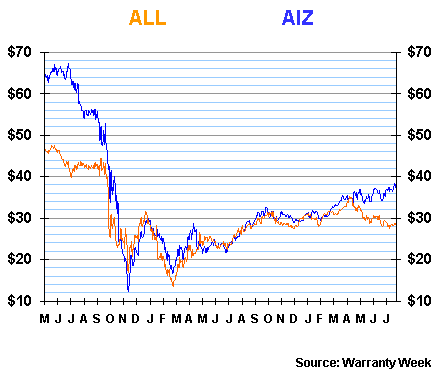 The $42,100 we wish we'd put into Assurant shares in May 2009 would today be worth $69,937. The same amount invested in Allstate would be worth $50,744 today. These are very different companies -- as are all eight in our fund -- but they all seem to have hit bottom towards the end of 2008 or the beginning of 2009, and have been recovering steadily ever since.
Rewarding the Survivors
Joe Erdeman, executive vice president of Assurant Solutions and president of its Extended Protection Solutions Division, said he thinks investors are now rewarding his parent company for the way it weathered that financial storm at the end of 2008. Sales of autos, homes, appliances and electronics plummeted during the recession, insurance and service contract sales followed, and some major clients went bankrupt. Meanwhile, health care legislation stalled, died, was reborn, and was ultimately passed into law.
"I think they're just reacting positively to the story that we have," Erdeman said. Though net earned premiums were down in the first half of 2010 for Assurant Solutions and Assurant Health, premiums were up for the Assurant Specialty Property and Assurant Employee Benefits units, and were up 0.2% overall for the company as a whole. More importantly, net income was up 17.5% for the first half of 2010.
Erdeman said Assurant's service contract revenue began to recover in the second half of 2009, and that recovery has continued into the first half of 2010. So the year-over-year comparisons look good, and the future looks even brighter. New clients include Lowe's Companies Inc., Fred Meyer Jewelers, and the game console operations of Sony Computer Entertainment America LLC.
Internationally, Assurant Solutions is expanding steadily. Major growth markets include Brazil, Argentina, and Mexico, while service contract sales in the UK and the rest of Europe are holding their own. And domestically, sales of autos, homes, appliances, computers and electronics are coming back.
AFG, CNA & Protective Life
Not much has changed at the American Financial Group or its service contract-related units (Great American Insurance Group, Premier Dealer Services Inc., and Premier Lease & Loan Services Ltd.). However, AFG's extended warranty business is counted within "other income," and that line item's contribution to overall revenue declined from $66 million in the first quarter of 2009 to $44 million in the first quarter of 2010. But it's been in a slow decline since 2007.
Shares of AFG hit bottom on March 6, 2009 at a price of $12.70. By last August, they'd nearly doubled off that low. Our $42,100, invested at a price of $19.94 a share, would today be worth $62,474. In fact, if you look closely at all the charts in this newsletter, you'll notice that AFG is the only one of the eight companies that's now above its May 2008 price. Old Republic surpassed its May 2008 price in April of this year, but fell back below it once again in June.
At CNA Financial, the "warranty & alternative risks" business is up 19% to $144 million in the first half of 2010. That's in stark contrast to results at the company overall, where net earned premiums were down 3.2% during the first half. Total revenue, however, is up, and last year's net loss has become a $528 million net profit in this year's first half.
Along with Allstate and two others, we're adding CNA into our service contract underwriters fund retroactively. Had we put $42,100 into CNA shares last May, it would today be worth an astonishing $83,004. In fact, CNA shares have more than quadrupled off their March 2009 lows, and are today only about a dollar per share below the shares of Allstate and the American Financial Group.
Reversing Years of Decline
Protective Life underwrites service contracts through its Asset Protection Division. In its latest financial statement, the company said service contract earnings increased $0.6 million, or 7.3%, as compared to the same half-year of 2009. Service contract sales were also up in the first half, by some 13% to $117.9 million, reversing two back-to-back years of declines.
In Figure 4, we've charted the share prices of AFG, CNA and PL since May 2008. Note how all three simultaneously fell after the panic of September 15, how they each hit lows on November 20, and how they then reached even lower lows in early March of 2009.
Figure 4
American Financial Group, CNA & Protective Life
Common Stock Price, 2008-2010
(US$ per share)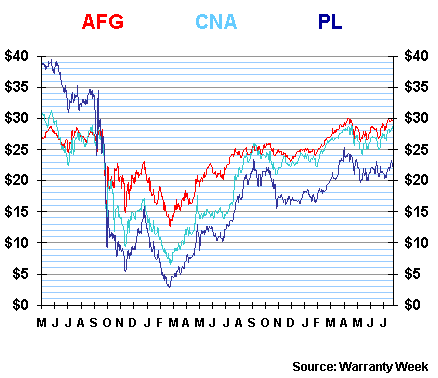 Had we invested $42,100 in Protective Life in May 2009, we'd have done even better than we did with CNA. Today we'd be holding 4,688 shares worth an unbelievable $104,406. That's a 148% return in only 14 months!
In contrast, our $42,100 invested in AmTrust Financial Services would be up only 54% since May 2009. In Figure 5, we've charted that stock along with the final new addition to our group of eight: Old Republic International (parent of both Old Republic Insured Automotive Services Inc. and Old Republic Home Protection).
As Figure 5 shows, both AmTrust and Old Republic hit their multi-year lows on November 20, 2008, and remained slightly above those prices even as everyone else bottomed out in early March of 2009. The only other member of our G8 to do likewise was Assurant.
Figure 5
AmTrust Financial & Old Republic International
Common Stock Price, 2008-2010
(US$ per share)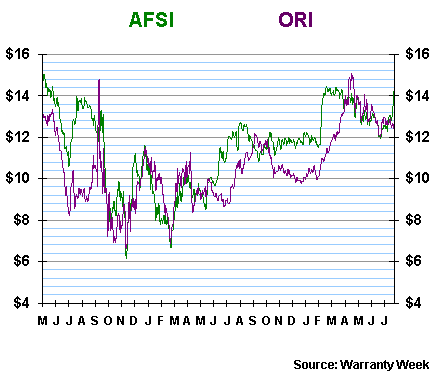 A $42,100 investment made in AFSI in May 2009 would today be worth $64,787. A similar amount invested in shares of ORI would today be worth $58,050. So while none of the G8 have yet given us back our million dollars, all eight investments (and even AIG) are up since May 2009. Over the same interval, the Standard & Poor's 500 index is up 27% while the Dow Jones Industrial Average is up nearly 29%.
A.M. Best Ratings
Another measure of improvement for each of these insurance companies is its A.M. Best financial strength rating. In the February 11, 2010 newsletter, we listed the A.M. Best ratings of these and many other service contract underwriters.
Back in February, Allstate and Old Republic were the only two members of our G8 club to hold an A+ rating from A.M. Best, and AmTrust and Protective Life were the only two to hold an A- rating. The other four each had an A rating.
In June, A.M. Best upgraded AmTrust to an A financial strength rating, and also raised the issuer credit ratings of the parent company and its subsidiaries.
"The rating actions reflect AmTrust's solid balance sheet strength, sustained strong operating performance within its niche market segments and the benefits derived from AFSI, including AFSI's commitment to maintain sufficient capital," the press release stated. "AmTrust has been successful in executing its business plan, which is focused on growth through acquisition of renewal rights offerings and established books of business at appropriate rates, terms and conditions, further benefitting from its expandable underwriting platform that generates significant expense savings."
Bruce Saulnier, president of AMT Warranty and vice president of AmTrust North America, told Warranty Week that A.M. Best's vote of confidence is likely to trickle down to both the company's clients and the consumers who buy their service contracts. "The greater the consumer confidence in the insurer of the ESP, the easier it is for the retailer and OEM to sell the ESP, resulting in higher attainable attachment rates," he said.
The improved A.M. Best rating also provides for a more stable administrative function, he added, because A.M. Best's investigation would have verified that AmTrust was reserving properly and was paying claims that met the terms and conditions of its service contracts. "This ultimately impacts consumer satisfaction and positive brand reputation/equity for the retailer/OEM, which in turn drives repeat purchases at that retailer by the consumer," Saulnier concluded.
This week, AmTrust was once again rated as an "outperform" stock by FBR Capital, with a $25 per share price target. Given its recent price of $14.25 per share, FBR Capital must be expecting a gain of better than 75% in the near future. And that would also represent a quadrupling from the lows of November 2008.
Underwriters Paying Dividends
Besides a gain in stock price, another obvious source of returns would be quarterly dividends. Six of our group of eight currently pay dividends. AIG suspended its dividend right after the September 15 panic gutted its stock price, while CNA Financial actually paid its last dividend on August 20, 2008, a month before the chaos began. The other six continue to pay dividends of between 28 cents per share per year (AmTrust) and 80 cents per year (Allstate).
Obviously, the percentage yield for any given stock is computed by dividing that dividend by the price the investor paid per share. For instance, if one bought AmTrust shares for $6.13 apiece on that dark day of Nov. 20, 2008, one's yield today would be a little above 4.5% (.28 / 6.13). Buy the same shares today for $14.25, and the yield would be a little less than 2%. It's the same 28 cents, but the cost of the shares has risen, so the yield has fallen.
In Figure 6 below, we've omitted the 2008 and 2009 data because frankly, nobody in their right mind was buying any bank or insurance company stocks after Lehman Brothers and AIG hit the wall. However, that was precisely the point when the crazy money could be made. Suffice it to say that anyone crazy enough to have bought shares in November 2008 or March 2009 could have locked in returns as high as 17% (Protective Life) or 12% (Allstate). But of course, nobody did, because nobody believed those dividend yields would last.
Figure 6
Six Extended Warranty Insurance Companies
Dividend Yield in Percent, 2010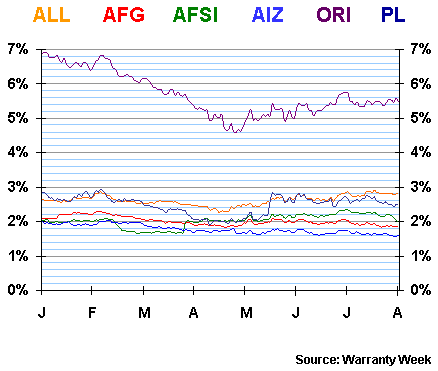 But last they did. In fact, as Figure 6 shows, Old Republic is still yielding nearly 5.5%, even after seeing its share price increase. Allstate is still yielding 2.8%, and Progressive Life is still yielding 2.5%, even after both companies cut their dividends in half towards the end of 2008. AIG and CNA eliminated their dividends entirely in 2008, but at least CNA is earning enough to perhaps reinstitute it in the near future.
Assurant and AmTrust have never cut their dividends, although they've been paying them for only a short time (since 2004 and 2006, respectively). In fact, Assurant has raised its dividend six times in six years, and AmTrust has raised its dividend five times in four years. Their yields are now 1.7% and 1.96%, respectively, after climbing as high as 4.5% and 3.3% during the dark days of 2008.
Not Investment Advice
We're not suggesting that anyone should go out and invest in any of these eight companies. But for better or worse, these are the underwriters of most of the extended warranties and service contracts sold in the U.S. for cars, appliances, home electronics and computers. So the health of that industry will be reflected in the financial statements of these eight companies, which is in turn reflected in their per-share prices and dividend rates.
We may never get back that imaginary million dollars we pumped into AIG back in May 2008, but we could easily double our money in the next year or two if we picked a winner now from among these seven other candidates. And if not, we could still get a healthy dividend while we're waiting.