August 19, 2010
OEM Warranty & VSCs, Part 2:
As we continue our tour of the vehicle service contract industry, we find that some of the cars the contracts cover are being made better than before. Still, it's increasingly the fortunes of third party administrators and underwriters that will be most directly affected by the reduced need for VSCs.
Before we dive into the market numbers for vehicle service contract sales, there is a bit of fresh product warranty data that we need to detail.
Product quality, warranty costs, and the appeal of service contracts are each part of a complex model. People who buy the best might believe they don't need a service contract. And the worry for dealers is if the cars they sell are made too well, their share of both warranty work and service contract sales commissions will decline.
Since we last published product warranty figures for General Motors Co. and Ford Motor Co. back in the June 3 newsletter, both companies have filed their second quarter and half-year financial reports. And GM has also filed a Form S-1 preliminary prospectus to sell as many as 500 million shares of stock, taking itself public once again.
Cost Cutting Continues
The financial reports confirm that the warranty cost reductions seen in 2009 and the first quarter of 2010 were no fluke. Current warranty claims rates continue to fall, and the companies are setting aside less to finance future warranty claims. It's a quality story that seems to have a happy ending.
Let's start with GM. The company reported its largest net profit in years, and continued to keep warranty claims costs below 3% of product revenue. Yes, GM is leaning heavily on its suppliers to pay a larger share of the warranty bill, but we think that bill is also shrinking as quality increases.
At the midpoint of 2010, GM was paying 2.65% of its revenue for current warranty claims, while setting aside 2.38% of its revenue as accruals, to finance future warranty claims. As can be seen by the gap between the red and green lines in Figure 1 below, claims have exceeded accruals since late 2007. But in the first two quarters of 2010, the claims rate has nearly closed the gap.
Figure 1
General Motors Co.
Warranty Claims & Accrual Rates, 2003-2010
(as a percentage of product sales)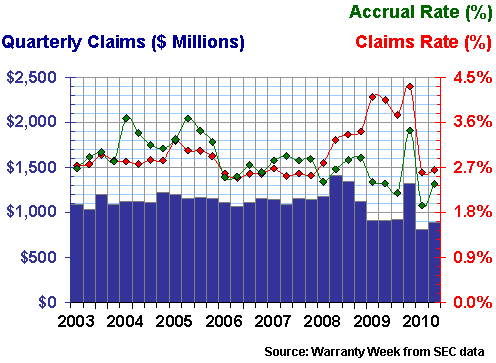 What this means is that it wasn't an accounting trick. Instead, it looks like GM's quality and finance people predicted they wouldn't need to set aside as much for the future (in warranty accruals), and now their prediction is coming true (the falling claims rate). They've been touting their rising product quality level for years. Now the numbers are supporting their touts.
Without the 2010 data, the GM chart would make it look like the company was keeping accruals lower than it should, especially given the rising claims rate in 2008 and 2009. But now, as the falling claims rate in 2010 confirms the appropriateness of the falling accrual rate, GM is in a position to enjoy both a restored reputation and increased profits. Timing is everything.
Closing the Gap
It's much the same story at Ford. Claims have actually exceeded accruals for more than four years. At one point at the beginning of 2009, the size of the gap between the claims rate and the accrual rate exceeded 1.4%. But then the claims rate began to fall. And by the middle of 2010, the gap was only 0.25%.
Figure 2
Ford Motor Co.
Warranty Claims & Accrual Rates, 2003-2010
(as a percentage of product sales)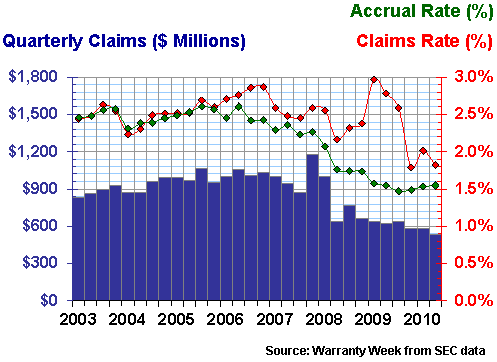 Those with sharp eyes will see that Ford's accrual rate has risen in the first half of 2010 after hitting a modern low in the first half of 2009. But also note that Ford's claims rate fell below 2% for the first time ever at the very end of 2009. Now, the company is in Japanese territory, a bit below the claims rates reported by Toyota and not far above the rates reported by Honda.
Again with Ford, as with GM, the falling claims rate confirms the wisdom of cutting accruals. But with Ford, the accrual-cutting trend has been in effect for five years, while the claims rate didn't peak until last year. So this means that at about the time GM and Chrysler were filing for bankruptcy last year, Ford was sticking to its predictions of lower warranty costs in the future, despite rising (and peaking) current costs.
Now, the companies are setting aside less than ever before to finance warranty work. In the July 8 and July 15 newsletters, we detailed the math that led us to believe that the companies were setting aside less than $400 per vehicle sold in 2009. And we said that time would tell if that was an appropriate level.
Reduced Costs Continue in 2010
Well, only six months of time has gone by, but the data is once again suggesting that they were correct to set aside less per vehicle in 2009, because they're spending less per vehicle in 2010. And they continue to accrue for 2010 sales at levels very close to the historic low rates seen in 2009, suggesting that they know their predictions are coming true.
In Figure 3, we've added half a year to a chart seen in the July 8 newsletter. In round numbers, the GM accrual rate fell from $357 per vehicle in 2009 to $353 in the first half of 2010. The reason again seems to have lots to do with booming sales in China, but it also reflects a diminished need for warranty work in Europe and North America.
The figures for Ford actually rose a bit. In 2009, the company set aside $1.561 billion to finance warranty work on 4.82 million units sold -- an accrual rate of only $324 per vehicle. In the first half of 2010, Ford sold 2.86 million units and accrued $954 million, for a per-unit rate of $333.
Figure 3
General Motors & Ford
Warranty Accruals per Vehicle, 2002-2010
(in U.S. dollars)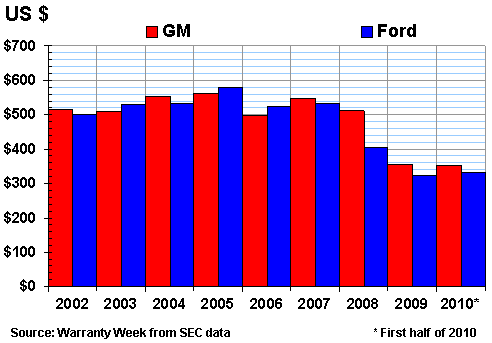 The data looked a bit unbelievable in 2009. And it still does. It's a bit like the weatherman predicting a month of sunny days, in a climate where it usually rains a few times per week. The initial urge is to dismiss it as overly optimistic. Well, the month's half over and it hasn't rained yet. So perhaps it's unbelievable. It's incredible. And it's true.
OEM-Backed Service Contracts
And now, with that out of the way, we'll switch gears a little bit from the OEMs' product warranties to their vehicle service contracts. We began to lay out the names of the major players in OEM-backed vehicle service contracts in last week's newsletter. This week, we're adding some financial data to the picture.
Though each of the major automotive OEMs has both a favored vehicle service contract administrator and underwriter in place for their franchised dealerships to sell, many of the dealerships have made their own choices. Some of the franchised dealerships go with the OEM for their new car sales and go with a third party administrator for used car sales. And some choose to go with third parties for both their new and used sales.
And then there are the independent dealers who don't have a franchise relationship with an OEM. Some go with a third party administrator for VSC sales. Some don't sell VSCs. And consumers also have an option to buy their VSCs directly from an administrator, bypassing the dealer completely.
Of the $11.175 billion we're estimating will be spent by U.S. consumers in 2010 to purchase service contracts for their motor vehicles, only about 29% of those contracts are going to be processed by the administrative/underwriting team owned, backed, branded or favored by an automotive OEM. The reason we're phrasing it this way, rather than calling them simply OEM-owned, is to get around the fact that GM no longer owns 100% of GMAC, and the fact that OEMs such as Toyota, Volkswagen, Mercedes and Hyundai never owned or controlled the VSC programs that some or all of their dealers sell.
But they each do brand and promote their "official" line of VSCs. So in this case, we're going to consider all the VSC programs outlined in last week's newsletter to be OEM programs. All the programs with no official or contractual ties to an OEM are classified as third party programs.
Most VSCs Sold by Third Parties
Using those definitions, we estimate that a full 66% of the VSCs sold in the U.S. this year will be bought by consumers from their new or used car dealer at the time they purchase their vehicle, will be administered by a non-OEM-affiliated company, and will be underwritten by a non-OEM-affiliated insurance company. In other words, the third party programs dominate. And an additional 5% of the contracts will be bought over the phone, on the Internet, or through the mail by consumers who initially said "no" to their dealer at the time they bought their vehicle.
Figure 4 details these 2010 estimates. For those who need to redraw the pie chart accurately using their own software, we're estimating the OEM-controlled market at $3.239 billion; the TPA-controlled market at $7.375 billion; and the direct-to-consumer market at $561 million.
Figure 4
U.S. Vehicle Service Contract Sales
Premiums Paid by Consumers, 2010
(percentage of $11.175 billion)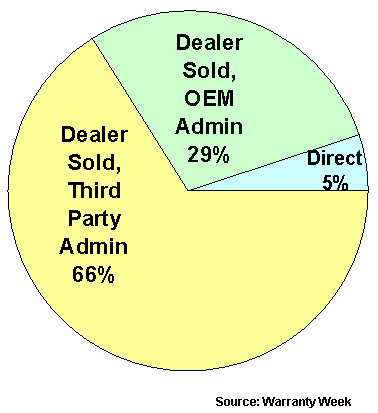 Overall, we're expecting 6.2 million vehicle service contracts to be sold by auto dealers in 2010, with around 3.8 million covering new cars and around 2.4 million covering used cars. We're optimistically expecting dealers to sell 12.4 million new cars in 2010, so we're projecting an attachment rate of 30% in that segment of the industry.
In addition, we're expecting franchised and independent dealers to sell around 70% of the 39 million used cars that will change hands this year (the rest will be sold privately). So the attachment rate is only 9% in that segment. But if one were to look at just the instances where the dealer actually offers VSCs (and where the vehicle is eligible for one), the attachment rate is much higher.
Top OEM Market Shares
We're not going to begin listing individual market shares of administrators or underwriters for another week or two. But in keeping with this week's OEM theme, we'll pre-announce a few of the majors.
We expect GMAC and Universal Warranty to report gross written premiums of around $776 million in 2010 from VSC sales by GM dealers, an increase of 13% from 2009 levels.



We expect Toyota Motor Insurance Services Inc. to report around $547 million in VSC sales in the U.S. this calendar year, a slight increase over 2009 levels.



And we expect the Ford Customer Service Co. and the American Road Insurance Co. to tally around $373 million in VSC sales in 2010, covering new car sales by their franchised dealers.
Attachment rates vary widely. They'll be lower for import nameplates where the perceived quality is higher. And they'll be lower still in cases where the product warranty is unusually long. But they'll be higher for domestic nameplates, and higher still in cases where the companies went through a bankruptcy reorganization last year.
It varies along with the perception of risk, and with the desire to sell that risk by buying a VSC. It varies with the length of the basic warranty and the powertrain warranty. And of course it varies with the salesman's skill at tapping into that worry over future repair costs.
So the 30% attachment rate detailed in Figure 5 is just an average. And it hasn't really changed that much over the past few years, despite an incredible dip in 2008 and 2009 vehicle unit sales (and our fingers-crossed prediction of an incredible comeback in 2010).
What has changed is the fealty of the franchised dealers to their OEMs' brand of VSCs. Over the years, the third parties have continued to take share away from the OEMs, sometimes because the dealers were franchising multiple nameplates, and other times because even the OEMs' own finance and insurance subsidiaries were looking precarious.
Low Financial Strength Ratings
Besides all the other problems consumers have with financing, there are many lenders that simply won't finance a vehicle service contract underwritten by a below-A-rated carrier. And that impacts not only GM and Chrysler, but also Ford. All three domestics use insurance companies rated B++ by A.M. Best, though Ford's American Road Insurance Co. had been at a B+ until it was upgraded in July.
The imports have better control of their franchised dealers, but none can claim they own or control 100% of the VSC business within their dealerships. Even Toyota has given control to third parties in entire states. And so, as Figure 5 illustrates, the third parties have a much greater share nationwide.
Figure 5
U.S. New Car Sales, 2010
Bought With or Without VSCs
(percentage of 12.4 million units)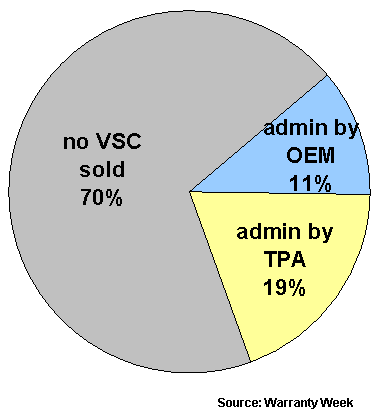 For used cars sold through dealerships, the OEMs' favored VSC programs have only a 2% market share, while the third parties have a 7% share. But the OEMs don't really compete all that vigorously for the used business, either because they choose to not cover other brands, choose not to cover used sales, or choose not to work outside of their franchised dealerships.
Plenty of Opportunity for Growth?
Still, this means that an incredible 91% of used cars are sold without any attached VSC. The optimists would see this as an incredible opportunity for growth. But keep in mind that some of those vehicles are ineligible for a VSC, while some are sold by independent dealers that don't offer VSCs even on low-mileage vehicles sold in good shape.
And then there are the 11.7 million cars that will be sold privately this year. Those vehicles are typically sold "as-is," without warranty, let alone a service contract (though some existing VSCs can be transferred to the buyer). But some of the buyers will decide to sign up for a VSC in response to a phone call, a postcard or an Internet solicitation. Most will not. And some of the car buyers who turned down their dealers will also sign up later through direct channels.
Overall, we expect 16% of all dealer transactions to include a VSC sale, for a total of 6.2 million VSCs sold by dealers. And again, that suggests a tremendous future potential for growth: 33.5 million vehicles sold by dealers in 2010 without a VSC, 8.6 million new and 24.9 million used.
We'll continue the story next week with a financial analysis of the underwriters, followed in two weeks by a look at the top administrators. Readers are encouraged to question or contradict the accuracy of this VSC financial model as we detail it, using either public data or confidential estimates to make their case. All responses will remain off the record.