September 2, 2010
Vehicle Service Contract Underwriters, Part 2:
Numerous corrections need to be made, and multiple explanations need to be given, before we can move on to the final phase: Tracking the administrators. And it's becoming obvious that the reason there's so little market research on the VSC industry may be because there's so many moving parts to consider.
Before we get to the list of top vehicle service contract administrators and obligors, we have some important housekeeping to perform on the pie chart included in the August 26 newsletter.
After exchanging emails and phone calls with numerous readers, it turns out we overestimated the revenues of four underwriters, underestimated the revenues of one underwriter, listed one underwriter twice, and left out four.
Readers also had a hard time connecting insurance company names with parent companies and captive administrators, especially towards the bottom of the list. So we need to go back and fix some problems with the short list of underwriters and fill in some details before getting to the very long list of administrators, which we'll do next week.
Moving Things Around
Where to start? Let's begin with The Warranty Group and the VSC administrators it underwrites. For some absent-minded reason, we had Interstate National Dealer Services Inc. listed as being 100% underwritten by The Warranty Group's Virginia Surety Company Inc., which is impossible for two reasons. First, INDS didn't sign with Virginia Surety until July, so there's no way that even half the entire year's underwriting could go to the new underwriter. And second, INDS plans to continue using the underwriting services of both the Dealers Assurance Co. and its own risk retention group, so even from July to December it won't be 100% Virginia Surety.
Therefore, we have reduced the percentage of INDS underwriting going to Virginia Surety, and have reduced The Warranty Group's underwriting revenue by $10 million to $450 million. As can be seen in Figure 1 below, that reduces the company's market share from 16.4% to 15.9%.
We have also fixed the estimate in last week's newsletter, so in this Orwellian world of online journalism, the past agrees with the present. The new pie chart below is the same as the revised pie chart that's online in last week's newsletter.
New and Improved
What follows is Warranty Week's new and improved VSC underwriter pie chart that's been sliced, diced, digested, and deconstructed by our readers.
Figure 1
Vehicle Service Contract Industry
VSC Underwriting Revenue, 2010
(as a percentage of $2.85 billion)
(revised)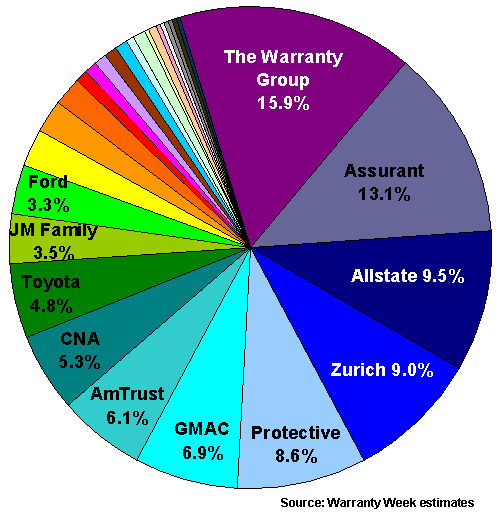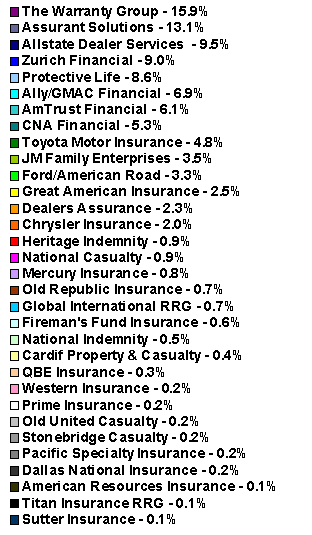 It took only about 12 hours before the first VSC expert began picking apart the data in the pie chart last week. And this is a process that we actually welcomed. This industry is filled with people who are incredibly shy in public but are quite knowledgeable in private. Simply put, they don't do press releases. But they know all the news.
At the same time, it's an incredibly complex business, sitting at the junction of the insurance and automotive industries. Insurance companies are famous for setting up multiple interlocking companies that can't be explained to those who aren't FCAS, ASAs, or at least ACAS. And automotive companies have their own finance and insurance arms that do an enormous amount of behind-the-scenes work in this business. So sometimes the only way to get it right is to get it wrong, and be corrected.
No More Pedal to the Metal?
Another major change in Figure 1 is a reduction in the 2010 revenue estimates for both Allstate Dealer Services and Protective Life Corp. We initially had Protective Life's VSC underwriting revenue growing from $227 million in 2009 to $260 million in 2010. But given the company's growth so far in the first half of 2010, that would have entailed something like a 16% increase for the rest of this year. So we're reducing the 2010 estimate to $245 million, which is still a healthy 8% increase for the year.
It's the same story at Allstate Dealer Services. We'd love for them to grow from $260 million in 2010 to $275 million in 2010, but we're attenuating our enthusiasm down a notch. We now expect Allstate to capture 9.5% of the underwriting market in 2010, after growing close to 4% this year.
The other downward adjustment is at the Nationwide Mutual Insurance Company. But this one isn't just a toning down of some aggressive growth targets. This one is a bona fide typo, caused by a mix-up between incredibly similar names.
Mixing Up Underwriters
For some reason, we'd mistakenly added together the estimates for National Casualty Co. and National Indemnity Co., and attributed them both to Nationwide. But Nationwide owns just one of them. Nationwide owns the Scottsdale Insurance Company, which owns National Casualty, and underwrites only Phoenix American Warranty Co. Inc. and its sister company Wynn's Extended Care Inc. And that's only a $45 million underwriting business, by our estimates (which in turn is part of an estimated $100 million VSC business for Phoenix American/Wynn's Extended Care).
Meanwhile, National Indemnity Co. is an A++ rated underwriter owned by Berkshire Hathaway Inc., which underwrites the United States Warranty Corp. of Ohio, among others. And that's an entirely different company from the United States Warranty Corp. of Florida, which also has an entirely different underwriter.
USWC of Ohio is based in Mayfield Heights OH, was started in 1975, and sells VSCs for recreational vehicles, power sports equipment, and personal watercraft.



USWC of Florida is based in Pompano Beach FL, was started in 1975, but does VSCs for passenger cars and limousines, and also helps dealers set up their own self-insured programs. And USWC of Florida is an Allstate Dealer Services customer.
So now both Nationals and both United States Warranties are listed separately and just once each in Figure 1. And that brings us to another correction called in by a sharp-eyed reader. We had mistakenly double-listed the names of both Wells Fargo Dealer Services Inc. and its underwriter, the Heritage Indemnity Company. They should have been listed just once, and together. The second slice of the pie was supposed to be the home of the French-American Cardif Property and Casualty Insurance Company, which underwrites VSCs for Alpha Warranty Services Inc. and others. But somehow Heritage ended up in its place. Quelle folie!
Cardif and Warranty Direct
Cardif is also now in the process of transitioning ownership from BNP Paribas Assurance SA to Interstate National Corp., parent of Interstate National Dealer Services, which announced the acquisition in May. INDS operates a VSC direct sales company in the U.S. called Warranty Direct. But meanwhile, over in the UK, there's a completely different company called Warranty Direct Ltd., which is owned by the Cardif Pinnacle Group of Companies, another arm of BNP Paribas. Unfortunately, however, Warranty Direct Ltd. was not part of the deal.
We also crossed wires in our estimate of SouthwestRe and its VSC underwriter, Dealers Assurance Company. Somehow, we overlooked all of the third party administrators that Dealers Assurance also works with, including INDS, and listed financial figures for just the underwriting it does for its wholly-owned administrator, the Dealers Alliance Corp. That oversight has now been corrected, and SouthwestRe's market share has magically jumped from 0.1% to 2.3%.
And last but not least, we simply forgot to include four underwriters. QBE Insurance Corp., part of the QBE Insurance Group Ltd., underwrites the Good Sam Extended Service Plan that we wrote about in the April 29 newsletter. Sutter Insurance Company underwrites a used car service contract program for PRco Inc. in the western states. Western Insurance Group owns the B++ rated Western Insurance Company of Reno NV. And the Kodiak Insurance Company owns American Resources Insurance Company Inc. Our apologies for these oversights.
Service Contract Nightmares?
Confused? So are we. Your editor actually had a dream last night about vehicle service contract administrators who lived in the basement in file cabinets. Perhaps it's time to move onto something simple, like puppy warranties?
It is simply incredible how many moving parts there are in this industry. We now have a list of 32 insurance companies and risk retention groups providing underwriting services to at least 120 VSC administrators/obligors. And those are just the ones rated by A.M. Best.
Thankfully, we have readers who work at nearly half of these companies, and most have been quite willing to help with some off-the-record fact-checking and opinion-seeking. But some -- it's funny when they automatically assume you're muckraking -- won't talk to reporters under any circumstances.
But if anyone is looking for a reason there's so little market research in vehicle service contracts, here it is: There are so many companies involved -- already we have a matrix of 735 entries that cross-reference aliases, trade names, marketing partners, brand names, parents, siblings, and subsidiaries. And while we think we have them all sorted out by underwriter, the chances are very high that in another 12 hours, another one of our expert readers will call in some new corrections.
Top Administrator
Incredibly, the top single administrator's market share, which we reckon is Toyota, has only 4.9% of an $11.175 billion market. That's the top administrator: $547 million in VSC premiums paid by consumers. The top non-OEM and non-underwriter administrator is probably APCO, with only a 4.5% market share. Yes, that's what half a billion dollars buys you these days: a 4.5% slice of the pie.
However, there are ways to bundle together the revenues of some of the vertically-integrated underwriters and their multiple sibling administrators and underwriters to exceed those figures. But we'll leave that until next week. Or maybe we'll leave that to others. We think there's a wealth of data here to be mined, not only in terms of OEM-affiliated vs. insurance-affiliated vs. independent, but also in new vs. used, exclusionary vs. named component, and a dozen other ways to slice and dice the market.
Who Are All These People?
The other major criticism of last week's VSC underwriter pie chart was simply this: who are all these people? One reader said it was like going to a wedding where you don't know the people on either side.
We all know who Ford and Toyota are. And thanks to all their appearances as sponsors and newsmakers in this newsletter and elsewhere, we all probably know the names Assurant Solutions, AmTrust, The Warranty Group/Virginia Surety, and maybe even GMAC/Ally Financial. But even within the top ten there are a few unfamiliar names. And it gets less and less familiar the further down the list that one goes.
So before we get to the 120 VSC administrators, perhaps we should spend a little time listing the vital statistics of all the underwriters, their parent companies, their A.M. Best ratings, and some of their top captive and third party administrators. We'll try to link to as many as possible, so readers can pursue further research about any of them at their convenience.
Allstate Dealer Services
We all know we're in good hands with Allstate as a major personal automobile insurance company. But Allstate Dealer Service's position as a top VSC underwriter is probably not so well-known. We wrote a little bit about this paradox back in the June 25 newsletter, but let us repeat it here: Allstate owns the First Colonial Insurance Company, its A- rated VSC underwriter, and also owns American Heritage Insurance Services and Pablo Creek Services Inc., which provide VSC administration services to auto dealers.
Zurich Financial
Zürich is a beautiful Swiss city and a major financial hub. It's also home to the Zurich Financial Services Group, which has a variety of U.S. subsidiaries that intersect and intermingle in ways we bet even the people at headquarters don't fully understand. But in terms of VSCs, the names to watch are the Universal Underwriters Insurance Company, its underwriter; the Universal Underwriters Service Corporation, its administrator; and the Automobile Protection Corp., UUIC's top customer.
Oh, and while we're at it, there's also a Universal Warranty Corp. in Omaha that's not affiliated with Zurich. And there's a Universal Administrators Services Inc. in Louisville that's also not affiliated with Zurich. And there's a Universal Home Protection LLC that's not only not affiliated with Zurich, but is also no longer in business.
Protective Life
Protective Life Corp. owns and operates the Lyndon Property Insurance Co.; Lyndon Administrative Services; Advantage Warranty Corp.; Western General Insurance Co.; Western General Dealer Services Inc.; and Western General Warranty Inc. We'll sort them out next week. But Protective also provides the majority of the underwriting for third-party administrators such as Global Investor Solutions LLC and Royal Administration Services Inc.
CNA Financial Corp. uses Continental Insurance Co. as its underwriter and CNA National Warranty Corp. as its administrator. And for some strange reason, all our spell checkers want to change the company's name to CAN.
All in the JM Family
JM Family Enterprises Inc. is an interesting case. Led by the late and very great Jim Moran, the company first taught Toyota how to sell cars to Americans, and then taught Toyota how to sell them vehicle service contracts. The company has a huge network of dealerships in the American Southeast. And it has an underwriter, the Courtesy Insurance Co., and an administrator, Fidelity Warranty Services Inc. And together they sell, administer and underwrite VSCs for not only Toyota, but also Hyundai and Volkswagen.
The American Financial Group Inc. owns the Great American Insurance Co. and Premier Dealer Services Inc. And they have naming rights to the Great American Ball Park, home of the Cincinnati Reds baseball team. Carl Lindner, Jr., chairman of AFG, was the majority owner of the Cincinnati Reds until just five years ago.
Wells Fargo Dealer Services Inc. owns Heritage Indemnity Co. and Warranty Solutions. Both were owned by Wachovia Corp., which acquired them from General Electric Co. Yes, that's right: In addition to the appliance-related service contract operations that GE sold to Assurant Solutions in 2008, GE also had a VSC operation called GE Money - Auto Warranty Services that it sold to Wachovia. Someday someone will win a bar bet with these nuggets of knowledge.
Home Warranties & Extended Warranties
Continuing down the list, the Old Republic International Corp. owns the Old Republic Insurance Company, its underwriter, and Old Republic Insured Automotive Services Inc., its administrator. As readers of the December 22, 2009 newsletter will remember, their sibling is the Old Republic Home Protection Co. Inc., which we estimated had 8.3% of the $1.5 billion home warranty marketplace last year.
We mentioned Guardian Warranty, Berkshire Hathaway and Nationwide Mutual already. Mercury Insurance Company is an interesting case. It's an insurance company that offers a mechanical breakdown insurance policy, a close cousin of a vehicle service contract. And we're estimating that it has about 0.8% of both the underwriting market and the VSC/MBI premiums paid by consumers.
More Underwriters
Prime Insurance Co. has Diamond Warranty Corp. as its lead administrator. Old United Casualty Co. has MPP Company Inc. as its lead administrator. And Dallas National Insurance Co. has a majority of Tier One Warranty LLC's VSC administration business (Dealers Assurance Co. and American Resources Insurance Co. have the rest).
Gulf States Financial Services Inc., besides owning its own A- rated underwriter (Sentruity Casualty Company), also works in some states with Stonebridge Casualty Insurance Co., which strangely enough was at one time part of the retailer J.C. Penney Company Inc. GS Administrators Inc. is Gulf States' administrator, and GSFSGroup is the parent company's name.
The McGraw Group is a bit like the JM Family, only on a smaller scale. Its underwriter is called Pacific Specialty Insurance Co., and its administrator is called Western Service Contract Corp. The company is also a major writer of motorcycle and personal watercraft insurance policies.
The Risk Retention Groups
Did we mention some of the RRGs? Ethos Group Holdings Inc. owns Titan Insurance Co Inc, a RRG. Marathon Administrative Company Inc. works with Marathon Financial Insurance Co., a RRG. INDS has National Service Contract Insurance Co. RRG Inc. And the Automobile Consumer Service Corp., best-known for their Gold Key Protection Plans, works with Vehicular Service Insurance Co. RRG.
Of that group, only Ethos has secured itself an A.M. Best financial strength rating (A-), so only Titan is on our list of underwriters in Figure 1. As we said last week, A.M. Best is our gatekeeper in terms of what is and what isn't an official insurance company. That's not a comment on the fiscal strength or stability of unrated risk retention groups. It's simply the benchmark we're using to draw up this list of underwriters.
Missing Any Underwriters?
Hopefully, we've named them all. If we missed anything or misrepresented anyone, please let us know. And as chaotic as it may seem, this is actually the stable and steadfast end of the VSC business. The administrators that we'll cover next week are much less buttoned-down than the insurance people on this side. And then further out, the VSC direct marketers, brokers and sales agents are the ones who make the business look like Dodge City, Deadwood, and Tombstone, Arizona all rolled into one. We'll cover them in the next decade.