October 28, 2010
Implementing iWarranty:
4CS Inc. has a long history of outfitting agricultural and construction equipment makers with its Web-based warranty claims processing software. More recently, it's added a pair of electric car makers, along with two of the biggest construction equipment makers headquartered outside the U.S.
As we get ready to head to Chicago for the Warranty Innovations conference next week, we checked in with 4C Solutions Inc., one of the main sponsors of the conference and a longtime sponsor of this newsletter.
4CS, a warranty software developer based about 150 miles west of Chicago on the Illinois/Iowa border, has attracted a roster of customers across the automotive, truck, and heavy equipment industries. Two of the latest to sign on are the Chinese construction equipment manufacturer Guangxi LiuGong Machinery Company Ltd., and the British recreational vehicle manufacturer Auto-Sleepers Ltd.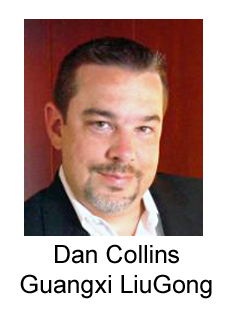 Dan Collins, the director of global after sales development in the Overseas Sales & Marketing Division of Guangxi LiuGong Machinery Company, said the company signed with 4CS only about a month-and-a-half ago, in a deal heralded by a press release dated September 13.
LiuGong, he said, is now in the beginning stages of a planned worldwide deployment of the complete 4CS Service Suite. That includes not only the iWarranty module, but also the iSupport, iService, and iParts modules, among others.
Collins said he has been with LiuGong for only about six months, but has been around construction equipment dealerships, service operations and parts departments since high school. He worked for five years in the warranty department at Mitsubishi Caterpillar Forklift America Inc. More recently, he was working as the warranty manager in the Houston office of Kobelco Construction Machinery America LLC, but then the unit was absorbed into CNH Global N.V.
Most of the Kobelco team then moved together to the existing CNH offices in Chicago and Racine WI. "But most of us couldn't take either the weather or the change," Collins said, "so we ended up back here in Texas working for LiuGong when they opened up their North America regional office here."
The Witch of November Came Early
By the way, speaking of the weather in Chicago, the windy city certainly lived up to its name this week with 80 mile-per-hour winds that briefly shut O'Hare Airport and took the roofs off several buildings. The barometric pressure at the center of the storm reached a record low of 28.21 inches (955 millibars), equivalent to what one would find in the middle of a severe hurricane. And, in fact, the storm took part of the roof off the CNH plant in Racine.
Collins said he won't be making the trip to Chicago next week for the Warranty Innovations show. But those who are going can expect calm, sunny weather in the city with temperatures in the mid-50s and a gentle breeze coming out of the northwest.
Besides the Houston office where Collins now works, there are currently four other LiuGong regional offices: in Belo Horizonte, Brazil; New South Wales, Australia; New Delhi, India; and Amsterdam, Netherlands. And they are soon to be joined by three more regional offices in Singapore; Dubai, UAE; and Johannesburg, South Africa.
Collins said what helped to seal the 4CS deal was how all the different modules are tightly coupled together. It's not just a warranty claims processing system, he said. It's a complete after-sales software package, with a single sign-on and one set of part numbers for everything from inspection reports to call center problem resolutions.
Global Deployment Plans
"We're looking to do that globally in phases, with the first phase being North America, then Latin America, then Europe, and then we'll move into the other regions," Collins said. If all goes well, the plan is to complete LiuGong's global deployment back home in China.
North America was chosen first, Collins said, because it's where most of the company's warranty and service expertise is currently located. But there's also a secondary reason, he said, which has to do with the sophistication of the dealerships.
"If we can do it here, we think we can do it anywhere," he said, echoing the lyrics to a famous Frank Sinatra tune. "If the North America dealers will accept our system... They're very much used to other competitive systems. So they're using the warranty and after-sales software for the other major lines. Most North America dealers handle other products. So they'll compare us. They'll let us know if we meet or exceed the standard."
Conversely, he said, if LiuGong were to start the project in a developing country such as China or India, it might be the first non-paper-based warranty claims processing system those dealers had ever seen. So while they might love it and take to it quite swiftly, they also wouldn't have anything to compare it to. So they wouldn't necessarily know what the best practices are, and they wouldn't give LiuGong the kind of feedback it is expecting to get in North America.
Construction Equipment Dealers
It's only in the past five or six years that LiuGong began growing in earnest outside its native home in China, so it has only 20 or so dealers in North America so far. Compare that to Caterpillar, with 61 dealers in the U.S. and Canada, out of a total of 220 dealers in some 200 countries and territories worldwide.
Keep in mind that unlike with passenger cars, dealers of construction equipment tend to be very few in number and very large in size. Also keep in mind that many construction equipment dealers in North America sell multiple brands, especially if they're dealing outside the top few brands. So they'll be in a perfect position to tell LiuGong how it's doing, and how its new warranty, service and parts ordering system stacks up against the competition.
"Our dealer base [in North America] is growing, but it's still relatively small, compared to a lot of other product lines," Collins said. "And that's another reason we chose to deploy here first. Once we move around the world, our final stage is to go back to the China domestic dealership network, which is over a hundred-something dealers. So when we get back to China, we have to be sure we got it right."
Collins said the package will be multi-lingual and multi-currency from the outset, so there should be no problems crossing borders. The proof of that should come when the system is rolled out for the company's two Canadian dealers located near Toronto and Montreal, where the dollars have loons on them and the word labor is spelled -our or even -eur (in Quebec).
Everything is tied into the dealer sign-on, Collins said, from the choice of language and currency to the price of parts. "All the labor rates are different for each dealer," he said, "and the parts price is different for each region or country."
First Look Next Month
The company plans to give dealers a first look at the system next month during a meeting in Shanghai. Until then, Collins said, the LiuGong team is doing the work to interface the 4CS Service Suite with its existing SAP system.
The team, he said, includes people from both the information technology department as well as the business operations side. And it includes people from the North America region as well as from China. That's important, Collins said, because warranty isn't the same in every region. Therefore, Collins said, LiuGong will try to hire local expertise to help it navigate these and other regional differences.
"There's huge differences," he said. "For example, in the Asian market it's very common that there's only a parts warranty [no labor]. And a lot of manufacturers send that part at no charge. Of course, that makes it very difficult to track defect and quality issues."
There's also an open question as to how clean the warranty and parts data really is now, and how much time it will take to clean it up. Numerous other global deployments of warranty management systems have found this to be a major endeavor.
Cleaning Dirty Data
Collins said he expects it to be a huge task, but added that he doesn't yet know how huge. One early clue comes from the way addresses were handled in the past. The new system uses separate fields for street, city, state/province and zip/postal code. The old system had all that on one line.
"That's a major obstacle," he said. "But we have to clean this data. And we need to go through it, because we don't want to put dirty data into our new and very expensive software."
Another potential problem comes with supplier recovery efforts. In China, all parts of a single type got the same part number, even if they came from five different suppliers. That made it very difficult to trace a problem back to a single source. With this new system, there will have to be a tag for each supplier, so the system car trace a given failure back to a single source. And in some cases there will need to be warranties written into the supply agreements where there are none in place now.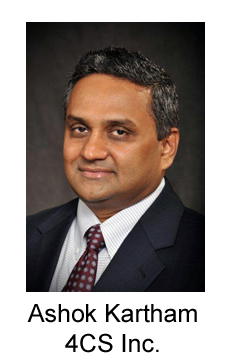 Ashok Kartham, president of 4C Solutions, noted that the company has been supporting international companies from the very beginning. Its first commercial customer was Deere & Company.
Kartham said 4CS started doing custom programming for Deere back in 1995, a contract that eventually led to the commercial launch of iWarranty software in 2003. Therefore, the ability to support multiple languages in multiple countries was built into the package from the very outset. Deere's world headquarters is only a short distance away from 4CS in Moline IL, but the company does business in over 100 countries, with administrative offices in 20 of them.
Growing Customer List
In the years after Deere came additional customers such as Motor Coach Industries International Inc., Takeuchi Manufacturing (U.S.) Ltd., and Mitsubishi Caterpillar Forklift America Inc. Kubota Manufacturing of America Corp., Mahindra USA Inc., and Freightliner Inc., which is now a division of Daimler Trucks North America LLC, came aboard in 2005. Kawasaki Construction Machinery Corp. of America began using 4CS iParts in 2006. And then in 2007 bus manufacturers New Flyer Industries Inc. and Blue Bird Corp. signed on for iWarranty licenses.
Chain saw maker Blount International Inc. deployed 4CS iWarranty software in early 2007. Agricultural equipment manufacturer AGCO Corp. signed a deal with 4CS in 2008, as did Zenn Motor Company, makers of the Zero Emission No Noise electric vehicles. Earlier this year, Coda Automotive, another maker of all-electric cars, and Dixie Chopper, a maker of fast little riding lawn mowers, both selected 4CS. And then Atlas Copco, the Swedish manufacturer of construction and mining equipment, signed up for iWarranty in April.
"We are very excited about supporting these global companies," Kartham said. "As we serve those customers, we also developed the capability to support multiple languages, currencies and time zones."
Besides the geographic growth, 4CS has also tried to broaden its functional capabilities. Its original warranty focus has now widened to include extended warranty, supplier recovery, parts ordering, service center management, and numerous other sectors of the post-sales service arena.
Opening New Sales Offices
In addition, the customer base has now begun to broaden from its heavy equipment roots to include some extended warranty and home warranty administrators, some food service equipment companies, and some consumer electronics companies.
In addition, now joining the Japanese and Indian companies that are looking to expand into the U.S. are some Chinese agriculture and construction equipment companies. LiuGong is a great example of that, but there are others. And then there are companies that signed on with 4CS after the company opened regional sales offices three years ago in the UK and India.
Auto-Sleepers Ltd., a motor home manufacturer based south of Birmingham, England, signed on for 4CS software as a service earlier this year. Alan Curry is the customer service manager of the company.
Typically, Auto-Sleepers will take delivery of a van or a pickup truck from a manufacturer such as Peugeot, Mercedes or Volkswagen, and will then turn the base vehicle into a motor home by adding panels, roofs, windows, furniture and appliances. Each of these components has its own warranty, and then the entire assembly has a warranty from Auto-Sleepers.
Curry said business has been "surprisingly good" in recent years. He said the company prepared for a deep recession in late 2008, reducing manufacturing capacity by half and reducing headcount by around 30%. So the company was running very lean by the time its exhibit booth opened at a major annual industry trade show in February 2009, where it scored record sales!
Curry has been with the company for 30 years. And the company will itself turn 50 next year. It was started in 1961 by the Trevelyan family, which grew the business for 36 years before selling it. Ownership changed hands again in 2000, and then the new owners were themselves acquired by the SEA Group of Italy in 2005. But then the SEA Group sold the business to partners Geoff Scott and Mike Crouch in June 2009, and since then it's been privately-owned.
Paperless Warranty System
Up until about a year ago, Curry said, Auto-Sleepers was using a paper-based warranty system that was "just like something out of the Stone Age," he said. Then the company decided to contact the UK office of 4CS, inquiring about a license for iWarranty.
"I was keen to get the system in and running before the season kicked off at the end of March," he said. But that schedule slipped by a month after Auto-Sleepers began to discover what the system was capable of doing. For instance, the company found that iWarranty could be used to automatically alert certain dealers and certain Auto-Sleepers employees via email whenever certain events occurred. So now the managers of a few dealerships have asked to get an alert every time their staff submits a claim. And some of the Auto-Sleepers managers that need to keep an eye on those dealers get copies as well. But that's just the beginning.
"Like anybody, when you start a process, particularly when you're coming from a position like we were in, which was a manual paper-based system," Curry said, "we haven't been able to use it yet to its fullest extent. It's like I've got a Ferrari in the garage, and I'm still in first and second gear."
Auto-Sleepers has about 25 dealers in the UK, and one in New Zealand, Curry said. It would be difficult to sell to continental European customers, he said, because of the right-side/left-side steering wheel issue. But still, many UK customers quite often take their motor homes across the English Channel.
Warranty Work on Holiday
All Auto-Sleepers dealers can provide warranty service to any Auto-Sleepers customer. When those customers travel to the continent, they can obtain warranty service by taking their vehicle to a local shop wherever they are, contacting their original dealer for authorization, paying for the work and obtaining a receipt, and sending the paperwork in to Auto-Sleepers for a reimbursement.
Curry noted that he also keeps in contact with his counterparts at the SEA Group in Italy, which used to own Auto-Sleepers until mid-2009, and which still has its own dealer network on the continent. "If I get in a pinch, I can always call them and ask them to recommend somebody," he said.
Curry said he thought traceability was the biggest improvement that came with the computerization of Auto-Sleepers' warranty system. Back in the old days, one would have to look through boxes of fax pages to find specific records. Now they're all stored and are keyword-searchable in the computer system.
"The big advantage is transparency, so we can all see what's going on," Curry said. "And we have really good capture of costs, because everything that gets on the system is there. You can't lose a pound once it's on a warranty claim. Productivity's actually good as well, because we can all see who's doing what. It's all there for us all to see."
---
Warranty Maturity Model Survey:
Incentive Added
As was detailed in the October 1 newsletter, IDC and the iWCM are asking all warranty professionals to take a brief survey to help them construct a Warranty Maturity Model.
To date we've had over 300 warranty professionals click on the survey link, but less than half those actually stayed long enough to complete the survey.
To encourage people to come back and complete the 20 questions, we have simplified the survey and added an incentive worth $4,500: a copy of the IDC study, Warranty Spend in U.S. Manufacturing Report. Everyone who completes the survey can choose to receive the report by clicking a check box at the end, i.e. "I am interested in receiving the Warranty Spend in U.S. Manufacturing Report (list price of $4500)."
This model is being developed for the warranty industry based on input by the warranty industry, so we need you to take part. Please click here to take the survey now.
Privacy and Confidentiality
The study is anonymous, confidential and secure. It does not ask for any personal or confidential company information, and the results will be summarized and presented in aggregate only. We will not disclose company company-specific information, nor will we associate data with an individual company or name any companies that participate.