January 13, 2011
The ServiceBench Legacy:
In the household appliance industry, it's more or less assumed that warranty and service contract claims data will cross the ServiceBench network. In most other industries, each manufacturer and third party administrator has its own network, and its own claims submission format.
Thirty years ago, Robert Metcalfe, founder of 3Com and co-inventor of the Ethernet local-area network, proposed that the value of a network is proportional to the square of the number of connected users of the system.
In other words, what came to be known as Metcalfe's Law said the value of a telephone network with two users is four, but the value increases to nine when a third user is added. When there are ten users, the value is 100. And so on.
As we continue our tour of the appliance service contract industry, one cannot escape noticing that nearly all the manufacturers, extended warranty administrators and repair organizations are connected to the same network. That's very different from conditions prevailing in the passenger car industry, where everyone pretty much runs their own network.
It could have turned out the same in the appliance industry. In fact, in the years 1995 to 2000, when John Estrada, Louis Rose, and Rob Baily were first launching what turned into ServiceBench Inc., most of the programming jobs they were given revolved around the creation of proprietary warranty claims processing systems and online electronic catalogs for the dealer networks of companies such as Michelin and Toro.
Changing Career Paths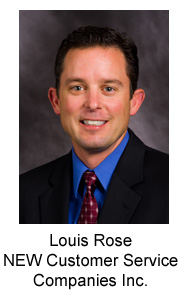 Louis Rose, who is now the vice president of ServiceBench operations at NEW Customer Service Companies Inc., remembers precisely when he decided to leave his programming job and join the team that eventually became ServiceBench. "It's actually 15-3/4 years: same age as my son," he said. "I told my wife I was quitting my job, and she told me she was pregnant."
John Estrada, who is now the founding partner of a consulting company called Dering & Estrada Inc., remembers when a request for proposals came in from the Frigidaire division of Electrolux AB in the summer of 1999, to create a data network for its appliance dealers, retailers, and independent service providers.
"We originally figured we would build an enterprise system," Estrada said, "something we would have given to Frigidaire. Their IT department would have installed it. We might have customized it for them. But they would have run it."
However, at the same time, independent service providers and repair organizations were beginning to rebel against the idea that they would have to log into 30 or 40 different private networks to submit their warranty paperwork to each manufacturer they worked with. And the business press was full of trend articles about so-called Application Service Providers replacing private networks and proprietary software. Why not create an ASP for warranty claims processing?
The Network Hub
One office equipment manufacturer actually asked Estrada, Rose and Baily if they could run such a network hub service for them. And so, like any good startup that's offered a major contract, they said "of course" and immediately began to develop just what that customer wanted. And in hindsight, it turned out to be just what the appliance industry needed.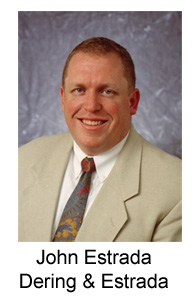 That hub model, Estrada said, turned out to be the basis of the business. "Without making that decision, we probably wouldn't be having this conversation," he said. "That's not to say we planned all this out in detail. Some of it we learned as we went."
As more and more people and companies signed up for ServiceBench, one service provider could use it to link with multiple manufacturers, and one manufacturer could use it to link with multiple service providers. The network, which opened for business on October 20, 2000, at first functioned as the private network for the Frigidaire division of Electrolux. Then it took the place of additional manufacturers' private networks, eventually becoming a kind of phone company for the appliance industry.
Metcalfe's Law in Action
Eventually, companies at every level of the appliance industry -- retailers, manufacturers, parts distributors, repair people, call centers -- were on the same network. And one service provider could use one network to submit electronic claims to all the companies they did repair work for. The network made them more efficient, because they spent less time on paperwork and didn't have to learn how to use 30 or 40 different private networks.
It also helped ServiceBench with recruitment, Estrada said. Like a chain reaction that reaches critical mass, after a while the service providers were bringing in more manufacturers, who were bringing in more service providers, and so on.
"Once we had Electrolux (our first big appliance company) that meant we already had a significant number of Whirlpool, Viking and Sub-Zero service providers already using the system," he said. "And so it was a big plus when we would go after the next manufacturer, to have their service providers telling them they should be using ServiceBench."
Whirlpool and the others eventually did sign up, as did Sears and its Kenmore brand. Estrada said that after those sales were made, whenever ServiceBench would sign up a new appliance manufacturer, it would find that upwards of 80% of that OEM's independent service providers were already using the ServiceBench network to deal with another OEM.
One time, Rose said he was on a sales call at a manufacturer, when the guy listening to his sales pitch showed him "hundreds of requests from their service providers, unbeknownst to me, asking them to use ServiceBench." Needless to say, he got the sale.
Signing Major Retailers
Rose said he thought ServiceBench became the industry standard when Sears began to use the network. But he suggested it really hit critical mass when the service providers began to do some of the recruiting of new customers.
It also helped to sign up some of the major appliance retailers such as Montgomery Ward as well as Sears, Estrada said. And then over time, additional appliance retailers. dealers, servicers, and extended warranty sellers and administrators were recruited. And in addition to claims submission, the network was being used for tasks such as scheduling a housecall with a service provider while the consumer was on the phone.
Daniel Raycroft, who used to be the head of warranty at retailer Montgomery Ward, remembers the pre-ServiceBench days being somewhat frustrating. "Back in the day, Ward's had old technology," he said. "They were working with technology that was not cutting edge."
There were some rudimentary electronic submission systems in use, but they were hardly paperless. For instance, with one manufacturer, he'd submit warranty claims electronically. But if there were any problems, the manufacturer faxed him back the paperwork.
"That was some archaic stuff," Raycroft said. "I'd submit a thousand records per week in some cases. And I'd get a reject rate of 30%, so I'm getting 300 faxes back, which was just ridiculous."
Listening to Service Providers
In contrast, ServiceBench helped customers do it right the first time. But even if it was rejected, the record came back electronically. So it could be fixed and resubmitted. In addition, ServiceBench helped customers generate reports that matched up the claims and the payments. And it listened to its customers, and was always willing to adapt to their needs, procedures, or interfaces.
Raycroft first saw how responsive the system could be when he started using it to submit claims to Electrolux. And he could easily see how advanced it was by comparing it to what the 50 other manufacturers that Ward's worked with were using at the time.
"I can remember talking to Louis Rose about making changes to these payment reports," Raycroft said, "and the next day, they'd have the changes in the system, working."
From the beginning, Rose said, ServiceBench did a lot of work to make sure that service providers entered their data correctly the first time, so they could get paid as soon as possible. That's what the service providers said they wanted. And once ServiceBench could do it, those service providers became a potent sales force on their own.
Some manufacturers were initially a bit worried about having one company handling all their repair data, afraid that somehow it could fall into the hands of another manufacturer. But Rose said steps were taken to make sure that could never happen, and it never did.
SAS 70 Audits
Periodic audits to certify that it's not happening are conducted, Rose said, using standards developed and certified by the American Institute of Certified Public Accountants, which are called the Statement on Auditing Standards Number 70, Service Organizations, or SAS 70 for short.
ServiceBench began attending appliance industry trade shows, not only to continue its recruitment efforts aimed at that last 20%, but also to conduct training classes for current customers on how the network operated and what the on-screen forms looked like.
"We'd have a booth at those shows, but we would man it with our customer service people," Estrada noted. "Support people. Product management. People who could answer questions like 'Why am I not getting dispatches?' or 'Why am I having claims issues?' We could provide that level of support at the show."
Amazingly, ServiceBench found a way to keep them all happy. This was no easy task, considering how competitive some of these companies were. But they weren't relying on the ServiceBench network to compete for the sale of an appliance or a service contract. ServiceBench came later, after the sale, when a repair was needed. And at that point the manufacturers and retailers were no longer competing.
"If your Whirlpool dishwasher breaks, Frigidaire's not competing to fix that," Estrada noted, "especially if it's under warranty." At the same time, there were independent service providers who were quite willing to fix either Whirlpool or Frigidaire units, depending on what calls came in that day. So if there is any competition, it's for the loyalty of the service providers.
That model also works in the consumer electronics industry, as ServiceBench later discovered. Estrada said it works best in an industry in which a variety of manufacturers share a large pool of independent service providers. But it doesn't translate well into industries where manufacturers use franchised dealers who also have exclusive rights to perform warranty work. Which is why, he said, the network has had some success in HVAC but has gained no traction in the passenger car industry.
Had ServiceBench not come along in 2000, what would the appliance industry look like now? Rose said he thinks every manufacturer would probably have its own private network -- as in the passenger car industry -- and everyone who wanted to work with multiple manufacturers would have to learn the nuances of each system. They'd probably all have web interfaces by now, but the screens would all look different.
"You might have a larger group of business management systems that flourished," Rose said, "but maybe not a consolidator like us."
Acquired by NEW
Three years ago, NEW Customer Service Companies Inc., a longtime sponsor of this newsletter, announced it would acquire ServiceBench after having itself been a ServiceBench customer since 2003.
After the merger, Estrada stayed on at NEW for about a year, and then left to form a consultancy with Michael Dering, another ServiceBench veteran. NEW and several other ServiceBench clients are still among their consulting customers.
"I'm still in the industry," Estrada said. But he's also on the lookout for the next big thing in warranty-related connectivity. One effort he's working on is a product registration service called Registria, which opened in October 2008. Estrada's task is to get some of the appliance and consumer electronics manufacturers excited about the service, as he did a decade ago for ServiceBench.
Rose stayed with NEW, where he still guides the product direction for the network as NEW's vice president of ServiceBench operations. Since the merger, the product is expanding rapidly to satisfy the needs of parent company NEW, as well as to continue delivering requested capabilities to others in the appliance and consumer electronics industries. There are also some customers using the network in industries such as heavy equipment, fire trucks, and food service.
When Montgomery Ward went out of business in 2001, Raycroft joined ServiceBench. When ServiceBench was acquired by NEW, Raycroft stayed on as an account manager based in the Midwest. He's still working with many of the same appliance companies that he worked with at Ward's, as well as some of the retailers and consumer electronics manufacturers that adopted ServiceBench since then.
And now, three years later, NEW is beginning to see the value of ServiceBench in terms of its own operations. And just as it was never really a problem for competitors at the manufacturing, retail, or service levels to use the same network, the ownership of the company hasn't become an issue for any of NEW's competitors in the extended warranty administration business. They're still using it for claims submission, scheduling and dispatch, and increasingly, for parts ordering as well.
Continuing to Evolve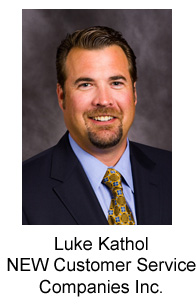 Luke Kathol, NEW's vice president of supply chain, said NEW continues to grow and manage this platform so that manufacturers and servicers can gain additional value from its use.
For instance, he said the Smart Procurement Portal, first announced in 2009, is now in use by more than 80% of all service providers that use the ServiceBench network, up from 15% when it first opened. What makes that statistic all the more astounding is that they're using it voluntarily.
"We're not forcing them to do it," Kathol said. "It's the convenience and effectiveness of it, and the availability of parts." It also reduces their overhead by cutting down on paperwork and cash outlay needs, he added. So like ServiceBench did after its connectivity reached critical mass, it sells itself.
From the point of view of the consumer, Kathol said there has also been a significant reduction in turn time, a significant reduction in escalations, and a significant reduction in buy-outs because of the parts ordering capability. "Fewer consumers need to have their product replaced because the servicer couldn't find a part," he said.
Kathol said it makes perfect sense if you look at ServiceBench as a network that continues to evolve. At first, it helped make claims submission more efficient. Then it brought those efficiencies to the task of scheduling a housecall and rolling a truck. Now, the same connectivity helps servicers find parts more efficiently.
"It's been an evolution of adding value to the serviceable lifecycle," Kathol suggested. "I think that's where ServiceBench came in. It started providing that control and visibility to the disaggregated third-party networks across the country."