February 17, 2011
The Abt Experience:
Not content to merely collect a sales commission and be done with it, Abt Electronics keeps tight local control over its extended warranties and service organization from a single location. And customer loyalty? We're talking customer love.
Years ago, market researchers working for Sears Roebuck and Co. discovered that customer satisfaction can actually increase after a new appliance fails, as long as the repair goes smoothly.
It's not so much that the unit broke (major appliances are full of friction, heat and vibrations) as the way it was fixed. Was the appointment kept? Did they bring the right parts? Did it break again a few days later?
Sears is known for selling extended warranties that are a little higher priced than the competition, but deliver a lot better service. And indeed, Sears controls almost a third of the U.S. market for major appliances, and a similar share of the appliance service contracts sold each year.
But as other retailers continue to look past low prices and towards good service as a potential long-term differentiator, we wanted to take a closer look at another Chicago-area retailer renowned for its after-sales service. This one is much smaller, though, and it has just one physical storefront and one website.
Diamond Anniversary
Abt Electronics and Appliances, founded in 1936 by Jewel and David Abt as a radio sales shop on the corner of West Wolfram Street and North Milwaukee Avenue in Chicago, has now moved to a much larger suburban location north of the city in Glenview, Illinois. But it's never lost its focus on customer service, calling itself "The house that service built."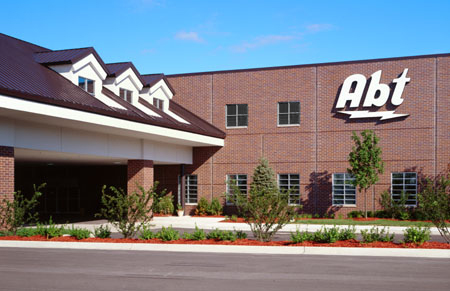 Abt Electronics estimates that it receives more than 90 percent of its business from repeat and referred customers. But unlike other regional appliance and electronics retailers that open a few dozen outlets in the vicinity of their home town, Abt has just that one location. So customers in some cases have to drive an hour or more just to make a purchase.
And they do. That one location now covers 37 acres and has more than a thousand employees, including 200 salespeople. Abt now operates 60 large delivery trucks, 45 custom installation trucks, and more than 100 service vans. And just as customers are willing to drive in to make a purchase, Abt is willing to drive out for a service call -- but only up to a hundred miles from its headquarters.
Beyond that distance, Abt is going to have to contract with an independent service organization, much the way that most other retailers must do at any distance. But the company also opened a website in 1998 that sells appliances and electronics nationally.
Local vs. National Service Contracts
Abt sells extended warranties to customers located both within that 100-mile radius and outside it. The local customers are offered Abt's own brand of service contracts, which it administers and self-insures. The national customers are offered SquareTrade warranties, administered by the San Francisco-based company and underwritten by AmTrust Financial Services Inc., a longtime sponsor of this newsletter.
Oh no, you're saying, another positive article about a Warranty Week sponsor. Well, this isn't so much about the underwriter, or even about the administrator, as it is about the seller and the repair organization. And until we started this series of articles about the appliance service contract industry, we had never heard of Abt Electronics (closest we've been to Glenview is Terminal 3 of O'Hare International Airport). Now we can't wait to visit them.
In our research for this chapter of the appliance service contract industry tour, one of the first items we came across was an article in the Chicago Tribune, which stated, "Abt's keys to success are the family's almost fanatical devotion to quality service and competitive pricing, its development of a higher-end niche, its in-the-trenches mode of management and its down-to-earth, low-key approach to selling and showroom decor."
Last year, the Tribune voted Abt to be one of the best place to work in the Chicago metropolitan area. And the accolades haven't been restricted to the local newspapers either.
Best Online Customer Service
The website that Abt Electronics launched in 1998 didn't even make the Top 100 sales rankings in 2009. But it did make the list in 2010, and it was also quickly recognized as one of the best.
In fact, the e-tailing group inc. placed the Abt.com website sixth overall in a 2010 year-end ranking of online merchants based on customer experience metrics, as part of its 13th Annual Mystery Shopping Study. The only appliance merchant ranked higher than Abt.com was Sears.com (ranked #2).
Lauren Freedman, president of the e-tailing group, said the reason for the high marks was Abt's ability to deliver on the promise of good service. "All the queries to their customer service reps were handled efficiently and effectively," she said. "Product was delivered in a timely fashion. And they go the extra mile to take care of their customers who they truly care about."
Granted, the e-tailing group is also based in Chicago, and is actually located just a few miles east of the Logan Square corner where Abt got its start. But we think there's more going on here than some local cheerleading. We think there's a genuine affection between Abt Electronics and its customers, and we think the company actively cultivates those feelings by providing high levels of after-sale service that delights and pleases its extremely loyal customer base.
Key to Customer Loyalty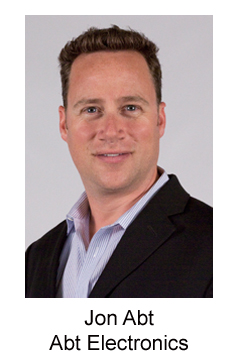 Jon Abt, co-president of the company and grandson of the founders, said after-sale service, whether it's done under warranty, for a service contract, or on a customer-pays basis, is the key to maintaining that loyalty.
"That's what separates us from our competition," he said. "We do our own service."
Abt's customers, he said, don't care as much about who made the unit they bought as they do about who sold it to them. "They bought it from Abt for a reason," he said, and that reason is the high level of service they've come to expect after the sale. "When they have a problem, they want us to help them out. And we're happy to help them out."
Then again, which retailers promise poor service after the sale? Just as everyone is a good driver (at least in their own eyes), every retailer thinks it provides a high level of after-sale service. But an essential element of how it can make that promise come true is whether the retailer can control the level of service that actually gets delivered.
Local Control
"If you don't control it, how can you promise it?" Abt asks. And so, in the local Chicagoland region, Abt controls its own service fleet. And it controls its own extended warranties. Within a hundred miles of that Glenview super-store, it will be Abt Electronics service vans and Abt Electronics personnel making the repair calls.
"It's definitely a differentiator for us," Jon Abt said. "We go a hundred miles in every direction. We go into Illinois, and some parts of Wisconsin, Indiana and Michigan."
Outside of that territory, service contracts covering Abt purchases are sold by SquareTrade, and service calls are handled by SquareTrade's call center. In person or online, buyers are asked for their Zip code to determine whether they're local or national customers, and therefore whether they'll be offered Abt Electronics or SquareTrade service contracts.
At first, Abt Electronics sold General Electric-branded service contracts to its national customers on the website. But then GE Zurich Warranty Management Inc. was acquired by Assurant Solutions (another longtime sponsor of this newsletter) and it dropped the GE brand name that Abt Electronics and its customers venerated. So Abt Electronics no longer felt as loyal.
Long Term Perspective
And along came SquareTrade. "We liked the proposition that SquareTrade had to offer," Jon Abt said. "We liked that they were a young company, that they took a very different approach to the warranty business, and that they had a similar philosophy to us in that they want to take care of a customer. They see the benefits of a customer from a long-term perspective -- not just from making a sale."
So why not hand the whole extended warranty business over to SquareTrade -- both local and national? That, Abt said, would be exactly opposite from the company's philosophy. The company feels it can delight its customers within only a hundred-mile radius, so to sell nationally it needs a partner that can delight them nationwide. But giving away the local service function within that radius would be giving away a competitive advantage -- a loss of control over an attribute that builds customer loyalty.
"They're our customer. They want us to follow up," Abt said. "It's something we've offered for 75 years. It's a business for us. We have over 215 people in that department. And I'm not prepared to let those people go."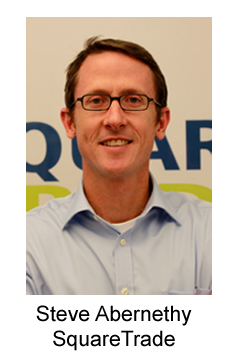 At the same time, SquareTrade is immensely happy splitting the territory with Abt Electronics. Steve Abernethy, president of SquareTrade, said he's made the pilgrimage out to Glenview numerous times to visit his client.
"They truly have a great following in their region," he said. "Their store is immaculate. It's amazing. And obviously, they've built their local service around that too."
The interesting thing is that many of SquareTrade's best clients seem to be similarly focused on providing excellent customer service. "You look at Crutchfield. You look at Abt. You look at Amazon.com. You look at Woot. They're absolutely obsessed with their customers," Abernethy said.
Abt Electronics is a little different from the others, he noted, in that it has its brick-and-mortar super-store north of Chicago, and its own local service territory to go with it. Crutchfield started as a mail-order catalog. Amazon.com and Woot were born on the Internet. So they never really had a physical storefront. But they all think more about customer satisfaction and loyalty than about their extended warranty profits, he suggested.
Researching Warranties Online
Abernethy said the key to these relationships is that SquareTrade blends well with the online shopping experience, where shoppers research their purchases extensively, put things into their carts, take them out, do some more research, then change their minds and start over. The point is, by the time they click the "buy" button, they've over-analyzed the product so completely that they feel like experts.
With extended warranties purchased in most brick-and-mortar stores, he said, it's quite the opposite process. The consumer has done little or no research on the service contract, has few clues about what to expect if they need to make a claim, and probably has no idea about the reputation of the administrator and/or insurance underwriter standing behind it. And the offer to buy it comes as something of a last-minute surprise: we think you need it; take it or leave it; we need an answer now.
In contrast, Abernethy said SquareTrade tries to make it as easy as possible for consumers to research the company online: its extended warranty plans, contract prices, terms and conditions, and the most importantly, the advice and opinions of past and present customers. On Amazon.com, for instance, 96% of the 16,353 reviews that SquareTrade has received have been positive. Only two percent were negative, and the rest were neutral.
Abernethy said this seemingly bottomless mine of customer opinion about their extended warranties is really a continuation of the exhaustive online research process many do for the product they're buying. They know there's more to an extended warranty than its price and duration. There's also a qualitative element: how well did they do when I called them?
A Researchable Brand
"What we bring the retailers is a researchable brand," Abernethy said. "What we bring to the table is, whether you Google us or if you look at our implementations, with one click you can actually link to external ratings of real consumers having real claims and real resolutions."
It doesn't so much matter if the consumer knows they're buying an Abt warranty or a SquareTrade warranty, or that they know that SquareTrade's underwriter is highly-rated by A.M. Best (or what that means), he said. They may have never heard of SquareTrade. But the resources are there for them to learn as much as they desire.
"Our view is that service is what takes warranties into the next generation," Abernethy said. "Everything we do is about being open. And the reason we want to be open is to demonstrate the real service paradigm."
It's how you deal with a claim when the parts aren't readily available that separates the good from the great, he said. And those are the "edge cases" where, hopefully, the customer is impressed enough with the outcome to go online and write a good review. There's a story there, they think, of how the company and/or the consumer overcame some degree of adversity.
Furthermore, those are the kinds of difficult cases that make or break customer loyalty. If you can't find the part for nine weeks and if the consumer's daily phone calls about the long delay are ignored, you lose that customer forever. It hurts the manufacturer's brand, but it really impacts the seller of the service contract. They'll never buy there again. And if that story gets online, it hurts future sales to others who do their research.
Impressing the Customer
Or perhaps there needs to be some element of surprise, going above and beyond expectations and impressing a customer? For instance, Abernethy said that when an item is beyond repair and needs to be replaced, SquareTrade will send a PayPal credit to the customer as soon as the bar code on the return shipment box is scanned by UPS. That way, they may be able to buy a replacement unit immediately, rather than having to wait a few days.
"Clearly, there's a little fraud here and there," Abernethy said, with customers shipping them a brick or a phone book rather than the broken unit. "But fundamentally, the majority of people are physically shipping us the item. So why make them wait? Why not 'wow' them, and allow them to get a new item?"
There are dozens of websites that seemingly exist for no other reason than to collect complaints from consumers about faulty products and bad service experiences. Indeed, many online retailers now allow their customers to post their own reviews -- good or bad -- about the product, the merchant, or the service experience.
"It's not just 'It was a good deal,'" Abernethy said, "but what happened when my iPod broke, or what happened when my laptop broke, and how long it took to fix. And you compare it to the status quo, and it's night and day."
Online Reviews of Abt
Those are the stories that become priceless when they go online. And they seem to follow Abt Electronics around. For instance, there's a collection of online reviews at the website Yelp.com about the retailer. They could be fakes, like the "happy customer" reviews posted by some of the home warranty scam companies we stalked towards the end of 2009. And the "unhappy customers" could in fact be employees of Abt's rivals. But even their stories sound so real!
Towards the top of the Yelp.com web page, Don H. from San Diego states, "I am not in the habit of rating out-of-town business establishments typically, but I must say that Abt has won my respect on each and every order." He gives the company five out of five stars.
Further down, Kyle R. from Chicago says, "Terrible service. You have to call them repeatedly to get anything done." He gives them only two stars. But two weeks later, Jon Abt added a comment to that post, inviting Kyle R. to contact him to rectify the problem.
Down a little further, several people gush about the free cookies they got while shopping in the Abt major appliance department (evidently, they use their floor models to make cookies in the kitchen on weekends).
Making A Bad Experience Good
Jigna P. posted that she received a call from Jon Abt, apologizing for a call center agent who was allegedly rude to her mother. "I understand he is a super busy person and it means a lot when an owner takes the time to talk to an unhappy customer," she adds. She's now a lot more happy.
And then last summer, Julia T. of Washington DC recounted the nightmare experience she had with a GE stove purchased online from Abt in May 2010. She gave the company just one star after five repair visits and even more phone calls failed to rectify her problem. "As of now, I feel like I gave them a ton of money and they have given me a ton of grief in return," she wrote on August 2.
Six days later, she amended her initial review, giving the company four out of five stars. "Abt contacted me and did everything that they could to make things right. They ordered my new stove and had it delivered and installed within a week," she wrote. "Abt's reputation for customer service is why I bought from them in the first place. My initial experience was frustrating, but their service and attitude this past week are evidence of how they got such a reputation in the first place."
Jon Abt said he spends the time reading his company's reviews online and trying to make disgruntled customers happy because that's what his parents and grandparents did in person at the physical store long before there was a World Wide Web. They really did listen to customers, even after they paid for their purchases. And they really did expect them to return again and again.
Family Business
"It's part of our company's philosophy," Abt said. "We're an independently-owned company. We don't have a board of directors to get approvals from. We're a real family-owned business. We're a large family-owned business, with over a thousand employees, but we have the same philosophy that we did when my grandparents were running this business: taking care of a customer and making a customer happy.
"It's how we build our business," he added. "Almost all of our business has been from referrals, word-of-mouth, and repeat business. That's how we've grown locally. And that's how we plan to expand nationally. A happy customer is a good customer. There's no advertising in the world that you can do that makes up for people saying nice things about you. If somebody has our product in their house and they're not happy with it, they're not going to be happy with us. So at the end of the day, we want to make sure they're happy with us."