February 24, 2011
New Board Members Sought:
As president and co-founder Glen Griffiths steps down, new leadership is sought for the Institute of Warranty Chain Management at its annual meeting on March 15 in San Diego. Two members have put their names in the hat, but additional openings exist.
It's been nearly five years since Glen Griffiths of Hewlett-Packard Co. asked representatives of the warranty industry to follow him across the parking lot in from the second annual Warranty Chain Management Conference at the Excalibur Hotel in Las Vegas to what turned out to be the inaugural meeting of the Institute of Warranty Chain Management in the pyramid-shaped Luxor.
Now, as warranty professionals get ready to attend -- can you believe it? -- the seventh annual WCM Conference in San Diego next month, Griffiths has announced his intention to step down as both the president and board member of the Institute.
Griffiths said his workload at HP has lately been growing in terms of both depth and breadth, and will increasingly require more and more travel time in the future.
"I have taken on new responsibilities in HP with my organizational role expanding to manage over 400 people worldwide, as well as undertaking a new leadership role in helping drive a quality transformation within HPs Enterprise Business Supply Chain as well as an expanded HP-wide role," he told Warranty Week.
IWCM at an Inflection Point
The IWCM, he said, is now at an inflection point with the first training modules nearing completion. "In order to capitalize on the work undertaken to date, the IWCM needs a president and board that can devote the time to steer the organization through building the infrastructure and services needed to establish the operating model and capabilities behind the training and other areas. Unfortunately, I am unable to devote the time required to effectively steer the organization through these changes and thus I am reluctantly stepping down so that the IWCM can be led by a president who can devote the time that is needed and deserved," Griffiths added.
Thomas Bellinger, one of those 25 or so people who followed Griffiths across the parking lot to the Luxor's Egyptian Ballroom, and who continues to serve as a board member of the Institute, said he's in the first year of his second three-year term as a board member, so he plans to stay. And then he's also an officer of the board, currently serving as its secretary.
Greg Spraker, the IWCM's treasurer, and Kjell Hammarstrom, its vice president, also plan to stay on. But with Griffiths' departure, and after the previous departure of Marianne Grant, there are now two slots to fill. And with the quickening pace of education, certification and self-assessment tool creation, the Institute plans to expand that board to seven or perhaps even nine seats. Then the Institute needs to find a new president.
Multiple Vacancies to Fill
In other words, there are multiple vacancies on the board, and there is also a vacancy at the officer level for the president's seat. The board vacancies will be filled by members at the March 15 annual general meeting, and then the officer vacancies will be filled by the board.
"Each year, we define who the president, vice president, secretary and treasurer are," Bellinger said. "So on a term for three years, I could start out as just an at-large member, then get elected as vice president for a subsequent year, and then a third year, take over as president."
The job responsibilities of board members include monthly conference calls, Bellinger said, though sometimes there's a need for an extra call in some months when there's a lot of activity going on. Usually, they're scheduled outside of normal business hours, though that can vary depending upon which time zones the participants are in (Kjell is GMT +1, Glen is GMT -8). And then each board member might spend an hour or two per month on some work items that haven't been delegated out to paid contractors.
At a minimum, Bellinger said, the Institute would like to add two new board members at this year's annual meeting, but there's room for more. "We decided to keep it a small group initially, but in talking to Kjell and Greg, I think we agree we need to expand a little more, get some more ideas and more arms and legs on this mission, so we can move at a little bit faster pace than we've been able to achieve in the first four years," he said.
Education & Certification
Still, some notable deliverables have been produced in the past year, he added. "That specifically would include the education modules that we had recorded," he said. "We have Robert Mueller, who's been pulling together most of our education sessions, and the education materials that we've been using to prepare for certification. And he was able to record three sessions in October. And now we're in the process of getting those set up so they can be delivered on the web."
During the WCM Conference in San Diego, Bellinger said the Institute plans to record three to five more sessions, and then to have a contractor also set those up for web delivery. "We have maybe 15 topics in total that we would like to cover," he added. And those modules would form the basis of the knowledge needed to pass a certification test.
One of the major issues facing the board this year will be whether to continue going it alone as an independent organization or whether to partner with another group with an interest in warranty management. When the Institute was launched in 2006, the consensus was strongly in favor of an independent group. But there may soon be a need to revisit that question.
"At some point, we have to decide whether we will be able to continue it alone," Bellinger said. "When we elect a new board and bring on some new directors, I think it's paramount that we do revisit our model to look at the Institute. Can it continue to thrive as it is? Or is it important that we look at some alternatives to our structure? Maybe we should look at some kind of partnership or collaboration with other organizations? Or perhaps even some businesses or universities? I think it's a good time to revisit that whole approach and maybe take a different path that we've taken since we started."
By early 2011, it was hoped, the certification tests should have been available. And though it's coming together now, that goal was not met. For numerous reasons, the timetable has slipped. But the goals are still the same.
"If we're going to make this happen," Bellinger said, "we should get it to the point of having clear deliverables on the education and certification side, as well as maybe other things that we can do to recognize leadership and to promote self-assessment tools. We really need to get these deliverables out in the next few years to retain and attract larger membership."
Warranty Maturity Model Debuts
One of those soon-to-be deliverables is the Warranty Maturity Model, suggested by Griffiths and Joe Barkai of IDC Manufacturing Insights during an informal chat at a reception during last year's WCM Conference. Over the ensuing year, Bellinger, representing the Institute, worked with IDC Manufacturing Insights to draft an intellectual property agreement that eventually transfers the rights and responsibility for the maturity model over to the Institute. But it also anticipates the continued involvement of IDC Manufacturing Insights in the evolution of the model, he added.
"They have some right of refusal on some aspects of the model itself," Bellinger said. And of course they're founding members of the Institute, so they can provide input through that channel as well. "But the Institute will own it going forward," he added. "And again, this is why we need a larger board and membership: to evolve that model, make it more broad from a scoping perspective, maybe refining some points that didn't quite the response that we wanted, and making it a living and breathing assessment tool."
The model is built upon the theory that there are certain attributes and characteristics of a warranty management operation that can help identify how mature the operation is compared to other companies. Initially, a 20-question survey was developed and a hundred companies responded to it, more or less proving the theory based upon an initial analysis of the results.
There are plans to present many of the findings during a morning keynote presentation by Barkai. And there are plans for the Institute to continue to fine-tune the model, and provide it to members as a self-assessment tool. There's even been some thought of using the model as the basis of some warranty chain management best practices documents, or perhaps even a series of awards or recognitions of excellence for specific businesses.
Working with the Institute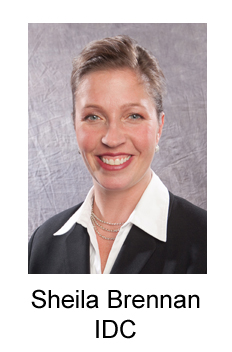 Sheila Brennan, the program manager for Product Lifecycle Strategies at IDC Manufacturing Insights, said the folks at the Institute have been an essential part of the development and refinement of the maturity model, which has now taken on the more descriptive name of the Warranty Management Capability Maturity Model.
"They've been an integral part of the team, and they've been absolutely supportive through their contributions and level of commitment," she said. "Going forward, our plan is to hand over ownership of the model to the IWCM and its membership for the continued evolution of the model, so it can stay current and continue to best serve the industry."
Brennan said that's preferable to having IDC Manufacturing Insights retain ownership. It really should be part of an industry organization, not a single company, even if that company is objective and has extensive links with many of the businesses that could benefit from the self-assessment.
"We feel that's really where is belongs," she said. "It should be owned by the industry -- by a non-profit organization that is going to be able to handle it fairly and in an unbiased way. We feel that the Institute will have great success with its membership. And we also feel it will drive a lot more visibility into the area of warranty if the IWCM has a standard framework like this that can help the entire industry and raise the bar, so to speak."
Webinar Planned
In addition to a March 17 WCM keynote presentation by practice director Joe Barkai and a panel discussion to follow, moderated by Brennan, IDC Manufacturing Insights plans to elaborate on the details of its Warranty Management Capability Maturity Model during a complimentary webinar scheduled for May 5 from noon to 1pm EDT. Details will be posted on the IDC Manufacturing Insights events page.
And then there are the multiple IWCM board openings, which will hopefully be filled at the March 15 annual meeting. Two names have surfaced so far: Marc McKenzie, the managing partner at InnovationBlue LLC and formerly the head of warranty at HP, and Terry Hawkins, an independent consultant formerly with GE and Assurant Solutions.
Both candidates are longtime veterans of both the warranty conference and the warranty industry. And both, while their skills have served them well in the warranty industry, never ever once said to anyone when they were growing up, "Someday I want to be in the warranty industry."
McKenzie said he was always fascinated by technology and machines. He said he was already working on computer numerical control and factory automation projects for Rockwell International while still in high school. In college, he and a colleague wrote a banking software solution for a federal credit union. And he worked at his university's computer center, programming its admissions and registration applications.
Switch to Marketing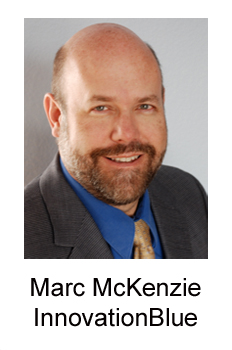 When McKenzie first joined Hewlett-Packard in July 1984, one of his first assignments was part of an effort to help port Unix to HP platforms. "It was what became HP-UX," he said. "But I then moved over to marketing, because honestly, I liked being close to the customer on the business side of things. Which was something I didn't expect, because I'd been a 'rotor-head' before that."
He worked in international sales, did some federal government business development, had several management roles in marketing, and ultimately ended up in charge of the computer and printer component of HP's Y2K effort. Remember when the whole world stopped spinning at the start of the year 2000? It didn't happen. But McKenzie maintains that one big reason it didn't was all the preparatory work his team and similar task forces at IBM, Microsoft, Dell, and Compaq did in the years before.
"People laugh sometimes and go, 'That was a joke. Y2K was no big deal,'" he said. "But what people don't realize is it was a really big deal. There were actually a whole bunch of problems. But we all spent something like two years frantically fixing them all before anything went wrong. So that's why it was no big deal: because a whole lot of really powerful companies spent a lot of resources making sure nothing happened."
As a reward for that, McKenzie was put in charge of HP's digital music business (he's also an accomplished cello player). After that, he led strategic planning for then-emerging technologies and operations that were in the process of spinning up. And then in September 2001, a merger with Compaq was announced, a process that was completed in May 2002.
No Good Deed Goes Unpunished
After the subsequent reorganizations, McKenzie ended up in charge of the warranty business within the Enterprise Systems Group. That unit made the large servers and storage systems, as distinct from the Personal Systems Group, which is where much of Compaq's PC business landed. And then there was also an Imaging and Printing Group, a services group, and a financial unit.
"My initial reaction was, and this is part of the reputation that warranty battles inside companies, was who the h*** did I p*** off?" he said [Attention overzealous spam filters: this is a family newspaper]. He thought he'd done a good job in his first 19 years with HP. And he'd been told he'd done a good job. So why did he end up in warranty?
"But I went ahead and looked into it, and took it," he said, "and it ended up being a great opportunity. And since then, I've had this passion for warranty, because it's fascinating. It's really the only end-to-end value chain that ties together most pieces of the business. Other than warranty offers, it's not particularly visible to customers in the same way that other parts of a company are. But it can swing from 100 to 300 basis points of P&L. And that has a huge impact, especially in large established companies."
In the next 18 months or so, his team helped reduce warranty expense by some $400 million, McKenzie estimates. At the time, as Warranty Week noted, there were only eight or nine U.S.-based companies that spent $400 million a year on warranty. So as a reward, HP management gave him more work, asking McKenzie to do the same for the whole company, worldwide.
Over the next three years, the expanded warranty team reduced warranty cost by a further $1 billion, McKenzie said. But that turned out to be a much bigger task, involving something on the order of 600 people worldwide who spent 50% or more of their time on warranty management activities. "HP is a vast place," he said.
Warranty Tour Guide
As word spread about the warranty cost-cutting under way at HP, other businesses began to take notice. Everybody wanted to visit and talk to the team about how they did it. McKenzie said he was beginning to feel more like a tour guide or an embassy diplomat than a manager. But it lit the fuse of an idea his group had: to form an industry group or trade organization that held meetings and conferences where warranty professionals could go to chat about warranty management.
"I loved doing the best practice visits," McKenzie said. "But honestly, it wasn't my core job: to operationally improve warranty for HP. I needed somewhere to point everybody. Otherwise, I was going to fail in my job, because all I was doing was best practices meetings."
Along came Alison Griffiths, wife of HP warranty team member Glen Griffiths, who had both the time and ability to launch an industry conference. McKenzie decided to help provide some of the startup money, in terms of both sponsorships and paid attendees. HP also decided to schedule its own internal warranty team meeting the day before that first Warranty Chain Management Conference in the Fisherman's Wharf section of San Francisco in March 2005, so that some of its key people had a reason to be in town and to speak during several of the WCM panel discussions.
"But it was always in the vision, from the beginning, that it would ultimately become a self-funding and independent entity," McKenzie added.
Idea for an Institute
At the same time, McKenzie's team was working on a project to implement common warranty metrics across all of HP, so that all the business units used the same measurements for claims cost, parts cost, labor, indirect costs, etc. And as that work proceeded, the team members began to think that what would be even better would be an industry standard for warranty metrics. The idea for a warranty institute was born.
"Glen Griffiths had an interest in getting that started," McKenzie said. "So he could probably tell you a better story about how that got started. But I was certainly a charter sponsor and supporter from HP, and was involved in the background in helping build the arguments for why there should be a conference and an institute. And then of course we supported them every way we could as long as I was with HP."
Late in 2009, McKenzie took advantage of a retirement package and left HP at the ripe old age of 47. "I took a little R&R for a while," he said. "But then before I knew it, I was climbing the walls."
McKenzie formed InnovationBlue LLC in January 2010 as a management consultancy focused on the area of warranty management. And then this year, when he heard that Glen Griffiths was stepping down from the Institute, he began to consider joining the board.
"I think that just like the early days when we were advocating creating this, I think having a warranty chain management institute is critical," he said. "An institute focused on this discipline is important, and is something I think I can add a lot of value to the industry. This profession is all about optimizing, coordinating, managing and strategically developing this whole chain of things we've talked about in a balanced fashion."
Not Fade Away
Terry Hawkins, another early warranty conference supporter who holds the distinction of having retired from two different companies (first General Electric in 2008 and then Assurant Solutions in 2010), said he's also a big believer in the institute.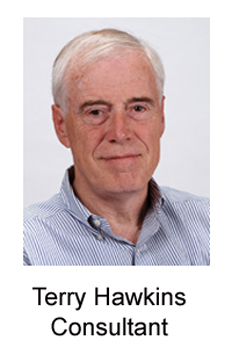 "When I heard that Glen [Griffiths] was no longer going to be there," Hawkins said, "I didn't want this thing to simply go away because we're starting to lose some of the founders."
As with McKenzie, Hawkins said he didn't initially set out to enter the warranty business, but once he got there, he enjoyed it immensely. He graduated from law school in 1975, and went to work for McDonnell Douglas soon afterwards. Then he went into private practice in Louisville, representing a variety of clients.
He'd been involved in insurance coverage disputes involving extended warranty underwriting. General Electric recruited him in 1995, first as an independent consultant and then from 1997 onwards as an employee of what came to be known as GE Warranty Management Inc. But Hawkins retired from GE when Assurant Solutions acquired that operation, and went to work for the new owners. Last summer, he retired from Assurant Solutions as well.
Now he's an independent consultant with a law background, focusing his skills on the specialty insurance industry. And he's also once again doing a bit of private practice work in the financial industry. But Assurant is still a major client, and extended warranties are still a major topic, so Hawkins still considers himself to be part of the warranty industry.
Part of the Whole Company
Hawkins said he never planned to spend 16 years in the warranty business, but now as he looks back on it, he's glad he did. From the outside it doesn't look like much, but from the inside you realize how interwoven it really is with many of the other parts of a business.
"By and large, you end up realizing, especially from a manufacturer's perspective, that for the first time, you're touching the ultimate consumer," he said. "It's an amorphous thing: the consumer. You know they're there; you just don't know who they are or where they live, until they have a warranty issue. And a lot of what you do and how you manage that warranty has a great deal to do with whether or not they're a repeat customer of yours. Within the last decade or so, I think a lot of people have woken up and realized that 'This is my one chance to make a great impression. Because otherwise, I may not get to see them again.'"
The problem is, while there are many appliance conferences and electronics shows where warranty professionals gather, they're not typically there to discuss best practices or claims management innovations. They're there to have dinner with clients, have some fun, and get away from the office for a few days. They're great social events, but not great educational experiences.
So along comes the Warranty Chain Management Conference, promising plenty of good food but also lots of learning. "I've never gone to one of these conferences, when I didn't at least three times during the conference say, 'I didn't know that,'" Hawkins said. "And at the end of the week, I'm tired. I am really tired. I'm drained. It's not from just the presenting, but from learning, and from the networking. You have a feeling of accomplishment, but also that kind of a tired feeling that says, 'I've worked all week.'"
Approving Travel Expenses
Back in 2005, Hawkins said one of the people who reported to him at GE asked to attend the San Francisco conference -- a request that he approved. "When they returned to tell me what the emphasis was going to be, I found it intriguing," he said. So when he was offered a speaking slot at the second WCM Conference in March 2006, he immediately accepted. "And I was very impressed by what folks were trying to do."
Hawkins said he thought it was an incredible venue to connect with other warranty professionals, and find out not only what was going on in their industry, but also in completely different business sectors. Hawkins, through his work with GE, had a close connection to home appliance warranties and extended warranties, but the WCM provided a forum for all sorts of other discussions as well.
"And then as it grew, and there was more and more participation, it became even more valuable -- a great information exchange," he said. And now, as the Institute takes the next step into certification, self-assessment tools and industry standards, it's even more important to keep the communications channels open.
How to Join
Bellinger said there will be at least two, and perhaps four or even six openings on the 2011 IWCM board of directors. New board members will be elected at the IWCM's Annual General Meeting, which will be held on the first night of the WCM Conference, at 6pm PST on March 15, 2011, in the Mission III room at the Hyatt Regency Mission Bay, San Diego.
Bellinger urges any warranty professionals with an interest in joining the Institute as a member, or better yet as a board member, to contact him via his LinkedIn profile or through his Institute email account at thomas.bellinger(at)iwcm.org.