March 3, 2011
WCM Conference, Part One:
With less than two weeks until the annual WCM Conference opens in San Diego, we take a look at some of the major themes expected. And almost every speaker has the same advice: don't try to do it alone without help from some of the warranty industry's experts.
With only 12 days until the opening day of the seventh annual Warranty Chain Management Conference, it's time to begin looking at some of the people and topics to be discussed.
Within both the warranty and the service contract industries, we know of no better forum for the simple exchange of ideas, and no better venue to simply meet and chat with industry experts. But there's nothing simple about the agenda. At times, attendees will have their choice of up to four different panel discussions, including some instances where different executives from the same company will be speaking at the same time.
Dueling Executives
This is what will happen to Michael Bardell, senior corporate counsel for Assurant Solutions, and Michael Yates, vice president risk, underwriting and data management for Assurant Solutions (a sponsor of this newsletter). Both are scheduled to speak from 3:45pm to 5:30pm on Wednesday, March 16, on different panels in different rooms.
So who should go where?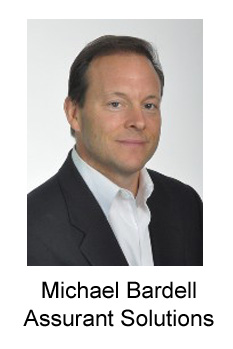 "I suppose it depends on what it is you're looking for in terms of information," Bardell suggested. "For example, I think anyone involved in legal might want to come to my presentation, and those involved more on the financial and risk side might want to go to [Michael Yates'] presentation."
Bardell's presentation, entitled "Global Service Contract Law Briefing," is paired with one from Finnish attorney Helena Haapio, the international contract counsel at Lexpert Ltd. Her presentation, entitled "Prevent Warranty Surprises in International Trade," will detail in a lively and humorous tone how something as insignificant as a missing word or the wrong phrase can lead to huge problems with warranties issued to customers in other countries.
Bardell plans to concentrate on U.S. law, or more precisely on the 50 sets of U.S. state laws that regulate the warranty and service contract industry. But he will be assisted by Darwin Pace, Assurant's regional director of government relations, who is going to present the international story.
Some places have different laws for product warranties and service contracts. Others have different laws for autos and consumer electronics/appliances. And then in some jurisdictions, there are different sets of rules for manufacturers, sellers, and third parties. And that's just within the U.S.
General Overview
Bardell hastened to note that he's not going to sketch out a 50 x 2 x 2 x 3 matrix of all the possible permutations. And he said Pace is going to just generally cover some of the major differences between the U.S. and international laws. But this is aimed at someone who's just getting up to speed with the legal aspects of warranties and service contracts, not at the experts who make jokes in Latin and can cite cases by name.
"The purpose is to provide a general framework of what is necessary from a legal perspective for a company to create a warranty and service contract program," Bardell said. "Our purpose is to talk to an audience who is in the initial stages of looking at a warranty or service contract program and to try to give them the basics. For example, what's the difference between a warranty and a service contract? How are they both implemented differently? What kind of laws affect those different programs? And so on."
One new area that Bardell said he and Pace plan to get into is the whole idea of a manufacturer getting an insurance company to underwrite their product warranties. Especially in the last two years since Lehman went under, there have been numerous cases where manufacturers have gone out of business and taken their warranties with them. Especially internationally, there are efforts afoot to make sure there's money in a box somewhere to help pay claims if for some reason the manufacturer no longer can.
"Just take the General Motors example," Bardell said. "Most people looked at them and said they're solid as a rock. They can't go away. And in fact, it doesn't matter who you are, you can. And so, sometimes insurance backing is very important, even to the largest manufacturers."
Overall, the message is going to be one that stresses the benefits of bringing in the experts. Even if it's not for underwriting and/or claims administration services, there may be a need to bring in outside experts for help with regulatory compliance, training, pricing, marketing, or renewals.
"From the presentation, you'll see that there are a number of different roles a company can play in a warranty or service contract program," Bardell said. "And in order to fulfill those roles appropriately, there are a lot of legal, regulatory and statutory hurdles that you have to know pretty well if you want to stay in compliance. And that's why I think it is advisable to work with someone who knows those regulations pretty well."
Data Management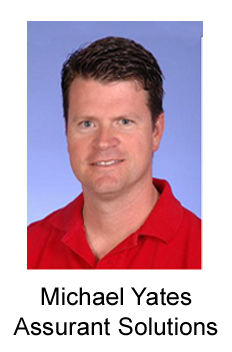 Michael Yates, meanwhile, is going to focus on the need for reliable data in a presentation entitled, "The Importance of Data in Managing Service Contract Risk." Yates said he's seen several clients who were unable to filter, extract or analyze their own data, and who were therefore unable to answer seemingly simple questions about their service contract programs.
"I just took over the data management here within our warranty division in September," Yates said, so this has become an important focus for him in recent months, in addition to his risk analysis duties. "The two dovetail together. Obviously, we live in the information age. And there's a lot to be said for getting access to your data. And it's worth the effort to get it."
Missing data, incorrect data, or misused codes and categories are just some of the problems facing data analysts. For instance, when they're looking at the start date for an appliance, are they looking at when it was made, when it was sold, or when it was truly first put to use? Are the make and model fields filled in correctly? And what to do if they're blank?
Beginner's Mistake
However, it's equally important to interpret the data correctly, Yates added. A beginner's mistake, he suggested, is to look simply at the inflows and outflows of funds on a cash basis, as opposed to accounting for the future liabilities that arise from current sales. "Things might not be performing exactly as they seem," he said.
In the early years, more cash comes in than goes out, because most of the claims are covered by the manufacturer's product warranty. And then as products age, they wear out, and claims increase. Knowing the expected slope of that increase, and knowing how much those repairs and replacements will cost, is at the heart of a properly managed book of business.
It's fooled some of the best -- misinterpreting profitability during the lag time between when premiums are collected and when claims are paid. "We can look back into history, and point to various events in the past where this has happened," Yates said. Sometimes it's bad data that misled the analyst. Sometimes it's good data that wasn't analyzed correctly.
"For whatever reason, it's not being managed appropriately," Yates said, "and it accumulates, and the deficits accumulate, unbeknownst to the people that are actually taking the risk."
And then one day they realize they're under water.
Yates said he will cite specific examples of when and how this occurred, and how the companies involved tried to right the ship when they discovered the problem. It's one reason why longevity is so prized in the insurance and service contract industries: bad data managers don't usually get to be old money managers.
"Even if you are totally on top of it, and you are watching this every single step of the way, it's still going to take you two to three years to really understand where that program is going to end up," Yates said. "It's setting it up right, setting the expectations up front in the right way, and then just making sure you're very disciplined in watching the program as it develops. And you can't be afraid to make changes when all indications are that change is what you need to correct."
Mid-Course Corrections
Usually, if the problem is caught early, the correction is minor. Perhaps the root cause of the issue was a new product or a new technology? Perhaps just one part of the program is underpriced? "If you can get to that root cause relatively quickly, it's fairly easy to remediate without too much trouble," Yates added.
To do this, however, the analyst needs access to accurate and timely data. It's analogous to what the engineering and design people want from their early warning systems: data that will help them spot patterns and trends.
The next morning, on Thursday, March 17 from 10:15am to 12:15pm, Michael Bailey, president of Superior Warranty Services, will chair another extended warranty panel comprised of what amounts to an all-star cast, including Jim Mostofi from Chartis Insurance, Chris Smith from Service Net Warranty, John Watson from Global Warranty Group, and Terry Hawkins, retired from GE and Assurant Solutions.
Superior Warranty Services is the name of a consulting company Bailey started in 1997, after making a hasty exit from a Canadian service contract administrator that forgot to put enough money aside to pay claims when the contracts get old. They were so deep under water that the government of British Columbia rewrote the service contract laws to require third party administrators to get insurance underwriting from that point onward.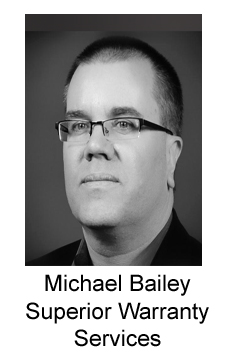 Bailey said he was the vice president of sales at that ill-fated administrator for about ten years. Then, shortly before its collapse, he left to form his own consulting company.
Over the years, some of his clients and their consulting projects have grown to become full-time tasks, including Ace Group, Warrantech, ServiceBench, and now 4CS. But Bailey said he always returns to independent consulting after these projects reach their conclusion.
In his time working for these and other companies, he's built up an incredible familiarity with the Canadian retail marketplace, and how regulations have impacted extended warranty and service contract sales. For instance, he related how a law recently passed in Quebec that was supposed to reduce the need for extended warranties by strengthening the rights of consumers, seems to have had quite the opposite effect. Instead of sending attachment rates down, they actually went up slightly.
Canadian Warranty Law
The law, formally known as "An Act to amend the Consumer Protection Act and other legislative provisions," and more informally as Bill 60, requires retailers in Quebec to explain the product warranty's terms and conditions to the consumer in detail, and to also explain that even after their warranty expired, they could obtain repairs, paying a pro-rata amount based upon the expected life of a product. And then, after delivering both verbal and written explanations of both, they could pitch an extended warranty.
Bailey said when Bill 60 was first proposed in Quebec, several American administrators told him they were thinking about leaving the province, and perhaps the whole country if these requirements spread. But he encouraged them to stay put and wait for the outcome. And he said the unexpected effect of all these new disclosures was that once consumers heard the details about the cost and benefits of extended warranties compared to the alternatives, they bought slightly more of them than before.
"Now, you have 100% presentation to 100% of the people," Bailey said. And more of them are willing to buy, once they know their options.
He seems to take a similar approach when he's the one doing the selling. Bailey said he still helps retailers with tasks such as selecting and negotiating with an extended warranty administrator, and helping to train the staff once that decision has been made. But most of his activity over the past year has been with 4CS Inc. (a sponsor of this newsletter), helping the company expand its software presence in Canada.
How to Buy Warranty Software
At WCM 2011, his presentation will be something of a "how to guide" for companies looking to buy a warranty management system. And by telling people what to ask for and what to look for in a system, he's probably going to make it a little bit tougher to someday sell them such a system.
Bailey said he's up for the challenge. As with many complex system sales, the best-informed buyer is probably the best customer. It's as if he secretly wishes there was a Bill 60 disclosure requirement for the whole world. If your customer knows the right questions to ask, and if you sell the best software or the best protection plan, you can answer the questions completely and correctly, and then you can close the sale with nothing to hide and nothing to be ashamed of.
"But I still shoot a lot of video," he said. "I go into stores on Saturday mornings. I still do training. I love that part of my job." Bailey said he teaches the retail sales staff when to introduce the topic of service contracts, what terms to use (and which to avoid), and where and when to close the service contract sale.
"By the way, I never use the word 'extended,' and I never use the word 'warranty,'" he said. "There's so much negative press out there. You say those words, the door slams shut in the customer's brain. And I don't have the key to unlock that door. And neither do you."
Words to Avoid
So he encourages the salespeople to avoid using the words, even when talking about product warranties. Those become factory coverage, or factory service. And then extended warranties get their own replacement phrase.
"I call it 'additional service' when I'm in the store," Bailey added. "I call it the ASC program -- Additional Service Coverage. If your mouth says 'extended,' their brain already jumps to warranty before you get your next word out."
Bailey said he'll use all these phrases while chairing Track 14 at WCM, however, as will the other panel members. "We're talking to friends inside," he said. "We're not talking to consumers. So we're allowed to use those words."
This panel is designed to explore the complexities of the extended warranty industry, and why it may make more sense for a manufacturer or a retailer to bring in an administrator and/or an underwriter than to try to do it alone. Bailey said that for manufacturers, unless they are already very good at managing their own product warranty program, they shouldn't even consider going it alone when considering an extended warranty program.
"Don't just assume you can run into the extended warranty business and generate a ton of revenue and profit," Bailey said. It's not as easy as it seems. And the profits aren't as huge as is frequently alleged.
Reasons to Sell Extended Warranties
Still, he added, there are at least three very strong reasons for manufacturers to get into the extended warranty business: revenue generation, controlling the customer experience, and gaining valuable data. And there are at least two ways to do it: in-house or outsource.
"You should look at both," Bailey said. And while most of the other panel members will no doubt suggest outsourcing the program to a third-party administrator, Bailey said he will note that several manufacturers and retailers have done well with the in-house option. But that is infinitely more complex and time-consuming than the outsourcing option.
And then there are the companies that choose a hybrid approach -- partial outsourcing. They go to an outside company for help with underwriting and pricing, or for training and call center operations, and do the rest in-house. Or perhaps they do everything in-house, but they go to an outside counsel for help with state law compliance.
"You can split this too," Bailey said. "You can bring some components in-house, and outsource what you don't have a core competency in. And you know what? It's becoming more and more common."
After lunch, during a panel scheduled to run from 1:15pm to 3:15pm on Thursday, March 17, David Jobling, the director for Europe at 4CS Inc., will deliver a presentation entitled, "Preparing Your Organization for Warranty System Implementations."
Extended Warranty Platform
This will definitely tilt more towards the in-house option. But, in fact, the not-too-well-known secret of 4CS is that its warranty management software is also used by several major extended warranty administrators as their in-house platform. So a manufacturer, dealer or retailer might choose the outsourcing option and still might end up using a 4CS solution.
Jobling probably won't delve very deeply into that aspect of the 4CS business, no doubt because some of those clients want their secrets to remain secrets. But for those who are looking to take the next step from a home-grown or perhaps Excel-based in-house system, Jobling said he will take a detached and objective look at the alternatives.
"I'll be looking at seeing where the return on investment would be," he said, "where a system can help deliver benefits. I then go more deeply into the project planning and delivery mode, talking about the assessment process and what people can expect."
Jobling admitted that he doesn't really know what to expect in San Diego. This will be his first Warranty Chain Management Conference, though he's been to a few smaller warranty industry events in Europe during his three-and-a-half years with 4CS. He said he's assuming that most of the audience listening to his presentation will be comprised of warranty managers and others looking for tips, advice, and guidance on future warranty projects. So that's what he plans to provide.
"I'm structuring it to present what is likely to happen to the organization, what sort of changes they can look for, what they need to think about when they're planning a project, the types of resources they need, and the integrations to think about. And then I also have a couple of slides on the IT/technical side -- whether their system is hosted internally or externally, and some of the pros and cons of each."
International Flavour
Jobling said he also wants to talk about the best approach to global deployments, and how to bring things together even if there are separate and different systems in use now. Coming from Europe, he's always been aware of the language, currency and legal differences that come with crossing borders, and he said the warranty system needs to be built for these differences as well.
"Every project differs, of course, depending on size, scale, and complexity," he said. But they do seem to share a handful of critical success factors. "One is executive sponsorship, making sure that you've got leadership from the top, and that the whole company has bought into actually doing something, and going ahead with the project. And the other is the availability of key resources, making sure that the people you need are actually ready and willing to work on the project, and have enough time to do what they need to do for the project."
Otherwise, if there is doubt filtering down from the top, that affects the success of the project. And if the customer doesn't set aside enough time or people -- in the hopes that the vendor will do it all for them or that the software will configure itself -- they may be disappointed in the results.
"It isn't always like that," Jobling said. "You need to have involvement from the warranty management, from the finance people -- across the board, really."
He noted that 4CS usually does its best to spec out the amount of time, money and resources needed for a project, because 4CS typically charges a flat fee for its software. "We put some skin in the game, if you will, and we'll go with a fixed price bid," he said. "We're kind of sharing the risk" that the cost of an implementation project will be close to the initial assessment.
Will there be delays? Inevitably, there always are, and there are factors that arise later that weren't initially foreseen. But in the small to medium-sized projects that 4CS thrives on, there haven't been any serious overruns, he added.
Maturity Model Unveiling
The big event on Thursday morning will be the unveiling of the Warranty Management Capability Maturity Model during an event that will stretch from 8:00am to 9:45am. It begins with a 45-minute keynote presentation by Joe Barkai, the practice director for Product Lifecycle Strategies at IDC Manufacturing Insights, and is to be followed by a one-hour panel discussion chaired by Sheila Brennan, the program manager for Product Lifecycle Strategies at IDC Manufacturing Insights.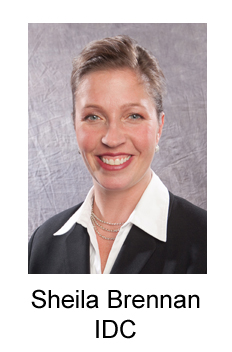 Brennan, who detailed much of the teamwork that took place between IDC and the Institute for Warranty Chain Management in last week's newsletter, said the objective of Barkai's keynote speech is to detail the findings of the initial survey that helped to prove the concept. "We're calling it the reveal," she said, "the reveal of the Warranty Management Capability Maturity Model to the industry at large."
And then the panel discussion that follows will delve deeper into the question of how companies can make use if the model, and how the recent history of warranty transformation projects at some companies can be seen as examples of the different stages of maturity defined in the model.
Examples of Maturity
Participants will include Sheila Cardines, the enterprise warranty manager at Caterpillar Inc., and Kevin Krakora, the director of product services at Mitsubishi Caterpillar Forklift America Inc., as well as Brennan and Barkai and several others involved in the maturity model project.
Over the course of several months last year, more than a hundred companies and organizations took the initial survey, allowing Barkai, Brennan, and their team to test whether their theories about warranty maturity were actually valid. For instance, they hypothesized that advanced organizations would make use of analytical tools to process and interpret their warranty data, and that the presence of analytical tools in a warranty department would therefore be a marker for an advanced organization.
In the same vein, the maturity model, by listing these markers and attributes, provides a kind of road map for organizations that want to make their warranty process more advanced. Groups that take the self-assessment can see where they are, and where they need to go. Those that need to know the benefits of a more mature approach to warranty can refer to the hundreds of millions of dollars Cardines estimates Caterpillar has saved, or perhaps to the billions that companies such as Ford and HP have saved.
"Up until now, they haven't been able to quantify where they are and where they need to go," Brennan said. Now, they can take the self-assessment, see where they are, and see where they should go next.
While some of the team's hypotheses were proven to be indicators of maturity by the survey responses, Brennan said, others were found to be more evenly dispersed attributes of both mature and immature warranty operations. In other words, the hypothesis, or at least the correlation between the attribute and maturity, was disproved.
Retooling the Model
"We went out with a concept of the framework, and we were using the survey to vet the model," Brennan said. "And that's exactly what we did. We took the results from the survey and we went back and retooled and reworked the model itself, based on the results from the study and the findings. So in some cases where we had made some assumptions, hypotheses or assertions that some things were true, and we found they were true from the study, they remained in place. Some things that we thought were true that were not true, those things were changed. And they were either removed or replaced."
Cardines spoke about the five-year "journey" her team at Caterpillar had embarked upon in 2008 at the WCM Conference in Los Angeles last year. That presentation, which we detailed in a March 18, 2010 newsletter, is in many ways a shining example of how to get it done the right way.
This year, Cardines is expected to provide details about the third year of that "journey" at this year's WCM discussion, and whether she can relate her company's story to the markers and attributes listed in this new maturity model. And one attribute certainly does: pay careful attention to the human factors that separate warranty from mere transaction processing, and make sure you have the support of upper management for the entire journey before you take the first step.
Journey to Maturity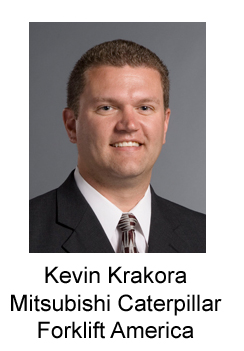 Kevin Krakora, MCFA's director of product services, said he joined his company in 1999 but didn't take over responsibility for its warranty department until 2006. So he's right at the end of his own five-year "journey" to modernize the warranty operations of the material handling company.
Conditions at the time the journey began, he said, were quite primitive within the MCFA warranty department. "It was a mess," Krakora said, "very manual, lots of paper involved." There was a warranty database in use, but it didn't do much. "It didn't really help us with business rules and validating data," he said. "It was frustrating for everyone that was involved with it."
From that relatively immature state, Krakora has overseen the implementation of a real warranty claims processing system. "We put in the 4CS iWarranty system," he said. "We started off with the claims processing and the parts return modules. Since then we've added on more analytics, online sales of extended warranties, the ability for our dealers to register products online, and we added the supplier recovery module, so that we can work with our suppliers in a more automated fashion."
More important than the software, however, were the changes the company put in place for its business processes. "I think it's allowed us to change the business, and to take a closer look at how our business processes work, and what the best practices should be, so we're not just laying a new software package on top of old habits."
Adding Capabilities
And now he's planning to talk about it, and how that five-year journey could serve as an example of a company moving through the different stages outlined in the warranty maturity model. "The first phase was the claims and parts return," he said. "And then we kept adding the extra modules after that."
It was a series of small and gradual steps, after that initial giant leap to get automated. Krakora said it had to be done that way, because his company has a limited amount of resources. "I don't have thousands of people at my disposal," he said.
Krakora said he jumped at the chance to join the maturity model panel discussion. "Part of it will be to share our experience maturing our company," he said. "But I think that we also should talk about the value of having something like this available to the warranty industry."
Basically, it gets people thinking about their warranty process, and how it could be improved. And it can get them talking too, despite their understandable bashfulness about discussing how immature they used to be.
Secrets of the Trade
"Warranty has been a kind of secretive area," Krakora suggested. "Companies don't talk about it because they don't want anybody to find out how many problems they have." Yet warranty touches on so many other parts of the business, and can move profit margins up or down by entire percentage points.
"You go to business school," Krakora added, "and they show you how to make a business plan, a marketing plan, and a sales plan. But nobody talks about how to manage warranty. You have all kinds of courses for working on quality control systems. But again, there doesn't seem to be anything out there that focuses on how to run your warranty business efficiently, and how to get the most out of your warranty data so you can improve your business."