July 7, 2011
Warranty Accruals per Vehicle:
While we can't say who builds a better car, we can figure out which automakers are budgeting for the lowest warranty costs per vehicle. Worldwide, Honda leads and Daimler lags, but the order of the six OEMs between them is somewhat surprising.
The top passenger car makers, when they raise or lower the amounts they set aside to finance future warranty claims, are telegraphing their predictions of changes in either the cost or the frequency of repairs.
The problem is, they don't tell us which of those metrics they expect to change. Because of quality improvements, repairs on a new model could be half as likely as before. But if they cost twice as much per repair because of a design change or a shortage of parts, there would be no need to change the accrual rate.
Free Coffee & Donuts
Conversely, a luxury brand may use very expensive parts and its dealers may have very high labor rates -- somebody has to pay for those "free" donuts and coffee. Or, an OEM may sell lots of inexpensive cars in a region where very short warranties are the norm, and labor rates are extremely low. It's like the old Yugo warranty: If you're driving home and the car breaks in half, you own both halves.
The thing is, the top automotive OEMs, when they give us precise figures for total company-wide warranty accruals, the number of units sold, and the revenue per nameplate, per region, or per vehicle type, are giving us the raw materials to derive some very detailed estimates of the amount of accruals they set aside each time a vehicle is sold. That doesn't always correlate with product reliability, but it does allow us to figure out which OEMs have a high or a low cost of warranty per vehicle.
This week's newsletter updates a Warranty Week column that ran almost exactly a year ago, on July 8, 2010. That article and an update published a week later on July 15, 2010, detailed the amounts that each of eight top worldwide automotive OEMs were setting aside to cover expected future warranty costs.
Last year, after that first article ran, readers wrote in to suggest that the math must be wrong. Perhaps the average price per vehicle sold in China was too low or perhaps the data was mixing passenger cars with trucks, motorcycles or generators, they suggested. So we looked again, and in that second article on July 15 we detailed some of the calculations.
We initially hoped to update those articles again last week, being as our American and Canadian readers were mostly out of the office for their national holidays, and being as the newest annual data from Honda and Toyota usually arrives at the end of June. But then we discovered that Toyota's recall costs had risen radically, and that alone became the topic for the June 30, 2011 newsletter.
Eight Automotive OEMs
With that out of the way, we can now turn to the other seven OEMs we cover: From Europe we have BMW AG; Daimler AG; Fiat S.p.A.; and Volkswagen AG. From Japan we have Honda Motor Company Ltd. and of course Toyota Motor Corp. And from North America we have Ford Motor Co. and General Motors Co.
Besides the Toyota recalls, the other big financial change is the spin-off by Fiat of its Iveco and CNH interests. The company is still not revealing any Chrysler warranty data, but it's also no longer mixing its truck and construction equipment sales with its passenger car data.
In Figure 1 below, that move by Fiat has caused its accrual rate to jump above the rates of BMW and Daimler. But as will be seen in Figure 2, Fiat is still setting aside less money per vehicle sold than the others.
How can this be? Figure 1 measures warranty accruals as a percentage of automotive revenue. Fiat is currently setting aside €3.67 for every €100 in automotive sales, so its accrual rate is 3.67% for 2010. During the same year, Daimler set aside €3.16 and BMW set aside €1.70 per €100 in automotive sales.
In 2009, their accrual rates were almost the same, but Daimler was a bit above the other two. Volkswagen, meanwhile, was way up there, setting aside €5.78 per €100 in 2009 and €5.26 per €100 in 2010.
Figure 1
European Automotive OEMs
Product Warranty Accruals, 2002-2010
(as a % of automotive revenue)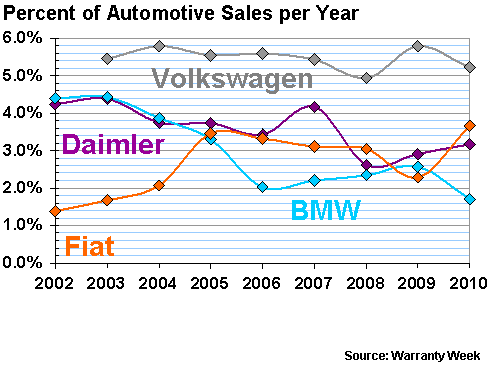 The thing is, each of these OEMs has a very different product line. BMW and Daimler are known for their luxury cars, while Fiat and VW serve the mass markets. But Fiat also owns Maserati and Ferrari, while VW also owns Audi and Bentley. And Daimler makes trucks, vans and buses, while BMW makes both the Mini and motorcycles.
The good news is that each of these OEMs provides very detailed annual reports that include not only the number of each type of vehicle they sold, but also the total revenue those sales produced. It's a simple exercise from there to calculate an average selling price per unit.
Estimating Accruals Made per Vehicle
And now comes the controversy. The OEMs do not break out their accrual rates per product. So let's assume the accrual rate is the same percentage across the entire product line, and see what happens.
Fiat, for instance, has a 2010 accrual rate of 3.67%. And according to its annual report, it sold 2.082 million Fiat cars at an average selling price of €13,383 each. We're going to assume that the accrual per unit was therefore €490.85. And for the Maserati Quattroporte and other luxury vehicles selling for a hundred thousand euros and more, the accrual rate would be in the thousands per unit.
At BMW, its own brand of motorcycles combined with its recently acquired Husqvarna Motorcycles brand sold about 110,000 units last year at an average selling price of €11,842 each. Applying the company's 1.7% accrual rate to that figure results in an estimated accrual of €201.64 per motorcycle. And that's less than a third of what we reckon the company sets aside for each of its passenger cars last year.
In Figure 2, we've attempted to focus in on just those mass market passenger cars, by first figuring out their average selling price and then applying that year's accrual rate to that price. The actual figure may be a bit higher or a bit lower than our estimates, but it won't be radically different. That's because the passenger car category dominates the revenue of each company, and therefore also its warranty expenses.
For instance, ordinary passenger cars comprised 78% of Fiat's revenue and 98% of BMW's. Therefore, it doesn't much matter what the accruals are per truck or per motorcycle, or how much is spent on the ultra-expensive nameplate's warranties. We're talking about millions of ordinary passenger cars against 5,675 Maseratis, 98,000 BMW motorcycles, 5,000 Bentleys, and 39,118 Daimler buses.
Calculating the Average Selling Price
With that in mind, a look at Figure 2 reveals that although Daimler has the third-highest accrual rate of this group, it has the highest accrual per vehicle. The reason of course is average selling price. Conversely, VW has a higher accrual rate but a lower average selling price per vehicle, and therefore a much lower accrual per vehicle.
Figure 2
European Automotive OEMs
Warranty Accruals per Passenger Car,
2002 to 2010
(in euro)
As we noted last week, there are important differences in the way each company counts its warranty expenses, so comparisons of one company to another are perilous. However, the performance of a single company over time is undeniable.
Take a look at the BMW data, for instance. In Figure 1, we see a generally declining accrual rate, and in Figure 2 we see a generally declining accrual per vehicle. The company isn't issuing press releases about its magnificent warranty cost reduction efforts bearing fruit, but the evidence is certainly there.
Conversely, the warranty costs at VW may be a bit on the high side, but at least they're consistent. So it would be hard to blame the rates on any particular model or system. It's more about the high cost of labor, of parts, and of the warranty program's overhead. And those costs rise and fall in perfect step with car sales.
Japanese Safety Recalls
The recent data from the top Japanese OEMs is less comforting. As we detailed in last week's newsletter, Toyota has a major problem with the cost of recent safety recalls. But in Figure 3, we can see that Toyota's warranty-only costs are actually declining, and remain relatively close to Honda's. Toyota's warranty-only accrual rate was 1.34% in the year ended March 31, 2011, while Honda's overall accrual rate was 0.98% in the same fiscal year.
Figure 3
Japanese Automotive OEMs
Product Warranty Accruals, 2003-2011
(as a % of automotive revenue)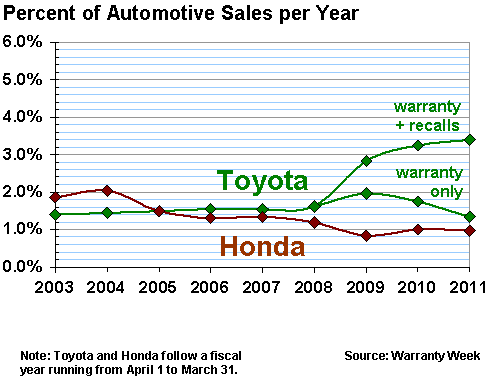 Honda has now cut its accrual rate in half after seven years of effort. And Toyota's warranty-only accrual rate is lower than it was even in fiscal 2003 or 2004. So the warranty cost reduction efforts at each company are working. It's Toyota's recalls that are the problem.
Those recalls also complicate our estimates of the accruals being made per vehicle, which are detailed in Figure 4. We're going to shade the portion of Toyota's cost per vehicle that we believe came from recalls, so readers can see both the warranty-only and the combined warranty & recall figures.
Figure 4
Japanese Automotive OEMs
Warranty Accruals per Passenger Car,
2003 to 2011
(in Japanese yen)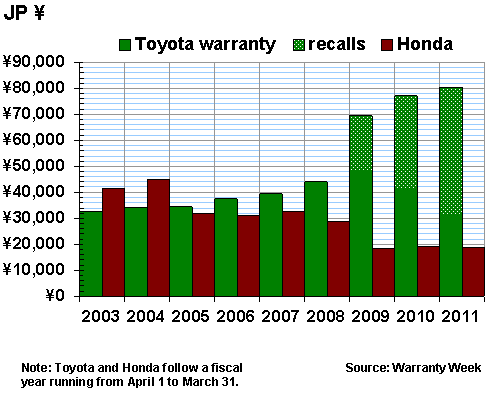 At Honda, the complicating factor for this analysis is the sale of both motorcycles and portable generators, not to mention boats, all-terrain vehicles and even jet airplanes. But then again, only 15% of Honda's product revenue came from motorcycles and only 3.4% came from generators. So passenger cars account for almost 80% of the company's product revenue, and we believe, also its warranty expenses.
At Toyota, the product line is primarily passenger cars, so there are no complications from other lines of business. And the products are sold globally. So the minor differences seen in the average selling price per unit have more to do with currency fluctuations than anything else.
For instance, Toyota's fiscal 2011 average selling price in North America is ¥2.62 million per vehicle. It's ¥2.41 million per vehicle in Europe. And it's ¥2.50 million per vehicle in Asia (outside of Japan). So the application of the same 1.34% accrual rate to each results in only minor differences in accrual per vehicle in each region.
No Data from Several OEMs
We should note that Nissan provides no warranty data, nor do other OEMs such as Subaru, Mitsubishi or Suzuki. In Europe, there's a lack of data from the French manufacturers. And in the U.S., we still have no idea what the warranty costs of Chrysler have been since 2007, although every year we read they've been reduced by astonishing percentages.
However, there is a good amount of data for both General Motors and Ford worldwide, and for at least the last three years, we have data from electric vehicle manufacturer Tesla Motors Inc., which we've inserted into the top right corner of Figure 5.
But don't get carried away with the meaning of that data. Tesla's unit sales are low enough, its price per unit high enough, and its technology advanced enough that it probably would be more comfortable on a chart with Bentley, Rolls-Royce and Maserati.
Figure 5
American Automotive OEMs
Product Warranty Accruals, 2002-2010
(as a % of automotive revenue)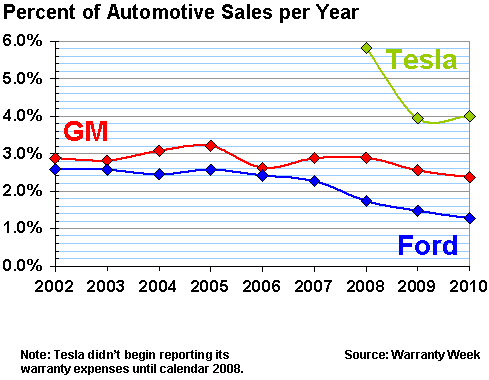 The thing we wanted to point out about the GM and Ford data is the gently downward slope it takes over the past eight years. Of course, we have quarterly data that would more completely show the gyrations caused by the recent recession. But at least the annual data creates an image of slow-but-sure improvements in warranty cost reduction.
Booming Sales in China
The downward slope gets a bit more pronounced in Figure 6, but that's caused primarily by sales in China. The volumes are large enough, and the average selling price per unit low enough, that it's beginning to affect the overall accrual figures per vehicle.
Figure 6
American Automotive OEMs
Warranty Accruals per Passenger Car,
2002 to 2010
(in U.S. dollars)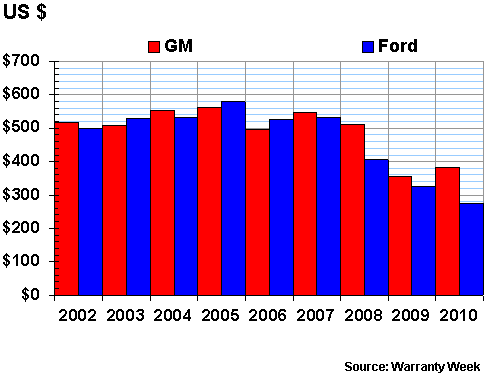 At GM, for instance, something amazing happened last year. GM and its joint ventures sold 2.352 million vehicles in China. But GM sold only 2.215 million in the U.S.
However, the average selling price of GM's vehicles in North America was much higher than it was in China. And with generally shorter warranties and lower labor costs in those markets, we suspect warranty accruals were even lower than our proportional calculations.
Nevertheless, the data in Figure 6 represents a proportional application of each company's accrual rate to its average selling price per vehicle. And those figures are astonishingly low: from over $500 per vehicle as recently as 2007 to below $400 per vehicle in the past two years and in Ford's case, below $300 in calendar 2010.
All in One Chart
Now, let's combine the per-vehicle figures for all eight OEMs into one chart. To do that, we need to pick one currency. And because of all the currency fluctuations that have occurred since 2003, that's going to affect the results.
The conversion rate we used for the 2003 data was ¥133.2 = US$1.00 = €0.95. By 2010, the currency exchange rates had changed to ¥83.1 = US$1.00 = €0.75. So obviously, that decline in the dollar is going to make warranty work for U.S. imports less expensive when converted back into the OEM's native currency. And it's going to drive up the cost of repairing U.S. exports in Europe, because the labor will be counted in euro.
Still we have to pick one, so let's use the U.S. dollar. Readers should send an email to the editor to see the same data for all eight OEMs expressed in either euro or yen. It doesn't really change the rankings much, but it does exaggerate the costs for some of the European OEMs during years in which the euro was very strong.
We also have to time-shift some of the data to fit it all into one single chart. Six of the OEMs end their fiscal years on Dec. 31. But Toyota and Honda end their fiscal years on March 31. Therefore, we're time-shifting both of them back by three months, so we can compare all eight on the basis of a calendar year. We're also then able to include 2002 data that we have for seven of the eight OEMs.
As can be seen in Figure 7, Daimler and Volkswagen currently accrue the most money per vehicle sold. And despite all the currency fluctuations over the years, that would still be the case even if we used all yen or all euro figures. It has more to do with the high cost of warranty work in Europe as opposed to its frequency. In other words, it's not the quality of the product, or the frequency of failures. It's the high cost of the repairs, which manifests itself through the cost of parts and labor.
Figure 7
Worldwide Automotive OEMs
Warranty Accruals per Vehicle, 2003-2011
(in U.S. dollars)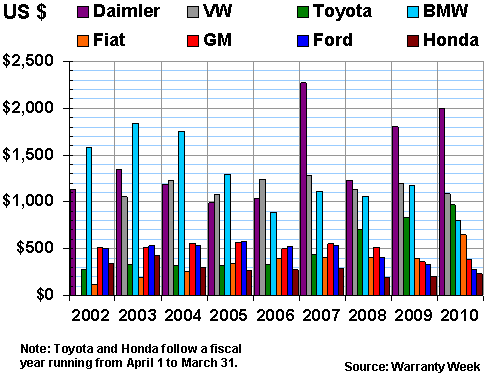 The fortunes of individual companies is perhaps better seen in Figures 2, 4 or 6, where the accruals per unit are expressed in their native currencies. But even in Figure 7, one can see the relative decline in BMW's costs per unit over the years, and the relative rise in Toyota's.
BMW had the highest per-vehicle accruals in the first four years of the time series, but was lower than both Daimler and VW in the most recent five years. And Toyota, which was usually either second or third lowest in the early years, is now sixth out of eight (when recall costs are included). That's quite a reversal of fortunes for both of them.
Meanwhile, Honda is the low-cost leader for the sixth year in a row, as one would expect, given the company's consistently high rankings in all the quality surveys. Fiat's per-vehicle accruals were the lowest of the eight OEMs during the years 2002 to 2004, before Honda took over the lead. Fiat remains the lowest-accruing European OEM, but it's now only the fourth-lowest among these eight.
The shocking statistic is that Ford and GM are now nestled between Honda and Fiat. And Toyota is between BMW and VW. Incredibly, the leader's accrual rate per passenger car (Honda at $228.56), is more than eight times lower than the laggard (Daimler at $1,997.13 per unit). That's a lot of free coffee and donuts.