August 4, 2011
Sports Equipment Warranties:
Though the uniforms and hats might be apparel, the equipment used for many team sports and outdoor activities carries product warranties. More importantly, the companies making the gear manage those warranties with accruals and warranty reserve funds, just like any other manufacturer.
It's August and thoughts are turning towards outdoor activities. Sports equipment may not sound like an obvious source of warranty expenses, but there are literally dozens of companies paying claims for everything from hiking boots to baseball bats.
Let's begin with a company we first spotlightred way back in the March 24, 2003 newsletter. At the time, Callaway Golf had just dismissed its auditors after they objected to the golf equipment company's downward change of estimate in its projected future warranty expenses.
As can be seen in Figure 1, the company's warranty claims rate quickly jumped to 2.4% in the third quarter of 2003 and then soared to nearly 3.5% in the third quarter of 2004. It seemed as if the auditors were right to object.
Figure 1
Callaway Golf Co.
Warranty Claims & Accrual Rates, 2003-2011
(as a percentage of product revenue)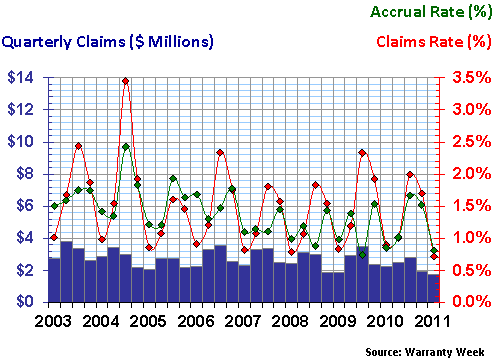 But the company knew something its auditors apparently did not. The sports equipment business is seasonal, and so are its warranty claims. Sales peak in the spring, and claims peak in the summer. So what looked like the beginning of a rising claims cost crisis back in 2003 and 2004 has instead turned out to be a fairly predictable annual pattern.
Seasonal Warranty Pattern
If its golf balls bounced like that, Callaway would have a lock on the market. Notice how the peaks have been below 2.5% in all six of the years since. And notice how the troughs, which always come in the winter, when neither sales nor claims are very common, have trended lower as well. In the quarter ended March 31, 2011, both Callaway's claims rate and its accrual rate were below one percent.
Adams Golf is a much smaller competitor, but lately its warranty chart has shown the same seasonality as Callaway's. We should note that during the years 2003-2005 the company reported its warranty expenses to the U.S. Securities and Exchange Commission only once a year, which is why that early data looks like a staircase. But then in 2006, it switched to the required quarterly format, and its chart began to follow the same kind of sine curve as Callaway's.
There was that one quarter in 2006 in which Adams Golf accrued more than usual and saw its accrual rate jump to 3.4% as a result. But the highest it's been since is 1.35% in 2008.
Figure 2
Adams Golf Inc.
Warranty Claims & Accrual Rates, 2003-2011
(as a percentage of product revenue)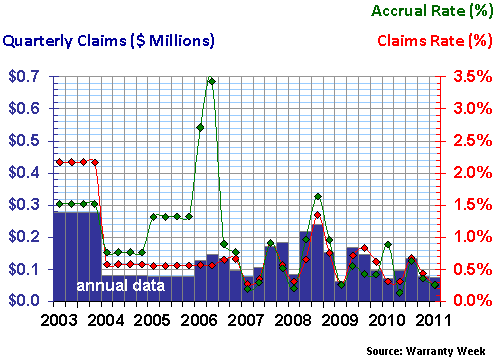 Both Callaway and Adams seem to have a disturbing habit of allowing accruals to rise and fall in tandem with claims. In other words, when claims peak, so do accruals. At Adams, in fact, the red and green lines are frequently on top of each other, or are very close together.
The preferred method would be for each company to figure out the average claims rate for its products over a given year, or across multiple years, and then to always use that percentage when palnning how much to set aside in accruals per unit of sales. This would flatten the green line considerably, but the red line would continue to bounce around that average, as sales and claims rose and fell in keeping with the seasons.
Camping and Fishing Gear
Jarden is a much more diverse company. We include them here under the sports equipment heading because of their ownership of the Coleman camping gear brand, the K2 and Völkl ski and snowboarding equipment brands, the Rawlings baseball equipment brand, and the Penn, Shakespeare, Ugly Stik, and Berkley fishing equipment brands. But Jarden also has extensive operations in small kitchen appliances, and even manufactures parts for refrigerators and medical equipment.
In Figure 3, there is obviously no data for the years 2003 and 2004. That's because the company didn't begin reporting its warranty expenses until 2005, though it has continued to do so ever since.
Figure 3
Jarden Corp.
Warranty Claims & Accrual Rates, 2003-2011
(as a percentage of product revenue)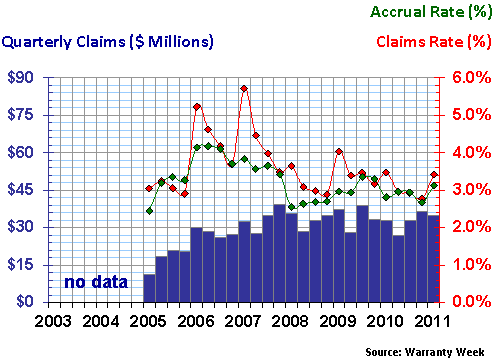 There have been two occasions when Jarden's overall claims rate jumped above five percent -- a danger line for any equipment manufacturing company. But those were both long ago, and since 2008 the company's claims and accrual rates have remained at or below four percent. We should note that when we figure out these percentages, we first subtract what Jarden describes as consumable product sales. That way, we are always comparing warranty expenses to warranted product sales alone, rather than to total revenue.
Tightly Managed Warranty Costs
Johnson Outdoors is also a major supplier of fishing and camping gear. But it also delves into small boat sales and even into electronic navigation equipment. And as we saw in the July 21, 2011 newsletter, boating is usually a warranty-intensive business. So is handheld navigation equipment, as Garmin Ltd. has proven.
Yet in Figure 4, what we see is a company that seems to have its warranty costs firmly under control. Yes, there are occasional and probably seasonal fluctuations in claims and accrual rates, but the highest data points in this chart are barely over 1.6%. Our only note of concern is the recent rise in the company's accrual rate, which we hope doesn't precede a rise in the claims rate later this year.
Figure 4
Johnson Outdoors Inc.
Warranty Claims & Accrual Rates, 2003-2011
(as a percentage of product revenue)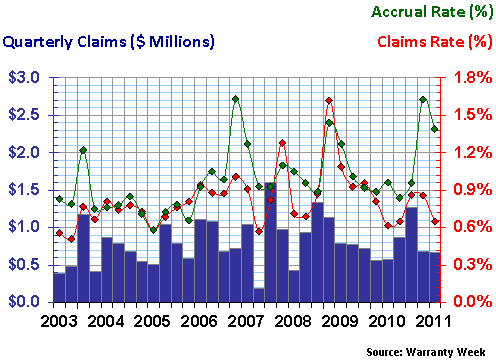 LaCrosse Footwear, as its name implies, is in the shoe business. But more specifically, what gets them into the warranty business is the company's sale of work boots, hunting boots, and cold weather boots that carry limited warranties of anywhere from 90 days to one year.
Accruing for Warranty Costs
Normally, apparel isn't covered by warranties, though retailers and manufacturers frequently guarantee the items and sometimes also allow for returns and exchanges. But what really makes LaCrosse unique is that the company maintains a warranty reserve, in which it accrues for predicted warranty costs.
Figure 5
LaCrosse Footwear Inc.
Warranty Claims & Accrual Rates, 2003-2011
(as a percentage of product revenue)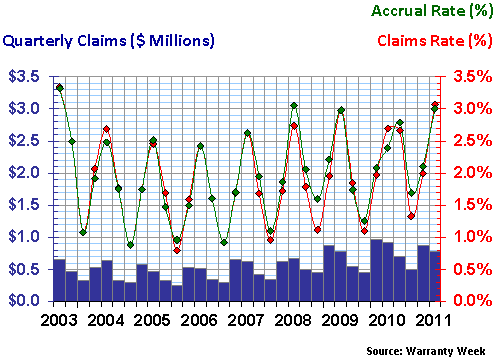 As can be seen in Figure 5, LaCrosse exhibits the seasonal pattern one would expect of a company oriented towards outdoor activities such as hunting and fishing. But the company also is an even more extreme case of a situation where the claims and accrual rates rise and fall in tandem, as opposed to one where accruals approximate the average of a fluctuating claims rate.
Note also that while the peaks usually occur in the cold months of the first quarter, in 2010 both rates stayed high in the second quarter as well. But that was followed by the expected third-quarter trough, and then by two rising quarters towards what we hope is the winter 2011 peak.
Helmet Warranties
Easton-Bell Sports is best-known as a manufacturer of helmets used in sports such as American fooball. But it also makes bicycle helmets and hockey sticks, and has recently added lacrosse gear to its product line.
In Figure 6, we see what could be the beginning of an annual seasonal pattern in the data from 2010 and 2011, but no discernable pattern in the 2006 to 2009 data. In 2003 and 2004, the company did not reveal its warranty expenses, and in 2005 its warranty costs were marginal.
Figure 6
Easton-Bell Sports Inc.
Warranty Claims & Accrual Rates, 2003-2011
(as a percentage of product revenue)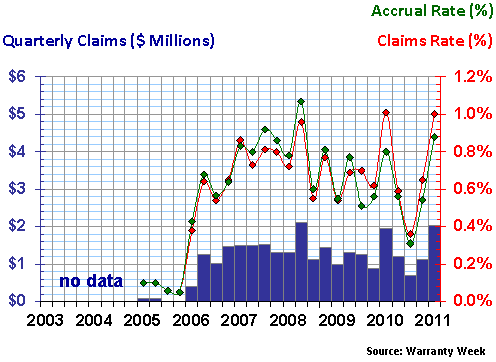 It's almost as if warranty management suddenly became important to the company in 2006, when it quickly went from reporting nearly no claims to paying out over $1 million per quarter. That's not to say that product quality, guarantees and replacements weren't important until then. What we mean is that the financial aspect of warranty management became important -- the use of a warranty reserve fund, and the use of that fund to finance claims and hold accruals.
Warranty has remained a serious consideration ever since for the company, much as the helmets themselves became serious safety devices rather than merely sports apparel. On three occasions, the company has paid out $2 million or more per quarter, though those claims represented only one percent of company revenue at the time. That's a long way from 2005, when the company paid no claims in the second half of the year and only $182,000 in the first half of the year.
Health Club Equipment
Finally, we wanted to take a look at a pair of fitness and exercise equipment companies. While the first six companies we profiled were engaged in team sports or outdoor sports, Nautilus and Cybex are makers of the indoor exercise equipment traditionally used by one person at a time, to strengthen and condition themselves for those team sports or outdoor sports. And of course, there's also a home market for some of these machines.
Nautilus makes treadmills, stationary exercise bikes, elliptical trainers, and weightlifting machines, among others. Readers might also recognize the Bowflex brand, which has earned a high degree of its visibility through television ads and telemarketing campaigns. And the company also manufactures commercial equipment such as the StairMaster to health clubs, team training camps, hotels, and corporate fitness centers.
As can be seen in Figure 7, Nautilus is now recovering from a spike in its warranty costs. In 2009, its claims rate jumped above six percent for multiple quarters. But look at the bleu bars. They didn't change much. This suggests that the rise in rates had more to do with a decline in sales than an increase in claims.
Figure 7
Nautilus Inc.
Warranty Claims & Accrual Rates, 2003-2011
(as a percentage of product revenue)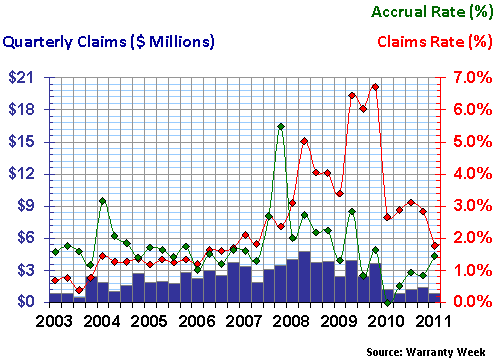 Actually, in 2010, claims did begin to fall, as can be seen in the diminished size of the blue bars that year. But sales were still low, so the claims rate dropped back to only around three percent. In the first quarter of 2011, however, sales rose six percent and claims continued to fall, so the claims rate fell back to 1.8%.
Cybex International also makes stair-steppers, treadmills, stationary bicycles, and other fitness equipment. But it's a bit smaller than Nautilus, with 2010 product sales of $116 million to its competitor's $164 million annual turnover.
Recovering from the Recession
Like Nautilus and many others affected by the recent recession, Cybex also saw its claims rate soar in 2009, and that rate then also returned to normal in 2011, as sales recovered. But as can be seen in the way the blue bars in Figure 8 rose in 2009 and then fell ever since, it wasn't just a sales-falling-then-recovering phenomenon. The highest claims rate (4.9%) also coincided with the highest claims total ($1.43 million).
Figure 8
Cybex International Inc.
Warranty Claims & Accrual Rates, 2003-2011
(as a percentage of product revenue)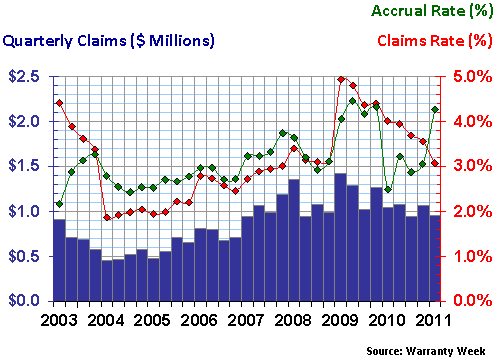 Although Cybex had seen a gradual increase in its claims rate from 2004 to 2008, the good news is that the trend from 2009 to now has been a decline. Also, sales were up 19% in the first quarter, which helped push the company's claims rate down to 3.1% -- its lowest level since late 2007.
So there you have it: A roundup of some of the top sports equipment suppliers and their warranty track records for the past eight-plus years. Warranty Week is going on hiatus for the next two weeks, returning to the weekly schedule with a fresh newsletter on August 25. Until then, our return address will be in Mayfair, London. Drop by for afternoon tea, if you like.