December 1, 2011
Solar Warranties, Part 1:
They can last up to 25 years, but what does that really mean when the technology is changing so fast? And even if a company really expects to pay claims in 2036, how do they prepare for them now by making the right amount of accruals at the time of sale?
Are those 25-year solar panel warranties for real? Or are they merely marketing tools meant to look good, but never be used?
When solar energy equipment manufacturer Solyndra LLC suspended operations in September, one of the first questions on the minds of customers was what would happen to their warranties.
Worthless Warranties?
The products were warranted to be free from defects for five years, and their continued performance at or above 80% of their as-new power levels was warranted for 25 years. But when the company went under, it took those warranties with it to the bottom.
There are numerous other controversies surrounding Solyndra's finances, particularly issues surrounding loan guarantees made by the United States Department of Energy and tax breaks received from California's Alternative Energy and Advanced Transportation Financing Authority. But let's focus just on its product warranties, and what customers can expect.
The company was privately-held, so we are not able to calculate its claims or accrual rates nor to check whether its warranty reserves were adequate to cover liabilities. But in most bankruptcy proceedings, particularly with liquidations, those looking to get their valid warranty claims paid are treated as unsecured creditors, sent to the back of the line and likely to receive pennies on the dollar, if anything. Those with valid warranties but no claims will get nothing.
Extended warranty holders might be better off. First, there's a good chance that the manufacturer actually set aside an adequate portion of its premiums in a reserve fund. And second, there's a better possibility that they sought out an insurance underwriter to boost the survivability of their service contracts. So not only are claims more likely to get paid, but refunds might also be possible.
But we'll leave the question of underwriting until next week's newsletter. This week, in Part One, we simply want to explore the warranty finances of six prominent solar panel manufacturers, looking at the spread between their claims and accrual rates, and at the size and adequacy of their warranty reserves.
Guessing the Future
The most maddening thing about long warranties is the lengthy gap between when a product is sold and installed, and when it typically breaks and needs service. A solar panel installed in 2010 may not generate any claims until 2030 or 2035. But its accruals would theoretically be made at the time of sale, and would sit in a warranty reserve fund for 20 or 25 years.
Realistically, a company writing 25-year warranties should have a 25-year reserve. But in practice, few of these companies have yet gotten to be 25 years old, so they have yet to see any of their longest warranties expire. And when they guess their accrual rates, that's what they're doing: guessing how much repairs or replacements will cost in 25 years, and how frequent they'll be.
One notable exception is SunPower Corp. The company was started in 1985 by a Stanford University professor. Its 2010 revenue was $2.2 billion, up 46% from 2009 levels. Major customers include electrical utilities and government agencies whose installations generate multiple megawatts of electricity, in such places as Italy, Spain, and Florida. The French oil company Total S.A. acquired 60% of the company's shares earlier this year.
In other words, this is an industry veteran with fast growth, large customers and wealthy investors. A glance at their warranty accounts supports the theory that they seem to know what they're doing. Accrual rates, which jumped as high as 4.6% in 2004, have settled down into a 1%-to-2% range since 2008. Claims rates have never exceeded 1% of product revenue, and have remained around 0.2% to 0.3% since the middle of 2010.
Figure 1a
SunPower Corp.
Warranty Claims & Accrual Rates
(as a % of product sales, 2004-2011)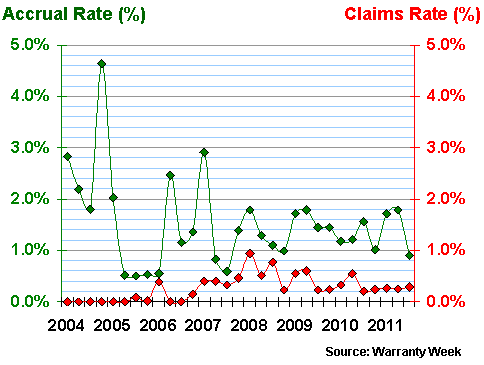 Notice that for all of 2004 and much of 2005 there were no claims payments at all. This is typical of solar equipment companies. In fact, one China-based competitor -- JA Solar Holdings Co. Ltd. -- has yet to pay a single product warranty claim, according to its latest annual report.
This makes it difficult to calculate the relative size of a company's warranty reserve. We can measure it in dollars, but we also want to measure it as a multiple of claims payments. However, if there are no claims payments, there's no multiple.
In the November 17 newsletter, we measured warranty reserves in terms of months of claims. This week, because the durations are so long, we're going to measure them in years. In Figure 1b, we've taken the claims payments in Figure 1a and divided them into warranty reserve fund balances, calculating how many years the funds would last given current claims payment rates. In quarters in which there were no claims paid, we set the ratio to be equal to 1,000 years.
Figure 1b
SunPower Corp.
Warranty Reserve Fund Capacity
2004 to 2011
(Amounts in US $ Millions & Years)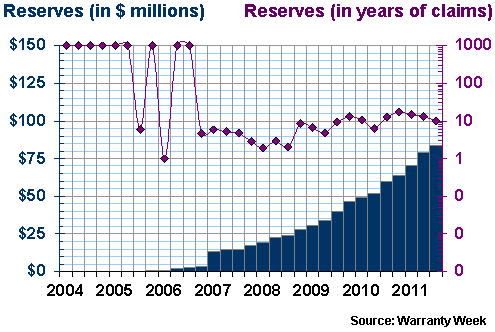 Notice first that SunPower's most recent financial report, covering the quarter ended October 2, listed a warranty reserve balance of $83.7 million, equal to 10.3 years of claims payments at current rates. Also notice that in the 12 quarters of 2004, 2005 and 2006, the balance was so slight as to be barely visible. And in nine of those 12 quarters, no claims were paid.
It was a different company back then. It wasn't until the early 2007 acquisition of PowerLight Corp. that SunPower A) paid a significant amount of claims and B) began to stabilize its reserve-to-claims ration at the 10-year level.
Less Accruals, More Claims
First Solar, which targets many of the same electrical utilities as SunPower, has a slightly different track record when it comes to warranty accounting. Back in 2004, the company set aside $1.9 million in warranty accruals, a significant chunk of its $13.5 million revenue total. Ever since, it's generally kept its accrual rate between 0.6% and 1.4%.
Back in 2005-2006, First Solar's claims rate remained low. In 2007-2009 it was close to zero. In 2010-2011 it's risen to a range between 0.5% and 1.0%. It's even exceeded the company's accrual rate on several occasions.
To make this easier to see, we've omitted the outsized 2004 data from Figure 2a below. As it is, we needed to go to a logarithmic scale for the reserves-to-claims ratios, because they gyrate so widely. Readers who want to see the unaltered chart should contact the editor.
Figure 2a
First Solar Inc.
Warranty Claims & Accrual Rates
(as a % of product sales, 2004-2011)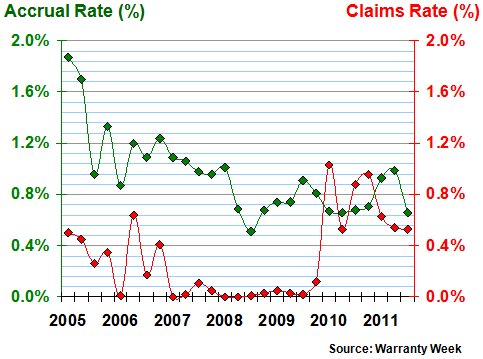 Notice that both the claims and accrual rates have settled into a range a little above and a little below 0.8%. Is this their natural long-term level? First Solar turned 20 years old in 2010 and is now the second-largest solar cell manufacturer worldwide (behind Suntech Power Holdings Co. Ltd.). So perhaps this is what a mature solar company's warranty metrics look like?
The reserves-to-claims ratio isn't as stable or sufficient, however. So perhaps maturity is still a work in progress. As can be seen in Figure 2B, First Solar kept the ratio between reserves and claims payments between 8 and 14 years in 2004 and 2005. From 2006 to 2008 there were several instances where no claims were reported. And even when there were claims paid, they were so slight that the ratio reached absurd heights of 55 and even 84 years.
It's only in the past two years that the ratio has stabilized. The problem is the range has been only one to three years, which is much shorter than their five-year product warranties, let alone their expected useful lifespan of 25 years.
Figure 2b
First Solar Inc.
Warranty Reserve Fund Capacity
2004 to 2011
(Amounts in US $ Millions & Years)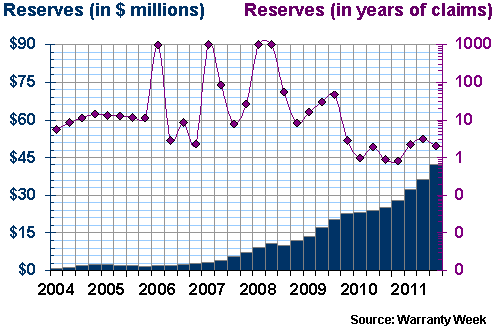 In addition to the five-year product warranty against defects, First Solar's performance warranty specifies that its solar modules will produce at least 90% of their power output rating during the first 10 years following their installation and at least 80% of their power output rating during the following 15 years. In cases where there's a claims under both the defects and power output warranties, First Solar has the option to either repair or replace the solar modules. In cases where the claim is made under the power output warranty only, First Solar has the option to simply add more solar modules to boost the system's total power.
Like Repairing an Old Laptop?
However, who can really predict the cost or performance characteristics of the replacement technology that will be available in 2025 or 2035? It may by then be akin to attempting a repair of a 20-year-old laptop -- possible but highly discouraged. You might still be able to find parts for a 1992 ThinkPad, but why bother? By today's standards, it had a slow processor, a small disk drive, and a high price.
In other words, there may be very few claims brought under performance warranties in future decades, especially after the product warranties expire. By then you'd prefer to replace a huge megawatt installation with a gigawatt system that's both smaller and less expensive. Perhaps by then there will be portable hand-held nuclear fusion generators the size of coffee pots?
So while these 25-year solar warranties might seem like risky and largely unfunded liabilities, perhaps the real plan is to upsell a smaller, better, cheaper replacement after a decade or two? Yes, there's the occasional Midas muffler or Craftsman tool customer who expects their long-lived warranties to allow for free repairs and replacements for decades to come. But with fast-changing technologies, perhaps that desire to fix wanes quickly on its own? Perhaps after 10 or 20 years it would be better to pay for an upgrade?
We want to spotlight one more North American-based solar company before taking a look at some of the top Chinese manufacturers. However, we have no fresh 2011 data from either Canadian Solar Inc. or Evergreen Solar Inc., and Entech Solar Inc. seems to have ceased making accruals last year. So we're going to go ever further down the list, and spotlight a small player called Westinghouse Solar Inc., formerly known as Akeena Solar Inc.
Shift in Strategy
Akeena was founded in 2001 but didn't really begin selling solar equipment commercially until five years later. Therefore, the data in Figures 3a and 3b begins in 2006. And then in July 2010 the company changed its name to Westinghouse Solar, followed a few months later by a massive shift in strategy from installations to design and manufacturing only. All remaining installation activity and associated warranty obligations were then moved over to a company called Real Goods Solar Inc.
This shift has left its mark on warranty accounting as well. In Figure 3a, one can see how the company's claims rate has been stuck at 0% for the second half of 2010 and all three quarters of 2011, while accruals proceed at a subdued 0.5% to 0.6% rate.
Figure 3a
Westinghouse Solar Inc.
Warranty Claims & Accrual Rates
(as a % of product sales, 2006-2011)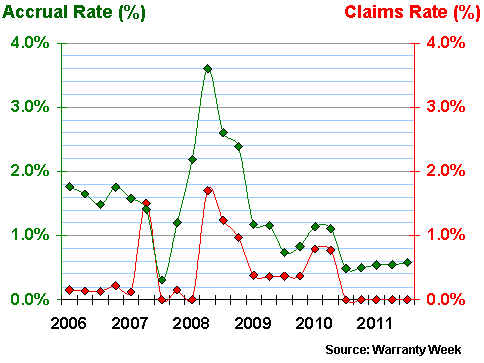 It's even more noticeable in the company's warranty reserve fund, depicted in Figure 3b. When the company exited the installation business last year, the vast majority of its $1.24 in warranty reserves were reclassified as the liabilities of discontinued operations. So there's a sudden drop in the balance from $1.24 million to only $33,236.
Meanwhile, since claims haven't arisen during the past five quarters, the ratio between reserves and claims, which had been slightly above or slightly below 10 years, became infinite. As mentioned, we've set these instances to equal a thousand years, which in warranty terms is more or less the same thing as infinite.
Figure 3b
Westinghouse Solar Inc.
Warranty Reserve Fund Capacity
2006 to 2011
(Amounts in US $ Millions & Years)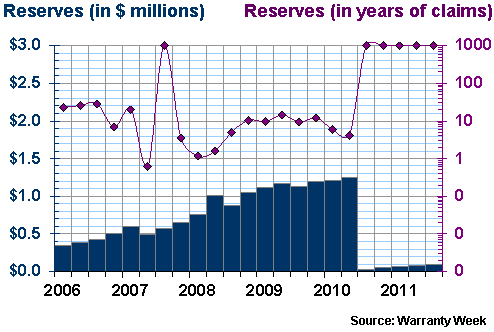 Some customers will no doubt take comfort in the knowledge that Westinghouse Solar has an infinite ability to pay claims, despite its small amount of reserves and low level of accruals. Others will rest easy upon hearing the Westinghouse name, and recalling how it harkens back to the advent of electricity in the late 1800s alongside those of Tesla and Edison. But who are these Real Goods Solar people and how do I know they'll honor my performance warranties in 2025?
We'd love to show you how much Real Goods Solar accrues for its warranties, but the company doesn't have much to say about the topic. "Historically, our costs associated with warranty claims have been minimal," it states in its annual report. The company adds that it has a warranty reserve, but it doesn't say how much is in the fund. But under "Risk Factors," it predicts, "We may be subject to unexpected warranty expenses or service claims that could reduce our profits," and that "claims in excess of our reserve could adversely affect our operating results."
Chinese Manufacturers
Now, let's shift our view to China, where the world's largest solar equipment manufacturer is based. Suntech Power Holdings is based on China's east coast, in the Wuxi New District industrial zone that also houses the facilities of Sony, Panasonic, and Seagate, among others. Yet its stock trades on the New York Stock Exchange under the STP symbol.
Suntech publishes its warranty expenses only once a year, for a fiscal year ending Dec. 31. So we don't yet have any fresh 2011 data, and in Figure 4a below, each group of four quarters has identical pairs of claims and accrual rates. Notice in particular how accruals seem to revolve around 1.0% while claims rates have been at 0.2% or below for the past few years.
Figure 4a
Suntech Power Holdings Co. Ltd.
Warranty Claims & Accrual Rates
(as a % of product sales, 2004-2010)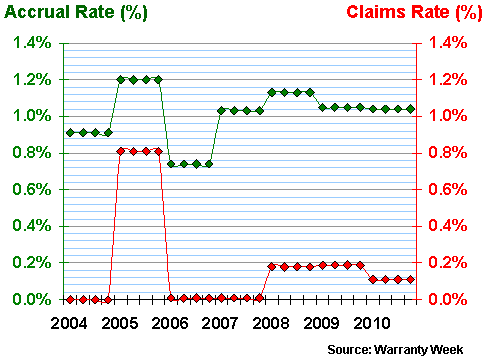 Now take a look at the growing warranty reserve balance in Figure 4b, along with the decreasing ratio between reserves and claims. We should note that although the company is based in China, its annual report is denominated in U.S. dollars. And at the end of 2010, with a balance of $81 million in its warranty reserve and claims payments of $3 million last year, the ratio between reserves and claims stood at 27 years.
Figure 4b
Suntech Power Holdings Co. Ltd.
Warranty Reserve Fund Capacity
2004 to 2010
(Amounts in US $ Millions & Years)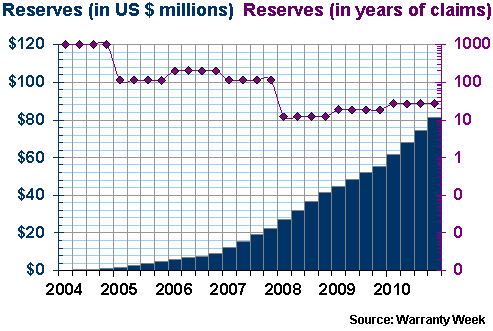 Back in 2008 the ratio between reserves and claims was 12 years. In 2007 it was 112 years. So it's accurate to say that the company's reserves has been both above and below its stated warranty durations (depending upon the country, two- or five-year product warranties and 10- or 25-year performance warranties). Meanwhile, next September, the company turns ten years old.
In its annual report, Suntech admits the inexact nature of its predictions. " Because our products and workmanship have been in use for only a relatively short period, we cannot assure you that our assumptions regarding the durability and reliability of our products or workmanship are reasonable," the company states. "Our warranty provisions may be inadequate, and we may have to incur substantial expenses to repair or replace defective products and provide repairs in the future."
Paying Claims in Yuan
Yingli Green Energy is another China-based solar equipment manufacturer. Like Suntech, its stock trades on the New York Stock Exchange under the YGE symbol. Unlike Suntech, however, its annual report figures are denominated in Chinese yuan.
We're going to skip over Yingli's claims and accruals chart because frankly, it's boringly consistent. Claims were at 0% during 2005-2007, though they jumped to 0.1% to 0.15% over the past three years. All the while, accruals were made either at or slightly below the 1% rate.
In Figure 5b below, the warranty reserve balance is denominated in Chinese yuan (1 USD = 6.4 CNY). So the latest reported balance is about $47.7 million in U.S. dollars. The ratio between reserves and claims, meanwhile, has been around 26 to 28 years since 2009.
Figure 5b
Yingli Green Energy Holding Co. Ltd.
Warranty Reserve Fund Capacity
2005 to 2010
(Amounts in US $ Millions & Years)
Is that enough? Or is it too much? The problem is, you can't tell after paying claims for only three years. The company didn't begin selling solar energy equipment until early 2003, so only a handful of its oldest installations have seen their five-year product warranties expire. And the clock is still ticking on all of its 10- or 25-year performance warranties.
In its latest annual report, in the "Risk Factors" section, Yingli echoes the boilerplate warning language of Suntech: " Because our products have only been in use for a relatively short period of time, our assumptions regarding the durability and reliability of our products may not be accurate, and because our products have relatively long warranty periods, we cannot assure you that the amount of accrued warranty by us for our products will be adequate in light of the actual performance of our products."
But unlike some of the other risks it cited, which ranged from Libya's impact on international economic development to the risk of contamination and environmental damage associated with hazardous substances, there is a very real risk that one percent may not be enough. Or is it too much? We won't know until some of these systems get old and begin to degrade.
Never a Claim Paid?
Finally, for JA Solar Holdings, we're also going to omit the chart for claims and accrual rates and dive right into the reserves chart. First of all, we have only four years of warranty data from the company. And second of all, the company has never reported making a claims payment.
Over that period, JA Solar's accrual rate has ranged from a low of 0.02% in 2009 to a high of 0.2% in 2010. And as can be seen in Figure 5b, its warranty reserve has grown at an accelerating rate to its current 31.3 million yuan balance (roughly US$4.9 million).
Figure 6b
JA Solar Holdings Co. Ltd.
Warranty Reserve Fund Capacity
2007 to 2010
(Amounts in US $ Millions & Years)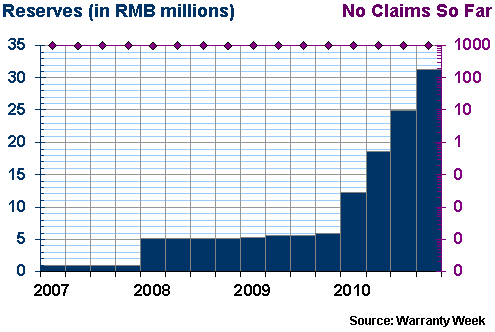 We won't find out until April or May 2012 if JA Solar kept its unblemished streak of $0 claims payments going through 2011. But this in a nutshell is the danger of accounting for warranties with very long durations. For the first four or five years, zero claims might be normal. And the most rational response might be to let a small amount of seemingly unnecessary funds accumulate over time at a low accrual rate.
But then the claims hit. And while most competitors were saving 1.0% for a rainy day, JA Solar saved only 0.2% at most. It could be that 0.2% is right on the money, and 1.0% was far too much. For instance, when the performance of these early-century systems begins to fall below 80%, what if most customers decide to upgrade rather than to repair or replace?
The price of over-accruing is mild. Funds sit unused and unneeded for a few years, then the size of the reserve is radically reduced. Profits rise. Accrual rates are cut. Problem solved.
However, what if Yingli is right and JA Solar is wrong? The price of under-accruing can be severe. As JA Solar concedes in its own annual report, "Our warranty provisions may be inadequate, and we may have to incur substantial expense to repair or replace defective products in the future."