January 12, 2012
Aerospace Warranty Report:
Unlike the auto industry, the suppliers of this industry account for the bulk of its warranty spending. And yet these suppliers have been steadily cutting their warranty costs year after year, while the airframe makers are paying more than ever before.
A commercial airline, eager to keep its flights on time, might replace a component before knowing if it's bad. And that flight will probably depart before the airline knows if its repair is covered by a warranty.
It's quite different from most other industry sectors. Paperwork is paramount. Failure isn't an option. Fleet operators can do their own warranty work and bill the manufacturer for the labor. Or they can tap into a pool of rotable spares, essentially borrowing a refurbished part to get a plane back in the air as quickly as possible.
Even in terms of warranty metrics, the aerospace warranty picture looks remarkably different from the situation in the automotive industry. With land-based vehicles, the OEMs suffer the vast majority of the warranty expense, while their suppliers pay a vastly smaller share of the total dollars. But with the makers of the air and space-based vehicles that we're tracking this week, quite the opposite is true.
Suppliers vs. OEMs
Here in the commercial aerospace industry, the suppliers pay far more than the OEMs. But in recent years, at least, they've paid out a smaller percentage of their revenue to satisfy warranty claims. And in recent months, they've been paying out less than ever before.
As can be seen in Figure 1 below, the aerospace suppliers paid $231 million in claims during the third quarter of 2011, as opposed to only $155 million paid by the OEMs. Right now, that's a 60/40 ratio in favor of the suppliers. In the past, the ratio has been as high as 73/27. But it's never been lower than it is now.
Figure 1
Warranty in the Aerospace Sector
Claims Paid by U.S.-based Companies
(in US$ millions, 2003-2011)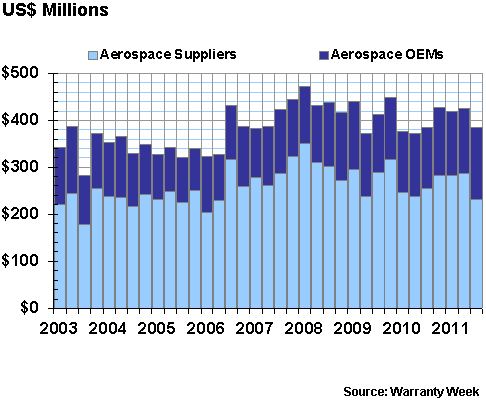 By OEMs, we mean the airframe makers -- the final assemblers of the fuselages, engines, avionics, entertainment systems, interiors, seating and other components secured from suppliers. There aren't all that many on our list: only nine of them, led by such names as Boeing Co., Textron Inc., and General Dynamics Corp.
European, Brazilian and Canadian OEMs generally do not report their warranty expenses, and so they aren't included in this week's totals. That's a big problem, because the U.S.-based manufacturers are only half the industry. But we'd expect Airbus S.A.S., Bombardier Inc., Embraer S.A. and others to have warranty expense ratios similar to the U.S. companies.
Also not included are the many national-defense-oriented aerospace manufacturers. We'd expect Lockheed Martin, Northrop Grumman and other fighter/bomber makers to make high-quality products for their customers, and to promptly repair all defects. But they don't accrue for warranty expense like commercial manufacturers do. Instead, they include repair and maintenance costs as part of the contract, effectively making the customer pay for their own warranties.
Weighted Averages
In addition to the nine OEMs, we're tracking 86 former and current aerospace suppliers. At the top of the list is United Technologies Corp., which could also qualify as an OEM based on its helicopter production. And of course it also ranks as a top HVAC manufacturer based on its Carrier unit.
But wherever we put it, the company is going to swing the averages its way, because of its sheer size. It's one of only eight U.S.-based companies to keep more than $1 billion in its warranty reserve fund, and it's one of only 16 American companies to ever pay more than $100 million in claims in a single quarter.
Had we listed United Technologies as an aerospace OEM, the ratio between OEMs and suppliers would have been closer to 50/50. However, that's still radically different from the automotive industry, where the OEMs regularly pay 80% to 90% of the industry's total claims.
It's no different with accruals. In Figure 2, we can see that in the latest quarter the OEMs made $92 million in accruals, as opposed to $238 million by their suppliers. That's a 72/28 ratio -- about where it's been historically, though it's dipped as low as 63/37 in 2003 and has risen as high as 79/21 in 2009.
Figure 2
Warranty in the Aerospace Sector
Accruals Made by U.S.-based Companies
(in US$ millions, 2003-2011)
Note that accruals for the industry as a whole now stand at their lowest level since early 2005. It's not because of slow sales -- industry revenue is up 7% year over year, with suppliers growing slightly faster than the OEMs. So it must be because manufacturers are expecting lower warranty costs in the future, through either less frequent or less costly repairs.
And indeed, when we measure accruals as a percentage of product revenue totals, we can see that both claims and accrual rates have been generally dropping for the past nine years. In Figure 3, we see rates in 2003 as high as 1.5%. In 2010 and 2011, we've seen rates as low as 0.85%, a mark that was bested only once before, in early 2006.
Figure 3
U.S.-based Aerospace Parts Suppliers
Average Warranty Claims & Accrual Rates
(as a % of product sales, 2003-2011)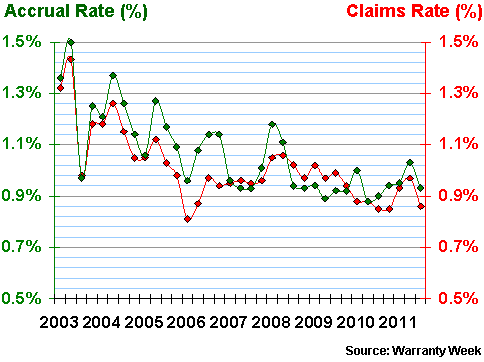 But remember, these are statistics for just the suppliers. In Figure 4, we can see that the situation has not been improving for the OEMs. In fact, it looks like quite the opposite. They're now paying their highest share of revenue in warranty claims since 2004, after seeing claims rates creep up for five or six years. And their accrual rates have been in the same general range for the same stretch of time.
Figure 4
U.S.-based Aerospace OEMs
Average Warranty Claims & Accrual Rates
(as a % of product sales, 2003-2011)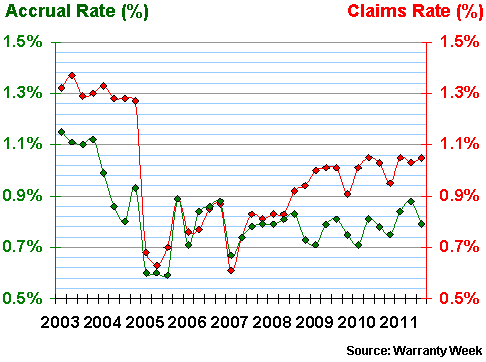 It's hard to pin it on any one company. Of the three OEMs that were part of the top 100 warranty provider list, none saw changes that were large enough to make it into the December 29 newsletter. The largest claims rate increase was turned in by General Dynamics, which saw its claims rate rise from 0.9% to 1.1% over the past year. But at the same time, its accrual rate fell from 1.3% to 1.1%.
Sudden Drop in Claims Rate?
As for the sudden drop in claims from 2004 to 2005, that's easy to pin on one company. Boeing ended 2004 with a 1.2% claims rate and began 2005 with a 0.7% claims rate. Since then, it's never exceeded one percent. However, in recent years it's remained close to 0.8%, without much change.
The big change seems to have been in warranty reserves. As can be seen in Figure 5, the industry has never had a higher combined warranty reserve fund balance than it has during 2011. In fact, the total is now more than $1 billion higher than it was in 2003, crossing the $4.3 billion threshold for the first time in early 2011.
Figure 5
Warranty in the Aerospace Sector
Reserves Held by U.S.-based Companies
(in US$ millions, 2003-2011)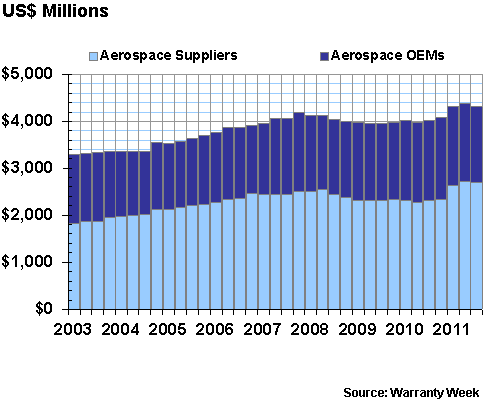 But again, the suppliers and OEMs are going in different directions. The suppliers' balance, at $2.7 billion, has never been higher than it was at the end of September 2011. But the OEMs, at $1.6 billion, most recently had their lowest balance since 2008.
The ratio between supplier and OEM reserves has been on both sides of 60/40. Right now it's at 62/38. In 2010 it was as low as 57/43. But the split hasn't varied as much as either the claims or accrual totals.
Ratio Between Claims & Reserves
Aerospace warranties tend to be long, so it's no surprise to find a high multiple between either claims or accruals and reserves. In Figure 6, we've formally measured the ratio between claims and reserves for both the OEMs and their suppliers.
Let's say a company is paying warranty claims at a rate of $17 million a month, and has a reserve balance of $1 billion. We could then say that the company's reserves have a capacity of 60 months, or five years. In other words, if claims continued to be paid at the rate of $17 million a month, those reserves would last for 60 months.
Now, let's say claims payments drop to $15 million a month. And the reserve balance drops to $900 million. The reserve capacity would still be 60 months. And the manufacturer would be keeping its reserve level at 60 months, or five years, because that's how much it believes is needed to pay future claims.
As Figure 6 shows, however, the industry average has never been quite that high. For the aerospace OEMs, the highest ratio between claims and reserves came in late 2005, when claims were being paid at a rate of $29.5 million a month and reserves were $1.48 billion. At that time, the ratio hit 50 months.
Meanwhile, the lowest ratio was seen in the most recent quarter. Claims had risen significantly in the intervening years, to $52 million a month. But reserves rose more slowly, to $1.62 billion. The result was the lowest ratio between monthly claims and reserves seen since warranty expense reporting began in 2003: only 31 months.
Figure 6
Aerospace OEM vs. Supplier Warranties
Reserves Held by U.S.-based Companies
(in $ millions & months, 2003-2011)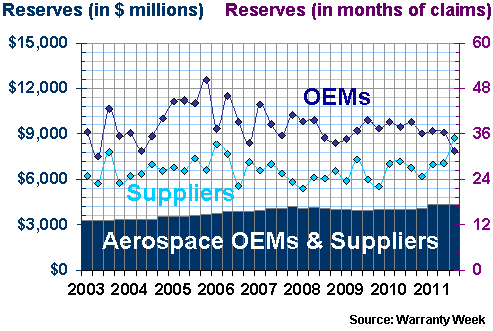 For the aerospace suppliers, meanwhile, the ratio has never been higher. In fact, at 35 months, it's now slightly higher than the OEM's ratio. And that's never happened before. But as the data above shows, it happened only because the OEMs dropped at the same time the suppliers rose.
What's causing this to happen? The suppliers, as we have noted, have allowed their reserves to grow while their claims rate fell. And the OEMs allowed their reserves to fall as their claims rate rose. So once again, they're changing in opposite directions.
Moving the Averages
United Technologies, as the heavyweight in the supplier category, is the company most responsible for moving the average around. In Figure 7, one can see three spikes in the company's claims-to-reserves ratio: in 2003, in 2006, and again in 2011. And in at least the first and last cases, those spikes moved the industry average as seen in Figure 6.
Figure 7
United Technologies Corp.
Warranty Reserves
(in $ millions & months, 2003-2011)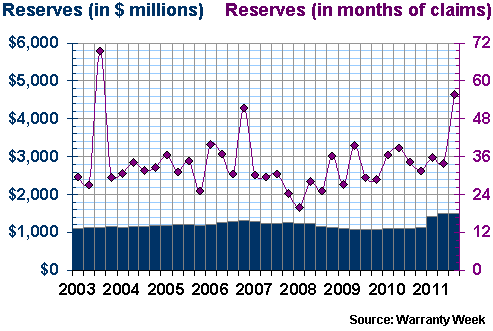 Actually, in both those 2003 and 2011 instances, United Technologies saw claims and accruals drop to an unusually low level. In 2003, it happened temporarily, and rates were back to "normal" the following quarter. In the most recent case, we won't know how temporary the dip is until we get more data in March and May of this year.
But in general, United Technologies has been reducing its warranty expenses from one year to the next. Except for those outliers, the trend for the company's claims and accrual rates has been solidly down, from around 2.4% in 2003 to 1.5% in 2005 and 1.1% in 2010. In fact, as big as we said they are, they were the eighth-largest U.S.-based warranty provider in 2003; the ninth-largest in 2005, and so far in 2011, the tenth-largest. And that's a decline that can be celebrated.
Declining Reserve Balance
Boeing, as we mentioned, has kept its claims rate close to 0.8% for several years. However, as can be seen in Figure 8, it has allowed its reserve balance to drop for at least a year. And that drove down the ratio between claims and reserves to its current level of 41 months.
Figure 8
Boeing Co.
Warranty Reserves
(in $ millions & months, 2003-2011)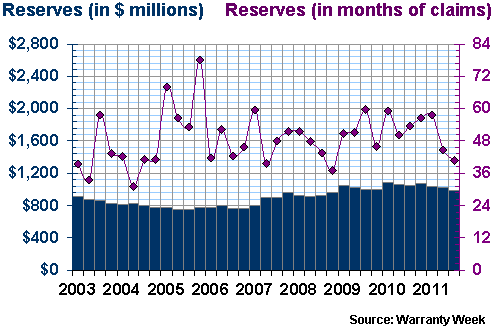 There's nothing to worry about. Boeing still has more than three year's worth of reserves on hand. And with claims rates remaining steady, there's no cause for alarm. But the drop-off seen in the two most recent quarters in Figure 8, we'd suggest, are what's causing the recent drop-off seen in Figure 6.
It's certainly different from what's seen in the automotive industry. There, the OEMs are trying to get their suppliers to pay a larger share of claims. Here, the suppliers already pay a good share.
There, the auto OEMs are cutting their net warranty costs through a combination of better reliability and more cost sharing with suppliers. Here, the OEM's share of claims is rising, and their reserves are falling.