February 2, 2012
Warranty Apps:
Smart phones need warranty coverage. But they also can be used as platforms to better control their own warranty coverage. Some apps focus on the consumer, either before or after the sale. Others aim to assist the repair crew, after a claim has been filed.
We're all programmers now.
If we're not creating our own great big warranty claims management and transaction processing systems, we're using Excel spreadsheets to keep track of claims. Even if we don't know the first thing about HTML or RSS, we're tweaking our Outlook message filters and fixing our FaceBook news feeds to be just right.
First it was our computers. Then our washing machines got operation systems. Now even our operating systems are getting operating systems. Think about it: FaceBook has an operating system that works on the Web, which operates within our browser, which operates on Windows or Apple (or Linux). It's a stack of operating systems.
Along comes the smart phone, which gets its name from the fact that yes, it too has an operating system. And again, the split is coming down to Apple and everyone else (mostly Android). That old joke about the kids not knowing how to dial a rotary phone? Nowadays, there's probably an app for that.
Repairman Apps
Smart phones are coming to warranty, not only as an object to be covered by warranty, but also as a platform to be used to control and manage claim events. And not only consumers will be using mobile apps during the claim process. Manufacturers such as A.O. Smith Corp. are launching iPhone and Android apps as a way to put warranty information in the palm of the hand of the plumbers and contractors who install and repair their products.
In the case of A.O. Smith, their new Warranty Check app does just that: It allows a plumber to type in a water heater's serial number and see if it's still under warranty. It also allows the plumber to check when the warranty expires, and to view product details about a given unit, including its model number and date of manufacture. Therefore, that app can save both time and travel, and in the eyes of a client, make that plumber look like a rocket scientist.
For consumers, apps are coming that will help them both pre-sale and post-sale. Already, many consumers shop online, research comparisons and make decisions before they even leave home for the retailer's shop. With a smart phone or a Wi-Fi-enabled tablet, they can essentially continue the research right at the point of sale.
We can imagine a day when hospitals, theaters and overpriced retailers all forbid mobile phone use on their premises. Imagine what a waste of time it would be if a salesman spends half an hour helping a consumer decide what make and model to purchase, only to watch them shop elsewhere before their eyes when they use their smart phone to hit the "buy" button on some other retailer's website.
Post-Sale Mobile Apps
And then there are the post-sale apps. Not only are smart phone users giving up their landline telephones and answering machines. They're also forgetting about their desktop and laptop computers, in both a literal and figurative sense. They want their smart phone to be their communications terminal from now on.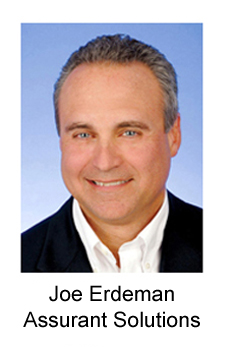 Assurant Solutions is one of the first warranty or extended warranty companies to launch a mobile app aimed at helping the consumers manage claim events.
Joe Erdeman, executive vice president at Assurant Solutions, said the new app is part of a strategy to communicate with customers in the manner they prefer to communicate.
"It follows the path that we've been on to provide more ways for the customer to interact with us, with the various things they have to do, once they buy a service contract," Erdeman said.
"There are customers who still want to contact the call center," he said. "They want to talk to somebody. And then there are the customers who are comfortable sitting down and communicating online with a laptop."
All-Purpose Device
Lately, he said, there's been a growing segment of people who want to be able to do everything they can from their smart phone. They want to both be able to contact the call center and communicate online. They're the early adopters of not only the hardware and software, but also the new formats for service delivery.
"We need to provide the ability for the customer to interact and get business done with us through all those types of channels. And we need to provide excellent service in all of them. If you're going to be in them, you have to be good."
The smart phone application, he said, is available now at no charge from the App Store for the Apple iPhone. It can be found under the heading "MyClaim" or simply under "Assurant". The app will be available within a week from the Android Market for smart phones made by Motorola, Samsung, HTC, Acer, LG Electronics, Sony Ericsson, and others. So far, there are no plans to develop apps for either the Windows Mobile or the BlackBerry environments.
Erdeman said a user of the app can perform routine tasks such as looking at an inventory of the service contracts they've purchased, or adjusting the scheduled time of service appointments. Over time, additional functionality will be added.
Web Services
Assurant Solutions has built a suite of Web Services to support both its web and mobile interfaces. Additional analytic tools have been built into the back end to allow Assurant to monitor and improve the performance over time. Erdeman noted that one of the advantages of being first to market is the ability to get an early understanding of the metrics and the results of improvements.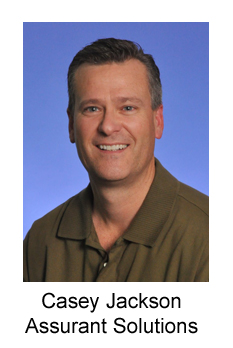 Casey Jackson, Assurant Solutions' senior director of e-business, said it can be used both as a claim tracking tool and as a communications system.
"It will give you make, model, serial number, terms & conditions, end date, and all that contract-specific information," he said. "And if you've filed a claim through either our web tool or the call center, you can track the status of that claim. If it's an in-home claim, you can actually reschedule the appointments in real time."
In future releases, Jackson said, the app will allow customers to use it to file an initial claim, or to make an initial appointment. Right now, both those functions must be done through the call center. Jackson said it will take some additional development in order to automate all the back-and-forth that normally takes place between humans.
However, Erdeman noted that right now, only about half the calls that come into the Assurant call center are to file initial claims. The other half are inquiries about other aspects of their plans. This first version of the app is aimed at that segment.
First to Market
"By getting this version out into the market, we empower a customer to use something besides voice to get in and see the claim that they filed, and see what the status is," Erdeman said. "They can do that on their phone without having to talk to anybody. And that reduces a good segment of the calls that come into the call center.
"It makes it much easier for people who use the app," he added. "You don't have the issue where people might be on hold while we interact with the servicer or with the system to find the time for an appointment that's available. They can see it right on their phone."
The challenge, Erdeman said, will be to get consumers to use the app for the first time. Since it is designed to help consumers manage claim events, it has to wait for a claim in order to become useful. So it will take some time to catch on.
"We almost have to market the concept to the customer to get them to use it the first time," he said. "But that's what drives the adoption of all these web and mobile-type applications that are in the marketplace today."
Jackson said this app is part of an even wider project to enhance the e-portal for both Assurant Solutions and its retail and OEM clients. This initial app is branded by Assurant Solutions. "We also have the ability to 'skin' these things, or brand them for our clients," he said.
Early Client Reaction
Most of the clients have already gotten a look at the prototypes, Jackson added. "Even though we hadn't launched it yet, they just couldn't believe that we already had it working and that it was going to solve some of the problems that they're grappling with in their own mobile strategies," Jackson said.
After an initial period of testing where the only app available is branded for Assurant Solutions' direct sales, skins for additional clients will appear. For instance, there might be one app for Client A and another app for Client B. They'd both include the same functions, but they'd each have a custom skin for that specific retailer. That way, the customer would see just one client's logo on their screen and interact with what they think are that client's systems. But Assurant Solutions would be running the systems from behind the scenes.
However, there will have to be separate apps for each retailer, Jackson added. Otherwise, one retail client could conceivably go in and look at the contracts that other clients have written for a given customer. So having one app per client is a way of balancing the need for convenience against the need for privacy.
Support the Client
Erdeman said it's a bit like walking a tightrope. On the one hand, you want to support the client's brand and delight the client's customers with a high level of service. On the other hand, you want Assurant Solutions to be known as a market leader and as an innovator -- so that both the retailers and their customers understand that one administrator isn't just as good as any other administrator.
Take this as a case in point. Of course, Assurant Solutions is a longtime sponsor of Warranty Week. So that makes anything good we say about them seem tainted. But even before they came on board, they were doing the right thing with service contracts sold by dead retailers such as CompUSA Inc. and Circuit City Stores Inc. They continued honoring claims, until all the contracts had expired.
Compare and contrast that to Saab Automobile AB, or closer to home, to 6th Avenue Electronics Inc. When they went under, they took their contracts with them. And by doing so, they put paid to the idea that one brand is just as good as another, or that one warranty is just as good as another. They're not, and the reason has a lot to do with the multiple meanings of the word honor.
Brand Recognition
In a handful of cases, Jackson said, Assurant uses its own brand name in its direct marketing efforts. But with most of the retail clients, he said all the marketing materials feature the retailer's own brand prominently. Assurant's name is buried somewhere in the terms & conditions of the contract.
"We really want that," Jackson noted, "because we really want those consumers to have that brand recognition to our clients. That's one of the values that we bring: We emulate the customer's experience with that brand and strengthen it."
Other extended warranty administrators take a different approach. They might try to feature their brand prominently in all their marketing materials, even when the service contracts are being sold by an online or in-person retailer.
Erdeman said he sees it as a genuine difference. "They've come to the marketplace with a different angle," he said. "Their concept is to brand the service contract and then to sell their brand." Will that work when a retailer wants it to be their own brand? This could pose a conflict with the interests of the retailer.
But could the branding of extended warranties also work in the opposite direction? For instance, are there shoppers who will buy all their appliances at a given retailer because they know they'll get good service in case they need a repair? It almost doesn't matter what brand of product they're buying. The brand they're loyal to is the retailer's.
Could a good online experience with a web site or a mobile app increase brand loyalty to a given retailer? Erdeman says it's possible. "The customer has an association with that brand, and sees value in that brand, whether it's Staples or Radio Shack or Best Buy or whomever it is," he said.
"We want to provide the consumer multiple channels to interact with us, so that they can interact with us in a way they choose to do so, because we think that is what helps the consumer feel good about a program, and helps support the brands of the clients that we support," Erdeman added. "And if they have a good experience with the service contract, because we're easy to work with, they're more likely to buy another one."
Early Adopter Behavior
The research seems to back this up. In a December 2011 survey conducted by Advantage Research Inc., and sponsored by Assurant Solutions, 502 shoppers were asked their opinions about extended warranties. And as it turns out, early adopters of technology are among the most likely to buy an extended warranty.
About a third of the respondents identified themselves as early adopters. But among that group, 49% said they "always" purchase an extended warranty when one is offered. Only 5% said they "never" purchase extended warranties. The rest answered "sometimes," and said they based their ultimate decision on factors such as what they were buying, its price, and what the service contract cost.
Early Adopters of New Technology
Extended Warranty Purchase Behavior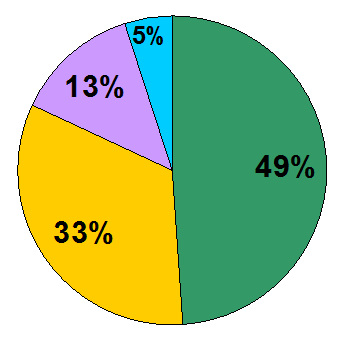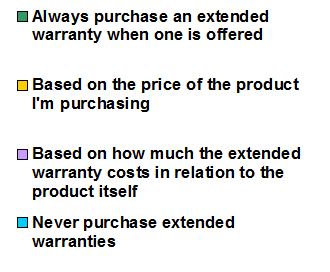 Source: Advantage Research Inc.
Among the entire sample, 26% answered "always" and 13% answered "never." Those in the middle included 37% who said "sometimes" based on the price of the product, and 24% who said "sometimes" based on the price of the extended warranty.
Among the very late adopters, meanwhile, who comprised only 5% of the total sample, there was a noticeable hostility towards the concept of extended warranties. Only 11% answered "always," 47% said "never," and the remaining 42% said "sometimes."
In terms of smart phone apps for extended warranties, therefore, the owners of such units are prime candidates. They're most certainly early adopters. Therefore they're highly likely to buy extended warranties. And they love their apps. So designing a mobile app for their benefit should be a priority.
Pre-Sale Warranty Apps?
The problem is, these early adopters are already using their smart phones and their mobile apps before they even become customers. They're already searching for online reviews, comparing prices, tweeting their opinions, and reading all the fine print long before they queue up to pay for their purchases. What can warranty apps do for them?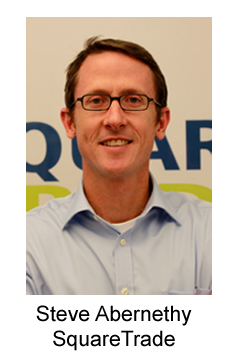 Steve Abernethy, president and CEO of SquareTrade Inc., said that when it comes to extended warranty apps, he divides the world into pre- and post-sale apps.
SquareTrade, he said, will eventually do both, but the priority is on the development of mobile apps that help the customer evaluate and compare before they make a purchase.
"To me, what's more interesting for retailers and consumers is research," he said. "So we're working on how we can help our retail partners present information to consumers at the point of sale. We're working with QR codes and different types of display enhancements, so a consumer can use their smart phone in a Costco or in a Sam's Club. They can scan the brochure or they can scan the item they're looking at, and then get info on the warranty."
This Decade's Salesperson
Abernethy said a mobile app can in some respects take the place of the sales staff who would otherwise be on hand to explain the terms and conditions of an extended warranty.
Or more precisely, the QR codes they scan using the cameras in their smart phones can take them to pre-packaged presentations, while links to Google or Nextag Inc. can take them to more unfiltered sources of reviews, price, and product details. The apps can't convince, but they can help a buyer make an informed decision based upon all the available information.

Users can compare coverage, compare prices, and read reviews by both happy and dissatisfied customers, all while standing in front of the product they're thinking of buying. And if the customer doesn't yet have a smart phone, a sales associate can lend them one, or perhaps let them surf the web on a store-owned tablet. As long as both the retailer and SquareTrade always come out on top in the comparisons, it works to their advantage.
"We like the platform. We think this is a powerful tool for retailers to engage a customer on the value they're giving, particularly with SquareTrade," he said. "The mobile device is a way to empower the consumer, and then make the retailer a better salesperson. I think it will increase sales."