February 23, 2012
Warranty Experts:
Attendees of this year's WCM Conference will have a rare chance to not only learn from the experts, but to engage them in lengthy question and answer sessions about the past, present and future of the warranty industry. And those who haven't learned how to be in two places at once can watch it all later on video.
There is so much going on at this year's eighth annual Warranty Chain Management Conference in Orlando that one person cannot possibly see it all.
Alison Griffiths, the executive director of the WCM Conference, said the need for information is so deep and so wide that she's decided to go with five simultaneous tracks for most of the two days.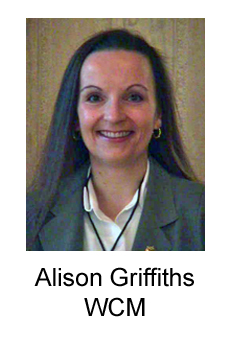 Each track has five sessions, and each session has three, four or five speakers. So that adds up to some 90 speakers over the course of the conference.
It could be overwhelming, but Griffiths argues that it's exactly what past attendees have repeatedly requested: specific and detailed presentations from the experts.
"One of the goals I have is to provide a rich and broad content during the conference that covers the whole extent of the warranty value chain," she said, "enough so that people can go away with the latest best practices, new ideas, talking to their peer group in similar industries, and even dissimilar industries, who are perhaps facing the same challenges.
"So it's such a broad and diverse chain that there's real specialization in that warranty value chain, from OEMs and manufacturers, through to the software organizations, the support services, obviously the expertise around service contracts and extended warranties, and of course the insurance and underwriting industries.
Warranty Video
"Each on its own is almost worthy of a conference in itself," Griffiths added, "because there is so much material to be covered. And I think that's one of the great advantages of the structure of the WCM this year, that people can be very focused on certain areas. And if they have an interest in another area, they also have the option to attend those track sessions, or even to take advantage of Warranty Video afterwards, from the recordings."
Warranty Video subscriptions are normally priced at $895 a year, but WCM attendees can sign up for only $395, if they do so at the same time that they register for the main conference. Corporate discounts that provide unlimited access to the videos for multiple employees are also available.
"I think the Warranty Video is absolutely the way to go, for those people who want a piece of almost everything," Griffiths said, "because you cannot be in two places at once."
Already, Griffiths said, she's noticed that people who registered early for both WCM 2012 attendance and for a Warranty Video subscription are looking though the existing collection from past years, as if they're preparing themselves for this year's event. "It's a 24-hour, seven-day-a-week service, so people can do that at their leisure," she added.
The challenge in 2012, however, will be to try and be in five places at once. After the opening keynote speeches in the morning of the opening day, the conference will divide into five simultaneous tracks. And there will be five time slots, giving attendees a total of 25 different blocks of programming to choose from. So even those who bring a buddy or two and split up cannot hope to see it all.
Multiple Conferences in One
"You could argue that it's almost like three or four conferences in one," Griffiths said, "which for some people is the absolute ideal." In fact, she said people have told her that the broad diversity of the content is what makes it possible for them to get the authorization to attend in the first place. They'd never be able to go to three or four conferences separately. But at WCM, they're all under one roof.
Griffiths said there's one track that includes presentations from a lot of OEMs. "A mixture, but a lot of things around warranty improvement, warranty management, and warranty systems," she said. And then there's another track that's heavy with panel discussions about service contracts and risk management. But in general, the conference is not programmed that way from beginning to end, she said, with five continuous tracks, each designed to appeal to a different group.
So where to go? What to see?
"There's a lot of material," Griffiths said. "I don't think it can be a quick decision. But I do think there are two things that people might want to consider: The topic itself, and also perhaps the company that's presenting."
Griffiths said there is no pre-registration required for any particular track, so people can change their minds at any time. And, of course, they're also free to excuse themselves and change tracks in between speakers. "It really is an open forum for the attendees, so they're quite at liberty to choose whatever presentations and sessions they wish," she said.
Hardest-Working Man in Warranty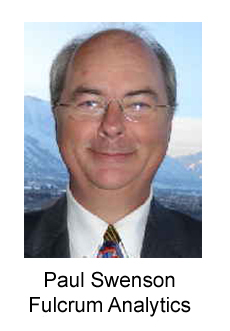 At WCM 2012, the hardest-working man in show business is likely to be Paul Swenson, president of warranty solutions at Fulcrum Analytics Inc., who delivers a pre-conference workshop on Tuesday afternoon, chairs an extended warranty panel discussion after lunch on Wednesday, follows that with a multi-part presentation later in the afternoon, and ends his day by hosting an evening cocktail reception. Then on Thursday, he chairs another panel discussion about the future of the service contract industry.
Swenson's first panel discussion is entitled, "The Role Risk Management Plays in Today's Market." It's scheduled for Wednesday, March 7, from 1:30 to 3:15pm, and includes four panelists: Michael Yates, the vice president of risk management and underwriting at Assurant Solutions; Christopher Ward, the assistant vice president at CNA Warranty; Joseph Kirsits, the vice president of GPW Actuarial Services Inc.; and Michael Paczolt, a consulting actuary at Milliman Inc.
Swenson said he's already communicated with each of the panel members, and they've discussed not only what they each want to say in their introductions, but also what questions the audience is likely to ask. He said he hopes this panel serves the needs of both beginner and advanced attendees. For the newcomer to service contracts, he said he hopes it will help them map out the choice between a company carrying the risk itself, or using an insurance carrier. For the advanced attendee, there are several hybrids and alternatives between those extreme points that also might come up in the discussion.
The hope, he said, is that an attendee can go back to his or her company and answer questions about the structure of the warranty and service contract industry, and the choices available at each level.
Finding True Value
Later that afternoon, Swenson will join with two of his colleagues from Fulcrum Analytics to present a three-part session entitled, "Finding the True Value of Extended Service Programs," scheduled for Wednesday from 3:45 to 5:30pm.
Swenson will deliver part one, with a theme of "Modernization." Then Scott Morrison, Fulcrum's executive vice president, will deliver part two of the presentation, on "Continuity." And then Swenson and Fulcrum vice president Scott McEwen will team up for part three, on "Valuable Data, Loss Cost and Causal Part Analyses."
"The idea here is to talk about extended service programs, the valuable data sets that are available, analytics, risk management, and risk structure, and then to put it all together in a way that builds on each of the presentations," Swenson said.
One of the items up for discussion, he said, will be some of the background behind an award Fulcrum recently won for its work with Whirlpool's service contract program. At first, Fulcrum simply helped the company optimize its pricing and profitability -- a service that it provides to numerous retailers and OEMs. But then, Fulcrum and Whirlpool went a few steps further, testing some additional offers of accessories and consumables to existing service contract holders.
They went on to work on a new web commerce platform at whirlpoolstores.com, along with email solicitations that were personalized for each customer, so that it was obvious from the outset that Whirlpool knew who the customer was and what products they owned. Fulcrum put together the analytics that defined the frequency and the content of the offers. Whirlpool worked on the wording.
Eventually, sales of those accessories and consumables grew to the point where that new program was more profitable than the service contract programs which facilitated its launch. And in December, they won the NCDM Database Excellence award, in the technology category.
The point Swenson said he wants to drive home is that it's not just about service contracts any more. "This really is a marketing and a customer strategy," he said. "Service contracts are an integral part of that. [The strategy is] to stay connected with that customer with strategic and timely value-add offers that generate more revenue and profit for the retailer or OEM. But they're things the customer wants.
"Customers are smart," he added. "They're only going to buy what makes sense for them. And so if you go out to them with the right timing, the right messaging, and the right frequency, for service contracts, accessories, and service, then you stay connected with them. And the chances of them jumping to another retailer or OEM are significantly reduced, because they're seeing a value-add in the relationship with you. It's a very different view than the old traditional service contract program."
Predicting the Future
Swenson's final assignment is another panel discussion on "The Future of the Service Contract Industry," scheduled for 1:15 to 3:00pm on Thursday, March 8. For this gig, Swenson will serve as moderator for a distinguished panel that includes Stephen McDaniel, the assistant executive director of the Service Contract Industry Council and an attorney with Blank & Meenan PA; Mike Frosch, the president and chief operating officer of The Warranty Group; Larry King, the general manager of the extended service business at Ford Motor Co.; Patrick Kelley, the senior legal counsel at Best Buy Co. Inc.; and Aleem Lakhani, the executive vice president at AmTrust Financial Services Inc.
This is a group of experts that literally spans the industry -- not only the retail and consumer electronics side of the business but also the automotive side. They know not only the sales and claims administration sides of the business, but also the insurance and regulatory aspects. And boy are they going to have a busy week!
Right after this panel discussion concludes, McDaniel will have to get ready for another session, where he will provide a detailed state-by-state update on recent changes in extended warranty regulations. Kelley has an entire presentation just on regulatory compliance, scheduled for Wednesday afternoon. Frosch and Lakhani will stick around to take part in the conference-closing "experts look ahead" panel on Thursday at 3:30pm.
Swenson, we should note, also has a long history in the service contract business. If memory serves, he's one of the few people who have attended all seven WCM Conferences. When he spoke at that first event in 2005, he was with Aon Warranty, which later became The Warranty Group. Before that, he was with Circuit City Stores Inc., where he ran the electronics retailer's extended warranty program.
Not Just Break/Fix Anymore
Swenson said that when he first got into the business, it was all about fixing items that broke. "And then it's progressed from break/fix, where a customer had to wait for something bad to happen to get value from their service contract, to something that's very different from that," he said.
One of the big recent changes has been the addition of coverage for accidental damage from handling, or ADH, which is very different from break/fix. Warranty has always been about defects. Insurance has always been about damage. ADH is right on the dotted line between them.
"The addition of ADH, I think, has been a boon for the industry," Swenson said, "and for many of the OEMs and retailers who market service contracts. But it's also been a boon for the end consumer, because now the consumer's covered no matter what happens. So they see more value in it. And the attachment goes up on those."
Other additions are coming, he suggested, such as discounts on accessories, or discounts on service. And there will be other ways to remain connected to that customer, inspiring brand loyalty and raising customer satisfaction levels. And that, in turn, drives additional product purchases.
"It's not just about service contracts anymore," Swenson said. "It's about staying connected to the consumer."
The panelists for this session are about as good as they get, especially when it comes to mapping out the industry's evolution. But then again, that's one of the biggest advantages of the WCM Conference, Swenson said. There are other industry events that everybody goes to, such as the Consumer Electronics Association's annual International CES show in Las Vegas. But those are mostly social events. This is business.
"When you take a look at the industry, it's very seldom when you can get all these resources together. And I don't mean just the panel members. I mean all the attendees as well. Between all the presenters, panel members, and the attendees, there is a wealth of knowledge there that doesn't come together anywhere else on the planet," he said.
The Second Hardest-Working Man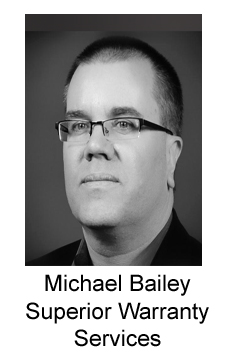 And then the second-hardest-working man in the warranty business next month will be Michael Bailey, the president of Superior Warranty Services Inc., who first delivers a presentation about extended warranty sales training in the session right after lunch on Wednesday afternoon, followed later that same day by an appearance on a panel discussion about international extended warranty markets. Then on Thursday morning, he chairs a panel discussion that compares online retailers to those using physical storefronts, and how each are selling extended warranties.
Bailey's first assignment on Wednesday is the 1:30-to-3:15pm session on "Extended Service & Buy Back Programs in the Retail Industry." Patrick Kelley, the senior legal counsel at Best Buy, leads the session off with a presentation entitled, "Regulatory Compliance of Service Contract & Buy Back Programs."
The second speaking slot goes to John Watson, the vice president of sales at Global Warranty Group LLC, who will speak about "Developing and Implementing an Effective Retail Extended Warranty Program." Then it's Bailey's turn to deliver a presentation titled, "Extended Service Contract Sales Training."
"Each of us is talking about different elements in extended warranties," Bailey said. Watson will talk about designing and building an extended service program. Kelley will talk about keeping it legal. And Bailey will talk about training the actual sellers, using multiple examples from his experiences in the automotive, appliance, and consumer electronics industries.
"I've been training since 1988 on extended service contracts," Bailey said. "I did that for the first 10 years of my career for third-party administrators and insurance companies, and since 1997 I've been doing it on a contract basis. And one of the things I've noticed is that there's less and less training going on."
That goes not only for training by the TPAs and underwriters of the retail staff, but also by the product manufacturers, he said. "You used to have a lot more [manufacturer's] reps on the road, and there was a lot more in-depth training for the people on the floor," he said. "It was more than just product knowledge and feature dumping. It was really an examination of our product versus a competitor's products, or specific problems in regions.
"A lot of that nuance has unfortunately gone away," Bailey added. "And while we're pretty quick to say salespeople aren't what they used to be, they don't get the support they used to get either."
Online training and webinar tools can help fill the void, Bailey said, but the best options for training salespeople to sell service contracts in person will always be person-to-person. Still, he said some of the latest tools are getting pretty good, broken into modules with little tests at the end and with reporting features that help a supervisor see who's completed what.
Bailey said he will include suggestions for both helping the underperformers get up to speed and helping the top performers to keep abreast of the new products and programs. And, for those who use resellers, he will include suggestions for how to train salespeople that are technically not working for your company.
International Service Contracts
Bailey's second assignment is to represent Canada on an internationally-focused panel discussion entitled, "Challenges Facing Global Extended Warranty Providers." That event, scheduled as one of five sessions closing out the Wednesday agenda from 3:45 to 5:30pm, will be moderated by Tom Marsh, the head of global warranty at Chartis Insurance.
Todd Nickell of Best Buy Canada Ltd. will talk about China. Marsh will detail market conditions in a dozen other markets in Asia and the Pacific Rim. David Azzarito, the assistant vice president of Chartis' Latin America Division, will represent our neighbors to the south. And Toby Carnduff, the managing director of Willis Group Holdings Ltd., will talk about the UK, the rest of Europe, and also the Middle East and Africa.
Bailey said one of his main topics will be Québec's Bill 60, an amendment to the province's Consumer Protection Act that set out new regulations for the sale of extended warranties, prepaid gift cards, and mobile phone contracts. That could easily swallow up most of the allotted time, given all the controversy the amendments created. "But we're doing just a few minutes each, and then opening it up to general conversation," he said.
The law, Bailey said, requires retailers in the province to detail a product's manufacturer's warranty and any relevant implied warranties before they can even attempt to sell an extended warranty. The new law was designed to reduce extended warranty sales by making it mandatory to inform consumers of the free alternatives bundled into their purchase.
But ironically, it's had the opposite effect, because now 100% of consumers are theoretically getting the sales pitch, and so the attach rate has gone up at a few retailers. "The ones that have trained it out properly," he noted, "the ones who have scripted their salespeople, and the ones who have said 'We aren't going to be in violation of this law. We want every customer to make an informed decision. We want every customer to receive the information.'"
Bailey said this panel discussion is aimed at anybody who might be thinking about selling extended warranties outside of the 50 states. But it might also help people whose businesses are wholly domestic, because when the panel members point out the subtle differences in the law between provinces or among countries, it might also help people in the audience scope out the difficulty of remaining in compliance with just the 50 sets of U.S. laws.
Online vs. Storefront
Bailey's third assignment is to moderate a panel on Thursday morning entitled, "Selling Extended Warranties & Service Contracts: Bricks & Mortar vs. Online." Panelists include James Mostofi, president of Chartis Warranty; Katrina Means, the director of service contracts at Sears Holdings Corp.; Dave Crawford, president and chief operating officer of American Home Shield; and Ed Stockwell, the manager of the customer care center at Crutchfield Corp.
Again, he said the introductory comments will be brief, leaving plenty of time for discussion. But if we could add a bit of background, this panel is absolutely loaded with potential.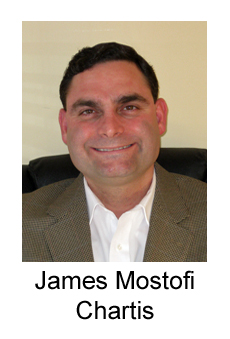 First, Chartis is on the rebound financially, and has recently announced the acquisition of administrator Service Net Warranty, which puts it squarely into the online business in support of retailers such as Amazon.com, CDW Corp., Newegg.com and many others. Chartis has for a long time supported top brick and mortar retailers such as Best Buy. And Service Net supports some well-known retailers as well.
Second of all, Sears virtually invented the mail order business and Crutchfield virtually perfected it decades ago, and both have very successfully adapted to the new world of web commerce, as has Best Buy. So in some respects they're already competing with themselves: online, by phone, in person, and through the mail.
Increased Competition
And third, American Home Shield is coming to get them, by going after the new appliance service contract business after dominating the home warranty business for so long. Home warranties are traditionally attached to the sale of existing homes, covering the existing heating/cooling systems and the used appliances for renewable one-year terms.
Last week, American Home Shield announced its intent to offer preventative maintenance plans on HVAC systems. And it's expected to broaden that effort even further, going after the component-by-component extended warranty business dominated by new appliance retailers such as Sears, Best Buy, Home Depot, and Lowe's Companies Inc.
Everyone is competing with everyone else. Even SquareTrade Inc., which started out as an independent online administrator of service plans sold at a discount, is now supporting physical retailers such as Costco Wholesale and Sam's Club, as well as online retailers such as Crutchfield. Service Net, meanwhile, is competing online at Amazon.com with SquareTrade for the Kindle business, model by model and country by country.
A few weeks ago, SquareTrade president and CEO Steven Abernethy told Warranty Week that he can see a day when customers use their tablets or smart phones to swipe QR codes in-store so they can comparison shop online. Imagine the shock on a salesperson's face when they've answered all the customers questions and given the best deal they can afford, only to lose the sale to a retailer who exists only on the web.
In other words, there are a hundred directions this panel could go in, depending on who's there and what comments they make. "I really want this to be an audience-driven thing, because depending on how that room is, it could be very dynamic or it could be very scared and quiet," Bailey said. "I have no idea which we're going to get."
Smart Phones for Warranty Data
And then there will be discussions about the use of tablets and smart phones as input terminals for warranty data. On Thursday afternoon from 1:15 to 3pm, Devendra Malekar, a business architect at Tavant Technologies, and Rohit Lohan, a solution architect in service operations at Tavant, will together deliver a presentation entitled "Warranty & Service Contracts: Key Enablers for Field Service Automation."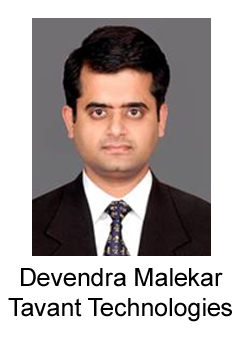 It's a cautionary tale of sorts, Malekar said, designed to alert the developers of field service automation software to the important roles of warranty and service contracts, and to advise them not to overlook the valuable function of the documents and data created during the warranty workflow.
Malekar said one of the key aspects of this presentation is to show how and why a technician should be able to initiate a warranty claim from the field, using a mobile application. Another is the value of preventing data loss or misinterpretation by moving the workflow creation from paper to mobile devices.
"When you have a mobile solution in the field, integrated or connected with a warranty management system, the mobility solution can validate the warranty policies, because the service work orders that the technicians process in the field have almost all the data that goes into a warranty claim," he said. "So it makes a lot of sense to automate that process, so that the technician is able to submit the claim directly from the field. That reduced a lot of cycle time from the repair."
Speed & Accuracy
Malekar said he will also cover the benefits of replacing paper with automation, in terms of speeding the creation of work orders and invoices, as well as the improved detail and accuracy of the details held within the warranty claims. Engineers and others who need to know those details can use a text mining system to recover them, but it's inevitable that some are lost in the translation.
"It's sometimes very difficult to interpret or understand what a technician actually did in the field," Malekar said. "And there could be a loss of communication, in terms of technical diagnosis or troubleshooting, the root causes -- all these things could be entered in different ways."
It would be better, he said, if the technician entered these observations and conclusions into the electronic system themselves, in the field, at the time of repair, rather than relying on others to process the paper records later on in the back office. It saves time and increases data accuracy. Add a portable printer to the field system, and the invoices or customer acknowledgements can be printed out and given to the client by the same technician, reducing cycle time even further.
Malekar said such a portable system can also clarify for the customer what portion of a given repair is covered by a product warranty, what portion is covered by a service contract, and what remaining portion, if any, would be customer-paid. And by delivering that breakdown in writing to the customer during the service call, misunderstandings can be avoided.
"All these calculations are automated by the mobile solution," he said. That improves the efficiency of the technician, and hopefully also raises the satisfaction of the customer -- turning a product failure into a sort of technological magic trick before their eyes.
Lohan said he will talk about some of the design choices that will need to be made, such as smart phone or tablet, Apple or Android. "What different constraints should be looked at?" he asked. "Should you go with a custom solution that fully integrates all your different business systems? Or should you go with a basic application to start with and then slowly build on as you go along? Should you go with a specific device, or should you go for a mobile web application that's platform-independent?"
Windmills to Washing Machines
Besides the software developers, the target audience for this presentation includes the warranty managers, service department heads, and of course the IT staff of the manufacturers themselves, who would ultimately purchase the software. That would include any companies with a field service staff, in industries such as appliances, HVAC, heavy equipment, construction equipment, power generation systems, or health care and medical equipment, Lohan said.
This field service/mobile automation theme extends throughout that Thursday afternoon time slot. Others delivering complementary presentations during that session include Satish Patel, the head of warranty business solutions at Tata Consultancy Services Ltd., whose talk is entitled "Design for Standard Repair Times to Reduce Warranty and Service Costs," and both Tom Sears and Ashok Kartham of Parametric Technology Corp. (which acquired 4CS last year), whose talk is entitled "Break Down the Wall. Close the Loop Between Service and Engineering."