March 8, 2012
Extended Warranty Survey:
At long last, warranty researchers are publishing the results of surveys and vendor assessments, as the industry matures and the appetite for analysis and expertise grows. One study was released and another was previewed at this week's WCM Conference.
The biggest and arguably the best Warranty Chain Management Conference ended this afternoon in Orlando.
The event, the eight annual gathering of professionals from the product warranty and service contract industries, came within three seats of reaching capacity, drawing a record 347 attendees, and surpassing attendance levels seen in 2011 and 2008, according to WCM executive director Alison Griffiths.
This was the third time the WCM has been held in Florida and the second time it took up residence in the Florida Hotel and Conference Center in Orlando. Griffiths said the ninth annual conference has already been scheduled for March 12 to 14, 2013, returning to the Hyatt Regency Mission Bay Spa and Marina in San Diego for the third time.
Incredibly, nearly 200 of the attendees this year said they were attending a WCM conference for the first time. Joining the returning crew of U.S.-based product warranty and extended warranty experts were a significant contingent of European and Canadian warranty professionals as well as more retailers, insurance underwriters, and others from previously under-represented sectors of the warranty chain.
Industry Maturity
Thursday morning, IDC Manufacturing Insights program manager Sheila Brennan led a panel discussion on the Warranty Management Capabilities Maturity Model, at which representatives from three of the manufacturers who have gone through the model's self-assessment process detailed some of their results.
In one sense, the existence of the maturity model is itself an indicator of the increasing maturity of the industry. For the most part, the three trailblazing companies found that they did extremely well at meeting the basic and intermediate levels of the model, but still had some work to do to implement advanced capabilities such as warranty analytics.
To help them and other manufacturers get to that level, Brennan said IDC Manufacturing Insights is about to publish a detailed study of at least nine vendors of analytic tools and services, entitled "Warranty Analytics Vendor Assessment." She showed a summary chart during her presentation this morning on which the names of the vendors were not visible, but their relative scores and market shares were. Full details of the results are expected to become available next month.
On the service contract side of the conference, panel discussions took attendees on a round-the-world tour of market conditions and regulatory environments on six continents, compared service contract sales by physical and online retailers, and looked ahead into the future of the service contract industry.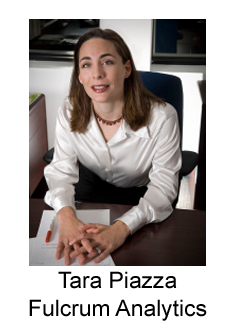 During a panel discussion on service contract market trends, Tara Piazza, Fulcrum's senior vice president of customer research, detailed the results of s survey that probed consumer buying habits and attitudes.
In order to determine the impact of extended service contracts on product purchasing decisions, Fulcrum Analytics surveyed 846 consumers by email last month, who recently had purchased a new printer, copier, digital camera, passenger car, motorcycle, ATV, watercraft, snowmobile, chain saw, snow blower/thrower, lawn mower, or leaf blower.
The reason, Piazza said, was to ask the question whether the availability and the structure of an ESC program affected the underlying product purchasing decision.
The answer, she said, is that it does, to some extent. It's not the top consideration of all, but it is a consideration that both manufacturers and retailers need to examine.
"There's definitely a consumer opinion to take into consideration when designing programs," Piazza said. "And when worrying about your programs, knowing what the consumer's mindset is and knowing what the consumer's changing behavior is, also is an important consideration."
The survey found that the mere availability of an extended service contract influenced the product purchase to some degree. Consumers were asked how important it was to them to know they could buy an extended service contract. Between 39% and 70% ranked this as "important" or "extremely important" (it was highest for power sports equipment; lowest for digital cameras).
Rising Importance
In addition, the percentage ranking the availability of ESCs highly has increased in the past year for all products. For cars, it climbed from 52% in 2011 to 61% in 2012. For printers and copiers, it climbed from 42% in 2011 to 54% in 2012.
"It's potentially a deciding factor," Piazza said. "The availability of the service contract is towards the bottom of the list." It's a secondary factor that only comes into play after price, features, perceived quality, style and appearance have been evaluated. But still, it's on the list.
Some of the other items that were on the list of secondary factors included online reviews, resale value, the availability of financing, the financial stability of the brand, and the retailer's reputation in terms of customer service level. "So it's definitely not a main decision criteria," she said. "But to the extent that there isn't a strong winner in the top decision criteria, they'll fall back into this secondary set of criteria. And the availability of the extended service contract is one of them."
One of the big fears for manufacturers not already offering ESCs is that their mere availability could somehow imply to the buyer that a product's quality isn't all that high. In other words, you only need to offer repair plans if you expect a lot of failures.
However, Piazza said the survey found only a minor impact on quality perceptions. Consumers were asked, "Does the offer of an extended service contract by the manufacturer cause you to have concerns about that brand's quality?"
Depending on the product category, the answers came back as 55% to 69% who said it would have "no impact," and 27% to 42% who said such an offer would produce only "small doubts but would not impact my purchase decision." Overall, depending upon the product category, only 2% to 4% said it would have a major impact.
Peace-of-Mind Purchase
The impact could be minimized even further, she said, if the ESC is positioned as a peace-of-mind purchase. "It's not about introducing doubt," she said. "It's about introducing comfort."
Among those who said they were interested in purchasing an ESC, the vast majority said they would like to do so at the time and place of the product purchase. In fact, as can be seen in the chart below, over 50% gave this answer in each of the four product categories.
Figure 1
When ESCs Were or Will be Considered for Purchase
Among Those Interested in an ESC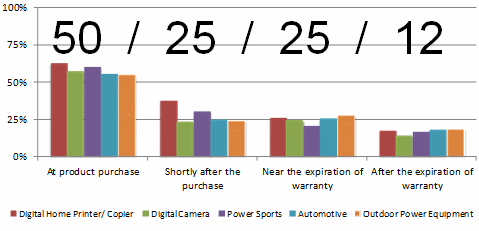 Source: Fulcrum Analytics
Roughly a quarter of the respondents said they would prefer to consider buying an ESC shortly after their product purchase. The rest said they would consider an ESC around the time that their product warranty expires.
Piazza said the point-of-sale probably won out because the respondents had either recently bought or were about to buy a product. So the point-of-sale was fresh in their minds.
"If I talked to these same people two years from now when their manufacturers' warranties are expiring, maybe their interest in the aftermarket warranties would be greater," she said.
Fulcrum, Piazza noted, offers branded service contracts in the aftermarket on behalf of some manufacturers. "And we haven't seen there being any decrease in consumers actually buying them," she added.
Communications Preferences
There is, however, a definite how-to and how-not-to make the ESC pitch. Piazza said less than 30% of consumers said they wanted to get an offer via direct mail or phone. And, in fact, less than 40% of the car buyers wanted email, though this channel was preferred by about half of the other types of shoppers. Most said they wanted to be offered the ESC in-store.
For ongoing communications, such as the delivery of coupons or information on accessories and new models, email is the top choice. Direct mail, Piazza said, is acceptable, but email is preferred. About one-third of consumers welcome both.
Next, the shoppers were asked about their preference for an ESC offered by the manufacturer (and using OEM parts for repairs) versus an ESC offered by a third party (and possibly using aftermarket parts). Preference for the manufacturer was strongest in the categories of power sports and passenger cars, and lowest with cameras and outdoor power equipment.
Figure 2
Preference for OEM vs. Third Party ESC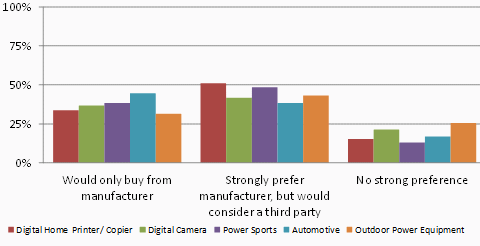 Source: Fulcrum Analytics
The responses varied by product type, as can be seen in Figure 2. However, overall about 37% said they would only buy from the manufacturer; almost 40% said they would strongly prefer the manufacturer, but would consider a third party; 11% said they would slightly prefer manufacturer; 1.6% would prefer a third party ESC; and 11% said it doesn't matter to them who offers the ESC.
"Definitely, they prefer the manufacturer," Piazza said. She said the survey didn't ask why. But she suspects it may have a lot to do with the way the question was worded. It may have raised fears about the compatibility of aftermarket parts.
However, a second question asked consumers about their preference of administrators. There was a slight shift in favor of third parties, and towards those with no preference between the manufacturers and third parties, except in the case of cameras.
Piazza said the takeaway is that consumers trust the manufacturer's brand, but are somewhat open to third parties, especially if they're working behind the scenes, such as would be the case if the manufacturer is partners with a third party. "I think the magic combination is, branded by the manufacturer, whether or not the manufacturer is actually doing it," she said.
Willingness to Pay
Piazza said the survey also asked a question about the price consumers were willing to pay for a three-year extended service plan. But rather than presenting the range of responses, she decided to present just the mean price consumers said they were willing to pay for three different levels of coverage: major repairs only, all repairs, and all repairs and accidental damage from handling.
Of course, there are no ESCs for passenger cars or power sports vehicles that cover accidents, but many policies now offer ADH for printers, copiers, cameras, and outdoor power equipment. So she presented a total of 13 figures for the mean price willing to pay across five product categories, as can be seen in Figure 3.
Figure 3
Mean Price Willing to Pay for an ESC
Source: Fulcrum Analytics
Piazza cautioned, however, that this survey was by no means a stringent price test, where responses to different offers are measured. Instead, it's more like an opening bid in a price negotiation. Still, it's important to see where they start. And it's important to see how their responses rise from major repairs only to all repairs to all repairs plus ADH.
Piazza also took the same data and used it to derive a mean percentage of the underlying product's price that consumers said they were willing to pay. For cameras, the mean percentages were 15% for major repairs only; 22% for all repairs, and 27% for all repairs plus ADH. For printers and copiers, the mean was 20% for major repairs only; 28% for all repairs; and 32% for repairs plus ADH.
For cars, the percentages were 3% for major repairs only and 5% for all repairs. For power sports vehicles, the corresponding percentages were 5% and 11%. And for outdoor power equipment, the percentages were 15%, 22% and 26%, assuming ADH is available.
The survey also asked what features would make an ESC more appealing. And once again, accidental damage from handling was one of the most appealing enhancements. Others that were mentioned included free or discounted accessories, and in the case of the vehicles, free routine maintenance plans.
Repeat Purchases?
Finally, respondents who have purchased any extended service contract or extended warranty in the past were asked if they would buy another. Among all past ESC purchasers, 49% said "Yes," and 48% said "Perhaps, depending on product and pricing." The remaining 3% said "No."
However, among all those who bought ESCs in the past and who used them to file a claim, and who said they had a positive experience with that process, the answers changed significantly. As can be seen in Figure 4, the "Yes" vote jumped to 77%. The "Perhaps" vote dropped to 22%. And the "No" vote dropped to 1%.
Figure 4
Willingness to Buy Another ESC, Among
Those Who Had a Positive Claims Experience
Source: Fulcrum Analytics
In other words, if the program has never been put to the test, the buyer is somewhat ambivalent about its value. But if the program has passed the test in the mind of the buyer, they're highly likely to buy again.
"This is something that's common across all industries, whether it's banking, utilities -- you name it. If a customer never has a problem, they have a different experience than somebody who has a problem and it was quickly resolved," Piazza said.
Overall Message
The overall message of the survey results for manufacturers, Piazza said, is to not fear associating their brand with an ESC program, whether it's theirs or a program administered by a third party to which they've lent their brand name. On balance, consumers like to know an ESC is available, and like it even more if they know the manufacturer is somehow involved.
The overall message for retailers, she said, is the importance of the point of sale as a time and place to buy an ESC. That's the point when the consumer is most likely to buy an ESC. So retailers need to make the offer during every product sale, if they don't already do so.
And the message for consumers is that despite all the negative publicity surrounding the industry and the "don't buy them" advice of the experts, there are people who continue to buy extended warranties. And no, they're not fools or impulse buyers who say yes on the spur of the moment. They ask around, evaluate the alternatives, consider price and coverage, and make an informed decision.
So despite what the experts say, Piazza concluded, "Other people are buying them. And other people are getting value out of them. And it continues to be something that is of use both in terms of peace of mind as well as the actual utility of making claims."