June 7, 2012
Warranty Analytics Study:
IDC has profiled nine of the top providers of warranty analysis software and services, ranking them on both capabilities and marketing strategies. And while SAS gets the highest score, the companies closest behind them are somewhat unexpected.
If one believes there isn't really a market until there's some market research, then the providers of warranty data analysis systems and services had something to cheer when IDC Manufacturing Insights published its Worldwide Warranty Analytics 2012 Vendor Assessment.
IDC, which ironically was formed in the mid-1960s after a computer executive complained about the lack of market research in his industry, plans to follow up this vendor assessment with another focused on warranty claims processing software. And IDC Manufacturing Insights, the part of the company which published this study, has already broadened its focus and renamed some key research service offerings to take it deeper into aftermarket areas such as extended warranty and service contracts.
Tracking Big Data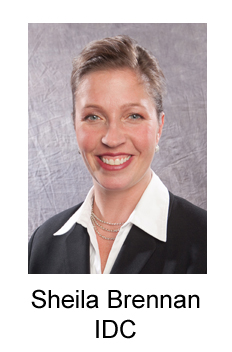 Sheila Brennan, the program manager for Aftermarket and Service Strategies at IDC Manufacturing Insights, said she and her co-author, Joe Barkai, the program director for product lifecycle strategies at IDC Manufacturing Insights, felt the time was right to document the warranty analytics marketplace.
"We were seeing so many providers in the market coming out with warranty analytics solutions," she said. "And there's just so much buzz around 'big data' that it really made sense to go in that direction. Analytics is a hot topic!"
Next on the schedule is an IDC MarketScape on what she's calling warranty transaction management -- the tried and true process of paying claims and estimating accruals. Everybody does that, even if they still use fax machines and spreadsheets to get it done. But there are five or 10 software companies that sell specific packages for that task.
The study is almost complete, and Brennan said she's still hoping to get it published before the end of this month. But why didn't IDC do that one first? Why tackle an advanced topic like warranty analytics before first covering the basics?
Brennan said it has to do with what questions the company's manufacturing clients need answered. Most of them already have transaction processing systems in place -- either through purchased software packages or home-grown from Excel. But they want warranty analytics. And they need some advice from IDC Manufacturing Insights.
Warranty Maturity Model
Over the past two years, IDC Manufacturing Insights and the Institute of Warranty Chain Management have invested quite a lot of time and effort in the launch of a Warranty Management Capability Maturity Model, which we covered in detail in the February 9 newsletter. That effort began with a survey of manufacturers which helped to identify the capabilities, systems, and processes in use by warranty managers.
While processing responses to that survey, Brennan said she noticed that about half of the companies were somewhere in the middle of the spectrum -- past the point of automating their claims processing systems with computer software but not quite up to the point of using analytics software to look for trends in the resulting data. But at the same time, the use of warranty analytics was validated as a marker for an advanced warranty business process.
In other words, some of the most mature warranty managers were using warranty analytics. So of course other companies concluded that the way to become more mature as a warranty provider was to use warranty analytics. And they were asking Brennan who they should call.
"We still do get a lot of inquiries around the transaction management systems," she said. "But really, the majority are around the analytics. And we felt we could best serve the industry by getting the analytics study out there, especially with all the concerns about 'big data' and all the benefits surrounding bringing all that information together through analytics systems."
The Analytics Solar System
There are massive amounts of details in the report about the strategies and capabilities of the nine vendors eventually identified as current suppliers of warranty analytics. But of course it can all be reduced to one essential diagram, which we include here.
On this, the week that featured the last transit of the planet Venus across the face of the sun that we're likely to see in our lifetimes, the diagram looks a bit like a solar system of its own. SAS Institute Inc. is the sun; Teradata Corp. is Neptune; Camstar Systems Inc. is Mars; SAP AG is Jupiter; and Infernotions Technologies Ltd. is Pluto, the tiny and elusive one hiding in the back with Ubiquiti Inc.
Figure 1
Top Warranty Analytics Vendors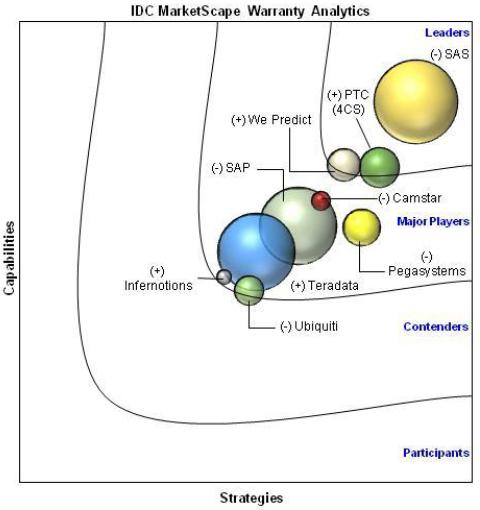 Source: IDC Manufacturing Insights
Brennan said capabilities are increasing upward along the Y axis, and strategies are increasing from left to right along the X axis. Basically, the closer a company's bubble is to the upper-right corner, the higher it scored in IDC's vendor assessments. And that means there are a pair of companies that scored very close to SAS: We Predict Ltd., formerly known as Indico, and Parametric Technology Corp., better known as PTC.
"Under capabilities, there are many sub-categories and criteria that make up that category," Brennan said. "For example, under capabilities we look at not only functionality, integration, scalability -- of course, that's a major factor when you think about analytics -- user value, analysis acceleration, and pre-defined templates, but also at go-to-market capabilities and business capabilities.
"And then on the strategy axis, that indicates how well the vendor's future strategy aligns with what we hear from our customers and the market in general about what they believe they will require in the next three to five years," she added. "So it really focuses on the high-level strategic decisions and underlying assumptions about the offering and the business and the go-to-market plans for the future."
Relative Market Shares
The size of the circles corresponds to the relative size of the vendors. "I don't want to say it's pure market share," she said, because it's not so easy to size this market. For instance, some of these companies sell warranty transaction processing systems that also include some business rules and reporting tools. But it's unclear how heavily those tools are being used, and if they are, how to apportion revenue to the vendor for just those functions.
"So the bubble sizes are just relative to each other," Brennan said. And the plus or minus signs denote whether the vendor is growing faster or slower than the industry as a whole.
SAS, We Predict and PTC are the three vendors that landed in the "Leader" section. Six more scored as "Major Players." Brennan said the difference between them is simply a matter of where she thought the vendors were positioned in terms of capabilities and strategies. In other words, she thought Camstar had more capabilities, but Pegasystems had a better strategy. SAP was slightly ahead of Teradata in both directions.
"The leaders are the ones that, based on all the criteria that we developed, scored the highest in the categories," she said. But there's more to it than just that.
"One of the caveats that we wrap around this chart is that it's very critical that we tell companies not to look at this chart in isolation," Brennan added. "It's very important that they understand the detail behind this, understand each individual company's strategy, the industries they serve, how well the vendor's long-term strategy is aligned with their own strategy and roadmap, and the strategic fit of the system with their company. And that's a critical piece."
Bundling vs. Standalone
We'd never be able to get that level of detail into a weekly newsletter, so let us oversimplify the characteristics of the market leaders as follows: SAS sells analytics software; PTC bundles analytics with claims processing; and We Predict provides analysis services. There's some crossover, in that SAS also sells software as a service, but that's basically the landscape: standalone, bundled, and service.
In this study, SAS ended up as not only the biggest, but also the best, if we interpret their sun-like position in the upper right-hand corner correctly. But of course it's not that simple.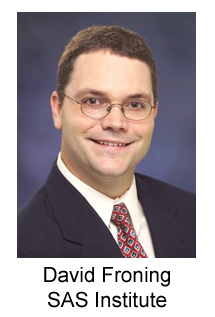 David Froning, the product manager for warranty solutions at SAS, said he completely agrees that his company is the biggest and the best. But he also said he wonders how many of the others are really selling warranty analytics, as opposed to reporting tools and business rules. Still, he said it's good to see their names all in one place, and the beginnings of some serious independent market research to explain what they all have in common and how they contrast.
"Warranty analytics is a space that we've been working in for a long time," he said. "But until now, no analyst had really looked at it closely. And I think that IDC, both with this study as well as with the Warranty Management Capability Maturity Model, really validates what we've been saying for a long time: that analytics are a key differentiator. The transactional systems are important, but everybody has one. It's really the analytics that helps you take advantage of those data."
Early Warning & Fraud Detection
Froning said analytics provide the base from which both early warning and fraud detection efforts can be launched. And that's quite different from report generation, exception alerts, or the use of business rules to set thresholds and limits. Some vendors call that analytics, but he said it's not quite there. Some vendors add those capabilities into their transaction processing systems and say it has analytics, but again he said it's not entirely correct.
In addition, analytics is about all that SAS does. But it does that across a very wide field. Warranty, and indeed manufacturing, is just one of the markets it serves. SAS provides products and solutions optimized for everything from casinos to electrical utilities. But in all the markets it serves, it provides data warehousing and analytics software and services.
The numbers are daunting. SAS has more than 12,000 employees worldwide in more than 400 offices, and has business, government and university customers using its analytical products and services at more than 55,000 sites in more than 134 countries. The company is privately-held, but it reports 2011 revenue of $2.725 billion, up from $2.43 billion in 2010. And of course, it's been a major sponsor of Warranty Week since 2005.
So in a way, it's nice to see a market research company such as IDC validate the SAS Institute's leadership in warranty analytics -- something we've always assumed was the case but could never quantify. We still don't have a warranty analytics marketplace pie chart or an annual revenue total to comment upon, but at least we now have some research to cite.
Changing Owners
But there still aren't that many warranty analytics software packages for sale. PTC, for instance, is the new owner of the 4CS iWarranty product line. And while the company's brochures, strategies and marketing materials continue to undergo changes after the acquisition, here's the sum total of what the company currently has to say about its warranty analytics capabilities:
"Warranty Analysis module enables various stakeholders to translate warranty and quality data into actionable insights by identifying the key factors that give rise to claims. It provides standard operational reports such as warranty accruals, supplier recovery, and service provider performance. The system can also be used to support compliance with government regulatory reporting requirements."
So it's a module within a solution. And while it helps with report generation and regulatory compliance, it works only with iWarranty. If you're using Tavant, Entigo or a homegrown Excel setup, you can't add in just this module.
All in One or Best of Breed?
Froning readily admits that most of the warranty claims processing systems on the market also include some report generation and business rules capabilities. But that's only a fraction of what SAS can do.
"Analytics aren't easy," he noted. "If they were, then every transactional vendor out there would have them. To really get the true value out of analytics, you need a company that specializes in it."
So why not take the opposite approach to bundling, and add some basic transaction processing functionality into SAS Warranty Analysis? Or why not acquire one of the handful of remaining claims processing software vendors and add their code into SWA? For SAS, Froning said, it's a matter of knowing what you're good at doing.
"For us, it's always been a question of where can we bring value?" he said. "Analytics, whether it's fraud detection or early warning or price optimization, is where we see that the value is. So we're happy to let other companies work in the transactional space. But when companies want to use those data to improve the bottom line, that's where we thing analytics come in."
Froning said that even during the recession, companies were still looking at warranty analytics. They just weren't in a mood to close deals as quickly as before. Now, the sales cycles are getting shorter again and business is beginning to pick up again, he said.
The IDC study came out at the end of March. Froning said he's seen a big uptick in activity since then, but it's hard to say if that's because of the study or because of the follow-ups after the end of the Warranty Chain Management Conference in early March. "So it's a little hard to tease those apart."
Increased Interest from Investors?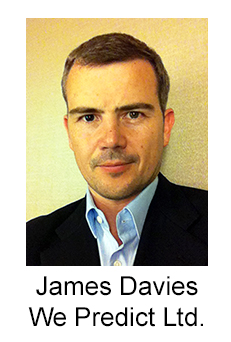 Others have reported a more dramatic effect on their business after the IDC study came out, but not where one would expect. James Davies, the managing director of We Predict, said he's fielded several inquiries in the past few months from people interested in acquiring or investing in the company.
"We got a rush of interest, first and foremost, from big ticket investors," he said. Apparently, private equity and venture capital companies think warranty analytics is a pretty hot area right now. And they've turned the IDC study into a sort of shopping list.
In addition, he said We Predict's partner companies, such as BearingPoint Holding BV, IBM Global Services and Milliman Inc. reported additional inquiries and interest in the analytical services that his company could provide.
But the biggest effect, Davies said, came in terms of a confidence boost within his company -- the idea that a relatively small company like We Predict could compete alongside industry heavyweights such as SAS, PTC, SAP and Teradata.
In addition, the report has also helped to validate the idea of warranty analytics as a market in and of itself, rather than just as an advanced capability that should be built into a basic transaction processing system.
Creating a Community
"I think it's nice to have recognized the fact that this is a subsection or a component of the industry," Davies said. "I think it wasn't that well-defined. Everyone did this 'as well,' rather than as a concentrated deliverable. So I think that it's created a community now that can benchmark their performance against each other, and it's solidified the market for people looking for service providers to come in. They can say, 'OK, these are the people we should be speaking to.'"
Davies said it was gratifying for We Predict to do so well, ending up about even with PTC in terms of capabilities and behind only Pegasystems, PTC and SAS in terms of strategies.
"It's phenomenal that we were able to even compete, let alone come up that good in the report," Davies said. "For our customers to come back and score us in the same way as the really big guys is fantastic. It's good recognition."
Davies said he has to agree with IDC's top criticism of his company: that it relies primarily on word-of-mouth for publicity. "The only real marketing we do is popping along to the Warranty Chain Management Conference once a year," he said. "Our go-to-market is based around partnering and what have you. But it's true, they'll only hear about us if someone tells them about us."
In addition, Davies said, We Predict doesn't really compete all that directly with either PTC or SAS. "We provide analytics as a service," he noted, rather than as a software package. It's We Predict's own in-house experts who will find the patterns and anomalies in the warranty data and make the predictions, hence their company's name.
Davies said the company was formed in 2009 by insurance industry veterans who used to help clients such as Honda of Canada Manufacturing Inc. and Mazda Motors UK Ltd. to manage their product warranty and extended warranty risk. They'd get failure and cost data from the manufacturers, and use it to predict loss ratios and other metrics, ultimately using it to set and adjust underwriting premiums.
Now, they do much the same sort of analysis on behalf of manufacturers directly. However, We Predict also does component-by-component analysis, Davies added, which is a much deeper dive than most of the manufacturers can do themselves.
"What we're trying to do is to take the main expertise in automotive, and apply it to the best statistical methods that are available," Davies said. "And we really want to provide all the answers to our clients," he added, rather than show the clients how to find the answers themselves. "You're not just in the hands of the black belts."
Talent Shortage Predicted
Davies said there's a very basic reason for this approach. There simply aren't enough math experts in the typical client company. But there are a lot of warranty experts. He noted that the McKinsey Global Institute concluded in a recent report on trends in "big data" that by 2018, the U.S. could face a shortage of 140,000 to 190,000 people with the analytical skills needed to know how to use big data effectively. And even if there was enough analytical talent looking for work, there simply aren't enough funds in the warranty department to hire that many full-time math experts, let alone to equip them with the software tools they'd need.
"So it is a completely contrasting business model," Davies said. "The way we see it working in the future is that you're going to have companies like ours with core competencies in statistics and domain-level expertise who are going to be able to deliver into individual verticals, rather than dropping off a box of tricks and saying, 'Best of luck!'"
But even if there is no shortage of expertise, there's still a shortage of capital. Davies said in most cases it's going to be easier to cost-justify hiring outside experts as contractors than it is to license software.
"We don't charge an up-front fee for an installation," he added. "We just charge a service fee. So more often than not, our clients are cash-positive before they even pay us. They'll be grabbing the low-hanging fruit well before they actually end up sending us any money for the first service invoice."
Predicting Contagion
For Mazda, for instance, We Predict performed an analysis of its dealers and the warranty work they were doing. They found that a particular dealer was reporting an unusual number of repairs on a particularly lucrative component, and predicted that this behavior would spread. The job in question, it seems, paid for four hours of labor, but a recent design change had made it possible to complete it in only an hour. So it was like free money, the dealer thought.
Sure enough, nearby dealers began reporting that they too were performing the same job, and they too were billing for the full four hours. But with We Predict's help, Mazda was able to quickly spot the pattern and put a stop to it. "They would have noticed that behavior eventually," Davies conceded. "But they got a six- to 12-month head start on it. And they did a service bulletin globally that saved them millions of dollars."