July 19, 2012
Japanese Electronics Warranties:
Four electronics manufacturers that are based in Japan but export their products worldwide show below-average warranty expense rates. Part of the reason is what they make. But could part of the reason also be where they make it?
Accurate or not, Japanese automakers have a reputation for quality that manifests itself as below-average warranty expense rates. But does this also apply to Japanese electronics companies?
Some such as Sony Corp. and Canon Inc. have great reputations for quality that enable them to sell their products at a premium price, and this distinction even follows them into the second-hand market. But we've seen the gap between perception and reality before, where manufacturers known for their advanced engineering turn out to have above-average warranty costs that they just don't talk about. And we've also seen cases where reality catches up with exaggerated perceptions -- where a formerly high-quality brand sees its warranty costs rise as product failures and safety recalls increase.
In the June 28 newsletter, we looked at a decade of warranty expenses reported by two of the top Japanese automakers. And while U.S. automakers such as Ford have reduced the gap, nobody has come close to the likes of Honda when it comes to low warranty costs.
Japanese Currency Exchange
This week, we're looking at four of the top Japanese consumer electronics brands. And while we can't say that every Japanese manufacturer has lower-than-average warranty expenses, these four sure seem to.
We're keeping the amounts they spend on warranties in their native currencies, which in the case of these four companies is of course the Japanese yen. If we converted everything into dollars, there would be a different exchange rate each year. And that on its own might cause some of the fluctuations.
For instance, back in fiscal 2007, ten billion yen would have been worth about US$85 million. But because the value of the yen has since appreciated, ten billion yen in fiscal 2012 would be worth US$120 million. So even if a Japanese company's warranty expenses had held steady for five years, in dollar terms they would seem to have risen by more than 40%.
Conversely, let's assume an importer into the U.S. consistently spent $85 million a year on warranty work within its American market. Five years later, the bill is still $85 million, but in yen it costs them 40% less. So even if there's no change in the efficiency of their warranty process or the frequency or cost of repairs, a Japanese manufacturer would have seen its costs fall solely from the appreciation of the yen.
But exchange rates are something a company's warranty planners have to consider when deciding on the necessary amount of accruals to make each year. They must consider the cost of parts and labor in the markets where repairs will be made, and convert those estimates back into their own currency. And as currencies fluctuate over time, they must correct their estimates to match actual costs.
In other words, they've already done all the work in terms of accruing and converting, and it's built into the totals. One reason we're looking at just Japanese manufacturers in isolation this week is to neutralize the impact of the yen, in that its fluctuations would affect all of them equally. It's still possible that some of their recent warranty cost reductions had more to do with the strength of the yen and less to do with either product quality or rate of repair. But then again, not every company showed a reduction.
Rising Warranty Costs?
Let's begin with Sony. The company makes both electronics as well as computers, and this has a direct bearing on its warranty expenses. It's also involved with film and music production, and even with music publishing, which has no bearing on its warranty figures.
In all the charts below, we've done our best to subtract all non-warranty-bearing revenue sources from the totals and averages, which in the case of Sony means that nearly 37% of its total revenue in the most recent fiscal year is excluded. This has the effect of raising the percentages seen in Figure 2, since they involve dividing warranty expenses by sales revenue.
In Figure 1, we've mapped out ten years of Sony's warranty expenses, ending with the fiscal year that concluded on March 31, 2012. They, as well as Panasonic Corp. and Hitachi Ltd. follow this same fiscal schedule, while Canon Inc. follows the calendar year. So in Figures 1 through 6, all the years refer to fiscal years ending on March 31 of that year, and beginning on April 1 of the preceding calendar year.
It's clear from the chart that Sony's warranty expenses peaked in 2007 and then began to fall, with accruals decreasing until 2010 and claims hitting a minimum in 2011. But that trend clearly reversed itself in fiscal 2012.
Figure 1
Sony Corp.
Warranty Claims Paid & Accruals Made
(in billions of yen per year, 2003-2012)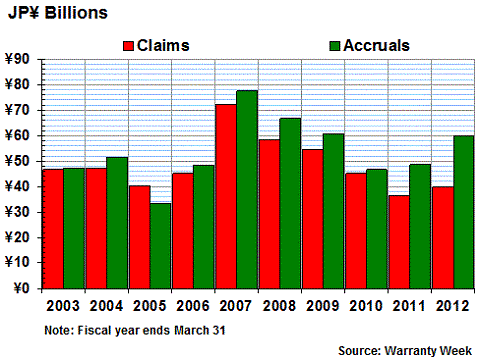 This type of chart tells only half the story, which is why there are a two charts in this newsletter for each of the companies covered. In Figure 2, we're taking the data from Figure 1 and dividing it by electronics and computer hardware sales to arrive at a figure representing the percentage of sales that goes towards warranty expenses.
Such a chart has a very different shape than the expenses-only chart above. For while fiscal 2007 (the series of four quarterly dots that's mostly in calendar 2006 but partially in calendar 2007) was also a high point on the chart below, that level was surpassed in fiscal 2012, when Sony's accrual rate climbed to a new high of 1.46%.
Figure 2
Sony Corp.
Warranty Claims & Accrual Rates
(as a % of product sales, 2003-2012)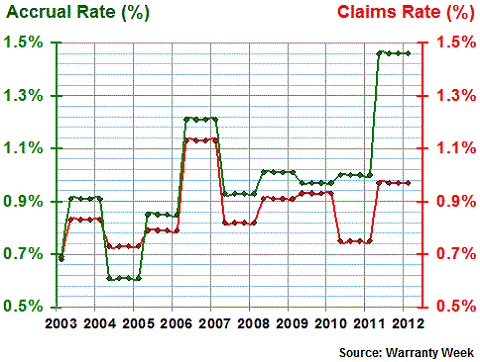 Mathematically, the reason for this jump is that Sony's warranty accruals rose by 24%, from 48.6 billion yen in 2011 to 60 billion yen in 2012, while sales fell. Warranty accruals are supposed to rise and fall in proportion to sales, keeping the accrual rate the same, unless there's been a change in product reliability or repair cost. Had sales also risen by 24%, Sony's accrual rate would have remained the same. However, hardware sales declined by 15%. And the accrual rate rose dramatically.
Claims rose, but just a bit. This suggests that the spike in accruals was done in advance of an expected-but-not-yet-seen increase in claims cost. Sony's claims rate in 2012 was its second highest in the past decade. but it was only marginally higher than the claims rate in fiscal 2010. So we're suggesting that the warranty planners apparently expect Sony's claims rate to climb even higher in fiscal 2013. Or else why raise accruals by so much now?
Panasonic Stays Level
At Panasonic, in contrast, claims and accrual totals fell last year to their lowest levels since fiscal 2004. Claims were at their highest in fiscal 2007, but accruals were at about the same level in 2005, 2009 and again in 2010. Over the past decade, though, Panasonic's annual claims and accrual totals have been relatively constant.
Figure 3
Panasonic Corp.
Warranty Claims Paid & Accruals Made
(in billions of yen per year, 2003-2012)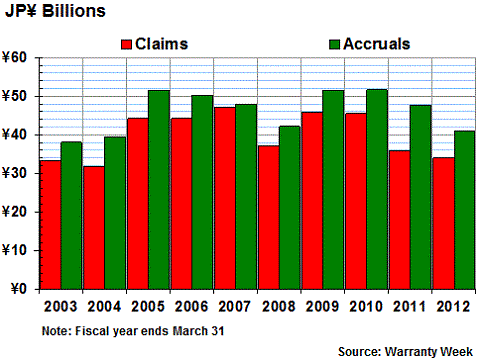 Panasonic also has a computer business, as evidenced by its Toughbook line, but it's a much smaller proportion of its sales than it is at Sony. We mention this because computers and especially laptop computers and notebooks are known to generate much higher rates of warranty expense than either consumer or business electronics such as telecom or medical equipment. And that's probably the reason why Sony's warranty expense rates are much higher than Panasonic's, Hitachi's, or Canon's. Sony is deeper into the computer market than any of them.
In Figure 4, Panasonic's claims and accrual rates hit their heights in 2010, then fell back in 2011 and 2012. Sales were down 10% in the just-completed fiscal year, but the claims and accrual rates were little changed. The claims total went down by 5% and the claims rate went up by 5%.
Figure 4
Panasonic Corp.
Warranty Claims & Accrual Rates
(as a % of product sales, 2003-2012)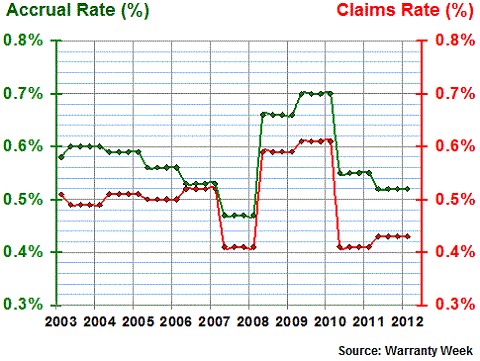 There's really very little to say about Panasonic, except that its warranty expenses seem to be very stable. And that makes the Sony numbers all the more curious, because Panasonic also saw a rising yen and falling sales.
Hitachi Reduces Warranty Costs
In the warranty department at Hitachi, there's ample reasons to celebrate. In both Figures 5 and 6, warranty expenses are declining in terms of both total cost and as a percentage of sales. For this diversified Japanese manufacturer, consumer electronics is just one part of a product line that includes everything from angle grinders to ultraviolet spectrophotometer.
Still for all the power tools, heavy equipment, medical gear and computers in the product line, Hitachi has reduced its warranty accruals in six of the last seven years. It paid out less in claims last year than it did a decade ago in fiscal 2003. Figure 5 is a chart that extremely few large manufacturing companies around the world could match.
Figure 5
Hitachi Ltd.
Warranty Claims Paid & Accruals Made
(in billions of yen per year, 2003-2012)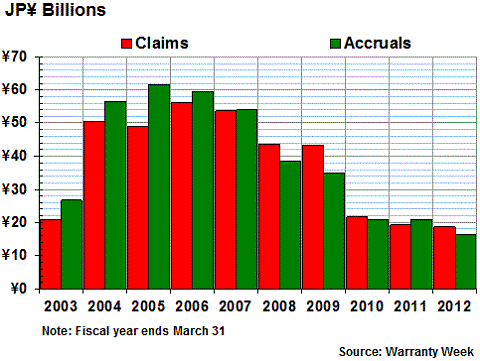 Part of the reason for the decline is undoubtedly the appreciation of the yen against the dollar and euro. The same amount of warranty funds goes 40% further than it did five years ago. But if that alone was what was driving costs down, wouldn't they all look like Figure 5 or 6?
We should note that while Hitachi follows the same fiscal year as Sony and Panasonic, over the past decade it frequently provided mid-year and even quarterly updates of its warranty expenses. All that interim data is in Figure 6, so it's less step-like than either Figures 2 or 4. Note that in the past year (ever since the company de-listed itself from American stock exchanges), Hitachi has reverted to the same once-a-year format as the other three companies we're profiling this week.
The quarterly data follows the shape of the annual data with two exceptions. In what would be the third quarter of fiscal 2011 (the months of October-to-December 2010), Hitachi suddenly set aside 14 billion yen in warranty accruals, and its accrual rate temporarily spiked. But then by the end of that fiscal year it had returned to the trend line.
And then the other quarterly deviation came during the months of July-to-September 2008, when accruals dropped to 3.14 billion yen and the accrual rate dove to 0.13%. However, these are but temporary fluctuations in the long-term trend. We'd probably see similar spikes and troughs in the other companies' data if they also reported their warranty expenses quarterly.
Figure 6
Hitachi Ltd.
Warranty Claims & Accrual Rates
(as a % of product sales, 2003-2012)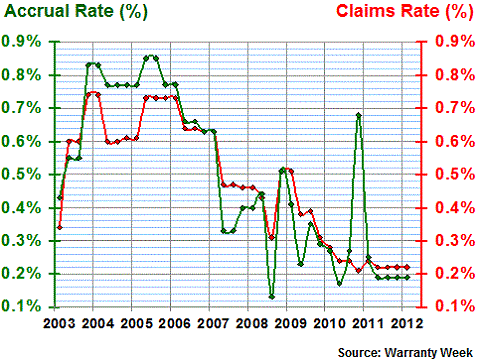 Hitachi is also the only one of our four Japanese warranty providers to report an increase in sales of warranted products. Sony was down 15%. Panasonic was down 10%. Canon was down 4%. But Hitachi was up 2%. It's not much, but at least it wasn't in the direction that causes a company's claims rate to rise.
Canon Rises, Then Falls
Finally, Canon is a bit different from the other three companies in two respects. First, its fiscal years end on December 31, so the data in Figures 7 and 8 follow the calendar year. Second, its electronics product line is less about audio and video and more about photos and printers. In fact, it was once known as the Canon Camera Company.
In Figure 7, we see a company whose warranty expenses rose through 2007 and fell ever since. And don't bother to get out your magnifying glass. There was an 0.4% decline in claims paid from 2010 to 2011, though that amounts to only a pixel or two in the chart below.
Figure 7
Canon Inc.
Warranty Claims Paid & Accruals Made
(in billions of yen per year, 2003-2011)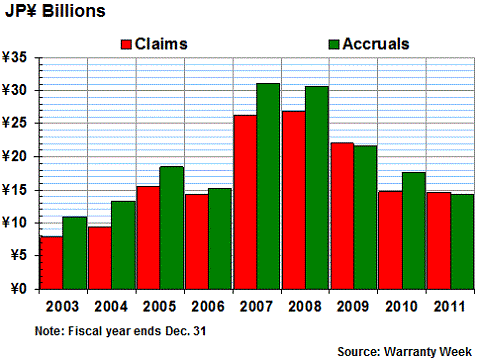 Sony has a well-deserved reputation for product quality and reliability, which can most visibly be measured through continued high pricing for used items that carry its brand name. Canon is in much the same shape with its cameras, which retain their value quite firmly on the used market.
The difference is that Canon typically spends a much smaller percentage of its revenue on warranty expenses. As can be seen in Figure 8, despite the rise in its 2007-2009 rates, Canon has tended to keep its claims payments below 0.5% of sales. Sony hasn't had its claims rate below 0.7% since fiscal 2003, though that undoubtedly has to do with the warranty work needed on its laptops.
Figure 8
Canon Inc.
Warranty Claims & Accrual Rates
(as a % of product sales, 2003-2011)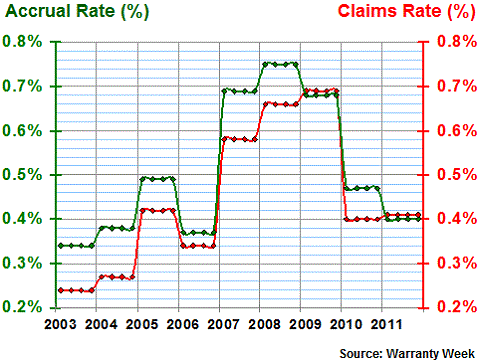 Canon is in the computer business as well, but is primarily a supplier of peripherals such as printers and scanners. It once made a home computer called the V-20, but that product line can now be found only in the museums. By the time its first digital cameras came on the market, Canon was out of the computer business. But like Hitachi, it also has a foothold in the medical equipment industry.
Lower Than Average Costs?
The rise in warranty expenses seen in 2007-2009 may look worrisome, but that has more to do with the scale used in Figure 8 than anything else. The truth is, these four Japanese manufacturers have warranty expense rates that are below average for all manufacturers, for computer manufacturers, and even just for electronics manufactures.
In fact, even after the recent rise, Sony still makes accruals at half the rate of Hewlett-Packard. Its accrual rates are a little higher than Apple's, but a lot lower than Dell's.
Hitachi isn't as pure a play in any one market, but we couldn't conceive of any way to blend the typical warranty expense rates of competitors such as Caterpillar, Seagate, General Electric, Whirlpool and Stanley Black & Decker that would make the company's rates look high in comparison. None of those companies have anywhere near an 0.2% claims rate.
We'll suggest that two broad conclusions can be drawn from this and other warranty research. First, consumer electronics products seem to generate a lot less warranty cost than computers do. And second, the reputation for high quality and low rates of repair that Japanese automakers enjoy seems to also extend to their electronics companies.