August 16, 2012
Homebuilding Warranties:
The data has yet to take an upturn, but at least it's not getting worse. Still, during the depths of the recession some of the homebuilders made some curious decisions about how much warranty expense they expected per new home sold.
After hitting rock-bottom in the spring of 2009, the U.S. homebuilding industry has been bumping along the bottom ever since, with every upward price and sales trend turning out to be short-lived.
Warranty data, particularly accrual and reserves totals, have failed to show any improvement either, but at least they're not getting worse.
The U.S. Department of Commerce said sales in June 2012 of new single-family houses fell to a seasonally adjusted annual rate of 350,000, down from a rate of 382,000 per year in May 2012 but up from 304,000 in June 2011.
The annual sales rate for new single-family homes has been bumping around the 300,000 level for two years, though it began to show a sustained rise last fall. Still, it's only about half as high as it's been historically. In 2007, for instance, the annual sales rate was 778,000 units.
Still, the National Association of Home Builders announced that builder confidence in the market for newly built, single-family homes improved for a fourth consecutive month in August with a two-point gain in their index to 37. "From the builder's perspective, current sales conditions, sales prospects for the next six months and traffic of prospective buyers are all better than they have been in more than five years," said Barry Rutenberg, the NAHB's chairman, in a recent press release. "While there is still much room for improvement, we have come a long way from the depths of the recession and the outlook appears to be brightening."
Falling Claims
The warranty data has yet to turn upwards, however. In the warranty claims totals below, the publicly-held homebuilders reported paying only $66 million in claims in the first quarter of 2012 -- their lowest figure ever. Granted, this data covers the coldest and slowest quarter of the year, but the comparable quarter of 2011 showed $70 million in claims and even the recessionary years of 2009 and 2010 showed first-quarter claims totals over $90 million.
Figure 1
New Home Warranties
Claims Paid by U.S.-based Homebuilders
(in US$ millions, 2003-2012)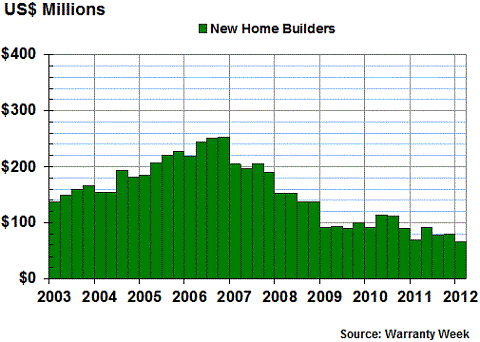 The industry's accrual data is a little more encouraging. Warranty accruals, which are set aside as a new home is sold, totaled $47 million in the first quarter of 2012, up 21% from the rock-bottom figure of $39 million seen in the first quarter of 2011.
Accruals are a better metric than claims, because there is frequently a long delay between when a home is sold and when it needs warranty work. But there should be an exact correspondence between sales and accruals, unless some unexpected event such as the Chinese drywall problem surfaces and raises the expected cost of warranties significantly.
Seasonal Sales & Accruals
In Figure 2, also note that the fourth quarter is traditionally the time when accruals hit their annual peak. This was the case in seven of the nine years covered by the data, with the exceptions of 2008 and 2010. And in five of those seven years, accruals rose like stair steps from the first to fourth quarters, with the exceptions of 2005 and 2007.
Figure 2
New Home Warranties
Accruals Made by U.S.-based Homebuilders
(in US$ millions, 2003-2012)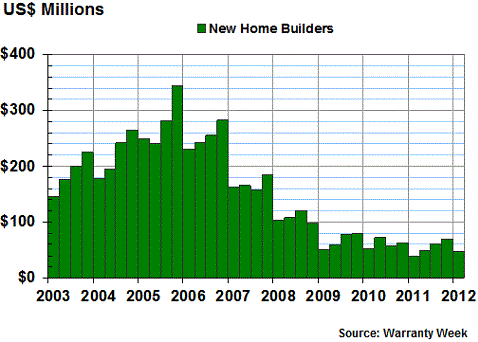 We took the claims and accrual data from Figures 1 & 2 and compared them to homebuilding revenue for the 32 companies we're tracking in this sector. Homebuilding revenue differs slightly from total revenue in that it subtracts all land sales, mortgage banking and finance revenue whenever possible, leaving behind just revenue from the sale of new homes. The resulting percentages are charted in Figure 3.
As can be seen below, the industry's average accrual rate has always remained between 0.7% and 1.1%, while claims rates rose dramatically beginning in 2008. This is what happens when sales revenue falls quickly: claims from prior years artificially increase the average, because of the lag time between the time of a sale and the time that warranty work is needed.
Managed Earnings?
And as was mentioned, this makes accruals a much better metric to follow, because it should remain fairly constant unless there is a change in product quality or repair cost. The dip in the accrual rate seen in 2006-2008, we would suggest, had more to do with the need for homebuilders to appear more financially healthy than they actually were by reducing their expenses by more than was appropriate.
Figure 3
New Home Builders
Average Warranty Claims & Accrual Rates
(as a % of product sales, 2003-2012)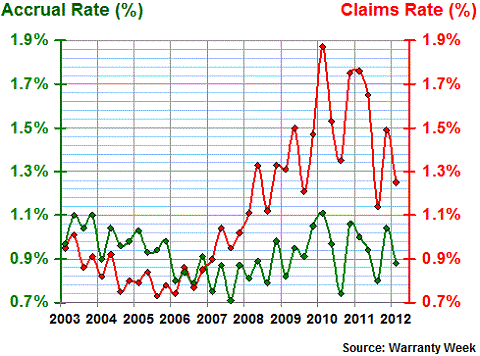 The most disturbing chart of all, however, is the running tabulation of the homebuilders' warranty reserve fund balances at the end of the past 37 quarters, as seen below in Figure 4. It's been declining since the end of 2006 and except for one or two occasions, has dropped every consecutive quarter. The latest balance of $646 million is the lowest since early 2003.
This means that no matter how much they pay in claims and no matter how much extra they have to set aside to deal with unexpected events such as Chinese drywall lawsuits, the homebuilders as a group have consistently allowed their reserves to shrink. In fact, their reserves now are half as much as they were in early 2007, which more or less mirrors the 50% decline in new home sales since then.
Figure 4
New Home Warranties
Reserves Held by U.S.-based Homebuilders
(in US$ millions, 2003-2012)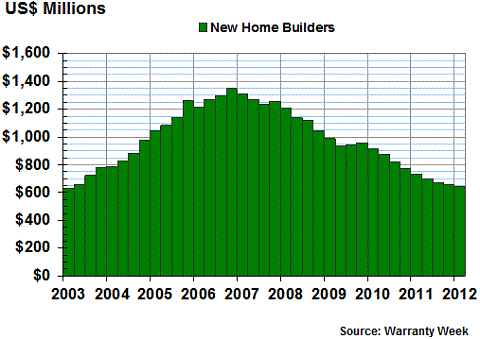 Despite the lack of a clear rebound in sales, the shares of publicly-held homebuilding companies are up significantly this year. The Standard & Poor's Supercomposite Homebuilder Index is up 53% so far this year, with Lennar up 59%; PulteGroup up 98%; D.R. Horton up 43%; and Toll Brothers up 49%. Clearly, investors are expecting sales to increase, even though the data shows it has yet to begin.
Warranty Cost per Unit
In the April 23, 2009 newsletter, we calculated warranty accruals not only as a percentage of homebuilding revenue, but also on the basis of an average accrual per unit sold. This is possible because the homebuilders, like the carmakers, release detailed figures about units sold, in addition to warranty accrual data. So while Figure 3 showed warranty accruals per dollar of revenue, Figures 5 through 8 show warranty accruals per unit sold.
The average sales price per new home sold in June 2012 was $273,900, the Department of Commerce said, slightly below the average in May but a bit above the average prices seen in 2009 through 2011. If we assume that the typical warranty accrual rate is around one percent, this would imply an average accrual per new home built of $2,739 in June. But let's make it a round number -- $2,700 -- which is what we'll call the typical warranty accrual per new home sold from 2009 to 2012.
In Figures 5 through 8, we can see how much a given homebuilder is above or below this industry average. Some are above or below because they're building luxury models or inexpensive homes, and one percent of their selling prices is significantly above or below that $2,700 mark. And others differ because they're experiencing problems with mold, drywall, leaking or other maladies that affect their warranty expenses.
But keep in mind that just as the rate of accruals per dollar of revenue should be flat over time, so should the accruals per unit sold. It shouldn't change unless there's been a change in quality or repair cost. And when it plunges from $4,000 to $1,000 in a year, that's a sign that there's more to the story than warranty costs alone.
Measuring Consistency
In the charts below, therefore, the flatter the line, the better the accounting. Lennar Corp., for instance, has been very consistent since 2006, keeping its accruals per home sold very close to the industry average. And they kept accruals at reasonable levels despite heavy net losses in 2007 and 2008, as sales declined and the recession took hold.
Figure 5
Lennar Corp.
Warranty Accruals per Home Sold, 2003-2012
(in dollars per quarter & per home)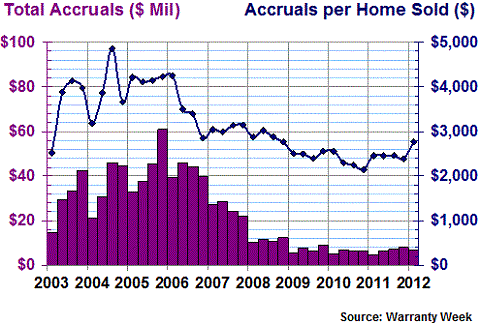 Compare and contrast the flatness of the line in Figure 5 to the dip in the data seen in Figure 6. How could a company set aside $4,087 per home sold at the end of 2006 and only $834 per home sold at the beginning of 2008? Or more specifically, how could they justify it to their auditors and investors? Did product quality really rise that dramatically?
Figure 6
PulteGroup Inc.
Warranty Accruals per Home Sold, 2003-2012
(in dollars per quarter & per home)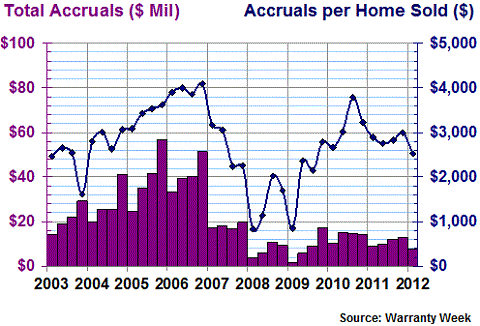 PulteGroup reported net losses of $2.25 billion in 2007, $1.47 billion in 2008 and $1.18 billion in 2009. And sales fell so far and so fast that even if they had continued accruing $3,000 or $4,000 per unit sold, their losses would have been only $120 million or so per year higher. But still, the 2007-2009 dip in accruals looks curious, to say the least.
Again, it didn't happen to everyone. In Figure 7, we can see that D.R. Horton has remained rather consistent -- below the industry average, but consistent all the same -- for most of the past decade. They're selling about as many homes as Pulte, albeit at a lower price per unit. But they're consistently banking an amount they consider to be necessary every time they sell a unit. And since 2007, the biggest quarter-to-quarter fluctuation in accruals per unit has been $70.
Figure 7
D.R. Horton Inc.
Warranty Accruals per Home Sold, 2003-2012
(in dollars per quarter & per home)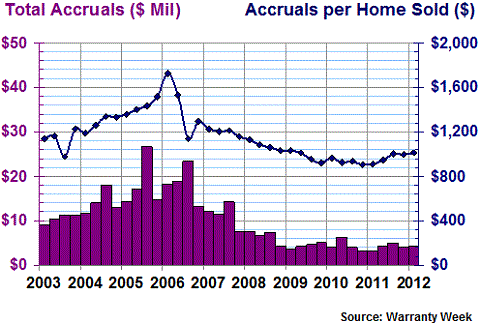 Finally, let's take a look at Toll Brothers. Their line isn't as flat as Horton or Lennar, but that's because it seems to be quite seasonal. Accruals are a little light early in the year, and somewhat heavier later in the year. But for the past three years, they've remained in a range of a little under $3,000 to a little over $4,000. And in the otherwise recessionary year of 2008, they rose to nearly $5,800, before plummeting to $2,840 in early 2009.
Figure 8
Toll Brothers Inc.
Warranty Accruals per Home Sold, 2003-2012
(in dollars per quarter & per home)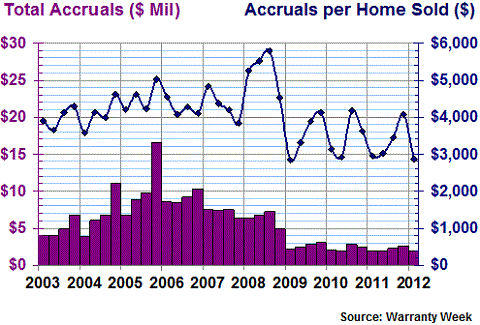 We could go on, but four company snapshots is enough for one newsletter. And outside of these four, the averages are even more chaotic. KB Home, for instance, made no net accruals at the end of 2007. Beazer Homes made no net accruals in three of the eight quarters of 2006 and 2007. Hovnanian Enterprises has accrued more than $10,000 per home on three occasions since 2007. And Meritage Homes has allowed its accrual rate per home sold to vary from $700 to $3,500.
The Least Unstable
In other words, in a relatively unstable industry, the companies depicted in Figures 5 through 8 are among the four most stable homebuilders, when seen from the perspective of consistent warranty accounting. Two of their peers apparently decided that their homes were so perfect that they needed to make no allowances for warranty expenses. Another apparently made homes that were so poorly constructed that they required accruals that were four or five times as large as the industry average.