August 30, 2012
Assurant Expert Services:
While repairs are a huge part of aftermarket services, so are installations, assemblies, configuration and preventative maintenance. Assurant Solutions is putting them all under a single umbrella that it can offer to its retail clients who can in turn sell service to their end user customers.
Assurant Solutions, an administrator and underwriter of service contracts and a long-time sponsor of this newsletter, is rolling out a suite of offerings that will help its retail and manufacturing clients get deeper into the provision of additional services.
Called Assurant Expert Services, it's a service delivery solution that can enable their clients in the consumer electronics, major appliance and telecom sectors to sell a wide range of installation, setup and maintenance services to their end user customers.
Services are aimed at buyers of four types of products: computers, home entertainment electronics, smartphones, and major appliances. And these services are available either as an add-on to a service contract, or as a separate purchase.
Service Delivery Options
Technical support and other services are presented to customers through four distinct channels:
Remote support (telephone or online),
Onsite or in-home support,
In-store support, and
Depot repair.
The new services can be browsed through a web portal located online at esolutionssod.assurant.com/SOD/SelectCategory. We've included a screen shot below that includes links to some of the offerings expected to be among the most popular.
Assurant Expert Services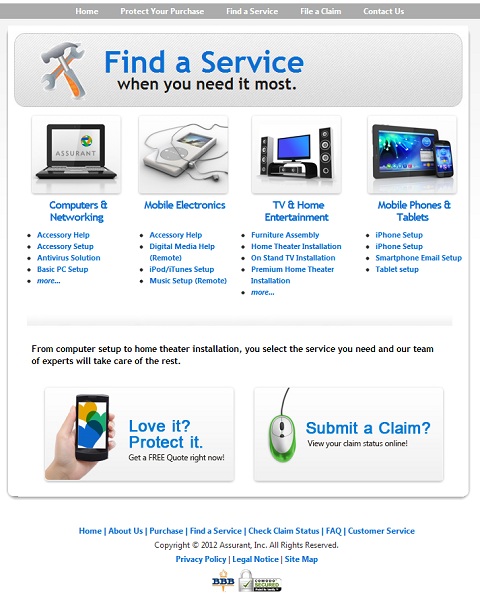 In case the text on that screen shot is a little hard to read, a complete listing of the contents and categories is included below:
Computers & Networking
Accessory Help
Accessory Setup
Antivirus Solution
Basic PC Setup
Child-Safe Computing (Remote)
Computer Diagnostic
Data Backup Subscription 50GB (Remote)
Data Backup Subscription 5GB (Remote)
Data Migration
Data Recovery (Remote)
Email Help (Remote)
Email Setup (Remote)
Hard Drive File Transfer
Internet Security (Remote)
Memory Install
Microsoft Office Help (Remote)
Music Setup (Remote)
New PC Tune-up (Remote)
Operating System Install
Password Manager (Remote)
PC Onsite Personal Tech
PC Tune-up
Premium Antivirus Solution
Social Media Help
Software Help (Remote)
Software Install
Virus and Spyware Removal
Windows Help (Remote)
Windows Training (Remote)
Wireless Network Help
Wireless Networking - Additional Device
Mobile Electronics
Accessory Help
Digital Media Help (Remote)
iPod/iTunes Setup
Music Setup (Remote)
TV & Home Entertainment
Furniture Assembly
Home Theater Installation
On Stand TV Installation
Premium Home Theater Installation
Premium On Stand TV Installation
Premium TV Wall Installation
Projector Installation
Remote Control Setup
TV Onsite Personal Tech
TV Tune-up
TV Wall Installation
Mobile Phones & Tablets
iPhone Setup
Smartphone Email Setup
Tablet setup
As is obvious from the categories of services listed, this has little to do with the traditional extended warranty realm of break/fix, adding depth or breadth to the existing product warranty, or providing peace of mind to the buyer of a new product. Rather, it's about cementing a relationship with the customer by allowing the retailer to provide services that make a product that's in entirely good working order more fun to use.
In that respect, the new top-level heading is service, and warranty work or extended warranty repairs are just some of the services available, along with installation, setup, assembly, enhancements, and tune-ups. And as the screen shot illustrates, it is all presented as an integrated suite of available services.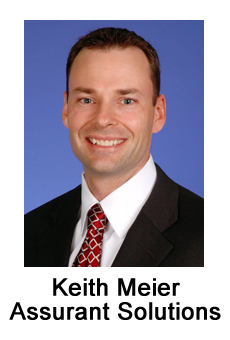 Not Just Warranty Work
Keith Meier, Assurant Solutions' extended service senior vice president and general manager, said the aim is to help the company's clients broaden their service offerings above and beyond just break/fix.
"With the proliferation of technology in the home and in small businesses, there's a much broader suite of services they need than just the traditional protection plan," Meier said.
"There's a certain population of the customer base that wants to have the peace of mind and the protection of the extended service plan," he said. "But there are those who may not have bought a service plan but require need-based services or ones that are not provided in traditional service plans. This [Assurant Expert Services] offers them in one place where they can get all of their needs met."
Meier said in that respect, it's both an alternative and an enhancement to a service contract. "For clients that would like to have some of these services weaved into the service plan offering, we can do that," he said. "And then there can also be SKU-based offerings separately, outside of the service plan."
For example, some consumers may want to buy a television delivery and installation service, but they may not want the protection of a service contract. Or they may want the protection but not the delivery service. So the services can be bundled or sold separately.
With the computer services, consumers may want help with PC setup or a tune-up. Or perhaps they want to add support for Wi-Fi.
With smartphones, consumers may want some tutorials and help with the initial set-up. Or they might want to get some help getting access to an existing email account.
For major appliances, the consumer is likely to want help with installation, especially if it involves connections to water or natural gas utilities. And then even if they don't buy a service contract, they may one day need a repair. And for the sake of convenience, reliability and safety, they might turn to the original merchant for help, rather than taking their chances with the Yellow Pages.
Meier said Assurant uses the ServicePower scheduling platform, which is now integrated into the Assurant Expert Services solution to help with the scheduling of electronics and appliance installation and repair appointments.
Assurant Solutions has used the ServicePower scheduling software via the software-as-a-service model for about six years. In a March 2011 press release, ServicePower Technologies plc announced that Assurant had arranged to expand its use of the software and would use it in a platform that "will serve as a stepping stone for ongoing customer experience enhancements. Assurant Solutions plans to develop the software platform in new directions designed to significantly improve the retail and customer experience in the extended service contract and home services industries." This is an example of one of those new directions.
Teaming with SupportSpace
Assurant Solutions has also brought an Israeli-American company into the solution to supplement its offering of remote support services. SupportSpace Ltd., based in South San Francisco, California, and Netyanya, Israel, operates the Virtual Expert Network, a platform designed to deliver premium services remotely.
Assurant has integrated the company's technology into its platform for the provision of remote services to home computers and Internet-enabled home entertainment products. Meier said one big advantage is that the consumer can see the customer ratings of the remote technician that's actually doing the work, before even beginning the session.
"It creates a different dynamic than what's existed in the marketplace prior to this, where you get whoever you get," he said. "Now, there's a lot more visibility to take a little more control over the experience you're going to get. So you'll get to see what the ratings were and the experience that customers prior to them had with their interactions."
And it's not just for computers and smartphones. Even televisions are increasingly becoming dependent on firmware downloads and upgrades that depend upon connections to the Internet. It's not so far-fetched to think of a time when washing machines and microwaves will be reconfigured or repaired remotely.
"This has been something that we've been building and creating over the last couple of years as we were seeing the need for something for our clients and their end consumers that was better and more integrated, and could help drive a really good customer experience," Meier said.
"One of the challenges in the market was that there were solutions for different pieces of the tech experience, but there wasn't anything that was fully integrated," he said. So for instance, a consumer could interact with a retailer on the web, but the record of that interaction might not be visible in a call center if the next interaction was over the phone.
"So what we spent the time on," he said, "was making sure all the hard parts were built in -- the integrated view into that customer, so that no matter if they're interacting in a store, online, or in a call center, the associate knows what that customer has experienced, what products they've bought, and what services they've required."
Giving Service Its Own Brand
One of the most successful retailer efforts to give a brand identity to aftermarket services is the Geek Squad, which was acquired by Best Buy Company Inc. in 2002. It essentially packaged the concept of a computer repair technician into a distinct "geeky" personality, complete with skinny black ties and pocket protectors, whose services could be sold even to customers who bought their products elsewhere.
Eventually, Best Buy went as far as to change the brand identity of its service contracts to give them a "Geek Squad" identity (they're now called Geek Squad Protection Plans). So in that respect, Best Buy first bought the name and the concept, and then moved other services such as extended warranties under that umbrella.
What Assurant Solutions is doing is keeping its extended service contract brand and adding services around it. So this doesn't involve a renaming of the Service Protection Advantage brand. Instead, Assurant Expert Services is a new brand, with a new name.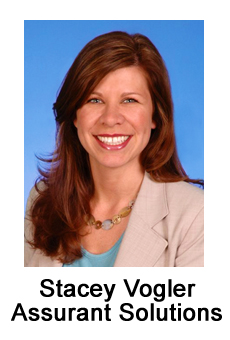 Stacey Vogler, Assurant Solutions' vice president of marketing and product development, said the name they selected for the offering was chosen because it could encompass its reach across the computer, appliance, electronics and smartphone industries.
"We needed something that could serve as an umbrella across all those diverse services," Vogler said. "And one of the values that we bring to this solution is our expertise. So Assurant Expert Services morphed from that. And then also it serves as something that we can continue to build on over the years."
Protecting the Brand
Ultimately, many of Assurant's clients may choose to offer the services under a brand name of their own choosing. Before they do so, however, they would need to be confident that their own brand image will not be damaged by an inappropriately-dressed or ill-behaved service technician that shows up at the door for a service appointment. Assurant is giving them that confidence by vetting all the technicians beforehand.
"When you think about an end consumer, they have an affinity for that brand," Meier said. "And so what we've done is make sure that the services that are being delivered for that end consumer are fully vetted. So if someone is coming into your home, they're background-screened. And they're highly capable of delivering the kind of service that the customer would expect, rather than rolling the dice with someone they don't know.
"And the same can be said with the other services, such as the remote services. We've made sure that the technicians, either over the web or over the phone, are highly-skilled to be able to provide these services, and to address all the issues that the customer may have."
SupportSpace, for instance, posts a name, photo and profile for all of their technicians online, along with a customer rating from one to five stars, a count of the number of cases they've worked on, and a simple percentage-based snapshot of the thumbs-up or down recommendations of past customers. Customers have the option of browsing these profiles before choosing an expert for their task.
Meier said the services are designed to be sold in-store or online and delivered in the customer's home in person or online. Some of Assurant's clients may decide to set up a service counter in their retail locations, and to add their own brand names and identities to the services they can deliver. The services are actually designed so that the solution can essentially be white-labeled to the client's identity, if that's what the client wants.
"We would work with them on how the branding would go," Meier said. "But yes, there's flexibility in what the branding would be. We've designed the platform to be customized and skinned in different ways for our unique clients."
Increasing Customer Loyalty
On the one hand, Assurant Expert Services provides an additional revenue stream to retailers now selling extended service plans. But even more importantly, it provides these retail clients with the means to establish long-term relationships with their customers based on services after the product is sold.
It's not always about break-fix. Sometimes it's installation and set-up, perhaps some training tutorials or how-to instructions. Maybe it's an upgrade or an enhancement. Or, as with automobiles, it's about a tune-up or preventative maintenance that actually prevents break-downs. Service after the sale is a way to keep the customer connected, and to build brand loyalty over the long term.
"Our clients are realizing that they need a full suite of tech services," Meier said. "But it's difficult for them to invest in and put in place the kind of resources that we have been able to do to create this type of experience. So with our clients being able to leverage the Expert Services, they would have a complete and full suite of integrated tech services that would be as robust as any in the market."
One national retailer, in fact, has already launched the service, but they're not yet ready to have their name mentioned in the press, Meier said. "We've done a soft launch with them, and then the marketing pieces are coming behind it," he said. "But it's live and running."