December 20, 2012
Warranty Week 10th Anniversary:
Over the past decade, as warranty professionals began to pay more attention to warranty chain management, a publication was launched that paid attention to them. And warranties have never mattered more, or cost their providers less.
This weekend marks the 10th anniversary of the posting of the first Warranty Week newsletter, the issue dated December 23, 2002. The website was registered on December 6, 2002, so no matter how it's measured, this month marks the 10th anniversary of Warranty Week's founding.
The encyclopedia informs us that the 10th is the decennial anniversary, and that gifts made of tin are appropriate. We'll leave it to our friends in the appliance, aerospace and automotive industries to sort out what those gifts might be. Maybe some tin cans of Spam? A tin foil skull cap to ward off the Mayan calendar gods? A corrugated tin roof with a lifetime warranty?
It's been an amazingly news-filled decade for the warranty industry. We managed to publish some 485 newsletters, attracting over 8,250 current email subscribers, and serving roughly 15,000 pages per week on the website.
What's in the Box?
That first newsletter examined the warranty disclosures of some 15 top online retailers, which a follow-up in early January 2003 expanded to 30 retailers along with some simple zero-to-four-star ratings.
Way back then, we found that seven of the online retailers were very good about providing warranty information before a sale was made. Nine more were pretty good at it, and the remaining 11 were really bad at it. Our ratings were based on the premise that online merchants could easily take advantage of existing web and email technology to provide an even better response than an in-person retailers could when a customer wants to see the terms and conditions of a product warranty that are usually spelled out at the back of an owner's manual.
Here are links to the 2002 ratings of the seven online retailers we thought were the best at providing pre-sale warranty disclosures way back then:
So to celebrate our tin anniversary, we thought, wouldn't it be fun to revisit those online retailers now, and see if they've maintained their high standard of customer service when it comes to providing pre-sale warranty information? Of our nine best of 2002, two are out of business, and one no longer sells online. Of the remaining six, three are still as good as ever, while the other three don't disclose much more than the fact that their products have a warranty.
At Bose, the page layout now is a little different, but there are still easy pathways that can take a shopper to each respective product's owner's manual and warranty summary. The problem is, as the manual states, "Details of the limited warranty are provided on the product registration card that is included in the carton."

That's not going to help a buyer before they buy. There's also a pop-up window which explains that the headphones we were looking at are "backed by a limited one-year warranty." But it doesn't answer such basic questions such as if I buy these headphones at Heathrow, can I get them replaced under warranty in Canada? Or do I need to ship them back to the UK?

Circuit City went out of business in spectacular fashion four years ago, after filing for bankruptcy in November 2008. Following the chain's liquidation, there was a brief period in which some entrepreneurs tried to keep the online retail operation going, but that effort has now also folded.

Earlier this year, former Circuit City CEO Alan Wurtzel wrote a "tell-all" book that lays the blame on everyone else. Fortunately, he didn't blame Warranty Week, which in a column four years ago pointed out that service contract sales commissions were keeping the company afloat. Basically, the retailer's strategy was to sell a $500 TV at a $10 loss so it could make a $50 profit on the $100 extended warranty.

Crutchfield still provides quick and easy access to a summary of a given product's parts and labor warranty on each unit's details page, along with links to each warranty's detailed terms and conditions at the very end of the manufacturer's user manual. And it also provides easy links to its extended warranty offers, now administered by SquareTrade Inc. But that's far from what we'd call a hard sell, even if Crutchfield does still occasionally make an attempt to sell a $400 HDMI cable to the unsuspecting customer.

Gateway was acquired by Acer Inc. in October 2007. And at that time, all direct sales to online customers were discontinued. So while the company still operates some web pages, they're for information only, not online purchases.

As a manufacturer, however, its warranty disclosures are still superlative. For a laptop we browsed, there were readily available links to the limited warranty summary, and then to PDF files of the terms and conditions and what the company calls its traveler's warranty.

QVC seems to have depreciated its warranty disclosures. For a Toshiba television, we found links to the company's return policy and to its SquareTrade extended warranties, but all we could find out about its product warranty was its duration: one year. And that meager disclosure had to share a line with the news that the TV was listed by Underwriters Laboratories Inc.

Here's the problem: some of those TV warranties cover parts for a year but pay for labor only during the first 90 days. Others insist the customer bring it in or pay for freight to some specified repair center. Drop-off isn't much of a challenge for a small TV, but what about a big screen? And if you buy online, how do you bring it back?

These are legitimate questions that a good salesperson could answer in a physical setting. They could even go in the back and get the user's manual to read the fine print. But how do you ask a question on a web page? QVC has plenty of user questions and comments, but not a lot of authoritative answers.

Radio Shack is only slightly better. A shopping expedition for a Toshiba TV revealed that the unit's product warranty covers both parts and labor for a year. But the links to a promised user manual turned out to be just a two-page glossy brochure. And more maddeningly, it noted that the warranty terms and conditions were "in the box."

Ritz Electronics is no more. Ritz Interactive Inc. filed for bankruptcy last year, and a company called C&A Marketing Inc. seems to be running the website now. Parent company Ritz Camera & Image LLC filed for bankruptcy in June of this year, and went into liquidation this fall.

Sears is still one of the best. Product specs are in the left column; comparisons to similar units at the bottom. On the first screen of a Panasonic television's product description, there was a quick link to the unit's owner's manual containing the limited warranty's terms and conditions for both the U.S. and Canada on the last three pages.

Sony Style has given way to the Sony Store. But the manufacturer still sells televisions online, though they also provide advice about how to find a physical retail outlet. And they're still as good as ever about disclosing the fine print in the product warranties.

In the middle of a 40-inch television's specifications page was a link to the unit's warranty terms and conditions.
That's all we want. Let us read the fine print in the limited warranty before we buy. Don't tell us it's "in the box," which we can't open until after we've paid.
And it's not just a convenience. It's the law, as explained by the Federal Trade Commission's "Businessperson's Guide to Federal Warranty Law." The FTC's rules requires that written warranties on consumer products costing more than $15 be available to consumers before they buy. That applies to both physical and online retailers.
What's amazing is how many online retailers don't even meet that meager requirement. It's so easy to post a link to the complete owner's manual and limited warranty terms and conditions on a product page. And as demonstrated by the details above, many of the best online retailers still do exactly that.
Warranty Management Trends
Our first decade aligned itself rather fortunately with at least five major trends in warranty management:
Increased disclosure of company-wide warranty expense data, in annual reports and quarterly financial statements. Because the crooks at Enron and WorldCom did such a good job hiding their liabilities until those unseen obligations consumed the companies, the accounting rules were changed in late 2002 to require companies that accrue for warranty expenses to disclose the balances, additions and withdrawals they make to those funds.
Increased use of warranty data to reduce failure rates. If one sees a pattern in the recent claims data, one could change a product's design or production routine to prevent future failures from ever getting made. The automakers, following the TREAD Act and some well-publicized tire failures, led the way with "early warning" and other analytics-driven warranty cost reduction efforts.
The spread of commercially-produced warranty management software, to replace the homemade spreadsheet and database programs that kept track of claims -- or worse, the boxes of fax pages in the basement that nobody ever looked at again.
The need for an industry association and trade show to organize discussion, debate and training around the topic of warranty, and to provide a venue for customers to meet consultants and solution providers. There's no tab for "warranty" in the phone book, and few opportunities for warranty professionals to meet and chat.
The contention and competition between product warranty and extended warranty. Back in 2003, Mark Nagelvoort, then the CEO of NAT Solutions, said the only major difference between them was that the latter cost the customer money. Today, as the Europeans use their product warranty laws as a bat to bully Apple Inc. and others, the crossover between them is more obvious. And as we found in our series of articles on vehicle service contracts, the automakers and their insurance companies are among the biggest practitioners of warranty -- product and extended.
In addition, the underwriters who stand behind most of those extended warranties are now finding that their services are also needed on the product warranty side of the solar energy industry, where customers are wondering about the viability of 25-year-long guarantees. Further blurring the line, recreational vehicle dealers found that giving away extended warranties (by paying the premiums on behalf of the customer) were a great way to move orphan units off their lots during the Great Recession. Retailers of car batteries find it useful to give their customers better product warranties than do the actual manufacturers.
Meanwhile, items 1) and 2) on the list above became the basis of efforts to measure and then improve the warranty process. And then those statistics became the way even outsiders could measure success. Though the Great Recession had a major impact on reducing warranty costs (by reducing sales), there are numerous companies that also found ways to work smarter -- to use warranty data to reduce the need for warranty work per unit sold and to cut the cost of warranty per dollar of sales revenue.
Warranty Cost Reduction
We've been measuring that cost repeatedly over the years, and recently summarized the trend with lists of the biggest cost-cutters over the past three, six and nine years, in addition to the annual figures. It's a huge boost for the profitability of companies such as Ford Motor Co., Caterpillar Inc., Hewlett-Packard Co., and others when they reduced warranty costs and literally saved hundreds of millions of dollars.
The dreaded TREAD Act, feared and resented by many in the automotive industry, turned out to have a silver lining. By forcing the manufacturers of cars and parts to get themselves organized enough to submit the required government reports, the Transportation Recall Enhancement, Accountability, and Documentation Act also turned out to make it easier for the manufacturers to analyze their own data.
The threat of TREAD, as was never put in writing by its overseers at the U.S. Department of Transportation's National Highway Traffic Safety Administration, was basically, "you'd better find the defects before we do." Those who didn't heed that unwritten rule ended up paying multi-million-dollar fines. And while the new law initially made the number of safety recalls soar, it eventually turned Ford and General Motors Co. into two of the world's leaders when it came to warranty cost reduction and product quality improvements. Each company has saved literally billions of dollars by using warranty data analysis to reduce warranty claims.
Warranty Software Providers
Software providers did their part too, with warranty claims processing applications marketed and sold by 4CS Inc.; Tavant Technologies; Entigo Corp.; PolyVista Inc.; Servigistics; Active Web Services LLC and many others. Their efforts in turn allowed warranty professionals to work on their advanced degrees with warranty analytics software from SAS Institute Inc.; We Predict Ltd.; Teradata Corp.; Camstar Systems Inc.; SAP AG; Infernotions Technologies Ltd.; Pegasystems; Ubiquiti Inc.; and Parametric Technology Corp., better known as PTC.
It was, in fact, the growth of the warranty software market that directly led to the launch of Warranty Week, way back at the end of 2002. Entigo CEO Steve Layne called your editor just before Thanksgiving a decade ago, remarking that there was nothing to read about the warranty business. Sure, there were newspapers and magazines that once a year ran some sort of warranty-related coverage -- perhaps a roundup of opinions on how swell they all thought the upcoming Christmas season would be for retailers. Or maybe it was another annual Consumers Report article on how extended warranties were to be avoided (how's your Saab warranty doing, guys?).
But there were absolutely no publications covering what turned out to be a $24+ billion industry, counting just claims paid by U.S.-based product warranty providers. Add another $25+ billion for extended warranty purchases, and you were talking about a huge uncovered marketplace that reached into all sorts of manufacturers, retailers, administrators, insurance underwriters, and repair service providers.
Your editor responded with the suggestion that there were probably some very good reasons why there were no warranty-related publications. After all, there were none about accounts receivables either, and none about combined ratios, loss triangles, or attachment rates. What could be said about such a basic function as repairing product defects? It's not rocket science.
Warranty at the Center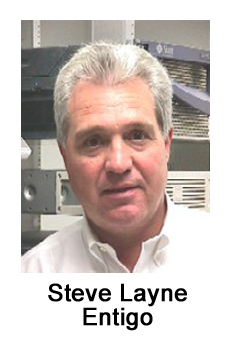 It turns out, there was lots to say about warranty. And yes, it is rocket science. The practitioners of warranty management are experts in multiple disciplines, not least among them the management of the expectations of the executives they report to. Warranty touches so many people; so many processes; so many departments; that it has become impossible to shrink-wrap the software into a standard commercial off-the-shelf offering. Every installation is custom. Every customer is unique.
When Steve Layne first set the wheels of Warranty Week in motion, he said the target audience should be the practitioners of warranty and extended warranty at the manufacturing and retail levels. This was a fortunate choice, because it meant that the newsletter didn't turn out to be a gripe sheet for consumers who couldn't understand why the mobile phone they'd just dropped in the toilet wouldn't be fixed for free.
And although those first few newsletters covered the online retailers and how they were or weren't providing warranty details to their customers, by February 2003 we were covering the impact that the warranties on the new clean-diesel truck engines were having upon manufacturers. In March 2003, we began covering the Service Contract Industry Council, and an effort by the UK's Competition Commission and its Office of Fair Trading to bring some order to the sale of extended warranties by members of the British retail industry.
Warranty Meetings
In May 2003, Warranty Week delved into the warranty expenditures of Hewlett-Packard Co., noting how some of its PCs carried a one-year warranty while others had a three-year warranty. If the units were otherwise identical (same processor, same disk drive, same options, etc.), then the theory was that the price difference must be what HP thought would be the cost of the second and third years of warranty coverage.
That in turn led to a late summer meeting in Pittsburgh between Steve Layne, the sponsor of Warranty Week; Eric Arnum, the editor of Warranty Week; and Glen Griffiths, the director who was overseeing HP's multi-year warranty process re-engineering effort.
Layne had recently beaten back a legal onslaught by the bandits at a vehicle service contract administrator named WarrantyByNet Inc., who had strongly objected to the unflattering way they were portrayed in a February 24, 2003 newsletter entitled "Extended Warranty Deception." But their problem wasn't with the facts; it was with the unwanted publicity, which exposed how these precursors of the US Fidelis scam were fooling web users into thinking they were buying VSCs from a reputable automaker.
So Layne was ready for another legal battle when Griffiths arrived at Entigo's headquarters. But it turned out that Griffiths was more concerned about how HP could leverage the news and market research data he'd been receiving each week in the free email from Warranty Week.
Warranty Week Sponsorships
HP eventually joined Entigo as a Warranty Week sponsor. So did NEW Customer Service Companies Inc., whose CEO Fred Schaufeld was instrumental in the development of the Service Contract Industry Council. They were followed in 2005 by SAS Institute, 4CS and Ubiquiti, in 2006 by Accenture, in 2007 by Assurant Solutions, and in 2009 by AmTrust Financial Services and Fulcrum Analytics. Most remain bedrock sponsors of Warranty Week to this day.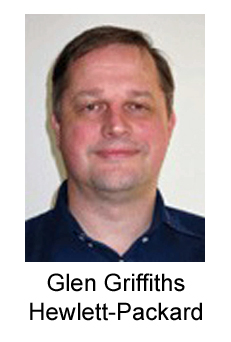 There was soon to be another meeting, in the afternoon on September 11, 2004, between Glen Griffiths, his wife Alison, and the Warranty Week editor, at a Starbucks coffee shop on Church Street in Manhattan -- right across the street from Ground Zero, which that morning was overflowing with dignitaries and family members involved in the just-concluded 9/11 memorial services.
Glen was in town on business and his wife helped him use up some frequent flyer points, and it turned out that the Hilton that housed the Starbucks was more than eager to serve them both. But at this particular sidebar meeting on that Saturday, he proposed an idea: why not convene a warranty conference the following March in San Francisco, which HP would sponsor, Alison would manage, and Warranty Week would publicize?
That turned out to be the launch of the Warranty Chain Management Conference, a now-annual event which will convene for the ninth time next March at the Hyatt Regency in Mission Bay, San Diego. But back then, the question was the same as when Warranty Week was started: was there enough interest in warranty, and enough people whose interest would prompt them to travel to an industry conference?
It sounds so simple now, but back then business travel was still hurting from the wars and recession that followed the World Trade Center attacks. And just days before that meeting, a terrorist's bomb exploded outside the Australian embassy in Jakarta, and hundreds had died in a school attack by Chechen terrorists in Russia. One needed look no further than across the street to see the impact the bombers were having on the national mindset.
But why not take a chance? Glen said HP would bring at least a hundred members of its Warranty Council to the conference, and Arnum said he'd make the pitch to the 2,000 or so people who were then subscribing to the weekly newsletter. Sponsors such as SAS and NEW also signed on, and the first annual WCM Conference was a resounding success.
Don't TREAD On Me
Meanwhile, the TREAD Act has caused the Automotive Industry Action Group to launch an effort to create a standard for an early warning system that used warranty data to improve product quality. The AIAG committee sent Marianne Grant of Syncata Corp., Kevin Mixer of AMR Research Inc., Robert Hornak of GM, and Krista Coy of Metaldyne Co. LLC, to the inaugural WCM event in San Francisco to detail what the automakers were up to in Detroit.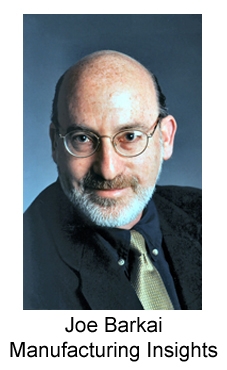 The previous year, the Automotive Division of the American Society for Quality, along with Carnegie Mellon University and Attensity Corp., co-sponsored an all-day conference entitled "Lean Quality: The Coming Revolution in Reducing Warranty Expense."
It turned out that some analytics software the Central Intelligence Agency was using to spot patterns and anomalies in data communications that helped them catch terrorists was also useful when trying to make sense of the chaos of most warranty claims. But what was more surprising was that the conference sold out and attracted top executives from all sorts of metal-bending companies. Indeed, warranty was a topic that was interesting enough to make people travel.
By the summer of 2005, the Manufacturing Insights business unit of IDC had formed an Operational Excellence Council that included warranty as one of its four central topics. Practice director Joe Barkai, who had joined IDC only a month before that first WCM Conference, soon became another thought leader in the quickly conglomerating warranty industry.
In 2006, Barkai, along with Grant, Griffiths, and dozens of others, were among the warranty professionals who met in the Luxor Las Vegas to talk about the formation of an Institute for Warranty Chain Management, now known as the Global Warranty and Service Contract Association. In 2010, Barkai and the Institute jointly launched the Warranty Maturity Model, which grew out of a "Design for Warranty and Customer Self-Repair" presentation he delivered at that year's WCM Conference in Los Angeles. And then he and his team delivered updates on the model's progress at the 2011 and 2012 events.
The Best Chart Ever?
Speaking of progress, before we call it a year, we wanted to present at least one chart for your consideration. And if there's one chart that can sum up the entire decade since Warranty Week was launched, it's this one. In Figure 1 below, we've taken the cumulative warranty expenses of all U.S.-based manufacturers that accrue for warranty, and divided them by all their product revenue.
Figure 1
All U.S.-based Manufacturers
Average Warranty Claims & Accrual Rates
January 2003 to June 2012
(as a % of revenue)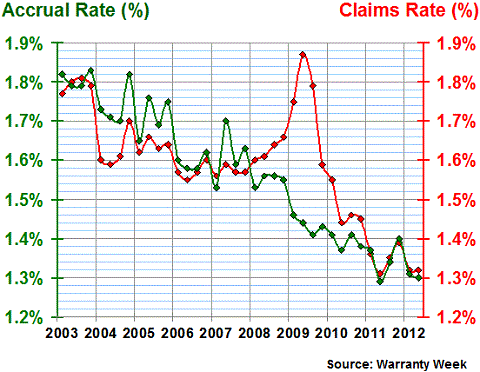 Over the past ten years, at least a thousand companies have reported at least some warranty expenses in their annual reports or quarterly financial statements. Almost half of them are no longer reporting, thanks to mergers, acquisitions, going private, or simply going out of business. But by the clear trend in this chart, it appears the reliability of the remainders has never been higher. And warranty costs have never been lower.
The results are startling, and should be heralded by every manufacturer whose ever heard anyone say, "They just don't make 'em like they used to." What Figure 1 shows is how good they've gotten at reducing those expenses, by automating the transaction, by leveraging the data, and by streamlining the process. Except for that noticeable bump in 2009 caused by the Great Recession (when revenue plunged but claims didn't), the trend is clearly down, down, down.
Warranty isn't going to disappear any time soon, though. It's still the best way for manufacturers and retailers to stay in touch with their customers, and it's still the best way for designers and engineers to see how their products are doing once they're in the hands of customers in the field. But the warranty process since 2002 has gotten really smart and really sophisticated, because so many warranty professionals are now really paying it some attention.
Happy Holidays!
And so, for the tenth time, on behalf of our editor, our webmaster, and our photo editor, we'd like to take this opportunity to thank all 8,250 of you for subscribing to this 485th newsletter. And assuming that the Mayans were wrong about the end of the world, we'd like to wish you all a happy holiday and a peaceful and prosperous new year. We'll be back on January 10, 2013.