April 25, 2013
Telecom Equipment Warranties:
With so many big companies off the list after acquisitions and bankruptcies, many of those still left are finding it hard to keep costs low. But a handful are making spectacular progress, according to the latest data.
Does anyone still remember the days when you couldn't own a phone, but you had to rent it, and you couldn't even attach it to a device not furnished by the phone company? Not even a cup for your ear? We've come a long way since the days of monopoly phone service and mandatory rentals, with wireless, satellite and Internet devices becoming common consumer items, sold everywhere -- even in vending machines.
The thing is, all the old guys are gone. Does Western Electric even exist anymore? AT&T is a wireless company. Nortel and MCI are gone. Even Nokia Corp., which for a while was Europe's largest company, has fallen on hard times in recent years, under pressure from Google and Apple.
The turnover has been so great that it's complicating the analysis of the telecom equipment market. There used to be a few major players that dominated the market. Now, there's Cisco Systems Inc. and a hundred or two smaller companies. So when Cisco's warranty expenses go up, so does the entire industry's.
Segmented by Product Type
In our continuing tour of the manufacturers that provide product warranties, this week it's the turn of the telecommunications equipment providers. We started with a list of 184 U.S.-based companies that make their living selling some sort of telecom equipment, and divided them into four groups based upon their dominant product type. There were 56 companies that we placed in the Internet/data communications category; 53 in the telephone/mobile phone category; 46 in the broadcast/cable TV equipment category, and 29 in the satellite/microwave category.
Unlike in past years, we added in some companies that were previously counted in other industry segments, such as consumer electronics, aerospace, and even automotive. For instance, we usually count Garmin Ltd. and Cobra Electronics Corp. as CE companies, but their handheld products are also used for navigation. We usually count LoJack Corp. as an automotive company, but its products are used to locate stolen vehicles. With all the departures, it's good to have some additions. However, this and other changes also has slightly altered the overall industry totals.
At the end of each year, we round up figures for each company's warranty claims payments, accruals, and the balance left in their warranty reserve funds. We also collect figures for product sales revenue, and compare that to warranty expenses.
In Figure 1, we added up all the claims paid by all these telecom companies in the past ten calendar years. Numerous telecom equipment makers end their fiscal years on dates other than December 31; their totals were sorted by calendar quarters into the corresponding calendar year. So if a company ended its fiscal year on September 30, their fourth quarter would be our third quarter. And that fiscal year's warranty expenses would be counted in two different calendar years.
Continuous Declines
What's striking about the data in Figure 1 is the constant decline seen over the past few years. The industry total fell below $1.5 billion in calendar 2009 and has never risen since. Claims payments totaled $1.41 billion in 2012; $1.16 billion in 2011; and only $948 billion in 2012.
Figure 1
Warranty in the Telecom Equipment Industry
Claims Paid by U.S.-based Companies
(in US$ millions, 2003-2012)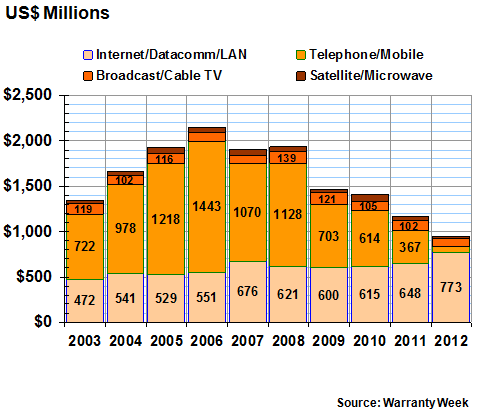 We'd love to say that this means telecom equipment providers are cutting warranty costs dramatically, but that's not the whole story. The bigger problem is, many of the largest warranty providers in the telecom industry have been acquired or gone out of business over the past decade. And among those that were acquired, the new owners have declined to continue reporting their warranty expenses for one reason or another. Therefore, a large part of the market has simply fallen off the charts.
Changing of the Guard
To illustrate this effect, we took the claims payments of a dozen companies that have paid roughly 85% to 90% of the industry's total warranty expenses over the past decade, and charted their payments not in dollars, but instead as a percentage of the total. In Figure 2, we can see that back in 2003 and 2004, more than 60% of the industry's total claims were paid by Cisco Systems Inc.; Nortel Networks Corp.; Motorola Inc.; Lucent Technologies Inc.; and Avaya Inc.
By 2012, Nortel was gone. Motorola had split into two companies, one of which was acquired by Google and the other of which decided to cease disclosing its warranty expenses in 2011. Lucent was acquired by the French company Alcatel in late 2006. Avaya went private in 2007.
This left Cisco in the top spot, but its share of the total had risen to nearly 65%. Part of the reason was its own expanding claims payments ($323 million in calendar 2003; $611 million in 2012). But the main reason was the disappearance of companies number 2 through 5.
Figure 2
U.S.-based Telecom Equipment Makers
Claims Paid per Year
(as a % share of the totals in Figure 1)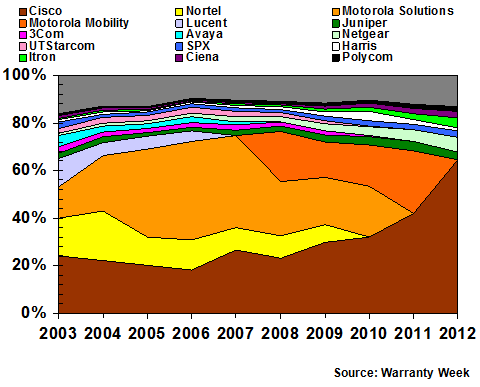 When we first published this chart last year, the cutoff was nine companies. This year, we added three more: Itron Inc.; Ciena Corp.; and Polycom Inc. By default, they're now among the largest warranty providers in the telecom industry, taking the third, fifth and seventh places on the list, respectively.
Therefore, the steep drop-off in claims seen in Figure 1, as well as the decline in warranty accruals seen in Figure 3, has more to do with the companies that have gone than it does with any cost-savings by the companies that remain. Still, as we shall see in Figures 5 through 9, there really is some warranty cost-cutting going on.
Declining Accruals
In Figure 3 we see an accruals total that barely passed $1.027 billion in 2012, down from $1.24 billion in 2011. Most of that was data communications-related, and most of that was specifically Cisco. The telephone and mobile segment suffered from the disappearance of Motorola, and so its accrual total slipped to $87 million (too small to tag). The broadcast segment was actually a bit larger at $99 million, but was again too small to tag. And the satellite segment dropped to only $35 million, primarily because now Harris Corp. once again has its warranty costs under control.
Figure 3
Warranty in the Telecom Equipment Industry
Accruals Made by U.S.-based Companies
(in US$ millions, 2003-2012)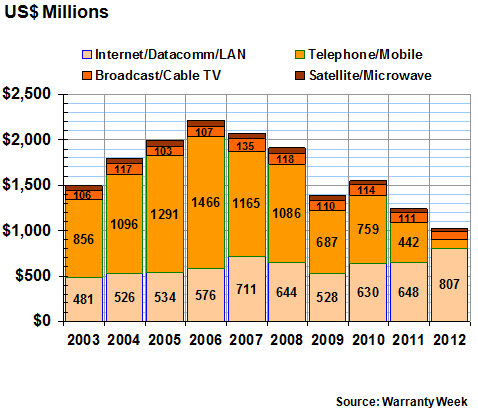 The accruals each company makes are added into their warranty reserve funds. The claims they pay are subtracted from this fund. In Figure 4, we've charted the remaining balance. But again, the biggest reason for the decline is the exit of so many of the biggest companies.
Last year, the warranty reserve balance grew for three out of the four segments. This year, the balance grew for only the Internet/datacomm companies. And once again, the main reason was Cisco Systems, which began 2012 with $361 million in its warranty reserve but ended the year with $422 million on hand. Both its claims and accrual rates were up, with both metrics hitting their highest levels since late 2005.
Figure 4
Warranty in the Telecom Equipment Industry
Reserves Held by U.S.-based Companies
(in US$ millions, 2003-2012)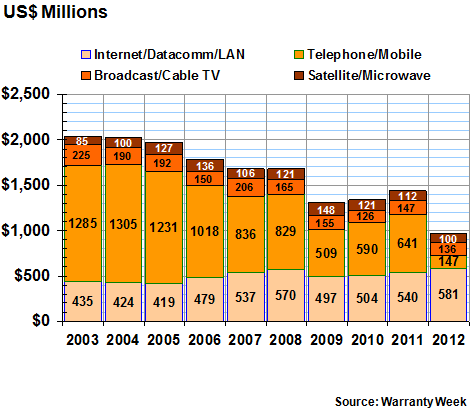 The next five charts show the claims and accrual data in Figures 1 and 3 as a percentage of product revenue. When a company stops reporting its warranty expenses, we also take its revenue out of the calculations. So the only way that companies such as Nortel, Lucent or Motorola could affect the percentages would be if their warranty expenses were way above or way below the industry average.
Lowering Expense Rates
With the remaining companies, one can see a clear downward trend in Figure 5, meaning that they're spending less per dollar of revenue on warranty expenses than they did in the past. Because the data is quarterly, however, there are more ups and downs than in the annual figures in the charts above.
For what it's worth, in the fourth quarter of 2012 the telecom equipment providers spent less than one percent of their revenue on warranty for the first time in the past 40 quarters. Cisco was at 1.7% for both metrics in the final calendar quarter of 2012, so that's not the reason for the decline. Instead, we suspect there really is some cost-cutting under way among the remaining industry members.
Figure 5
All U.S.-based Telecom Equipment Makers
Average Warranty Claims & Accrual Rates
(as a % of product sales, 2003-2012)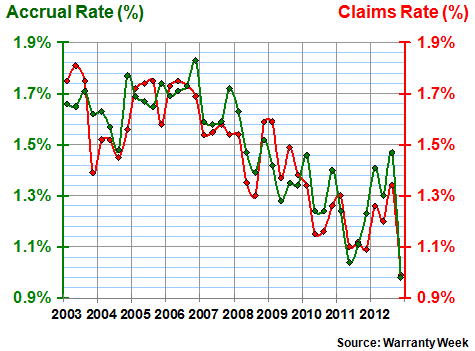 It's not coming from the Internet/datacomm players, however. Cisco is up, and so is Itron. Netgear Inc. and Juniper Networks Inc., however, are down. On balance, as can be seen in Figure 6, their warranty costs in 2012 were up as a percentage of revenue.
Figure 6
Internet/Datacomm/LAN Equipment Makers
Average Warranty Claims & Accrual Rates
(as a % of product sales, 2003-2012)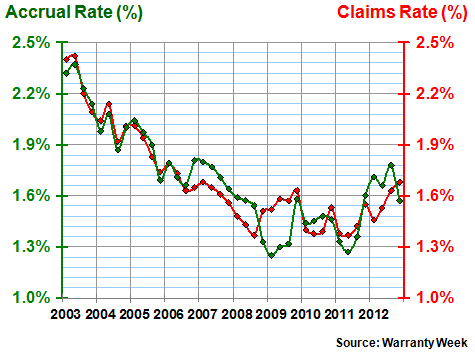 Notice that there is no spike in claims during the recession, as was so obvious in the automotive and new home warranty reports. That's because the telecom equipment companies saw revenue and warranty expenses fall more or less in proportion during the downturn, so the relative percentages weren't vastly changed.
Notice also that for the most part, companies in the telecom industry have kept their claims and accrual rates close together. When this happens, as much is flowing into the warranty reserves as is flowing out, so the balance doesn't change by much. Therefore, we can conclude that most of the decline seen in Figure 4 came from companies exiting the business, or at least ceasing to report their liabilities in accordance with generally accepted accounting principles.
Rising Expense Rates
The leading warranty providers in the telephone and mobile segment are Ciena Corp. and Plantronics Inc. Both companies paid out a little more in claims in 2012, but sales were also up a little bit. So they didn't cause the apparent rise in warranty expense rates seen in Figure 7. Instead, blame it on smaller companies such as Adtran Inc., which saw both its claims and accrual rates more than double in 2012. But also, keep in mind that this is the segment in which Motorola, Nortel, Avaya and Lucent were counted, so some of the previous years' declines are more about their departures than anything else.
Figure 7
Telephone/Mobile Phone Equipment Makers
Average Warranty Claims & Accrual Rates
(as a % of product sales, 2003-2012)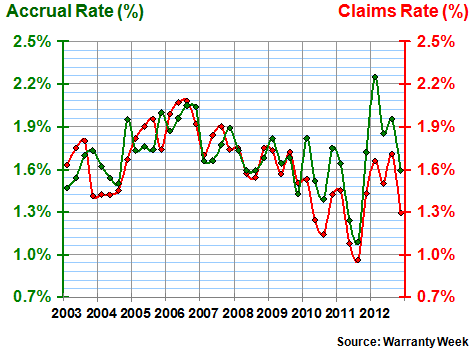 The leading warranty providers in the broadcast and cable TV equipment segment are SPX Corp. and Polycom Inc. SPX didn't see much change in its expense rates, but Polycom saw a big drop. So did Broadcom Corp., General Cable Corp., and JDS Uniphase Corp., and this in turn produced some of the record low expense rates seen in Figure 8.
Figure 8
Broadcast/Cable TV Equipment Makers
Average Warranty Claims & Accrual Rates
(as a % of product sales, 2003-2012)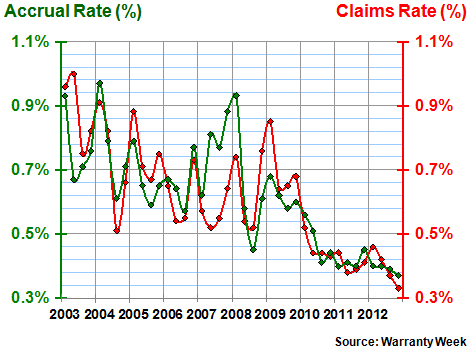 The leading warranty providers in the satellite and microwave segment are Garmin and Harris. As we mentioned, Garmin is more of a consumer electronics company, but its navigation products are certainly dependent upon satellite networks for their usefulness. And Harris, though it has a wide product line that crosses over into multiple segments, is primarily a producer of antennas for both terrestrial and space-based telecom networks.
Rise and Fall
In Figure 9 we see a big rise in 2008-2010 warranty expense rates followed by a drop in 2011 and a slight rise in 2012. Garmin saw some huge increases in its claims and accrual rates last year, as we outlined in the March 14 newsletter. But Harris has gotten its warranty expenses back under control, with its claims rate falling by 26% and its accrual rate falling by 11%. So while some of the big rise in 2008-2010 was their fault, none of the 2012 upturn was.
Figure 9
Satellite/Microwave/Radar Equipment Makers
Average Warranty Claims & Accrual Rates
(as a % of product sales, 2003-2012)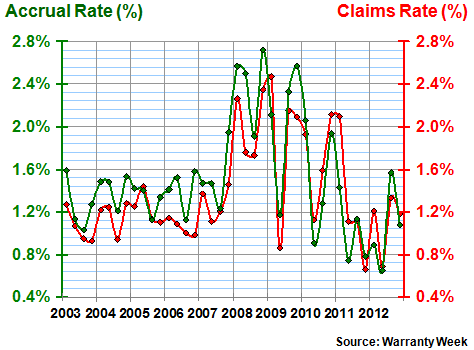 In summary, the companies that had the biggest effect on the telecom warranty data are the companies that are no longer there. Of the remainder, the broadcast and cable TV equipment companies continues to cut their expense rates last year, while most of the datacomm, satellite and telephone equipment companies are beginning to see a big of a slide backwards. For most of them, 2011 was a little bit better than 2012.
Keep in mind that some of these companies already had higher-than-average expense rates. Extreme Networks Inc. pays out more than three percent of its revenue in warranty claims, and Netgear is over four percent. Also, optical network equipment maker Infinera Corp. saw its accrual rate rise awfully close to four percent at the end of 2012, though its claims rate is much lower.
On balance, however, the cost-cutting is working. The final pair of numbers in Figure 5 are below one percent for the first time ever. And companies such as Juniper Networks, Broadcom, Harris, Polycom, Plantronics, and SPX have managed to cut their expense rates over the long term -- not just compared to 2011.
Tenth Annual Product Warranty Reports
As we begin to wrap up our annual survey of U.S.-based warranty providers, here are some links to the online editions of all the previous parts of this series: