June 6, 2013
Security Equipment Warranties:
All the gear used to detect threats and catch criminals have their own warranties, and the expense of keeping all those brand new machines in good working order is significant for the companies involved.
As Americans adjust to the news that the government's surveillance capabilities are more pervasive than has ever before been publicly acknowledged, it's interesting to note that all the security equipment used by government agencies at airports and elsewhere not only comes with their own warranties, but also some significant warranty expenses.
This week, we're detailing the warranty expenses of 102 diverse companies that make, or have made, equipment used in government or private security applications. And as such, there's quite a bit of overlap between this group and the list of companies in the aerospace, telecom equipment, medical equipment, and computer peripherals industry.
Most obviously the list of security equipment companies includes all of the major defense contractors and manufacturers of military equipment: General Dynamics Corp.; Lockheed Martin Corp.; Northrop Grumman Corp.; Oshkosh Corp.; Raytheon Co.; Textron Inc.; and United Technologies Corp., among others. All but Lockheed Martin report their warranty expenses in their financial statements.
But the roster of security companies also includes several makers of civilian weapons, such as Smith & Wesson Holding Corp.; Taser International Inc.; and until it was taken private in 2007, the Remington Arms Company Inc.
Shoplifting & Auto Theft
And the list also includes civilian security system companies such as Checkpoint Systems Inc., which makes a line of anti-shoplifting products; and LoJack Corp., which makes systems used for anti-theft applications in automobiles.
Most of the warranted product sales these days, however, are in the specific realm of airport security systems. These are the systems that detect smugglers and terrorists, criminals and intruders, and the weapons, explosives and narcotics they attempt to conceal. And this has become a very big business for several companies.
OSI Systems Inc. owns Rapiscan Systems, which makes many of the infamous full body scanners used in U.S. airports. It also makes cargo and vehicle inspection systems, Auto-Z radiation detection equipment, and a variety of baggage screening systems.
Analogic Corp. is best-known as a medical equipment supplier, but its imaging technology also has applications in aviation security. For instance, its Explosive Assessment Computed Tomography scanner is part of the new L-3 Communications eXaminer 3DX automatic Explosives Detection System.
L-3's Security & Detection Systems division also manufactures a variety of X-ray equipment for checked baggage screening, the ProVision whole body imaging systems for passenger screening, and several types of cargo X-ray systems for customs, border and port security.
American Science and Engineering Inc. also manufactures Gemini and Z Portal X-ray equipment for cargo and baggage screening, as well as SmartCheck metal detectors for passenger screening.
Fire & Theft Prevention
Tyco International Ltd. has a large presence in the security equipment industry, through its ADT Corp. fire and burglar alarm monitoring service, its CEM Systems Ltd. airport access control systems, Tyco Security Installation and Services, Tyco Fire Protection Installation and Services. ADT, however, was spun off as a separate company in September 2012, and its latest annual report stated that its warranty accruals "were not material."
Ingersoll Rand Security Technologies manufactures and sells electronic and biometric access control systems, time and attendance and personnel scheduling systems, mechanical locks and portable security, steel doors, automated openings, and hotel locking systems.
We'll spotlight the warranty expenses some of these companies in particular after getting through all of the industry totals.
And then there are a bunch of companies that were once manufacturing security equipment but have divested those units or have been acquired by non-U.S.-based companies. General Electric Co. once had a division called GE Security that makes the "puffer machines" used to detect explosives on airline passengers, as well as a StreetLab Mobile machine that can identify and detect both explosives and narcotics.
That division was sold by GE to United Technologies Corp. in 2010. GE also operates an Information Security Technology Center in Virginia that focuses on cyber security and network design. But its security equipment sales operations have largely been divested, and as we noted in last week's newsletter, most of the parent company's warranty expenses now arise from sales of turbines and other power equipment.
L-1 Identity Solutions Inc. makes fingerprint and biometric identification equipment, but it was acquired by the Paris-based Safran Group in 2010, and was subsequently renamed MorphoTrust USA.
InVision Technologies Inc. developed the CTX explosive detection system, which was deployed in several major airports. But after a bribery scandal, the company was sold to GE Security, which then resold most of the unit's operations to the Safran Group.
Security Claims Payments
In Figure 1, we've added together the totals for warranty claims paid by the 102 security equipment companies for the past 10 years. Notice the rather gentle ebb and flow of the annual totals, which suggests that this has indeed been a very steady business throughout the last decade, in spite of recessions and no doubt, because of heightened airport security.
However, claims payments did actually peak in 2008 at a level of $1.78 billion, and have fallen slightly each year since, to a level of $1.47 billion in 2012. And that was the first year since 2006 that the annual total was under $1.5 billion.
Figure 1
Security Equipment Warranties
Claims Paid by U.S.-based Companies
(in US$ millions, 2003-2012)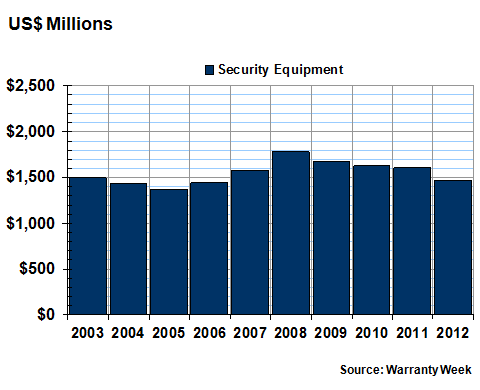 Accruals tell a slightly different story. Warranty accruals are closely coupled to product sales. And in 2011-2012, product sales rose by 8.2% for this group of vendors. But that explains less than half of the 20% rise in accruals.
The annual total was $1.63 billion in 2011. It rose by $319 million in 2012, which in turn helped drive the accrual rate (accruals divided by sales) up to an eight-year high towards the end of last year. Clearly, some of the vendors are expecting more warranty work in the next few years.
Figure 2
Security Equipment Warranties
Accruals Made by U.S.-based Companies
(in US$ millions, 2003-2012)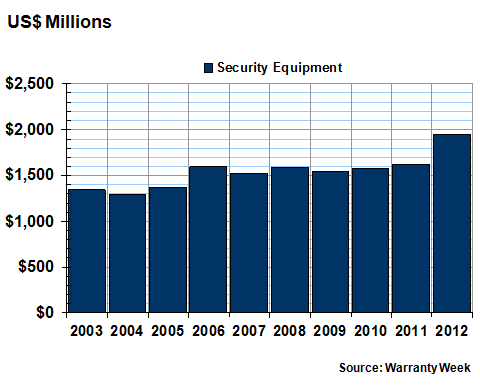 The resulting warranty reserve fund balance of the combined 102 security equipment companies, therefore, rose to a new high of $4.45 billion by the end of 2012. In fact, the balance has risen in nine of the last 10 years, with the sole exception of 2008-2009, then reserves fell by $60 million. In addition, there were big jumps in reserves in 2005-2006, 2007-2008, and 2010-2011.
The increase in reserves last year was less than one percent -- a slight $23 million increase that isn't really visible in Figure 3. Still, an increase is an increase, and it would have been larger if not for the 9% decline in claims payments.
Figure 3
Security Equipment Warranties
Reserves Held by U.S.-based Companies
(in US$ millions, 2003-2012)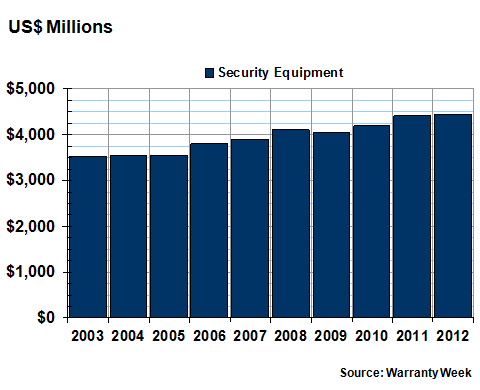 Unfortunately, the gradually rising trend seen in Figure 2 and the constantly rising trend seen in Figure 3 foretell some of the changes in the security equipment industry's expense rates in Figure 4. Accrual rates fell from 2003 to 2005, then began rising in a trend that continues until the end of the data series in 2012. The 1.1% accrual rate seen in the fourth quarter of 2012 is the highest it's been since the end of 2003.
Warranty Expense Rates Decline
The claims rate, meanwhile, shows the effects of the recession in 2008 and 2009, when sales fell but claims payments fell much more slowly. However, claims rates remained high in 2010 and 2011, before falling in 2012 back to their pre-recession levels.
Figure 4
Security Equipment Companies
Average Warranty Claims & Accrual Rates
(as a % of product sales, 2003-2012)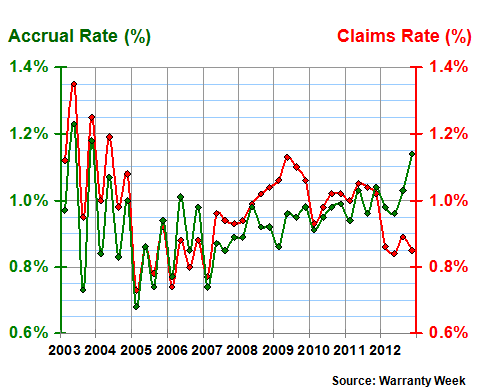 The other notable feature of the industry averages seen in Figure 4 is the way the data oscillates madly from 2003 until 2007, then begins to flatten out into more gradual quarterly changes. As we shall see in the next series of industry-representative company charts, that mirrors some of the chaos seen in the warranty expense rates of the vendors themselves.
L-3 Communications, for instance, cut its accrual rate from 6.4% to 0.5% within a single year in 2003, then pushed it back up to 4.7% the next quarter. And then it fell back to 0.5% by the end of 2004. Remarkably, as Figure 5 details, the gyrations ended in 2005 and the data has been relatively flat ever since.
Figure 5
L-3 Communications Corp.
Average Warranty Claims & Accrual Rates
(as a % of product sales, 2008-2012)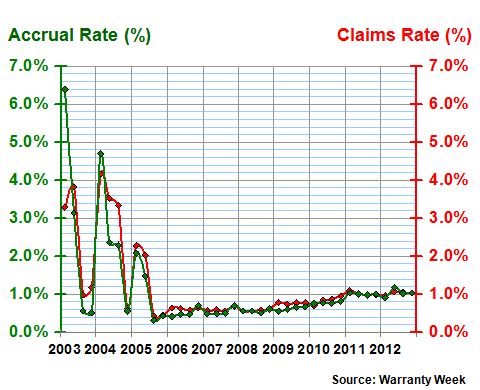 The bad news is that while expense rates have stabilized, they have gradually crept up since 2005. And they have been stuck at one percent for the past two years, as has the company's claims rate.
For American Science and Engineering, there were two massive spikes in accrual rates -- one at the end of 2004 and one at the start of 2008. Amazingly, neither spike was matched by a claims rate that rose above three percent, suggesting that the sudden increases in accruals were made hastily.
Figure 6
American Science and Engineering Inc.
Average Warranty Claims & Accrual Rates
(as a % of product sales, 2008-2012)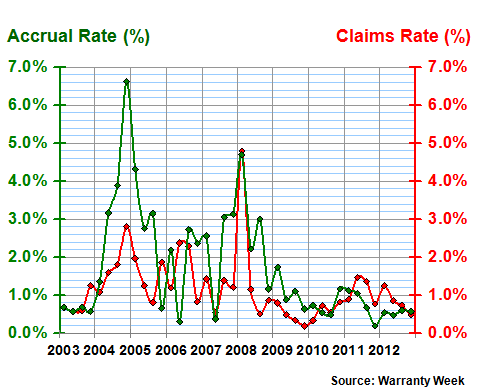 The company's annual report for the year ending March 31, 2008 doesn't make any mention of the reason for the sudden spike in warranty accruals. And in fact, given that it's presenting 12-month data for fiscal 2008 and is comparing it to 12-month data for fiscal 2007, it doesn't seem all that notable in the data.
However, Warranty Week calculated that nearly 43% of that fiscal year's accruals were made in the fourth quarter, and only 4% were made in the fiscal year's first quarter (covering the months of April to June 2007). In other words, perhaps the company was making up for lost time at the end of the year?
OSI Systems, makers of the Rapiscan Secure 1000 full-body scanners that helped make throughput at major U.S. airport security checkpoints the opposite of rapid in recent years, had its own pair of manufacturing excursions, which can be seen in Figure 7 below. In the middle of 2004, and again in the middle of 2010, the company's warranty expense rates rose far above the baseline seen for the remainder of the decade.
Figure 7
OSI Systems Inc.
Average Warranty Claims & Accrual Rates
(as a % of product sales, 2008-2012)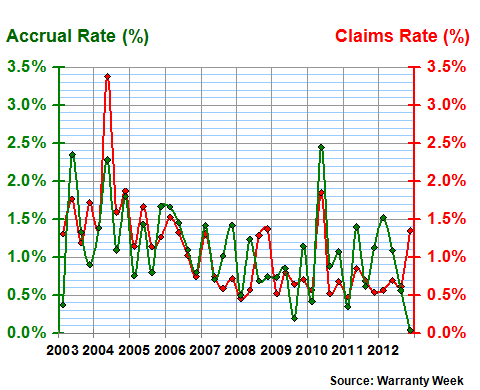 As with American Science and Engineering, these sudden spikes came in the final quarter of their respective fiscal years (OSI Systems ends its fiscal years on June 30). And again, the company was silent about any changes in product reliability or repair costs that might have prompted the change.
Stuffing Expenses Into Annual Reports?
Those who look at just a given company's annual reports would not see the cramming in the fourth quarters, because they would not see the under-accruals in the first, second and third quarters. One must collect the data for the full 12 months, then subtract out the data for the first, second, and third quarters, in order to see the spikes in the fourth-quarter expense rates.
FLIR Systems, in contrast, had two much gentler spikes in warranty accruals in 2004 and 2006, followed by nearly constant expense reductions ever since. As can be seen in Figure 8, the company's warranty expense rates hit new lows in the third quarter of 2011. And though they've ratcheted up since then, they remain below one percent.
Figure 8
FLIR Systems Inc.
Average Warranty Claims & Accrual Rates
(as a % of product sales, 2008-2012)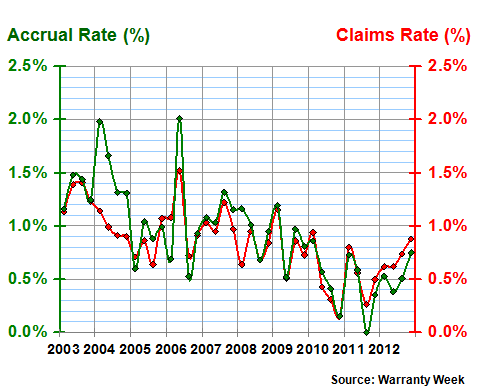 FLIR stands for forward-looking infrared. And indeed, the company makes thermal imagers and components for both commercial and military applications. One of its best-known commercial imaging applications was done for BMW AG, which gives drivers of some of its luxury models a kind of night vision that can help them identify people and/or animals by the heat they emit. Another application for roadway monitoring cameras combines the visible light images of automobiles with the infrared heat signatures given off by their engines, allowing traffic monitors to see farther in complete darkness or in very foggy conditions.
However, FLIR is perhaps best-known in the security equipment industry for its ThermoSight and MilSight weapon sights for snipers, its Recon thermal imaging binoculars, its ground surveillance radar, and its Fido and Griffin explosives and narcotics detection systems.
Probing the Body
Finally, we wanted to spotlight Analogic Corp., which as we mentioned was part of our report on medical and scientific equipment back in the May 23 newsletter. But the irony is that some of the same computed tomography, ultrasound, and magnetic resonance imaging technology that helps doctors heal the body in hospitals can also help security personnel probe the body at checkpoints.
In Figure 9, we basically see a company whose warranty expense rates have remained around 1.5%, plus or minus one percent, for most of the past decade. In the May 23 newsletter, we noted that any medical equipment that involves X-rays or lasers always seems to have higher warranty expense rates than other types of medical equipment. Now, we can amend that theory to say that any company whose imaging technology has dual uses in health care and security will also have higher-than-average warranty expense rates.
Figure 9
Analogic Corp.
Average Warranty Claims & Accrual Rates
(as a % of product sales, 2008-2012)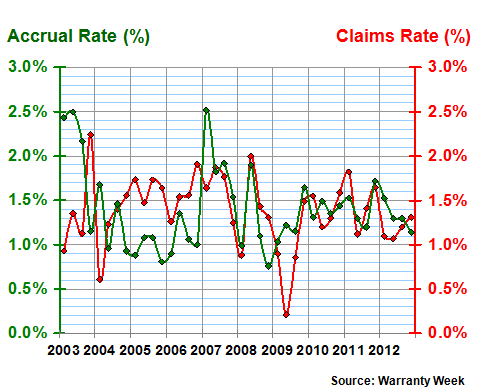 There are many other companies on our list whose products feature prominently in residential, corporate, and military security applications. These five are just a representative sample of those vendors whose brand names can be readily recognized by the traveling public at airport security checkpoints.
International Market
Numerous other security equipment vendors that are based in Europe don't disclose their warranty expenses to investors. And so, while their products are certainly part of the worldwide industry, their warranty expenses are not known.
Thankfully, several of the largest are owned by nominally U.S.-based companies, whose stock trades in New York and whose financial reports are filed with the U.S. Securities and Exchange Commission. For instance, CEM Systems is based in Belfast, but its parent company is Tyco International -- technically headquartered in Switzerland but run out of offices in New Jersey. Ingersoll Rand Security Technologies has offices in the UK and Dubai, but its parent, while technically headquartered in Dublin, keeps its top executives in North Carolina.
We'll mention just one more international vendor: a British company called Cobalt Light Systems Ltd., which has a new liquid explosive detection system that was just cleared for use in some European airports.
Allegedly, The company's Insight 100 system can quickly tell the difference between a bottle of Pepsi and a more combustive mixture, thus allowing passengers to once again bring their drinks with them. We hope it works as advertised (they claim a false alarm rate under 0.5%), and we hope it soon gets clearance from U.S. airport security authorities.
Tenth Annual Product Warranty Reports
As we begin to wrap up our annual survey of U.S.-based warranty providers, here are some links to the online editions of all the previous parts of this series: