June 13, 2013
Food Service Equipment Warranties:
The commercial appliances used in restaurants cost more to buy but less to keep in good working order. Over the past 10 years, the average warranty expense rates for professional food service equipment has been less than half as much as for home kitchen appliances.
As we continue our journey through the community of U.S.-based manufacturers that report their product warranty expenses to shareholders, we're circling back to revisit some segments that we skipped over the first time around.
In May, we looked at major appliance and HVAC warranties, but we skipped over the small but important group of companies that make professional food processing, cooking, cleaning and refrigeration systems specifically for restaurants, cafeterias, and other commercial customers.
With the HVAC systems used to heat and cool the air, many of the same brands used in commercial office buildings are also sold into homes. Same goes for laundry: Whirlpool Corp. and others have both residential and commercial laundry business units.
Commercial vs. Residential Appliances
However, with food, it turns out that the home kitchen appliance and the commercial food service appliance communities have very little in common. The only brand name that seems to span across both groups is Electrolux AB, which operates a professional sales unit in Charlotte, North Carolina. All the others seem to choose either the home or the commercial market, but not both.
The commercial side of the business is one that we've never previously detailed. One of the first hurdles to overcome is forming a list of the companies on that side of the industry. So we took a peek into the kitchen areas of some restaurants, and made some inquiries in the restaurant supply business. The problem is, however, that the brand names on the equipment are frequently completely different from the name of the parent company reporting the warranty expense. But we made some lists and checked them twice, and extracted what we think is a complete list of the warranted hardware vendors on the commercial side of the food preparation business.
According to our list, the top five warranty-reporting parent companies of food service equipment suppliers are Manitowoc Company Inc., Middleby Corp., Dover Corp., Standex International Corp., and Illinois Tool Works Inc. FMC Technologies Inc. used to be a major player, but its food service operations were spun off a few years ago into a new company called John Bean Technologies Corp. And B/E Aerospace Inc., despite its name, is also a food service equipment supplier of sorts. Besides its commercial airline seats and systems, it also sells many of the ovens, refrigerators and beverage-making equipment used by the major commercial airlines in their food service galleys.
Those eight companies, plus a dozen smaller companies, make up our list of the 20 U.S.-based food service equipment providers that report their warranty expenses in their financial statements. And in 2012, according to our data, they spent a record $257 million on warranty claims, up almost 5% from 2011 levels.
Figure 1
Food Service Equipment
Claims Paid by U.S.-based Companies
(in US$ millions, 2003-2012)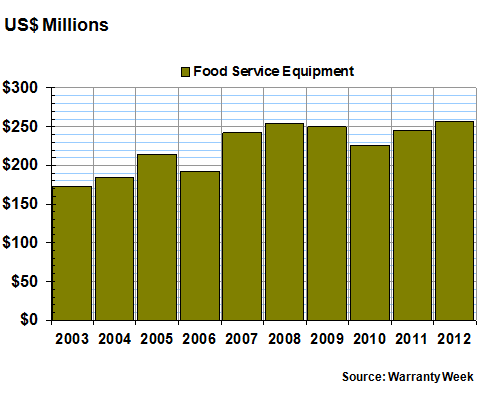 The second-highest annual total for claims payments, however, was not in 2011. It was the $255 million spent by food service equipment providers in 2008, just before the recession kicked in. Claims were down a little from that peak level in 2009, were down a lot in 2010, and then were up in 2011 and again in 2012.
In other words, the bottom of the recession was a little later in this business than in most. That's due to the fact that there's usually a bit of a lag between a downturn in sales and a downturn in claims, because last year's equipment probably won't need warranty work until it gets a little wear and tear in the field. So the idea that the industry's claims payments bottomed out later than sales did is to be expected.
Rising Product Sales
Product sales, by the way, were up more than 5% in 2011-2012, as restaurant and cafeteria operators continued to renovate and expand. Middleby saw a 21% sales gain. Illinois Tool Works and Dover saw only slight revenue growth, and John Bean Technologies actually saw revenue fall by 4% in 2012.
Manitowoc saw an 8% overall gain in product sales, though its food service unit grew more slowly than its crane unit. B/E Aerospace saw 23% revenue growth, though it didn't break out revenue specifically for its beverage and galley systems, as distinct from its airplane lavatory systems, seats, cabinets, and protective breathing equipment.
Unfortunately, in both these cases, we have to include all the companies' product revenue in our calculations, because even when the companies do separate out their food service equipment revenue, they do not separate out their food service equipment warranty costs.
There are others that span multiple industries as well. For instance, FMC Technologies used to make petrochemical equipment, aerospace equipment, and food handling equipment. But then in 2008 it spun off its food preparation and airport equipment businesses into John Bean Technologies Corp. (where they're known as JBT FoodTech and JBT AeroTech, respectively), leaving FMC with just a stake the oil and gas equipment industry. We're counting both FMC and JBT in our figures this week, which means there's not only more aerospace mixed in, but also a little oil and gas on the side.
Meanwhile, because of more than a century of mergers and acquisitions, the top five publicly-held companies reporting warranty expenses in the food service equipment industry are the parent companies of literally dozens of brand names. Again, each company discloses just one set of warranty expense figures for its entire product line, so there is no way to tell which brand name is most or least costly, or whether for instance ovens are more or less costly than chillers.
Brand Name Rosters
And then there are about a dozen smaller U.S.-based and publicly-held companies that are (or were) at least partially in the foodservice equipment business. To be exact, there are 20 companies in total on our list this week. Three have been acquired since we began collecting warranty expense reports in 2003.
Declining Warranty Accruals
In Figure 2, we're counting all the warranty accruals these companies have made over the past 10 years. As with claims, the bottom of the recessionary trough came in 2010. But unlike with claims, the all-time peak was in 2007, when our 20 food service equipment makers set aside $278 million in warranty accruals.
Figure 2
Food Service Equipment
Accruals Made by U.S.-based Companies
(in US$ millions, 2003-2012)
There was a 10% increase in warranty accruals from 2010 to 2011, but accruals declined in five out of the last seven years, including last year. Given that there was 5% sale growth, this suggests some improvements in product reliability and/or reductions in repair costs.
In addition to the 20 companies whose warranty expenses we car track, there are dozens of other brand names in the foodservice equipment industry that are not reporting their warranty expenses to the U.S. Securities and Exchange Commission. Some are U.S.-based, but privately held. Others are the U.S. subsidiaries of European companies. None are required to file financial statements with the SEC.
A list of the numerous private and non-U.S.-based companies in the food processing equipment industry would include: Ali S.p.A., Alto-Shaam Inc., American Panel Corp., Arctic Refrigeration Co. of Batavia Inc., Aucma Company Ltd., Auto-Chlor System, Automatic Bar Controls Inc., Bally Refrigerated Boxes Inc., Beverage-Air Corp., Bizerba GmbH, Brema Ice Makers S.p.A., Cambro Manufacturing Co., Celli S.p.A., Duke Manufacturing, Follett Corp., Formax Inc., GEA Group AG (owners of Convenience Food Systems), Globe Equipment Co., Hatco Corp., Heat and Control Inc., Henny Penny Corp., Hoshizaki Electric Co. Ltd. (Lancer), IMI Cornelius Inc., Insinger Machine Co., K-Tec Inc. (Blendtec), Marel hf, Meiko Maschinenbau GmbH, Multivac, Rational AG, Scotsman Industries Inc. (Ice-O-Matic and Scotsman Ice Systems), Thermo-Kool, True Manufacturing, Turbo Air Inc., Univex Corp., Vin Service Srl, Vitamix Corp., Vogt Ice, Vollrath Co. LLC, and Winterhalter Gastronom GmbH. Have we missed any? Please let us know for next year's report.
Reserves Remain Level
The amount of warranty reserves held by the 20 companies manufacturing food service equipment has remained remarkably level for the past six years, as can be seen in Figure 3. Except for that slight dip in 2008, the balance has been at or near $322 million since the end of 2007.
However, despite appearances, warranty reserves have actually decreased for the past two years. There was a $250,000 decrease from the end of 2010 to 2011, and a $1.3 million decrease from 2011 to 2012. And since there was also a small gain in reserves from 2009 to 2010, that means our peak for the decade came in 2010.
Figure 3
Food Service Equipment
Reserves Held by U.S.-based Companies
(in US$ millions, 2003-2012)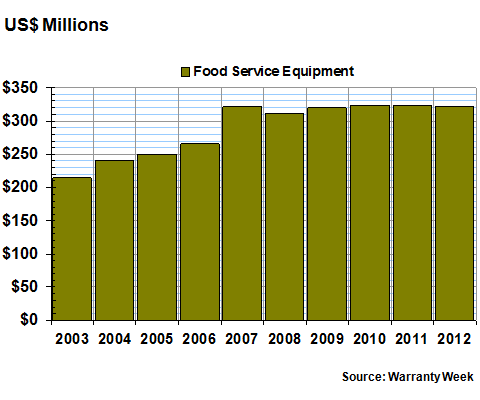 All three basic warranty metrics saw huge increases from 2006 to 2007. And then they followed inconclusive patterns in the six years since. And, when we combine these three warranty metrics with product sales data, we see much the opposite trend in the data below.
Warranty Expense Rates
In Figure 4, we've taken the data from Figures 3 and 4 and divided it by product revenue, to calculate a claims rate and an accrual rate. And what we see are a pair of rates that decrease until 2006-2007, then rise until 2009, then fall again. Note, however, that the lowest-ever claims and accrual rates came in the first quarter of 2007.
Figure 4
Food Service Equipment
Average Warranty Claims & Accrual Rates
(as a % of product sales, 2003-2012)
Granted, not all of this product revenue comes from food service equipment. What we could be seeing instead is the trend in warranty expense rates for airline seats and construction cranes, mixed in with food service equipment.
Food Service Seasonality?
The most unusual aspect of the data is how seasonal it seems to be. We would expect this with products tied to the growing season (e.g. farm and lawn equipment) or to the school year (e.g. medical and scientific equipment). But food equipment? Why are expense rates always highest in the second or third quarters of each year?
It could, of course, be just one of those things that happens when the sample size is small (20 companies) and the ups and downs of any one large player could affect the overall averages significantly. This is what happened with Boeing Co. and United Technologies Corp. in the aerospace sector, and what happened with General Electric Co. in the power equipment industry.
But here, there is no dominant player. For instance, Manitowoc accounts for the largest percentage of claims, but its share was only 23% in 2012. Manitowoc, Middleby, ITW, JBT, and Standex together account for around 60% of claims, but FMC, Dover and B/E account for 30% more. And none of these companies are showing a seasonal pattern to their claims or accrual rates.
Let's start with Manitowoc. The company's claims and accrual rates, detailed in Figure 5, do indeed show some strong variability in certain years. But the peaks are not always in the second or third quarter. And given that the company is roughly two-thirds cranes and one-third food service, it's logical to think that the weather's affect on construction schedules is a primary factor.
Figure 5
Manitowoc Company Inc.
Average Warranty Claims & Accrual Rates
(as a % of product sales, 2003-2012)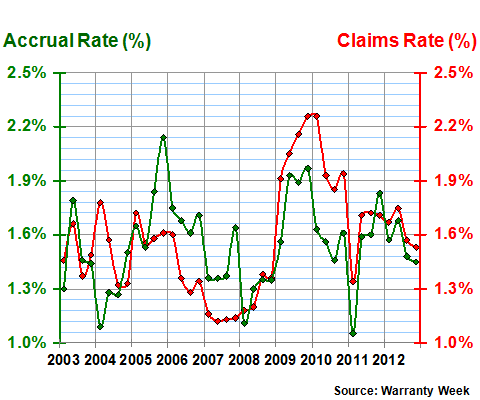 The 2009-2010 peak in Manitowoc's claims rate, we suspect, has lots to do with the recessionary decline in product sales and not much to do with either product reliability or repair costs. And the early 2011 drop in rates is just an anomaly, we suspect. However, the more recent decline in expense rates is something we suspect does actually have its roots in product reliability improvements and repair cost reductions.
Middleby's Acquisitions
At Middleby, there's no seasonal fluctuation at all. Instead, there are two periods of warranty cost cutting: the first, lasting from 2003 to the recessionary year of 2008, and the second lasting from 2009 to the present. In each phase, warranty expense rates declined more or less constantly from one year to the next.
Figure 6
Middleby Corp.
Average Warranty Claims & Accrual Rates
(as a % of product sales, 2003-2012)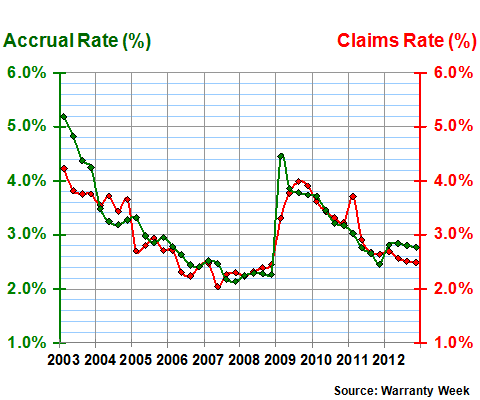 One would suspect the big jump in 2009 rates had lots to do with the recession. However, Middleby was also at the time digesting several big acquisitions, including TurboChef Technologies Inc. (January 2009) and New Star International Holdings Inc. (December 2007). These and nine smaller acquisitions added fourteen brands to the Middleby portfolio from 2007 to 2009. Perhaps what we are seeing in Figure 6 is the pain of integrating them all into the product line?
Middleby, by the way, is what could be called a "pure play" in food service equipment. Most of the others make more money in other industries, such as construction equipment for Manitowoc, aerospace for FMC, Dover and B/E, or automotive for ITW.
Illinois Tool Works
If there is any seasonality to ITW's warranty expense data, it's not apparent in the chart seen in Figure 7. That's because ITW releases its warranty expense data only once a year, in its annual report. So we've taken the averages for each year as a whole, and applied them equally to the four quarters of the year.
Figure 7
Illinois Tool Works Inc.
Average Warranty Claims & Accrual Rates
(as a % of product sales, 2003-2012)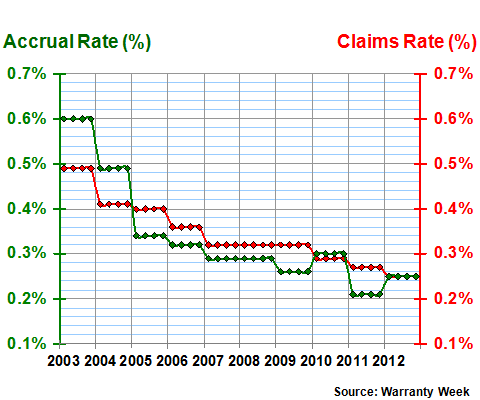 No matter what the frequency of the company's reports, however, the trend is obvious. ITW's highest warranty expense rates came in 2003. Its lowest accrual rate came in 2011. Its lowest claims rate came in 2012. And the trend has almost constantly been downwards.
Granted, food service equipment is only about 11% or 12% of the company's overall product revenue. So the trend seen in Figure 7 is likely taking place with products made for other industries. But still, as with Middleby, the trend is downwards, and that's worth celebrating.
Standex Begins Reporting
In Figure 8, we're charting the warranty expense rates of Standex International. And though the company has been in business since 1955, it did not begin to report its warranty expenses until the middle of 2007. And since it reports that data only once a year, in its annual reports, we have only five measurements to display, and no data yet for the half-year after June 30, 2012.
Figure 8
Standex International Corp.
Average Warranty Claims & Accrual Rates
(as a % of product sales, 2003-2012)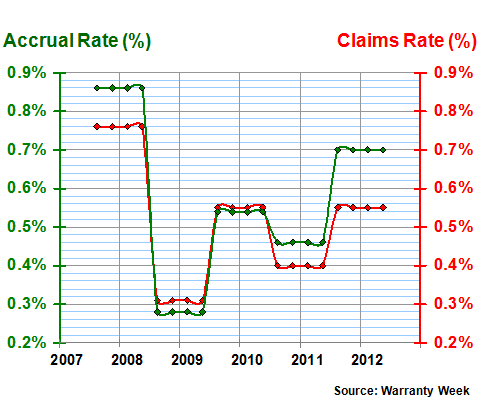 There's also no apparent trend to the data. All five pairs of expense rates are below one percent, so that allows us to stretch the scale of the vertical axis. But that also makes very small changes look big. So while fiscal year 2009 has the lowest and fiscal year 2008 has the highest expense rates, the difference between them is only a little more or a little less than half a percent.
JBT FoodTech
Finally, we have JBT, which as we've noted is both a food service equipment company and an aerospace equipment company. Its food service equipment brand names include Advantec, Double D Revoband, DSI, FloFreeze, Fresh'n Squeeze, GyroCompact, JSO JetStream, Log-Tec, ReadyGo, SeamTec, Stein, SuperAgi, and ThermoFin. But JBT FoodTech is only around 60% of the business. So that means it's likely that 40% of the warranty expenses come from cargo loaders, aircraft towing vehicles, passenger bridges, and other airport gear.
Figure 9
John Bean Technologies Corp.
Average Warranty Claims & Accrual Rates
(as a % of product sales, 2003-2012)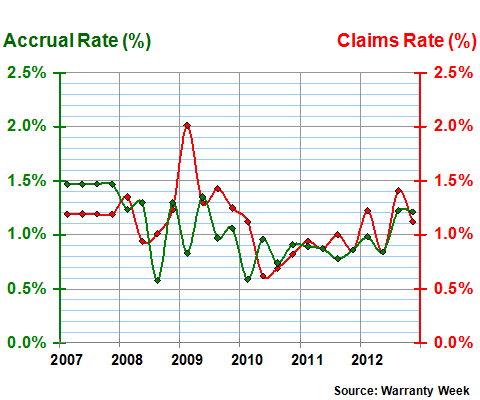 Also, because JBT was spun-off from FMC Technologies at the end of July 2008, its first annual report wasn't filed until early 2009. Fortunately, that annual report gave us not only quarterly data for calendar 2008, but also some annual data for 2007. That's why, in the chart above, we see four equal pairs of measurements for the four quarters of that first year.
No Clear Trend?
What we don't see, however, is any clear trend. And we certainly don't see any meaningful seasonality to the data. Basically, the expense rates range between 0.6% and 2.0% for the first few years of the company's existence as a separate entity. Then they stabilize somewhere in the middle of that range.
So, we have no cause to point to for the seasonality found in Figure 4. And it's not because of FMC, Dover, or B/E/ Aerospace, either. We won't include their charts, but suffice it to say that they're not showing any seasonal patterns. Well, actually, B/E Aerospace does seem to boost its accruals during one quarter each year. But that happens during the first quarter, not the second or third. So if anything, it should dampen the seasonality seen in Figure 4.
Still, in general, what we see in this food service equipment industry, which is by its very nature a commercial business-to-business industry, is a set of warranty expense rates that are much lower than is seen with residential sales of major appliances to consumers. Go back to the May 16 newsletter and compare rates: most of the time, the consumer appliance manufacturers are seeing expense rates around one to two percent of revenue. But as can be seen in this week's newsletter, the commercial sales of appliances are hardly ever seeing warranty expense rates above one percent.
This is a patterns we've also seen in other industries. For instance, passenger cars seem to have higher warranty expense rates than vocational trucks. Laptops have higher warranty expense rates than servers. GPS navigation systems for cars and boats have higher warranty expense rates than those sold to fleet operators. In general, consumer-facing OEMs seem to incur higher warranty expense rates than business-facing OEMs.
Tenth Annual Product Warranty Reports
As we begin to wrap up our annual survey of U.S.-based warranty providers, here are some links to the online editions of all the previous parts of this series: