June 27, 2013
Mining Equipment Warranties:
Most of the larger manufacturers of drilling and digging equipment are in many more industries besides mining. They make everything from medical instruments and food handling equipment to road paving equipment and diesel generators. So it may not be possible to analyze them as a single group.
There are very few companies that make nothing but mining equipment, and there are very many for which mining equipment is just one product line among several. As a result, they're a group in name only, with no clear trends in terms of warranty expense rates or averages.
It's been two years since Warranty Week spotlighted the mining equipment industry, and this week marks the first time we've looked at it by itself, without the addition of farming equipment or construction equipment.
There is an incredible amount of crossover between a list of the makers of mining equipment and other categories such as construction equipment, farm and lawn equipment, and heavy equipment in general. In fact, 13 of the 36 companies we're counting as makers of mining equipment are also counted as makers of construction equipment. And 10 of the 36 also have a stake in the car or truck industries.
But that's not all. Four of the companies are also manufacturing medical equipment. Two are making food service equipment. Nine are making building materials. And there's even one making semiconductors.
The biggest crossover of all is Caterpillar Inc. For years it had a small presence in the surface mining and underground mining equipment industry. But then in 2011, it acquired Bucyrus International Inc., a leading manufacturer of mining equipment, which in 2010 had itself acquired the mining equipment division of Terex Corp.
The problem is, Caterpillar is one of the world's largest warranty providers in any industry. In 2012, it was sixth in the U.S., behind only GM and Ford from the auto industry, and Apple, Dell and HP in the computer industry. Of course, not all of Caterpillar's warranty expenses come from mining equipment. But its mere presence on the list has a profound effect on the totals and averages.
Warranty Claims
In Figure 1, we're tabulating the annual claims payments for the 36 mining equipment companies over the past 10 years. Claims payments peaked at $1.47 billion in 2008, and then fell for three years straight. But in 2012, claims were up by about $11 million from 2011 levels, suggesting that the industry is once again expanding.
Figure 1
Mining Equipment Warranties
Claims Paid by U.S.-based Companies
(in US$ millions, 2003-2012)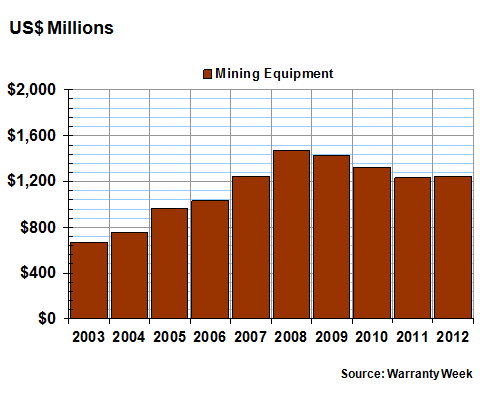 In fact, sales were up by 11% overall, driven in part by big gains at Joy Global Inc. (up 29%), FMC Technologies Inc. (up 21%), and Terex (up 13%). Caterpillar, which as we mentioned is much more than merely a mining equipment manufacturer, saw sales climb 10% overall.
The gains didn't continue across all warranty metrics, however. Warranty accruals were down by 10% in 2012, from a level of $1.52 billion in 2011. But that follows a massive $346 million increase in accruals in 2010-2011. So perhaps what we're seeing is a little over-accrual in 2011, followed by a tactical slowdown in 2012?
Figure 2
Mining Equipment Warranties
Accruals Made by U.S.-based Companies
(in US$ millions, 2003-2012)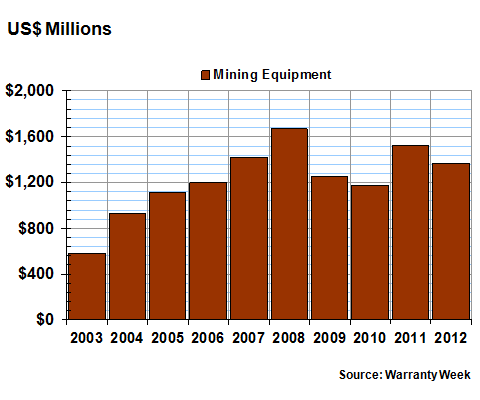 The reason we suggest that scenario can be seen in Figure 3. The year-ending balance in the warranty reserve funds of these 36 mining companies, which is calculated by adding their accruals and subtracting their claims, hit a record level of $1.9 billion at the end of 2012.
In other words, perhaps there was an excess buildup of unneeded accruals, because claims turned out to be relatively unchanged? Perhaps the manufacturers set aside the extra accruals, expecting they'd be spent on additional claims, but then the increase never materialized?
Figure 3
Mining Equipment Warranties
Reserves Held by U.S.-based Companies
(in US$ millions, 2003-2012)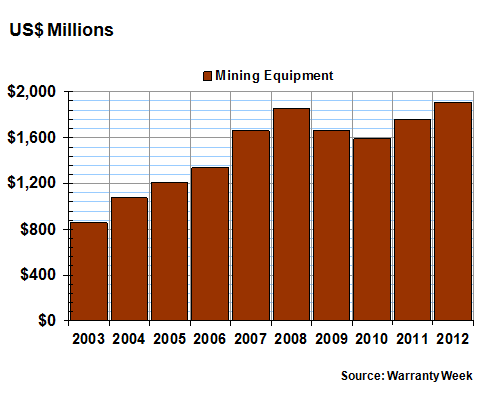 Actually, most of the mining companies let their warranty reserve balance decline in 2012. For instance, Terex let its balance fall from $134 million at the end of 2011 to $110 million at the end of 2012. Manitowoc's warranty reserves were down by $3 million.
The big increases in 2011-2012 reserves came at Joy Global (up $18 million) and Caterpillar (up $169 million). As we shall see, Joy Global was reacting to a big surge in claims. Caterpillar was simply allowing excess accruals to accumulate.
Warranty Expense Rates
In Figure 4, we've taken the claims and accrual data from Figures 1 and 2 and divided it by sales data. This gives us claims and accrual rates, expressed as a percentage of sales.
Most of the time, the industry average is between 1.3% and 1.9%. That big spike in 2009 claims, we note, has lots to do with the downturn in sales during the recession, and little to do with claims declining. A jump back to Figure 1 confirms that claims fell only slightly in 2008-2009. Therefore, most of that increase in the claims rate was due to the size of the bottom half of the fraction -- the sales data -- declining. By the end of 2009, however, sales were recovering, and the claims rate plummeted to 1.35%.
Figure 4
Mining Equipment Warranties
Average Warranty Claims & Accrual Rates
(as a % of product sales, 2003-2013)
The really good news, however, is what has happened in 2012 and the first quarter of 2013. Both the claims and accrual rates fell to the low end of their historical range, and remained there. In fact, they went even lower. That 1.1% claims rate seen in the first quarter of 2012 is the lowest it's ever been. And the 1.2% accrual rate seen in the first quarter of 2013 is the lowest that warranty metric has ever been.
This is really important because it demonstrates that one of the reasons that the claims and accruals totals in Figures 1 and 2 aren't returning to 2008 levels is because they no longer need to be that high. And the data in Figure 3 shows that perhaps some of the manufacturers haven't completely embraced this new reality. They're still accruing more than they need to, and as a result the amount left over at the end of the year continues to rise.
Joy Global's Warranty Costs
But let's look at some of the major players in detail. In previous newsletters we've looked at Caterpillar, Terex, and Manitowoc, because of their involvement in other industries. After those big three, the next largest mining equipment manufacturer is Joy Global, which has a major presence in both surface mining and underground mining equipment.
Joy Global is the result of multiple mergers, divestitures and reorganizations over the past century. One branch traces its roots back to a company called P&H Mining Equipment, founded in 1884 by Alonzo Pawling and Henry Harnischfeger. The other branch is Joy Mining Machinery, founded by coalminer Joe Joy in 1919.
In Figure 5, it's clear that something has gone wrong in the early months of 2013. Joy Global's claims rate, which had been closer to one percent, suddenly shot above two percent. Because of the way we map the company's fiscal year to the calendar year, however, that spike in the company's claims rate actually came in the months of November 2012 to January 2013. But there's no mention of a cause in the company's financial statements for the period.
Figure 5
Joy Global Inc.
Average Warranty Claims & Accrual Rates
(as a % of product sales, 2003-2013)
Joy Global acquired LeTourneau Technologies Inc. in 2011, and merged that company's warranty reserve fund with its own. That caused the reserve balance to jump over the $100 million mark by January 2012. But that quarter's claims payments also rose, to over $25 million, up from $8.3 million the year before, and so the reserve balance fell back under $100 million. Still, there's no hint as to what caused claims payments to rise.
Oil & Gas Equipment
FMC Technologies is a company we partially covered in the security equipment warranty roundup three weeks ago, and in the food service equipment warranty roundup two weeks ago. That's because the company spun off its airport and food equipment businesses into a separate unit called John Bean Technologies Corp. in 2008, leaving behind a product line of equipment aimed at the oil and gas industry.
Interestingly, that year of 2008 seems to be a low point for FMC's warranty expenses, as can be seen in Figure 6 below. The company's warranty claims and accrual rates were a little higher before 2008, and a lot higher after 2008, than they were in 2008.
In other words, the oil and gas drilling and processing systems that were left behind probably generated more warranty expense per dollar of revenue than the airport security and food handling equipment that was spun off. However, please also note that the only two times FMC's claims rate fell below 0.2% were in 2009 and 2010, which came after the spin-off.
Figure 6
FMC Technologies Inc.
Average Warranty Claims & Accrual Rates
(as a % of product sales, 2003-2013)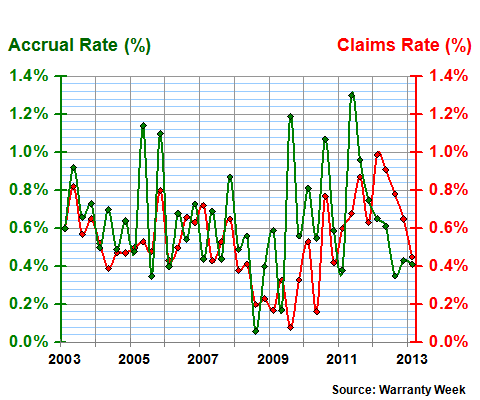 Dresser-Rand Group Inc. gets its name from the parents that formed it in 1987: Dresser Industries and Ingersoll-Rand. It produces a variety of machinery used in the oil and gas drilling and processing industries. In 1999, Dresser's share of the company was sold to Halliburton Co., and then in 2000, Ingersoll-Rand bought Halliburton's share. A private equity company then bought it from Ingersoll-Rand, and took it public in 2005.
In Figure 7, we see there is no warranty expense data for the company in 2003. And then the 2004 data is the same for both the first and second quarter. That's because when the company launched its public offering in 2005, it released some year-ago data in the form of a six-month report for 2004, which we divided into two equal parts.
At that time, claims and accrual rates were at a high point. Both rates fell in 2005 and 2006, but then rose again in 2007 and 2008. Since that claims rate spike in early 2008, however, the company has managed to reduce its warranty expenses considerably. In the first quarter of 2013, Dresser-Rand spent only $3.6 million on claims and accrued only $2.4 million on $572 million in product sales. That produced what turns out to be record low warranty expense rates (claims 0.6%, accrual 0.4%).
Figure 7
Dresser-Rand Group Inc.
Average Warranty Claims & Accrual Rates
(as a % of product sales, 2003-2013)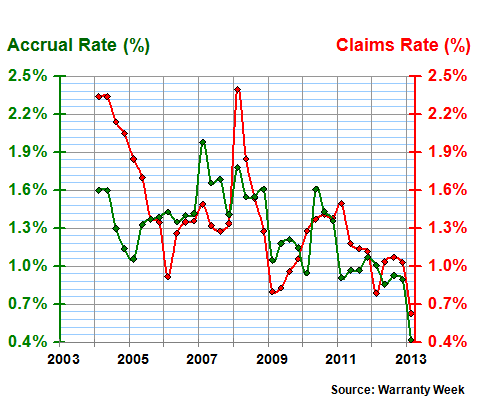 Astec Industries Inc. is best known for its road paving equipment, but it also makes a variety of water, gas and oil drilling rigs, as well as surface mining and rock crushing equipment. Its customers include asphalt road paving contractors, asphalt producers, and open mine and quarry operators.
In Figure 8, we've stretched the vertical scale considerably, but it's clear that the company's warranty expense rates are far from stable. Sometimes the company's claims rate is around 1.5% while its accrual rate is higher. Other times its claims rate is around 1.7% but its accrual rate is lower.
The good news is that since 2011, the company's claims rate has remained low. Its accrual rate continues to bounce around, but in early 2012 it stood at 1.0% while in early 2013 it was back down to 1.1%.
Figure 8
Astec Industries Inc.
Average Warranty Claims & Accrual Rates
(as a % of product sales, 2003-2013)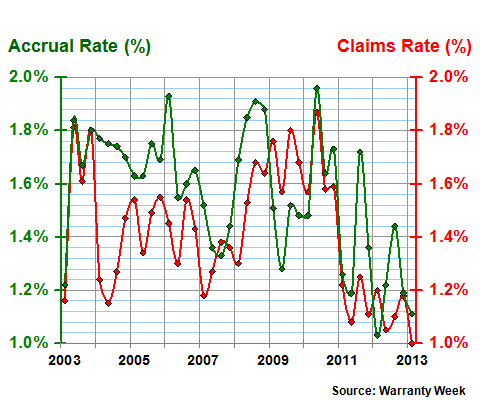 Finally, we wanted to take a look at one of the smaller companies on our list of mining equipment manufacturers: Geospace Technologies Corp. It used to be called OYO Geospace, but last year the Japanese parent OYO Corp. sold its stake in the company, so the name was changed.
Seismic Data
Geospace Technologies makes seismic data acquisition products for the oil and gas exploration industry. The equipment, by charting how sound travels through the ground, can help drillers decide which locations are the most promising.
In Figure 9, we see a company that sometimes sets aside 2.5% of its product revenue to pay for warranty costs, and sometimes sets aside only 0.5%. Sometimes, it hits those highs and lows within the same year. But since the last peak in 2010, its expense rates have continued to fall. At the end of 2012 and the beginning of 2013, both its claims and accrual rates were under 0.3% for the first time in more than eight years.
Figure 9
Geospace Technologies Corp.
Average Warranty Claims & Accrual Rates
(as a % of product sales, 2003-2013)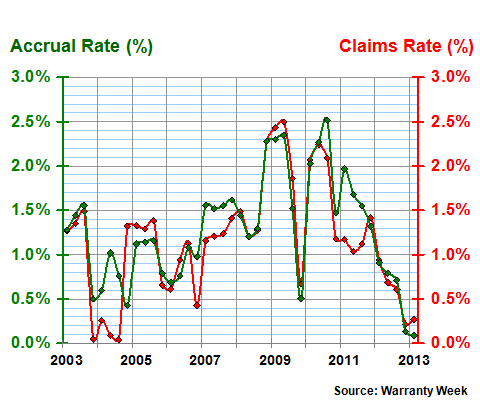 We've looked at only five of the 36 companies that are on our list of U.S.-based mining equipment manufacturers. And while they're not a representative handful, they do help an outside observer understand why the warranty expense rates of the industry as a whole seem to rise and fall so frequently.
Two of these five have warranty expense rate charts that look like seismometers during an earthquake. But there's nothing orderly about the other three either. Of all the industries that we've covered in the past three months, this is by far the least stable group of all. Sales and warranty costs are soaring and plunging in consecutive quarters, and the only trend or pattern one can see is the complete lack of a trend or pattern.
Perhaps what we're really seeing is how a group of diverse manufacturers with interests in everything from ice makers to stone crushers aren't sufficiently alike to allow for any meaningful analysis of their totals and averages. Even within each company, we can never be sure which product line their warranty expenses are coming from. It could be the oil rig drilling equipment, or it could be the medical equipment.
Tenth Annual Product Warranty Reports
As we wrap up our annual survey of U.S.-based warranty providers, here are some links to the online editions of all the previous parts of this series:
Next Thursday is July 4th, and is therefore a national holiday in the U.S. So we'll take a rest next week and will return to our weekly schedule on July 11 with a look at worldwide passenger car OEM warranty expense rates for the past decade.