July 18, 2013
Consumer Electronic Warranties:
The top companies don't have very high warranty expense rates. Outside of laptops and smartphones, their product warranties aren't all that costly. So perhaps warranty claims and repair costs are not a big deal for most consumer electronics companies
A reader who works for a third party administrator called to ask why his firm was getting such little traction with consumer electronics companies. Their service were second to none, he said, for the management of both product warranty and extended warranty claims.
The reason, we suspect, is that warranty claims and repair costs are not a big deal for most consumer electronics companies. They're a huge issue for some sectors such as laptops and smartphones. But for televisions and audio gear? The big issue is the sale of service contracts and the recognition of the deferred revenue, not the management of repairs.
We just completed our annual survey of product warranty costs, and we completely skipped over consumer electronics. For U.S.-based manufacturers, consumer electronics product warranties are a very small slice of the pie. That's partly because most of the products are imports. But what we're saying is that product warranty also is a minor issue for the importers.
Let's look at the product warranty track record for three huge consumer electronics companies: Sony Corp., Panasonic Corp., and Canon Inc. We'd love to also include warranty data from Toshiba Corp., Sharp Corp., and Samsung Electronics Co. Ltd., but there's no public data available. So we'll have to settle for these three consumer electronics companies to be representatives for their industry.
One Percent Expense Rates?
In general, what we find is that except for laptops and smartphones, there's not much warranty expense out there. Two of our three consumer electronics giants have never seen warranty expense rates above one percent. And the one that has is deep into both laptops and smartphones.
That, of course, would be Sony. And with Sony, there's another peculiarity in the data: last year, warranty claims were up but accruals were down. In other words, Sony is expecting lower warranty costs next year, though they're higher this year than they were last year.
Figure 1
Sony Corp.
Warranty Claims Paid & Accruals Made
(in billions of yen per year, 2003-2013)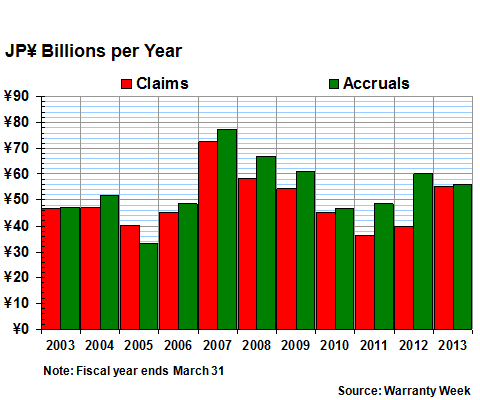 In the fiscal year ended March 31, 2013, Sony set aside 55.9 billion yen in accruals, and paid 55.3 billion in claims. That's down from 60 billion yen in accruals made last year, but is up from 40 billion yen in claims paid. We're figuring the exchange rate at 94 yen to the dollar during this fiscal year and 82 yen to the dollar in the fiscal year ended March 31, 2012, so we're talking around roughly US$600 million in claims and accruals in the most recent fiscal year.
Sales Divided by Expenses
The fact that Sony's claims and accrual amounts are now roughly the same carries through to its claims and accrual rates. Basically, to get the data in Figure 2, we're taking the amounts in Figure 1 and dividing them both by the same amount: product sales. And Sony had 4.5 trillion yen in product sales last year. That's Sony's total revenue minus the financial services revenue, minus all the CDs, films and software revenue -- leaving just the products that carry warranties. That way, we're really calculating what percentage of product revenue is going towards product warranty costs.
In Sony's case, we're looking at claims and accrual rates just above 1.2% in the year ended March 31, 2013. The claims rate is up from the previous year but the accrual rate is down from the record high of nearly 1.5% that was seen in the fiscal year that ended in March 2012.
Figure 2
Sony Corp.
Warranty Claims & Accrual Rates
(as a % of product sales, 2003-2013)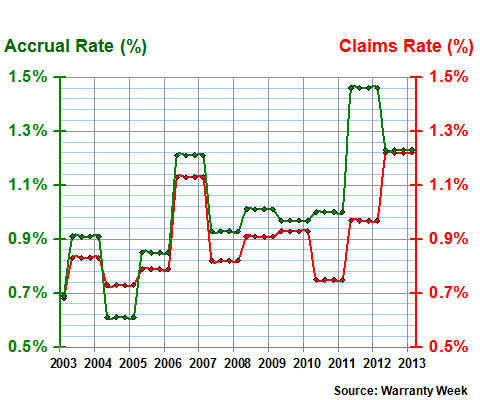 What we see in Figure 2 is that Sony set aside far more in accruals last year then it ended paying out in claims. For the four years before that, it set aside roughly one percent of revenue in warranty accruals. But then in fiscal 2012 it raised that accrual rate to just under 1.5%, as if it was anticipating a huge increase in claims costs.
Claims did rise, but only to a rate slightly above 1.2% of product revenue in fiscal 2013. And so, the company reduced its accrual rate to just over 1.2%, so that the amount it set aside is just about adequate to cover the amount it spends. This is in contrast to fiscal 2012, in which Sony set aside much more than turned out to be necessary.
The thing to remember is that Sony's warranty costs have averaged roughly one percent of revenue over the past decade. The reason that's important is because Sony is both a computer maker and a home electronics company. Computer companies usually end up spending two or even three percent of their product revenue on warranty costs. Consumer electronics spend about half of one percent on warranty. So Sony is right about in the middle, between those extremes, which is to be expected given its product mix.
Not a Big Issue?
When we say that warranty isn't a very big issue for consumer electronics manufacturers, we mean it isn't a very big issue for the makers of home entertainment hardware: televisions, game consoles, CD and DVD players, alarm clocks, etc. It is, however, a very big issue for the makers of computers and smartphones.
For a while, warranty was a very big issue for Microsoft, because the design of its Xbox 360 was such a colossal blunder, costing the company a frightful amount of money in 2007-2010. But that problem has now been fixed, and warranty once again isn't even worth mentioning in the company's financial statements. If Sony broke out its warranty expenses by product line, we'd expect the PlayStation to be towards the low end on the warranty cost spectrum.
Panasonic is also a computer maker, but computers and mobile phones are a much smaller portion of its product line than they are for Sony. And Panasonic doesn't have a major presence in smartphones, though it is a major player in cordless telephones as well as fax machines and home office equipment. So it's not all that deep into the warranty-intensive sectors of consumer electronics.
The point here is that Panasonic is pretty much the benchmark consumer electronics company -- some audio, some video, some home office gear, some kitchen appliances, and some personal care and grooming appliances. As Whirlpool is to major appliances, as Caterpillar is to heavy equipment, or as Hewlett-Packard is to computers, Panasonic is to consumer electronics. This is the benchmark company in its industry.
In Figure 3, we see a company whose warranty expenses have been fairly steady over the past decade. Sometimes, claims and accruals have been a little above 40 billion yen per year. Other times, they're a little below that level. In the most recent fiscal year, Panasonic set aside 33 billion yen in accruals and paid out 35 billion yen in claims. So like at Sony, claims were up but accruals were down, though not as dramatically.
Figure 3
Panasonic Corp.
Warranty Claims Paid & Accruals Made
(in billions of yen per year, 2003-2013)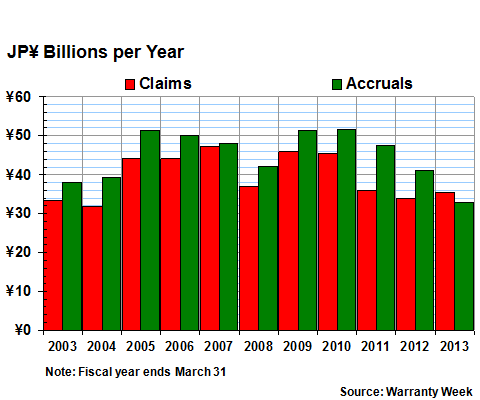 In Figure 4, we see a company that's totally in command of its warranty costs. For the ten years we've been tracking Panasonic, neither its claims rate nor its accrual rate have ever been above 0.7% nor below 0.4%. That's an incredibly steady track record. In contrast, Sony's rates have changed by more than 0.3% in a single year. Panasonic has remained within that narrow range for an entire decade.
Figure 4
Panasonic Corp.
Warranty Claims & Accrual Rates
(as a % of product sales, 2003-2013)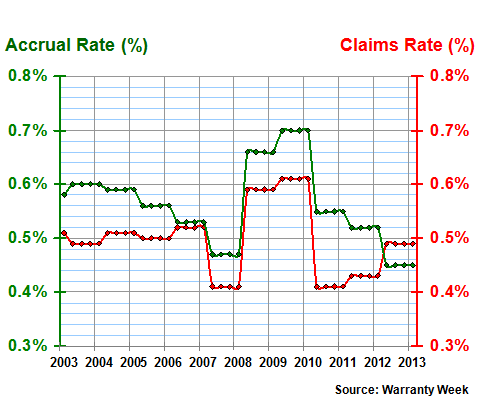 What we're saying is that anything below one percent is a minor issue. Anything below half a percent is a really minor issue. And Panasonic has now paid out 0.5% or less of its product revenue to satisfy warranty claims for three straight years. Therefore, for Panasonic, warranty expense is a minor issue.
Finally, let's look at the benchmark company for the digital camera industry. There's a little bit more rise and fall in Canon's claims and accrual data, with a clear peak in fiscal 2007 and 2008 and a decline since.
Peak Warranty Expenses
Canon's fiscal year coincides with the calendar year, so we're really talking about a peak in warranty expenses sometime between January 2007 and December 2008. Accruals were a little larger in 2007, while claims were a little larger in 2008.
In 2012, they're about half as much. That's right, in four years, Canon has cut its claims and accrual expenses in half. Sales are down a little too, so that contributed. But last year, claims were down 53% from their peak while accruals were down 56% from their peak. Sales are down only 15% to 22% from those years, so obviously something else is contributing.
Figure 5
Canon Inc.
Warranty Claims Paid & Accruals Made
(in billions of yen per year, 2003-2012)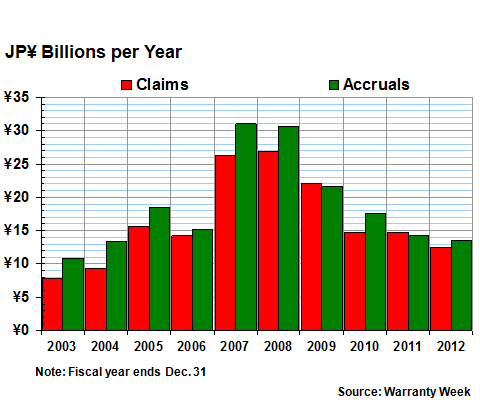 In Figure 6, it's obvious that the years 2007 to 2009 saw Canon's warranty expense rates hit their highest levels of the decade. The claims rate was highest in 2009, while the accrual rate was highest in 2008. As external observers, we don't know what the problem was in the product line. But whatever it was, those were the years it was a factor.
The claims and accrual rates in 2012 weren't quite half of what they were in 2007-2009, but they were down significantly from those peaks. So while Canon isn't as steady over the decade as is Panasonic, let's not lose sight of the fact that the highest expense rate in the chart below is only 0.75%.
Figure 6
Canon Inc.
Warranty Claims & Accrual Rates
(as a % of product sales, 2003-2012)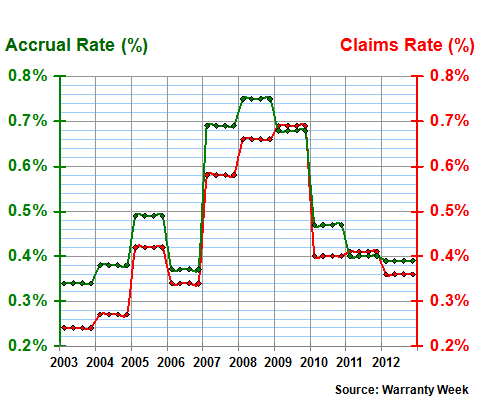 So perhaps we should modify our thesis a little bit. While we still think that warranty claims and repair costs are not a big deal for most consumer electronics companies, we could be persuaded to add a sidebar that a sudden and substantial spike in warranty expense rates is likely to become a big deal very quickly, no matter how low the baseline.
Whatever happened to Canon's warranty expenses in 2007-2009 undoubtedly led to a few tense meetings between the quality and the finance people. Whatever is happening to Sony's warranty costs now is undoubtedly at the top of the to-do list for somebody within the company. And whatever happened to Microsoft's Xbox 360 product line in 2007-2010 most certainly drew the attention of senior management at the time.
Therefore, we'll close with this thought: except when there is a big spike in costs, product warranty expenses are not a major concern for most consumer electronics companies. And with extended warranties, the major concerns are how to sell them and how to account for the sales revenue they generate, not the actual cost of the warranty work.
---
GWSCA and SAS Offer Unique Training Opportunity
for Warranty Professionals
SAS and the Global Warranty and Service Contract Association (GWSCA) have teamed up to create new courses that help meet the need for training in the warranty management field.
"Warranty management is receiving new attention with companies looking to increase their bottom lines and improve customer satisfaction," said G. Terry Hawkins, GWSCA president. "However there's never been a professional organization for warranty managers or formal training -- until now."
Without training, warranty professionals are left to learn on the job, which in many cases means making mistakes.
"Employees are basically passing down internal knowledge on the job," said Hawkins. "While there's nothing wrong with that, it doesn't provide the opportunity to exchange best practices among companies."
Last summer, SAS partnered with GWSCA, the only professional organization for the warranty and service contract industry, to help create two courses focused on the manufacturing sector.
Hawkins, a well-respected expert and consultant in warranty management, helped develop the courses and will also be the main instructor.
"We're excited about bringing GWSCA on board to help develop and teach these new courses," said Katie Whitley, SAS Business Knowledge Series program manager. "This unique training opportunity brings a lot of value to the industry."
Best Practices in August
The Warranty and Service Contract Management: Best Practices course is a public and on-site offering that introduces students to techniques that will help improve the warranty management process. The three-day course is available in August and costs $2,475.
On-site training is also available with the Warranty Maturity Model Assessment course. The workshop utilizes a self-assessment tool, known as "The Maturity Model," to guide original equipment manufacturers (OEMs) as they evaluate their warranty management and service contract programs. The two day, on-site training costs $12,000.
"What we hope to do is help both newcomers and veterans in the industry," said Hawkins. "No matter how long you've been working in the field, there's always room to improve and grow your knowledge."
Readers can learn more information about the course and register online at GWSCA.org.