July 25, 2013
Smartphone Warranties:
As with luxury cars, we're finding that the smarter the phone and the more advanced its features, the higher the warranty costs. And some of the smartest phones with the biggest market shares are now driving up the warranty costs of their manufacturers.
The smarter the phone, the harder they fall. As these little computers get more compact and sophisticated, their warranty costs are escalating. And it's beginning to hurt some of the largest players.
Two weeks ago, we found that some of the most luxurious passenger cars with reputations for high quality also had relatively high warranty costs. That's not supposed to happen. High quality means low warranty costs, no?
With smartphones, it seems to be a different problem. These units are sophisticated devices that aren't meant to be dropped, sat upon, or left out in the heat, cold, or humidity. But they're also meant to be portable and always available, so abuse and misuse are inevitable.
We just collected some new warranty data that illustrates the problem. Research in Motion Ltd., or RIM, is the Canadian company responsible for the BlackBerry product line. In its most recent fiscal year, warranty claims cost more than seven percent of the company's revenue. And that was the fifth straight year in which warranty costs rose as a proportion of revenue.
Incomplete Picture?
When we get into the smartphone market, however, we don't have a complete picture of the marketplace. Any analysis of warranty costs is definitely going to include some non-U.S. entities. And unfortunately, not all non-U.S. entities tell their shareholders about their warranty costs.
However, we do have warranty expense reports from a sizeable portion of the marketplace. For instance, in addition to RIM. both Apple Inc. and Nokia Corp. are warranty expense reporters, as is Sony Corp. But we have no data from Samsung Electronics Company Ltd. or LG Corp., none from Google or Motorola, and none from any of the smaller vendors such as HTC, Pantech or Casio.
So with that list of what is and what isn't available, let's look at the warranty costs of some of the top smartphone makers. Let's start with RIM, because this is the most startling chart one could imagine. Claims costs, well below two percent of revenue from 2003 to early 2009, keep rising and rising.
Figure 1
Research in Motion Ltd.
Average Warranty Claims & Accrual Rates
(as a % of product sales, 2003-2013)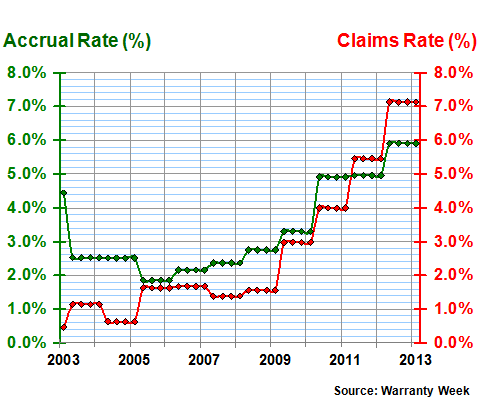 One could assume that the claims-to-sales ratio is rising because sales are falling. And yes, that is a big part of the reason: sales were down by 47% in fiscal 2013, while claims fell by only 31%. But there's always a lag time between when a product is sold and when it is repaired.
Basically, you're fixing last year's units with this year's money. When sales are rising, this makes the claims rate look artificially low. When sales are falling, claims fall less swiftly. And so, the claims total falls slower than the sales total, and the ratio between them rises.
However, RIM's accrual rates are also rising. And they should always remain level, because the amount accrued per unit sold should remain the same unless there's been a change in failure rates or repair costs. So what RIM is doing by raising its accrual rate from two or three percent to five or six percent is telling us that its warranty costs are essentially out of control.
In general, we'd suggest that five percent is the danger level -- the level at which warranty costs are out of control. On that basis, RIM hit the red zone two or three years ago. Years ago, when Palm Inc. hit similar levels, the company was sold to Hewlett-Packard Co.
Highest Expense Rates Ever
Meanwhile, RIM isn't the only major player in the smartphone industry with rising warranty costs. In the first quarter of calendar 2013, Apple boosted its accrual rate to 3.9%, its highest level ever. In the second quarter ended June 29, 2013, Apple's accrual rate fell back to 2.3%, but its claims rate hit a new high of 3.3%.
That's right, in the early months of 2013, Apple's warranty costs have hit their highest levels ever. And we think it's no coincidence that iPhone sales have now risen to more than 51% of the company's total, up from 45% a year ago.
Figure 2
Apple Inc.
Average Warranty Claims & Accrual Rates
(as a % of product sales, 2003-2013)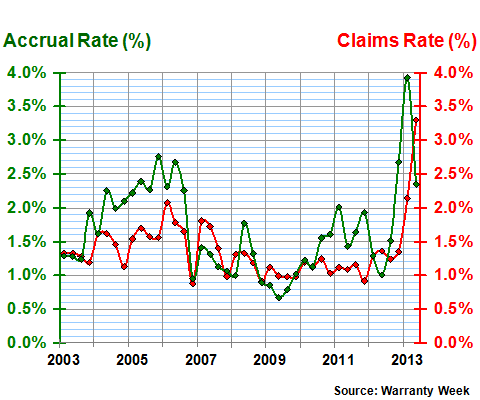 To put it simply, the larger computers had warranty expense rates that were low enough to offset the higher costs of the smaller computers: the iPhones and iPads. Now, as more of the product line becomes palm-sized, the company's warranty costs are becoming Palm-like. And that is not a good thing.
Smartphone Partnerships
And then there are the partnerships. Warranty costs elsewhere around the industry are complicated by both broad product lines and by partnership structures. Under generally accepted accounting principles, the parent companies do not have to include the sales or expenses of their 50-50 joint ventures on their books.
So last week, while looking at Sony's warranty costs, we said part of the reason for its higher-than-average costs among its consumer electronics peers was its presence in the two most warranty-intensive sectors of that market: laptops and smartphones.
It turns out that smartphones also contributed to some of the recent cost increases. No, it's not that the handsets suddenly became more costly to repair or more failure-prone. Rather, it was the end of a partnership that brought those costs onto Sony's financial statements.
In 2001, Sony Corp. and LM Ericsson Telephone Co. formed a joint venture called Sony Ericsson Mobile Communications AB. But it didn't work out so well, and financial losses and market share declines resulted.
So then early last year, Sony acquired Ericsson's stake and renamed the unit Sony Mobile Communications AB. It remains to be seen what effect this has on the company's future, but at least in warranty terms, this means that smartphone claims liabilities are back on the balance sheet. Sony Mobile sold 33 million smartphones in the year ended March 31, 2013, a jump of more than 10 million units from 2012 levels.
In Figure 3 and 4, we track the annual warranty expenses of the partners, with claims and accruals expressed as a percentage of sales. For Sony, the inclusion of smartphone sales and expenses seems to have had a slight effect on warranty expense rates. The company's claims rate has risen from 1.0% to 1.2%, while its accrual rate has fallen from 1.5% to 1.2%.
Figure 3
Sony Corp.
Average Warranty Claims & Accrual Rates
(as a % of product sales, 2003-2013)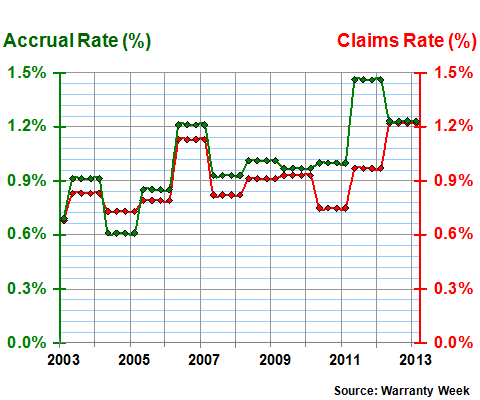 It's difficult for an external observer to attribute this change to smartphones alone. It could just as easily have been caused by televisions or laptop computers or Blu-ray disc players. But the point is, from now on Sony's warranty expenses also will include smartphone costs, in addition to laptop costs. And therefore, they're likely to remain at the high end of the consumer electronics industry range.
For Ericsson, smartphone expenses weren't there before, and aren't there now, because it sold its share to Sony. And so it's no surprise there's little change in Ericsson's expense levels in recent years. In calendar 2011, the company paid 1.1% of its revenue in claims and set aside 1.0% of its revenue for accruals. In 2012, both rates dropped two-tenths of a percent, to 0.9% and 0.8%, respectively. And so, Ericsson's warranty expense rates remain in the middle of the narrow range they've stayed within for the past six years.
Figure 4
Ericsson Telephone Co.
Average Warranty Claims & Accrual Rates
(as a % of product sales, 2003-2013)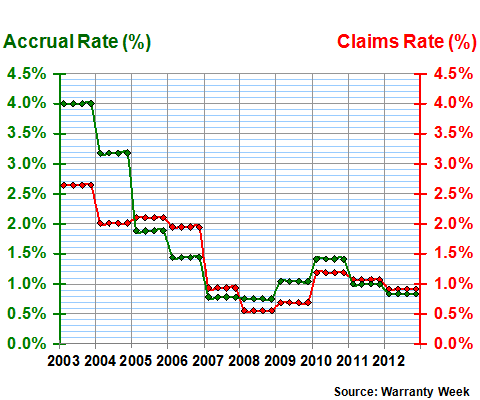 The other wireless telecom equipment partnership is Nokia Siemens Networks BV, a joint venture launched in 2006 by Nokia Corp. and Siemens AG. And as happened with that other partnership, Nokia is buying out its partner's 50% share.
However, Nokia Siemens also was more focused on wireless network infrastructure and technology for the carriers than on the handsets for the consumers. So it's not really analogous to Sony Ericsson Mobile Communications. While the joint venture's warranty obligations will fall back to Nokia, that shift won't include smartphone expenses.
For the sake of our discussion here, this is fortunate, because it means that Nokia's warranty expense chart in Figure 5 already includes all the company's mobile handsets, including its smartphones. In other words, the partnership doesn't obscure any of the parents' smartphone expenses, as the Sony Ericsson deal did until early 2012.
And the good news is that after numerous years of steady warranty expense rates, Nokia's costs are finally beginning to drop. Its claims rate is back below two percent for the first time since 2007. And its accrual rate fell for the second straight year to record low levels.
Figure 5
Nokia Corp.
Average Warranty Claims & Accrual Rates
(as a % of product sales, 2003-2013)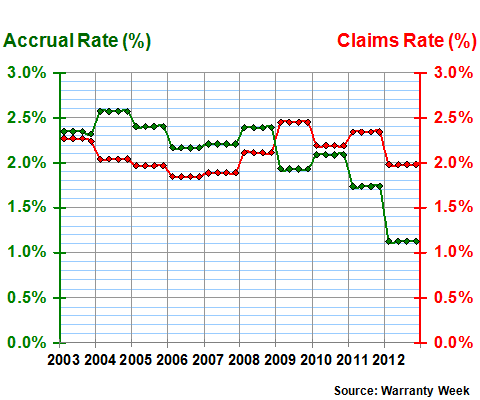 This is something of a surprise. If RIM and Apple are seeing rising warranty expense rates, why isn't Nokia? The reason, we believe, is the opposite of our original theory: dumb phones have lower warranty expense rates. And in 2012, while Nokia's "Smart Devices" business unit sold 35 million smartphones worldwide, its less-smart "Mobile Phones" business unit shipped approximately 300 million devices. So there are still a lot of not-smart phones being sold, especially to first-time users.
Disposable Mobile Phones?
And these days, the low end is really low. For instance, the company is selling the Nokia 105 model in Europe for only 15 euros (about US$19.50). The Nokia 101 is priced at 25 euros. The Nokia 206, with a primitive web browser built in, is priced at 46 euros. And the Nokia Asha 311, which includes a camera, is priced at 92 euros. Two of each of these four models cost less than one unlocked Apple iPhone 4S.
So let's say someone actually bought eight low end Nokia mobile phones and one iPhone 4S. Let's say they all broke. How many would be repaired under warranty and how many would be replaced or simply discarded? It's the same decision process as with low end consumer electronics: there is a price point at which an item becomes disposable. And as we concluded last week, that's when warranty becomes a non-issue, for both the manufacturer and the consumer.
We're not saying that Nokia is making cheap and dumb throwaway junk. What we're saying is that the less intelligent units are sturdier, hardier, and less delicate than their smarter siblings. Those old Nokia 1110 models? You could drive a nail with one of those. And if these even less expensive new models break, they're far less likely to come back for repair. They may not bring in as much revenue per unit, but they also bring in less warranty expense.
Finally, let's look at Siemens, Nokia's ex-partner. Siemens is more a competitor of General Electric Co. than any of the companies in Figures 1 to 5. It the past, it's been in the personal computer business, acquiring Nixdorf and forming a joint venture with Fujitsu, but it sold its share of both operations to Fujitsu four years ago, leaving the industry behind.
These days, Siemens is more of an infrastructure company, working on power generation and transmission, oil and gas production, pipelines, magnetic resonance imaging systems, X-ray and fluoroscopy.
Telecom equipment is only a small portion of its product line -- again, primarily on the infrastructure side -- and smartphones and other mobile handsets for consumers are a small part of its product line. It appears as if Siemens is generally moving away from both laptops and smartphones, and is selling its share of joint ventures in those markets.
Siemens therefore perhaps shouldn't be included with these other five companies that definitely do have a major presence in mobile telecom equipment for the consumer. However, for the sake of completeness we're including them here.
In Figure 6, there are three things worth noticing. First, the company changed the frequency of its warranty expense reports from quarterly to annually in 2007. Second, those fiscal years end in September, so we're one quarter short of data in calendar 2012, and won't have any 2013 data until November at the earliest.
Figure 6
Siemens AG
Average Warranty Claims & Accrual Rates
(as a % of product sales, 2003-2013)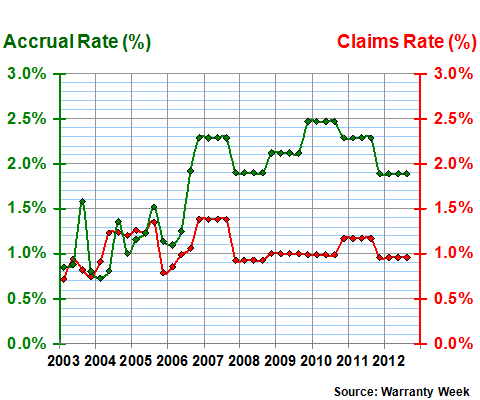 Third, notice how flat the data has been since then, with claims rates around one percent and accrual rates around two percent. Readers wondering what effect such an imbalance would have on warranty reserves are on the right track. Because accruals exceed claims by so much for so long, Siemens has built up a reserve that's grown from 2.8 billion euros at the end of fiscal 2005 to 3.4 billion euros at the end of fiscal 2012.
Excess Warranty Reserves?
To put it another way, at the end of fiscal 2005 Siemens had reserves equal to 25 times what it paid out per month in claims. Now, it has a reserve that holds 55 times as much as it pays out per month in claims. So unless its warranties are growing longer, its reserves are building up to an excess level.
In contrast, GE is at 23 months, with $1.4 billion in reserves and a payout rate of $60 million a month. However, others in the industrial infrastructure business are apparently just as conservative as Siemens, with ABB Ltd. at a multiple of 71 months and United Technologies Corp. at a multiple of 67 months at the end of 2012.
By the way, BV is the abbreviation for the Dutch term "Besloten Vennootschap," which means a privately-held corporation, not one with publicly-traded stock (that would be an NV, or a Naamloze Vennootschap). The term AG is short for Aktiengesellschaft, German for publicly-traded corporation. And the AB at the end of Sony Mobile's name stands for Aktiebolag, the Swedish word for corporation.
The story these six charts tell is simple: the smarter the phone, the higher the warranty expense. Apple defied that narrative for a long while, but can no longer. RIM is in a lot of trouble for other reasons, but its rising warranty expense rates can't be helping. Nokia, Sony, and some others haven't yet been too successful in the smartphone business. But if they eventually are, we expect to see their expense rates rise.