August 1, 2013
Manufacturing Excursions:
When bad things happen to good companies, their warranty expenses soar. External observers can see the numbers, but can't always determine the cause. But sometimes, the numbers merely confirm what's already in the news.
A reader saw the soaring warranty expense reports of Research in Motion Ltd. and Apple Inc. in last week's newsletter and wondered if there are more out there like that, which don't get as much publicity.
So we took a look at our latest warranty expense data for examples of either claims or accrual rates that have noticeably spiked since the end of 2012. Among the 227 U.S.-based companies that spend $5 million or more on warranty claims in 2012, we found eight whose warranty expense rates rose significantly in the last nine months (financial statements covering the months of April, May and June 2013 are just beginning to be filed, so in this newsletter we're looking at the fourth quarter 2012, first quarter 2013, and if available, the second quarter 2013 financial reports of these 227 companies).
The thing is, we could find these examples mathematically, but it's so much quicker to find them optically. You don't need calculus to see that for these eight companies, something's gone wrong in terms of warranty expenses -- what is euphemistically referred to as a "manufacturing excursion." Expenses used to be low, but now they're high.
Sometimes the company announces the cause of the problem. Other times, the company is completely silent. And we must note, the percentage rates in this week's newsletter don't typically appear anywhere in the financial statements. Instead, the companies disclose the raw amounts of warranty claims paid and accruals made, along with a figure for product sales revenue. We divide one number by the other to derive the percentages. And then we add the percentages into a database going back to 2003 to determine when expense rates have soared way above the baseline.
Apple
With Apple, there's an unmistakable rise in warranty expense rates that began in the fourth calendar quarter of 2012 (which corresponds to the first quarter of Apple's fiscal year ending in September 2013), and continues into the most recent quarter. During this nine-month period, the company's claims rate topped out at 3.3%, while its accrual rate soared to nearly four percent.
Figure 1
Apple Inc.
Warranty Claims & Accrual Rates
(as a % of product sales, 2003-2013)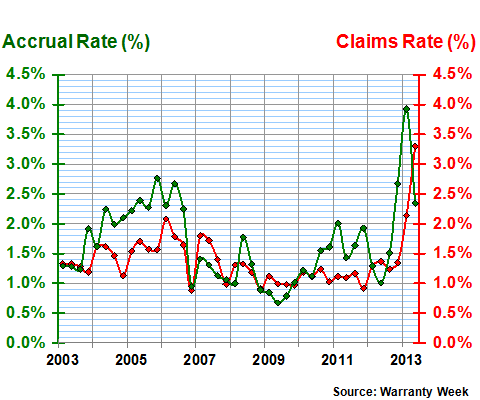 It's clear that something happened. And it's clear when it happened. It's just not clear what happened. In last week's newsletter, we said it's a reflection of the high warranty cost of smartphones, which is manifesting itself now as the iPhone comes to dominate the company's product line. Others said it was a reflection of the cost of longer warranties in Europe, Australia, and China, where regulators have insisted on a two-year minimum.
Wells Fargo Securities analyst Maynard Um said the spike in first quarter accruals had to do with China, specifically Apple CEO Tim Cook's apology in March and the cost of its lengthening of iPhone product warranty durations to two years. And now that these events are in the past, expense rates are coming back down.
"Warranty reversal in the June quarter -- a 120-basis-point gross margin benefit, all else equal. Apple reversed some of its warranty over-accruals in Q3, which provided a tailwind to gross margin by about 120 bps (normalizing for the 1x catch-up accrual related to prior quarters). While a number of factors go into calculating accruals, the reversal may be related, in part, to a deceleration in expected, which could be a function of mix to the better yielding iPhone 4. We would expect to see the cost of warranty claims to come down or for the accruals to come back up, which would likely be the base case scenario into a new product launch. We expect easier year over year compares, potential positive supply chain data into the next product cycle, and improving gross margin likelihood to help reaccelerate earnings and see the company as well-positioned to continue to take value share in its core smartphone, tablet, and PC markets," the Wells Fargo Securities report stated.
In Figure 1, what Um refers to as the June quarter and Q3 is to the latest quarter, covering the months of April, May and June 2013. We can't find numbers in Apple's financial statements for the "warranty reversal" or "catch-up accrual" that Um refers to, but perhaps they had to do with the 158 basis-point decline in the accrual rate, from 3.9% to 2.3%, that occurred from the first to second calendar quarters of 2013?
Navistar
At Navistar, the cause of soaring warranty expenses is clear: the cost of complying with the latest emission reduction targets specified by the U.S. Environmental Protection Agency's National Clean Diesel Campaign.
Navistar set aside $226 million or 4.4% of its first-half revenue in regular warranty accruals, and then an additional $204 million, or an additional 4.0% of revenue, in charges for adjustments to pre-existing warranties. So as bad as the chart below looks, it's actually worse once you add in those "one-time" adjustments.
Figure 2
Navistar International Corp.
Warranty Claims & Accrual Rates
(as a % of product sales, 2003-2013)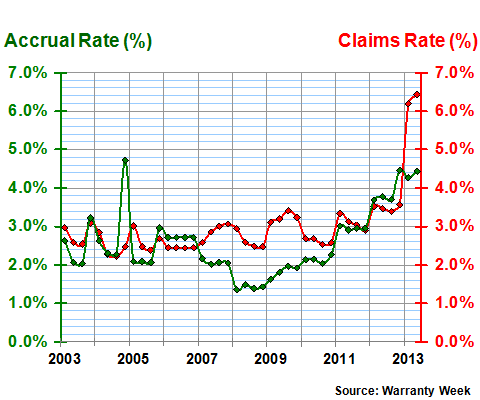 Navistar noted the cause of the rising warranty expenses in a press release explaining its second-quarter loss: "The year-over-year decline was mainly due to lower volumes and higher pre-existing warranty adjustments of $164 million in the second quarter 2013, primarily related to EPA 2010 emissions level engines."
We should note that while $164 million in adjustments were booked in the second quarter, an additional $40 million were booked in the first quarter, hence our year-to-date figure of $204 million. Last year, Navistar booked $571 million in regular accruals and $404 million in additional accruals -- a grand total just under a billion dollars that was equal to 7.6% of 2012's product revenue.
And then the company's CEO provided an additional quote of his own: "We are not satisfied with our overall financial results this quarter, but we are pleased with the continued progress we made in a number of areas on our turnaround plan," said Troy A. Clarke, Navistar president and chief executive officer. "We still face some significant, yet solvable challenges, primarily in the areas of higher pre-existing warranty costs for our earlier EPA 2010 emissions level engines, as well as in rebuilding sales and restoring market share. However, we are already implementing the right leadership and business process changes to effectively address these priority issues."
Boeing
At Boeing, warranty expense rates have been high for 18 months, but we still don't know exactly why. Back in the May 9 newsletter, our "Aerospace Warranty Report" noted that Boeing's 787 Dreamliner wasn't officially grounded until January 2013, because of fires traced to some of its batteries. But in Figure 3, it's clear that the rise in accruals began in the quarter that included the months of October, November, and December 2011.
Figure 3
Boeing Co.
Warranty Claims & Accrual Rates
(as a % of product sales, 2003-2013)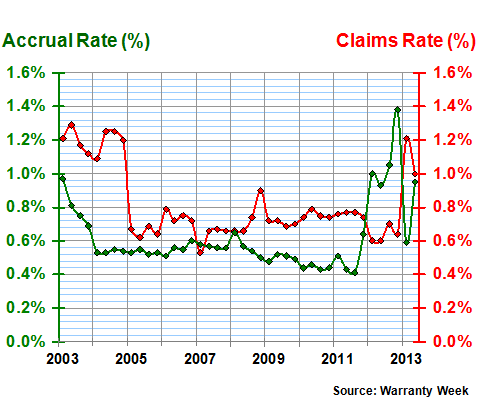 In 2013 so far, warranty claims rates are up while accrual rates are down from their 2012 peak level of 1.4%. Some of that is undoubtedly related to the 787, but how much is anybody's guess. Boeing's two quarterly financial statements published so far this year contain not a sentence about the change in expense rates, beyond the introductory statement for the raw numbers, "The following table summarizes product warranty activity recorded."
First Solar
For First Solar, the spike in claims came in the third quarter of 2012, and the explanation of it came in that quarter's financial statement. The expense, the company said, "consisted primarily of commitments to certain customers, each related to the manufacturing excursion occurring during the period between June 2008 to June 2009, whereby certain modules manufactured during that time period may experience premature power loss once installed in the field."
The reason the expense shows up only as a spike in claims and not in accruals as well is because the most of the additional accruals were above and beyond the normal accrual levels. As with Navistar, they were adjustments to pre-existing warranties, in this case for products sold three to four years previously. And so, in the chart below, First Solar's accrual rate rises to only 1.7% while its claims rate rises to 2.9%.
Figure 4
First Solar Inc.
Warranty Claims & Accrual Rates
(as a % of product sales, 2003-2013)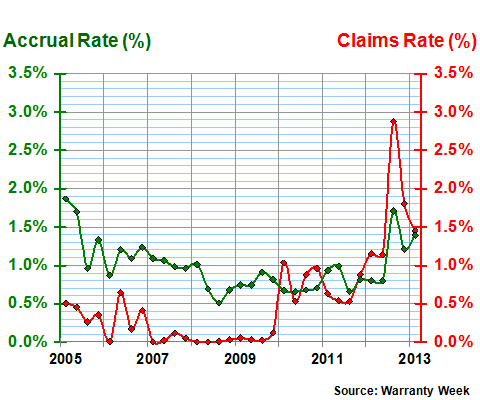 It's not really much of a crisis. As with Boeing, it's more about the departure from the baseline than it is a full-blown crisis. It's not until a company is paying out five percent or more of its revenue that a manufacturing excursion turns into an existential crisis. And only one of our eight companies in the spotlight this week has reached that level.
Joy Global
Joy Global, a top manufacturer of mining equipment, was profiled in our "Mining Equipment Warranties" report in the newsletter of June 27. In Figure 5, it's clear that something drove up claims in early 2013. But there's no clue as to what that may have been in the company's financial statements.
Figure 5
Joy Global Inc.
Warranty Claims & Accrual Rates
(as a % of product sales, 2003-2013)
Joy Global does note that it acquired the mining equipment business of LeTourneau Technologies in early 2012 and accounted for that company's warranty reserves as an addition to its own fund. But the spike in Figure 5 is from actual spending -- claims paid -- not from reserves acquired or any other related adjustments.
NVR
NVR Inc. is the parent company of several homebuilders, including Ryan Homes, Fox Ridge Homes, NVHomes, and Rymarc Homes. It builds single-family homes primarily in states adjacent to its northern Virginia headquarters.
In Figure 6, the company's warranty expense record shows nothing remarkable from 2003 to 2012. Its claims rate is slowly rising but its accrual rate is keeping pace, except for a few instances where it declines for half a year.
However, this year, NVR's accruals soared to $25.6 million in the second quarter -- three times their level in the first quarter. Granted, home sales are also soaring, but accruals should have risen in proportion, leaving the accrual rate unchanged.
Figure 6
NVR Inc.
Warranty Claims & Accrual Rates
(as a % of product sales, 2003-2013)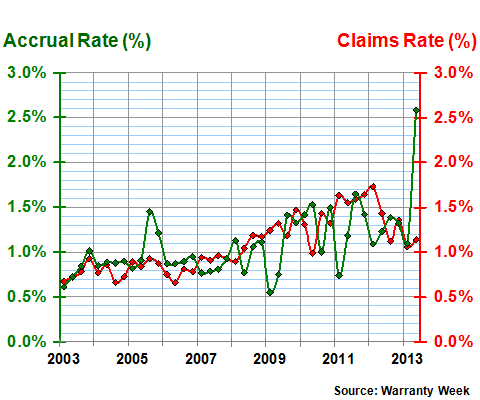 Fortunately, the reason is spelled out in Note 10 of the company's latest financial statement. "The warranty reserve provision for the three and six months ended June 30, 2013 includes a charge of approximately $15,600 to establish an accrual related to remediation of primarily water infiltration issues in a single completed community. The water infiltration issues were the result of a design issue with several products developed for and built exclusively in that one specific community," the company stated.
Power-One
Power-One is, or was, a manufacturer of AC-to-DC converters, inverters used in solar energy applications, power supplies used by telecom equipment companies, and the like. But it was acquired by the Swiss power technology and industrial automation company ABB Group last week, so this brief mention will serve as its swan song to independent financial metrics.
In Figure 7, we see a company that was doing fine from a warranty expense point of view from 2003 to 2009. Then expense rates began to rise in 2010, kept rising in 2011, and peaked late in 2012.
In its annual report for last year, Power-One noted that gross margins were impacted by increased warranty and service expenses. And it said a specific customer was withholding final payments on a purchase it had made until all required warranty work had been completed.
But there was no admission that the obvious and recent rise in expense rates had anything to do with reliability or quality problems. Instead, the company noted that the recent increase in accruals "is primarily due to the sales mix of increased commercial inverter sales that have higher repair costs and longer warranties."
Figure 7
Power-One Inc.
Warranty Claims & Accrual Rates
(as a % of product sales, 2003-2013)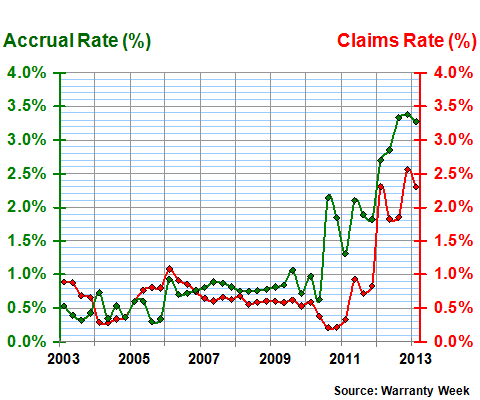 In other words, as the company gets deeper into solar energy markets where long warranties are part of the sales pitch, it has to set aside more money to fund repairs in the distant future. That sounds reasonable, except that there is also a noticeable increase in current claims rates. And when this happened at First Solar, the company quickly labeled it as the cost of a recent "manufacturing excursion," not the recognition of a financial problem it might have in 10 or 20 years. All the same, now it's ABB's problem.
NetApp
Finally, we wanted to take a quick look at NetApp Inc., a data storage company formerly known as Network Appliance Inc. The company was formed in 1992, but it did not begin to use the accrual method for warranty expenses until 2007. So there's no data until then.
Its most recent fiscal year ended in April 2013, so all of the recent increases in warranty expenses are from that period. And indeed, it does acknowledge that increase, through statements such as this: "Our gross profit margin as a percentage of net revenues decreased slightly in fiscal 2013 compared to the prior year reflecting higher warranty costs." But it never answers the question why warranty costs are higher.
As can be seen in Figure 8, warranty costs are about twice as high as they were in 2009-2011, consuming 2.5% of revenue as opposed to 1.0% to 1.5% during that earlier period. We should note that these calculations are based solely on product revenue, and do not include either software entitlements and maintenance revenue or service revenue. If they did, the percentages in Figure 8 would be somewhat lower.
Figure 8
NetApp Inc.
Warranty Claims & Accrual Rates
(as a % of product sales, 2003-2013)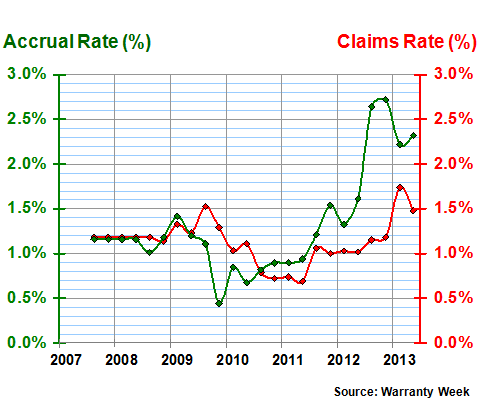 The good news is that these were the only eight large or medium-sized companies we could find that recently had or currently have rapidly rising warranty expense rates. We spotlighted three of them over the past few months in one of our 10th annual warranty reports, and the last five are first-timers in this week's newsletter. And then Power-One, because it's now foreign-owned, is a first-and-last-timer this week, although ABB does report its worldwide warranty expenses annually.
More importantly, there seems to be a distinct deficiency in terms of explanation. Of these eight companies, while most at least acknowledged the increased expense, few detailed the reason. And a few didn't even acknowledge the increase.
This is a pattern that's all-too common. The expense figures are provided in a table, but it's up to the reader to notice there's been a big jump from a year ago. And as with the Apple "analysis," it's real easy to turn the calculations into gobbledygook that completely misses the point.