September 19, 2013
Extended Warranty Image Problems, Part 1:
Service contract professionals, their customers, and the media can't seem to agree on what to call these warranty extensions. And the terms the experts prefer to use are far from the most popular. Even the regulators aren't very consistent with their language and terminology.
At the Fourth Annual Extended Warranty & Service Contract Innovations Conference earlier this week, the industry's image problem was a major topic.
First, there is widespread disagreement over the very name of the industry, starting with the name of the conference itself. Are we here for extended warranty? Or are we here for service contract? Are we both? And does that mean they're separate and different things?
Second, there's the ongoing disagreement over whether service contracts are or are not a form of insurance. For multiple decades, they were not, although most of the companies that actually administer the programs were backed up by contingent liability insurance policies (CLIPs), and even though they shared terms such as claims, premiums, and obligor with the insurance industry.
But then along came Accidental Damage from Handling, which covers spills, drops, and other perils that have nothing to do with defects, and which therefore blurs the line between warranty and insurance. And now the mobile phone carriers sell plans that cover not only defects and damage, but also theft and loss.
And third, but possibly most importantly of all, the image of the extended warranty industry in the popular media is so bad that most providers now avoid the term completely. Some avoid the term "extended warranty" for purely legal reasons, but others prefer alternatives such as "protection plan" or "extended service contract" simply to avoid the negative connotations of those two words.
Service Contracts or Extended Warranties?
The conference brought roughly a hundred extended warranty and service contract professionals to the Hermitage Hotel in Nashville for a day and a half of presentations and panel discussions. And the controversy began almost immediately when the Warranty Week editor said he uses the terms sloppily and interchangeably, though sometimes specifically for a certain type of product coverage.
A "home warranty," for instance, is usually purchased at some point during the sale of an existing home, covering the major appliances and the heating/cooling system against mechanical breakdowns. Usually it's bought by the home seller at the behest of the realtor, to attract a buyer. The theory is that a home warranty basically gives the buyer of an existing home some peace of mind that they're not buying a "money pit," and they won't soon be facing major repair costs for the appliances and HVAC systems. There's usually an annual premium plus a per-call deductible paid by the homeowner.
A "vehicle service contract" is usually sold by an auto dealer to cover additional years above and beyond the manufacturer's warranty. The premium is usually paid at the same time and place as the vehicle is purchased, though sometimes the premium is added into the finance package or is structured in some other way so it can be paid monthly.
And then there are the retailers that sell service contracts that cover specific products, one at a time. Let's call these component service contracts for appliances and electronics. Consumers walk into Best Buy or Sears, and walk out with a box and some sort of repair plan, protection plan or service plan.
U.S. Market Size
They're all extended warranties, and then again they're not. But either way, no matter what it's called, it's already a huge business, as the editor detailed to the conference attendees. This year, car buyers in the U.S. are expected to spend almost $14.7 billion on vehicle service contracts. Mobile phone customers will spend almost $8 billion on their handset insurance plans.
Computer buyers will lay out over $7 billion for product protection plans of one sort or another, with major manufacturers such as Dell commanding upwards of $2 billion apiece. And then consumer electronics buyers will spend an additional $5.2 billion on service contracts, purchased primarily from retailers such as Best Buy and Wal-Mart. Homeowners will spend $1.8 billion covering their appliances with home warranties bought from American Home Shield and others, and an additional $1.2 billion covering them one product at a time through service contracts sold by Sears, Lowe's, and others.
Figure 1
U.S. Service Contract Industry
Premiums Paid by Consumers, 2013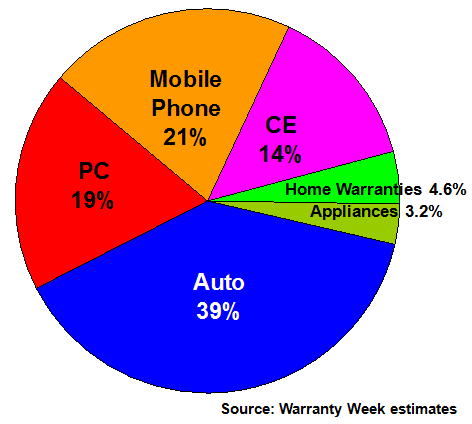 That's a total of $37.9 billion spent by U.S. consumers on what would broadly be called extended warranties and/or service contracts, according to Warranty Week's latest market sizing. But what would some of the market leaders who sell the actual coverage call their offerings?
It turns out, there's no agreement there either.
On one webpage, American Home Shield describes itself as "the nation's leader in home warranties," though on another webpage the company explains that it sells "home protection plans." And AHS also helpfully explains that a home protection plan "is a home warranty or service contract which covers the repair or replacement of many of the home system components and appliances that break down over time."
Assurant Solutions, one of the largest administrators/underwriters in the business, also uses a variety of interchangeable terms. One page, describing the company's "Extended Protection Solutions," mentions both extended service contracts and vehicle service contracts, as well as protection programs.
No Extended Warranties
However, Assurant Solutions studiously avoids using the term "extended warranty" anywhere in its marketing materials, as do many of its peers, clients and competitors in the industry. So if most of the media stands behind the same advice -- "Don't buy extended warranties" -- then most of the service providers have an equally glib comeback: "We don't sell extended warranties."
Sears Holdings Corp., the leader in appliance service contract sales, sells what it calls "protection agreements." The company claims it sells "the best repair and replacement coverage in the business," and also states that a "Sears Protection Agreement picks up where the limited manufacturer's warranty leaves off."
Lowe's Companies Inc., which like Sears is administering its own service contract program, sells an "Extended Protection Plan," from which the buyer will receive " peace of mind knowing your product is covered after a manufacturer's warranty expires."
The Best Buy Company Inc., the market leader in consumer electronics service contract sales, offers "Geek Squad Protection Plans," which it describes as "comprehensive coverage above and beyond a typical warranty." Elsewhere, the company explains that the plan is "designed to guarantee performance with added benefits that go above and beyond the manufacturer's warranty."
So the leading retailers agree: there's a manufacturer's warranty, which is free to the buyer, and then there's some sort of augmentation or additional follow-on to that guarantee, which is sold separately. And they seem to also prefer the words "protection" and "plan" to either service or contract.
The Manufacturer's Perspective
Dell Inc., which is in a unique position as a computer manufacturer that sells direct to its customers, makes brief mention of the "limited hardware warranty" included with each unit, along with much more prominent mentions of the additional levels of protection it offers for an additional charge. It's as if one is positioned as the extension of the other, with the basic level being free. And in fact, from time to time various promotions offer discounts on premium service levels, such as in-home repairs or enhanced phone support, as deal sweeteners.
In different contexts for different products, Dell calls the separately-priced plans "service contracts," "enhanced support," or "protection packages." Usually, the latter also includes accidental damage coverage as well as "LoJack for Laptops" theft recovery services.
And in regards to the insurance vs. not-insurance debate, it's interesting to note that Dell usually prices the theft recovery service separately from the service contract. The same procedure is followed by most of the mobile phone carriers, which sell theft and loss insurance separately from defect and damage coverage. But you can still buy the bundle: $3/mo. for the extended warranty and $5/mo. for the insurance, or $8/mo. for both. So the consumer is theoretically made aware that they can have as many as four separate levels of product protection, through 1) the warranty, 2) a service contract, 3) accidental damage coverage, and 4) theft insurance.
The Automobile Protection Corporation, one of the leading independent administrators of extended warranty contracts for passenger cars, also uses multiple terms interchangeably for its "EasyCare" brand of protection plans. As the company's own webpage explains, "EasyCare provides vehicle service contracts (frequently referred to as extended warranties)" ...
On a separate "Warranties FAQ" page, APCO attempts to clarify its use of the terms. "EasyCare 'extended warranties' are really vehicle service contracts. Vehicle service contracts are often referred to as 'extended warranties,' 'car repair insurance,' or 'breakdown insurance' by customers," the FAQ explains.
"Warranties 101" Online Glossary
The company also provides a "Warranties 101" online glossary. Here are some of the entries:
Extended Warranty: This is the common, though technically incorrect, term for a policy that protects the automobile owner against mechanical failures and breakdowns after the manufacturer's warranty has expired. This term is incorrect because the technical definition for a "warranty" is coverage that is included in the price of an item (such as the manufacturer's warranty on a car) and cannot be separated from the item. An extended warranty is also (and more properly) known as a Vehicle Service Contract, Vehicle Repair Coverage, Mechanical Repair Coverage, Vehicle Service Agreement, Extended Service Agreement, or Extended Protection Plan, among other names.



Manufacturer's Warranty: This is the promise of your vehicle's manufacturer to repair your vehicle for a specified period of time and/or mileage. All factory-installed parts are covered against defects and workmanship. Typical manufacturer warranties are 3 years or 36,000 miles or 4 years or 50,000 miles. Check your manufacturer's warranty manual for warranty information.



Product Warranty: In the automotive industry, the term "product warranty" refers to a misleading type of coverage that sounds similar to an extended warranty or vehicle service contract, but actually provides much less (or no) protection. The vendor offers some sort of product -- usually an oil or gas additive -- that is touted as "including" some form/term of service contract. Once the product is used, the buyer forfeits all cancellation/return rights and the protection that provides. EasyCare does not offer these types of warranties, and is working with consumer advocates to protect consumers from them.
The Product Warranty Scam
That latter item is something we've encountered before. While the US Fidelis scandal was raging a few years ago, another even more audacious scam arose that featured bottles of additive that somehow magically protected a car from mechanical breakdowns.
These snake oil salesmen sold the bottles for enormous sums of money, and directed buyers to add the contents into their radiator, crankcase, or transmission. And that additive somehow eliminated the need for repairs.
We wrote briefly about one such company, called the Choice Manufacturing Co. Inc. of Mahwah NJ, and its CarGuard additive, in the January 7, 2010 newsletter. But there were others, and what they did was called the "product warranty" scam.
The thing was, the magical protection was spelled out in the terms and conditions of the bottle's warranty. So if the car did break down, the resulting repair would be a warranty claim. It wouldn't be an extended warranty or vehicle service contract at all. It would be a product failure -- the bottle didn't work -- and the solution would be a product repair.
However, the resulting dispute (because the customer didn't believe in magic and the company didn't believe in paying claims), would come down to a difference of opinion over the meaning of the warranty's terms and conditions. It couldn't be called fraud. And it wasn't an insurance matter -- it was a product warranty, so it wasn't even a vehicle service contract. So none of the VSC regulations applied.
When we were doing our initial vehicle service contract market sizing back in 2010, one of the VSC administrators therefore asked us to avoid using the term "product warranty" in our reporting, because of its negative association with the magic bottle scam. They asked us instead to use the term "manufacturer's warranty" when referring to a product warranty provided by the vehicle maker.
Extended Warranties and Goodwill
And then, at the Warranty & Service Contract Innovations Conference earlier this week, a VSC administrator asked us not to use the term "extended warranty" any more either. But it was for entirely different reasons.
Doug Bell, the manager of marketing & operations at Nissan Extended Services North America GP, said a warranty is defined as a free guarantee issued by the seller of a product. Therefore, an extended warranty -- or a warranty extension if you want to be precise -- also must be a free guarantee issued by the seller of a product.
For instance, Bell explained, once in a while an auto manufacturer may issue a safety recall and combine it with a lengthier warranty to help placate customers. The steering, for instance, might need an immediate adjustment that would be fixed as part of the recall. But as an additional goodwill gesture, the manufacturer might extend the warranty from five years to seven years, just in case the defect doesn't become apparent until year five or six of ownership. So the extra two years are an extension of the original warranty's duration.
When the manufacturers and the National Highway Traffic Safety Administration announce such measures, they frequently refer to them as extended warranties. In fact, the NHTSA's own regulations refer to these as "formal or informal extended warranties and good will programs." And they are considered by NHTSA to be distinct from "extended service plan offered by a person other than entities over which the manufacturer has control."
In other words, if the manufacturer provides the warranty, only the manufacturer can extend that warranty's duration -- and such an extended warranty, like the original warranty, must be free. It's a gesture of goodwill, not an additional product to be sold separately. In NHTSA's world, that's an extended service plan.
Free or Separately Priced?
Speaking of which, all of this is completely contradicted by the regulators of accounting standards, known as the Financial Accounting Standards Board. Back in 1990, the FASB released Technical Bulletin Number 90-1, entitled "Accounting for Separately Priced Extended Warranty and Product Maintenance Contract," which established the accounting rules for the treatment of deferred revenue and revenue recognition over the life of a service contract.
The confusion is right there in the title of the standard: Separately Priced Extended Warranty. How can it be separate if it's a warranty? How can it have a price if it's free? How can an extended warranty also be a service contract? We're getting pedantic, but you get the point: they're mixing things together.
But at least TB 90-1 established that a service contract must be separately priced, or to put it another way, sold separately from the product. And that means it must have a separate price. It cannot be bundled into the price of the underlying product that it protects. If it is, then it is a product warranty, or if you prefer, a manufacturer's warranty or a limited warranty.
And that's precisely the question: what do people prefer? We did a little digging, and Googled all the terms used by the major providers in the marketing materials for whatever it is they sell, and whatever it is that they enhance, plus some search terms that they avoided. What follows is a numerical ranking of the search terms, based on the number of pages that use each word or phrase.
Google Search Terms
Using Google Search, we found 424 million pages that used the word "warranty," and 72.4 million that used the word "warranties." So let's round that up and assume that there is a universe of just under half a billion pages that are somehow related to warranty. And there were 848,000 pages that mentioned the "Magnuson-Moss Warranty Act," which is the U.S. law that regulates warranties at the federal level.
Then there are millions of pages that use two- or three-word combinations to define something more specific than just plain warranty. We conducted Google searches for 32 phrases, of which 10 seemed to be synonyms for "manufacturer's warranty" and 22 that were alternates for "service contract."
| | |
| --- | --- |
| Word or Phrase | Pages Found |
| Limited Warranty | 19,700,000 |
| Manufacturer Warranty | 18,500,000 |
| Factory Warranty | 10,600,000 |
| Extended Warranty | 10,400,000 |
| Implied Warranties | 8,390,000 |
| Manufacturer's Warranty | 8,100,000 |
| Service Plan | 7,490,000 |
| Limited Manufacturer's Warranty | 5,910,000 |
| Protection Plan | 5,740,000 |
| Home Warranty | 5,550,000 |
| Service Contract | 4,660,000 |
| Manufacturers Warranty | 4,280,000 |
| Manufacturers' Warranty | 4,270,000 |
| Product Warranty | 3,330,000 |
| Extended Warranties | 2,750,000 |
| Extended Protection Plan | 2,270,000 |
| Car Warranties | 1,040,000 |
| Extended Car Warranty | 802,000 |
| Protection Agreement | 783,000 |
| Home Protection Plan | 709,000 |
| Extended Service Agreement | 555,000 |
| Product Maintenance Contract | 517,000 |
| Vehicle Repair Coverage | 412,000 |
| Express Warranties | 313,000 |
| Extended Auto Warranty | 297,000 |
| Extended Auto Repair Warranty | 279,000 |
| Extended Service Contract | 217,000 |
| Mechanical Breakdown Insurance | 110,000 |
| Vehicle Service Contract | 78,300 |
| Car Repair Insurance | 33,100 |
| Mechanical Breakdown Protection | 22,500 |
| Mechanical Repair Coverage | 6,040 |
Note that among the permutations for manufacturer's warranty, with or without the apostrophe and with or without the plural, the term "manufacturer's warranty" with the apostrophe was twice as popular as "manufacturers warranty" was without one. And "manufacturers' warranty" with both the plural and the apostrophe was the least popular of the four. However, "manufacturer warranty," without either the apostrophe or the plural was twice as popular as any of the others. So bad grammar wins, at least on the Internet.
Note also that "extended warranty" was the clear leader among the service contract-related phrases. In fact, "service contract" was actually fifth, behind not only "extended warranty" but also behind "service plan," "protection plan," and "home warranty."
"Vehicle service contract," meanwhile, came in a miserable 29th on the list, with less mentions than even "mechanical breakdown insurance," which we thought was a phrase only an insurance commissioner could love. Even clumsy terms such as "extended car warranty" and "vehicle repair coverage" were more popular than the term favored by the professionals. So on Google, at least, things are not going according to plan.
Industry Association Renamed
And then there are those entities that overtly avoid using the term "extended warranty." Back in 2008, when the US Fidelis scandal was first beginning to dominate the headlines, and the state attorneys general were first beginning to take action, a group of industry professionals formed the Automotive Warranty Services Association in an attempt to self-regulate. Then to broaden their focus, they changed their name to the Automotive Warranty & Service Contract Association.
Eventually, they changed their name to the Vehicle Protection Association, completely dropping the word warranty from their name. In addition, the Code of Conduct they eventually created actually forbids members from referring to vehicle service contracts as either warranties or extended warranties. VPA members may use the term "warranty" only in reference to the manufacturer's warranty.
However, the VPA, in recognition of the consumer confusion over the industry terminology, as well as the legacy of old marketing materials, still allows its members to refer to vehicle service contracts as "formerly known as an extended warranty" or "commonly referred to as an extended warranty," as long as they also include the following disclosure:
A Vehicle Service Contract (VSC) is often referred to as an "extended warranty," but it is not a warranty. A VSC does, however, provide repair coverage for your vehicle after the manufacturer's warranty expires. A VSC is a contract between you and a VSC provider or administrator that states what is a covered repair and what is not.
If applicable, the VPA member must also include this sentence:
[Company name] is a marketer of VSCs and does not sell warranties. VSCs sold by [Company name] are agreements between consumers and third party VSC providers, not [Company name].
Meanwhile, the Service Contract Industry Council and the National Association of Insurance Commissioners have done a remarkable job of defining what service contracts are, as well as what they are not: in general, across the U.S., they are not usually classified or regulated as insurance contracts.
However, most of the contracts are backed up by contingent liability insurance policies. And they're usually regulated in some fashion by each state's department of insurance. In fact, many states require the contracts to be backed up by CLIPs, or else the administrator must meet some other minimum financial requirements (such as posting a bond).
Most times, the laws promoted by the SCIC and NAIC allow the sellers of service contracts to avoid the more onerous aspects of insurance regulations as long as there's an insurance company backing them up in some fashion. Some states make the companies register, or open a local office. In other words, they can avoid having to comply with the much tougher insurance rules if they comply with the alternative rules for service contracts. And if they don't comply, then they're selling insurance without a license.
Terms and Conditions
Most times, the terms and conditions of the service contracts include some explicit language regarding this point. For instance, "This plan is not an insurance policy, however, our obligations under this plan are insured under an insurance policy issued by [name of insurance company.]" Or another: "This is not a plan of insurance. Obligations of the obligor under this plan are insured under a service plan reimbursement insurance policy issued by [name of insurance company.]"
Therefore, somewhat paradoxically, the service contracts aren't considered to be insurance as long as they're backed up by insurance. And that's done so that state insurance regulators don't have to deal with poorly-run administrators who go out of business when their expenses exceed revenues, taking their worthless contracts with them to the bottom. That causes consumer complaints.
Historically, the regulation of insurance contracts in the U.S. has been done at the individual state level, rather than at the federal level. But as attorney Brian Casey of Locke Lord LLP pointed out in his presentation at the Extended Warranty & Service Contract Innovations Conference, if service contracts aren't insurance, then their regulation isn't reserved to the states only.
Therefore, technically, if they're not insurance, they also can be regulated at the federal level, by entities such as the Federal Trade Commission, the National Labor Relations Board, the Securities and Exchange Commission, or perhaps the new Consumer Financial Protection Bureau.
Consumer Complaints
Angie's List is a website that collects and publishes consumer reviews of the best and worst local service providers they encounter. Year after year, home warranty companies top the list of the worst-graded categories, beating out Internet service providers, banks and credit unions, mattress salesmen, and wedding planners.
In 2011, 46% of the consumer reviews submitted by Angie's List members who'd bought a home warranty and reported on their experience gave their service provider poor grades -- either a D or an F grade overall. At the other extreme, piano tuners and ceiling fan installers were among the least complained about.
The point is, service contracts generate complaints. And complaints attract attorneys general and other regulators. And that can lead to new laws, and new regulations. So complaints are bad for business in general. And doing anything that attracts the attention of the Consumer Financial Protection Bureau would be very bad for business.
And then there are the semi-public entities such as the FASB or the Financial Industry Regulatory Authority Inc., to which the government regulators look for advice and guidance. They also can develop rules that impact the sellers and administrators of service contracts. And as with the FASB TB 90-1 language, they also can add confusing terminology into the mix.
New Accounting Rules
It gets worse. As was mentioned earlier, we wrote about the FASB rules in the February 7, 2013 newsletter. And in that newsletter, we explained how Technical Bulletin 90-1 has now been superseded by the FASB's Accounting Standards Codification Topic 605 on Revenue Recognition.
However, that new document, rather than clarifying the terminology, seems to add to the confusion. For instance, while ASC 605 recognizes that extended warranties aren't insurance contracts, is also states that "accounting for extended warranty and product maintenance contracts follows an approach similar to that described in [another ASC subsection] for short-duration insurance contracts. Like short-duration insurance contracts, extended warranty and product maintenance contracts provide coverage against the risk of certain specified claim costs for a specified period."
So it looks like a duck, and it quacks like a duck. But it's not a duck.
ASC 605, section 20-25-1, in fact, not only repeats some of the same phrases as TB 90-1 but adds contextual definitions to the mix: "Separately priced contracts for extended warranty and product maintenance contracts provide warranty protection or product services ..." Oops, did they just say that service contracts provide warranty protection?
So there we have it. Before we can even get around to a discussion of the image problem the industry suffers in the media and with consumers, there's an image problem with the basic terminology we all use to describe what we sell. And then there's an image problem with the regulations and the regulators, which is only going to get worse as mobile technology and social media become more prevalent in the sale and delivery of protection plans, blurring the lines between advertising, telecommunications, insurance and retailing even further.
Some entities provide clarity, while others merely add to the confusion. Warranty Week is going to aim for clarity. From now on, in our reporting, we're going to try to stick to the two terms "manufacturer's warranty" and "service contract" to differentiate the free guarantee from the extra protection. But we know we're going to slip up once in a while, as we've been doing for more than a decade.
Please tell us what industry terms you prefer.