October 10, 2013
Appliance Service Contract
Market Shares:
Though the market has remained relatively flat for years, market shares are changing as online sales are gaining and new players are emerging. Still, six underwriters control 90% of the market share.
In our series of articles on the major appliance service contract industry back in early 2011, we neglected to include one important item: a market share report. Seven consecutive weekly newsletters explored the history of ServiceBench Inc., GE Appliances, Lowe's, and Abt Electronics and Appliances, among others. But before we could get to the pie charts, the calendar mandated that coverage of the Warranty Chain Management Conference needed to begin.
After that was done, we never went back to finish the series.
This week, as part of our current half-year of service contract industry coverage, we'll fix that oversight and provide some details on appliance service contract market sizing and market share. But we'll admit to one major problem: seven of the top ten retailers of service contracts for major appliances sell considerably more service contracts for consumer electronics, mobile phones, and/or home computers. Separating those segments therefore required some heroic assumptions to be made.
So what we're going to say is that our estimates are rough on both edges. They're rough in terms of estimating the amount of premiums paid by consumers for their service contracts, and they're rough in terms of what kind of product the consumer protected with a service contract when they shopped at Best Buy, Home Depot, Lowe's, Sears or Wal-Mart.
So in this instance, we counted just their appliance service contract sales. And on average, we found that most appliance retailers take in between 1% and 5% of their total revenue in the form of service contract premiums -- ironically about the same spread as the appliance manufacturers themselves spend on their product warranty expenses.
However, remember that while every appliance sold is covered by a manufacturer's warranty, not every appliance is sold with a service contract. So while we might say the "attach rate" for an appliance manufacturer's warranty is 100%, it's much lower for an appliance service contract.
Methodology Explained
How much lower? Unfortunately, our legal department has advised us that certain data in this report must remain proprietary. Also, our sources within the industry have asked to remain anonymous. And that serves as the explanation of our service contract market research methodology: proprietary data mixed with anonymous sources (and illegal wiretaps).
One of our first tasks was to figure out who sells service contracts for major appliances. By combining public data on contract pricing with proprietary data on attach rates, we were able to figure out annual totals for the estimated premiums paid by consumers. In 2013, we expect that total to be $1.16 billion for appliance service contracts sold at retail, up just a tad from 2012.
After figuring out the sellers and their contract sales totals, the next step was to figure out who was obliged to perform the service. The parties involved can be split up under three headings: the administrator, the obligor, and the underwriter. But usually, the administrator and the obligor are the same party.
The problem is, because insurance and service contracts sold in the United States are regulated (and taxed) at the state level, there is a vast web of interconnected entities that are listed as the named parties in the terms and conditions of the actual service contracts. The casual observer may not know that Wesco Insurance Co. and WCPS of Florida Inc. are both part of AmTrust Financial Services Inc., but we know because they are a major sponsor of this newsletter.
All the secrets are in the terms & conditions of the service contracts. And because they are contracts (it's in the name), the seller traditionally allows the buyer to see the Ts & Cs before asking them to sign the contract. However, this is not always the case. So let this be the first rule of service contracts: if they won't let you see what you're signing before you sign, walk away.
Three Business Models
Basically, there are three models in use within the appliance industry. The first is where the dealer or retailer sells the contract, but third parties provide the actual service. The second is where the retailer or dealer sells the contract and provides the service, but a third party (or parties) is obliged to step in should something go wrong. And the third is where the retailer or dealer sells the contract and performs the service completely on their own.
Our legal department will scream that this is an oversimplification of a complex web of relationships, but this is not a court of law. Instead, what we're going to do is group all of the appliance service contracts into one of several families, based on the name of the ultimate parent company.
Let's first sketch an outline of the three types of appliance service contracts sold: 1) retailer-run, 2) third party administration, and 3) self-insured.
Lowe's Companies Inc. and Sears Holdings Corp. are not only the largest retailers of major appliances in the U.S., but also are the largest examples of the first type of service contract business model: retailer-run.
In the latest edition of the terms and conditions for the Lowe's Extended Protection Plan, under the heading of "Definitions," the administrator is listed as Central Charlotte LLC in all states except Wisconsin, where it is Lowe's Home Centers Inc. However, the obligor -- the entity contractually obligated to provide service -- is listed as Federal Warranty Service Corp. in all states except California (where it is Sureway Inc.); Florida (where it is United Service Protection Inc.); and Oklahoma (where it is Assurant Service Protection Inc.). Later on, the Ts & Cs states that obligations under the Lowe's EPP are insured by American Bankers Insurance Co. of Florida.
Those are affiliates of Assurant Solutions, another major sponsor of these newsletters. Therefore, it is correct to say that Lowe's administers its own service contract program, that the obligors are affiliates of Assurant Solutions, and that the program is underwritten by an affiliate of Assurant Solutions. And it's an example of a retailer-run program.
The Sears Protection Agreement, on the other hand, states that obligations "are backed by the full faith and credit of the obligor," which is listed as the Sears Protection Co. in all states except Florida (where it is Sears Protection Co. (Florida) LLC), and California (where HVAC equipment is covered by Sears Home Improvement Products Inc.). The underwriter in certain states is listed as Safeco Insurance Co. of America., which is a subsidiary of Liberty Mutual Holding Company Inc.
So it would be correct to say that Sears is both the administrator and obligor of its own plans, but that it contracts with an affiliate of Liberty Mutual for its contingent liability insurance policies in certain states. And since they're each other's only customers in this market, we will list them together.
Our legal department will scream that there's a world of difference between the two. In one, the administrator and obligor are separate. In the other, the administrator and obligor are the same. But the defining attribute of both is that the retailer runs the program. So they are both part of the 1) group.
Third Party Administration
At Home Depot, on the other hand, the administrator and obligor is listed as, depending upon the state, N.E.W. Customer Protection Co. Inc., National Electronics Warranty Corp. of Florida, or National Electronics Warranty LLC. We'll refer to them collectively as NEW, which is now owned by Asurion LLC. The insurance underwriter is listed as Virginia Surety Co. Inc., which is owned by The Warranty Group Inc. So while the three key operators are in place -- the administrator, the obligor, and the underwriter -- none are owned or operated by the retailer.
Therefore, the entire program, after the initial sale of the service contract, is run by third parties. This is an example of the 2) group.
There's also a sort of 2a) group that we should mention. As we detailed back in the February 17, 2011 newsletter, Abt Electronics and Appliances splits the service contract business geographically. Customers located within a hundred miles of its Chicago headquarters are in group 3), where the family-owned company sells them locally-administered and self-insured service contracts. Those outside that radius are offered national service plans administered by SquareTrade Inc. and underwritten by AmTrust. So the local customers are treated like family, while the more distant customers get the third parties.
A good example of the group 3) business model is the family-owned chain known as Manny's TV & Appliances of Springfield, Massachusetts, which has been in business since 1977. In the Ts & Cs of its service contracts, the obligor is listed as Manny's TV & Appliances. The administrator is Manny's TV & Appliances. The service performed under the service contract is provided through Manny's TV & Appliances, or a servicer approved by the administrator. And who do you think is the insurer? It's Manny's TV & Appliances (which we didn't find rated by A.M. Best Co. Inc., by the way).
In a slightly different structure, the Ts & Cs for the ABC Warehouse, a Michigan-based affiliate of ABC Appliance Inc., lists the ABC Warranty Corp. as both the administrator and obligor, and lists no insurance underwriter. So they are also an example of the 3) group: self-run and self-insured.
Going Out of Business?
And here's the important difference: if Lowe's or Sears or Home Depot should shut its doors, an external insurance company is going to pay claims and arrange repairs. If Manny's or ABC Warehouse closes its doors, so will their service department, and there will be no third party to take over claims administration.
However, if ABC Warehouse remains in business -- and it is turning 50 years old this year, so there is every reason to believe they will -- then customers can expect a highly personal and competent repair experience from the local retailer that they know and trust. Numerous self-insuring appliance retailers and dealers talked about the impersonal nature of the third party administrators, their emphasis on profits over customer loyalty, and their tendency to look for ways to deny claims. But none said what happens if they go out of business.
The Lowe's and Sears model would seem to be a good middle ground between the third party model and the self-insured model. They're self-operated programs, so you get the familiar trusted face for the service, but they are insured by third parties in case of calamity, so you get the peace of mind about survivability.
One more thing: one of the retailers we contacted told us that when Circuit City Stores Inc. went out of business in 2009 (after 60 years in business, by the way), their remaining service contract claims went unpaid. This is simply not true. In fact, because we wrote about that topic so much in 2008 and 2009, former customers used to Google "Circuit City extended warranty" and our newsletter archives would come up at the top of the list. And so they'd call us. So we had to keep a copy handy of the January 20, 2009 press release issued by the insurance underwriter -- Assurant Solutions -- which listed the toll-free phone numbers for them to call to make a claim.
His Prices Really Were Insane
So in terms of fully-insured service contracts, the system works. Type 1) and type 2) have that in common: in case of a calamity, claims will still get paid. The same can't be said of uninsured calamities like Crazy Eddie, a corrupt electronics retailer that took their worthless service contracts with them to the bottom.
But you know, the craziest thing is you can actually buy a major appliance on the web. Most retailers won't sell them to you that way, but some will. Just put the item in your e-commerce cart and give them your credit card info. It's crazy because the features and price of a major appliance are somewhat negotiable, just like a new car. And you can't buy new cars online.
Most of the retailers asked us to call or visit, which we did, posing as a prospective buyer of a side-by-side refrigerator with a drink and ice dispenser built into the door (to drive up the trouble quotient and therefore the appeal of service contracts). When the time came to negotiate price, we'd instead ask about extended warranties. And when it came time to pay, we'd instead ask to see the terms and conditions of those service contracts. And then we'd skim those Ts & Cs for familiar names, to see which service contract family they were in. And then we'd tell them thanks, we'll think about it and get back to you (code for we're gonna buy it on the web when we get home).
One of the retailers that was perfectly willing to sell us a side-by-side over the Internet was Amazon.com. And depending upon the make and model of the appliance, they would also offer us either a SquareTrade or an Assurant Solutions service contract. For other non-appliance product types, they'd also sometimes offer us Warrantech or even a Mack Camera service contract. So when we get around to doing market shares for those product categories, we're going to have to apportion service contract sales even more widely.
A handful of smaller retailers seemed to be philosophically opposed to service contracts. The brand is reliable, they'd say, the manufacturer's warranty is sufficient for out-of-box failures, and their own service departments can negotiate any additional out-of-warranty repair needs. So as with the glib advice first issued by Consumer Reports almost seven years ago, they'd ask us, who needs extended warranties?
Also, we noticed that the smaller shops tended to either not sell service contracts or to be self-insured, as if the major insurers and administrators didn't want to get involved with any accounts collecting less than a million dollars a year in service contract premiums. However, there were some fully-insured administrators working with some smaller shops. For instance, New Leaf Service Contracts LLC worked with some of the smaller accounts such as Colder's Furniture and Appliance of Milwaukee and AJ Madison Inc. of Brooklyn. And of course direct sales to consumers by administrators such as SquareTrade are always an option, once you leave the store. But SquareTrade is much more of a factor with electronics outlets than with appliance retailers.
What we didn't find was a "Mack Appliance" that was willing to administer service contracts for the mom and pop outlets, as Mack Camera does for numerous digital photography and home electronics retailers. It's as if the big insurers and administrators don't want to work with the small accounts -- something we've heard numerous times from small entrepreneurs looking for underwriting or administration services.
2013 Market Shares
So here goes. With that long-winded introduction, at the underwriter level, the market leader in major appliances is Sears and Liberty Mutual. By backing the service contracts of Sears Protection Co., we expect Sears and Liberty Mutual to be the insurance underwriter of record for 28% of the market in 2013.
Next is Assurant Solutions, which supports the service contract operations of Lowe's, Conn's, and several other appliance retailers. We estimate that Assurant Solutions will be the underwriter for about 25% of the $1.16 billion business this year.
Third on our list is The Warranty Group, whose Virginia Surety Co. Inc. is going to be named on about 17% of the appliance service contracts. Its big accounts include Home Depot and Sam's Club, though the administrator is NEW Customer Service Companies Inc.
Fourth is AmTrust, whose own Warrantech and WCPS as well as third party SquareTrade will write about 9% of the business this year. Warrantech has accounts such as BrandsMart USA and Menard's, while SquareTrade has Costco Wholesale and the non-local business of Abt Electronics.
Fifth is AIG WarrantyGuard Inc., part of the American International Group Inc., whose sole account in this product category is Best Buy. But that's enough to garner them slightly more than 7% of the business this year.
Sixth is CNA Financial Corp., which also works with NEW/Asurion in accounts such as Wal-Mart and Target. We estimate CNA's share of the underwriting business at just over 5%.
Figure 1
Retail Appliance Service Contracts
Estimated 2013 U.S. Market Shares
Total = $1.16 Billion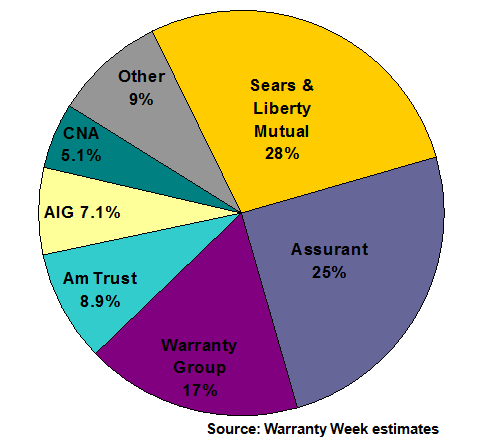 By the way, since we're not measuring the market shares at the level of the administrator and/or obligor, NEW/Asurion doesn't appear in the pie chart above. However, if we add together their appliance operations at Home Depot, Wal-Mart, Sam's Club, Target, and a few other retailers, then NEW/Asurion would have a 22% market share. But we're not counting it up that way, because then NEW's slice of the pie would be greater than either The Warranty Group's or CNA's -- their underwriting partners. And the totals would add up to 122%. And that would be confusing (except, perhaps, to Crazy Eddie).
After those six underwriting families, we found four more insurance companies working in the appliance service contract market: Starr Indemnity & Liability Insurance Co., Dealers Assurance Co. Inc., Bankers Insurance Co., and Fortegra Financial Corp. But their cumulative market shares in this appliance segment added up to just under one percent, so we've combined them with the self-insured group under the heading of "other."
We already mentioned ABC Warehouse and Manny's TV & Appliances as examples of the 3) self-insured category. However, the biggest appliance retailer in that group by far is PC Richard & Son, an appliance retailer founded in Brooklyn by Peter Christian Richard in 1909. The company opened its own service department in 1935, and today it operates two service centers in Farmingdale NY and Carteret NJ.
We wanted to do a detailed story about the company, and how they feel about living without an underwriter. However, they declined, and they also declined to let us see their Ts & Cs, and so this is probably going to be the first and last and the one and only document on the Internet that mentions how their service contracts are self-insured. Hopefully, this week's newsletter will always come up first in Google searches of their company name.
Compared to Home Warranties
Finally, we had a long discussion with one of the underwriters that is trying to break into the "home warranty" industry about the differences between the two. We went into quite a bit of detail about this two weeks ago with Art Chartrand, the counsel of the National Home Service Contract Association, so we won't repeat most of it here again.
But the fact remains that there is virtually no crossover between the sellers, administrators and insurers of the component-by-component coverages we're detailing this week and the house-full-of-systems coverage provided by the likes of American Home Shield. The retailers typically cover new units one-by-one for a period of multiple years, while the home warranty guys cover all the new and old appliances and systems in a dwelling, one year at a time.
We thought it would be interesting to compare and contrast the two in terms of total premiums paid by consumers per year to cover appliance break/fix episodes. So here's one more pie chart, where the home warranty market is in dark green, and the retail service contract market is in light green.
Figure 2
Appliance Service Contracts
Home Warranty vs. Retail Sales
Estimated U.S. Market Shares
2008-2013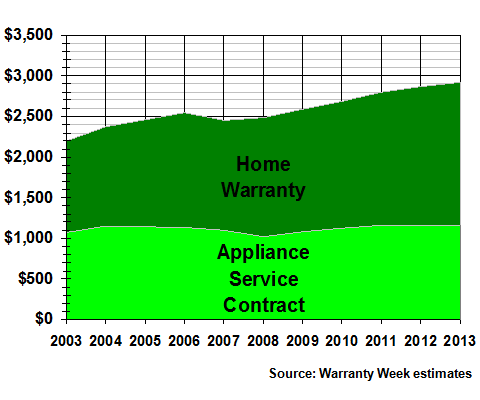 Notice that the appliance service contract segment hasn't been growing all that much in recent years. In fact, we'd call it flat, except for that slight dip during the recession. We're estimating an industry growth rate of only 0.3% this year over 2012, with Lowe's and Home Depot up and Sears and Best Buy down, at least in terms of appliance service contracts sold.
Notice also that the home warranty premiums exceed the retail premiums in every single year during the past decade, and will likely do so again this year. The big reason for this, we think, is due to what they cover. Plain and simple, in warm weather states such as Texas, Florida, Arizona, and California, the value of a service contract covering the HVAC system is much higher than the value of a service contract covering the dishwasher or the coffee maker. But in the Northeast, the air conditioners are likely to be smaller units bought at retail and installed in a bedroom window.
Therefore, in the warm weather states, the failure of the HVAC system is the biggest worry, while the kitchen and laundry appliances are merely nice additions to a home warranty policy. In the Northeast, the oil burner is covered by a maintenance contract with an annual cleaning thrown in, so there's little appeal to the home warranty concept.
Secondarily, the home warranties are typically wrapped into the sale of an existing home, while the retail service contracts are tied to the sale of a new appliance. Legend is that the existence of a home warranty helps to make the sale, and indeed is part of the vast majority of such transactions in places such as California. In contrast, with a new appliance, the service contract sale is an end in itself. Both buyer and seller are hoping for no more transactions.
However, if we look at this chart in terms of its inclusion of the two leading ways to cover major appliances with a service contract (there is a third: direct sales to consumers by the manufacturers themselves, and a fourth: HVAC service contracts sold by dealers), then we can see that it's really a $2.9 billion industry, split 60/40 between the home warranty and the retail service contract segments.