October 17, 2013
Appliance Service Contract Underwriters:
The names in the terms and conditions of a service contract are seldom the same as the name of the parent companies. And then there are the holding companies and investment companies that own the parents. In the retail appliance realm, we found just 10 insurance companies underwriting all service contracts. Here's a profile of each, along with links to their ultimate parents.
Last week, we detailed a bottom-up approach to sizing the market for appliance service contracts, estimating the attach rates and per-contract price for appliances sold by major retailers.
This week, we're taking a top-down approach, looking at the financial statements of the parent companies of the major insurance companies that underwrite the service contracts.
As we detailed in last week's newsletter, we found ten insurance companies underwriting appliance service contracts in the U.S. Six of them, we found, controlled 90.8% of the market. And before you assume the other four controlled the remaining 9.2%, remember that most of that slice of the pie was actually self-insured. The other four underwriters controlled only 0.8% of the market, while the self-insured appliance retailers had the remaining 8.4%.
Figure 1
Retail Appliance Service Contracts
Estimated 2013 U.S. Market Shares
Total = $1.16 Billion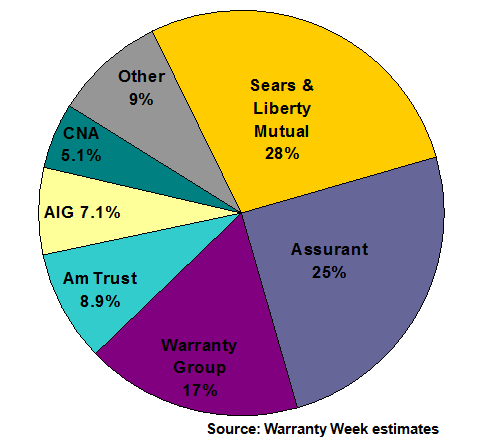 So in reality, what we're looking at this week are the ten insurance companies that control 91.6% of the appliance service contract market, which we value at $1.16 billion in premiums to be paid by U.S. consumers this year. So to be clear, this week we're looking at just the $1.065 billion portion of the market which is fully-insured, and we're not looking at the remaining $98 million in self-insured appliance service contracts.
As was mentioned last week, the affiliates of Liberty Mutual, Assurant Solutions and The Warranty Group are the dominant underwriters in the appliance space. Together they control almost 70% of the total market for appliance service contracts, we estimate, and 76% of just that fully-insured segment.
Then there's a middle tier consisting of AmTrust, AIG and CNA, which together control about 21% of the total market and 23% of just the fully-insured segment. And then there are four other underwriters, with 0.8% of the total and 0.9% of the fully-insured segment.
Our first step was to look up the Financial Strength Ratings for each of these ten underwriters in the database operated by A.M. Best Company Inc. The second step was to figure out the ultimate parent company of each, so we could go check their financial statements for clues about the size of their service contract businesses.
Tracking Down the Parents
As we mentioned last week, the legal name of the insurance company that underwrites the service contracts, as well as the legal name of the administrator and obligor, are frequently very different from the name of the parent company. This week, we're taking it even one step further, and looking for the name of the parent of the parent company.
For instance, The Warranty Group is a prominent service contract company headquartered in Chicago. The subsidiaries of the company that are usually listed as obligors or administrators of the service contracts are National Product Care Co., Service Saver Inc., TWG Innovative Solutions Inc., or First Extended Service Corp. The underwriter is Virginia Surety Company Inc. for contracts sold in the U.S., and London General Insurance Company Ltd. in the rest of the world. Only one of those names is even remotely similar to the parent company's name.
A Toronto-based private equity company named Onex Corp. acquired The Warranty Group from Aon Corp. in late 2006. And while The Warranty Group and all its subsidiaries are privately-owned, Onex is a public company. So we're going to list Onex as the ultimate parent of the service contracts underwritten by Virginia Surety, and see where that leads us.
In the table below, we've included the A.M. Best Financial Strength Rating along with the outlook for that rating. Both A and A- are considered "excellent," while both B+ and B++ are considered "good." Stable means that the ratings agency sees a low likelihood of a rating change in the near future, and positive signals a possible rating upgrade due to favorable financial or market trends.
All ten ratings were last reviewed by the A.M. Best staff within the last year, with the oldest three: Starr Indemnity, Virginia Surety, and American Bankers, completed late in 2012, and the newest three: Dealers Assurance, Safeco, and Bankers Insurance, completed in August 2013. As the reports turn a year old, the staff at A.M. Best usually updates them.
Table 2
Appliance Service Contract Underwriters
A.M. Best Financial Strength Ratings
| Service Contract Underwriter | AM Best Rating | Outlook | Ultimate Parent Company |
| --- | --- | --- | --- |
| Safeco Insurance Co of America | A | Stable | Liberty Mutual Holding Co Inc |
| American Bankers Insurance Co of Fla | A | Stable | Assurant Inc |
| Virginia Surety Co Inc | A- | Positive | Onex Corp. |
| Wesco Insurance Co | A | Stable | AmTrust Financial Services Inc |
| Illinois National Insurance Co | A | Stable | American International Group Inc |
| Continental Casualty Co | A | Stable | Loews Corp |
| Starr Indemnity & Liability Co | A | Stable | Starr International Co Inc |
| Dealers Assurance Co Inc | A- | Stable | Helios Financial Holdings Corp |
| Bankers Insurance Co | B+ | Stable | Bankers Financial Corp |
| Lyndon Southern Insurance Co | B++ | Stable | Fortegra Financial Corp |
Now, armed with a sense of the size and stability of the actual underwriters, let's take a look at the financial statements of their ultimate parent companies. What follows is a link to the website of each of the 10 underwriters, the location of their headquarters, and a link to their ultimate parent company. And then that's followed by a brief history and a look at their financial reports, where available.
---
We estimated Sears, Safeco and Liberty Mutual to have a 28% share of the appliance service contract industry on the strength of the retailer's role as the administrator for Sears and Kmart, and Safeco's underwriting services for Sears Protection Co. in certain states.
What's now known as Safeco Insurance opened in 1923 under the name of General Insurance Company of America. Thirty years later, "The General" launched a subsidiary called the Selective Auto and Fire Insurance Company, or SAFECO. Eventually, the parent company changed its name to Safeco Corp.
Meanwhile, Liberty Mutual began in 1912 as the Massachusetts Employees' Insurance Association. Five years later, it changed its name to the Liberty Mutual Insurance Company. As a mutual company, the firm is owned by its policyholders, not stockholders. In 2002, it converted to a mutual holding company structure.
In 2008, Liberty Mutual acquired Safeco. But because the company is owned by its policyholders and its stock is not publicly traded, instead of an annual report we get an "annual review." And nowhere in that document is there any mention of Sears or its contingent liability insurance policies for Sears' service contracts.
The feeling is mutual. Nowhere in the annual report of the Sears Holdings Corp. is either Safeco or Liberty Mutual mentioned. The company does however mention its wholly-owned insurance subsidiary, Sears Reinsurance Company Ltd., which it says manages the risks associated with "workers' compensation, product and general liability, automobile, warranty, asbestos and environmental claims and the extended service contracts we sell to our customers."
But there is no revenue information to be found regarding extended warranties, service contracts, or protection agreements.
---
American Bankers and Assurant are second on our list because of their backing of Lowe's, Conn's, and numerous other appliance service contract retailers. We estimate their share at 25% of a $1.16 billion market this year, second behind only the Sears/Safeco/Liberty Mutual team.
Assurant traces its roots back to the founding of the LaCrosse Mutual Aid Association, which began selling disability insurance in LaCrosse, Wisconsin back in 1892. That company changed its name to the Time Insurance Co., which in turn was acquired in 1978 by a Dutch insurance company that would later change its name to Fortis NV. In early 2004, however, Fortis spun off its U.S. operations, and the initial public offering of Assurant Inc. was one of the largest IPOs of the year.
The company is active in almost every sector of the service contract industry, with a major share of the vehicle service contract and retail consumer electronics sectors as well as home computers and smartphones, and of course retail appliance service contracts.
The service contract portion of the business is housed in Assurant Solutions. According to the 2012 annual report, Assurant Solutions comprised about 39% of the parent company's total revenue, and service contract net earned premiums comprised about 70% of Assurant Solutions' total revenue. Last year, it's worldwide service contract premium total was $1.8 billion, of which about $1.26 billion was generated in the U.S.
The American Bankers Insurance Company of Florida is the name of the underwriter that appears in the terms and conditions of the actual service contracts. Last November, its A rating with A.M. Best was affirmed with a stable outlook. So to borrow another insurance company's slogan, if you see this name in your Ts & Cs, you're in good hands.
---
Virginia Surety was founded in 1927, though the current name was adopted only 10 years ago. Before that, it was known as the Combined Specialty Insurance Company Inc. Meanwhile, the Ryan Insurance Co. began selling vehicle service contracts in Chicago in 1966. In 1982, Combined merged with Ryan, and the resulting company was called Aon Corp.
Onex Corp. acquired what came to be known as The Warranty Group from Aon in November 2006. Aon has since moved to London and replaced the Corp. with a plc.
Onex, founded in Toronto in 1984, controls a series of private equity funds (e.g. Onex Partners I and Onex Partners II) that own most of the actual shares. So while Onex and its partners currently own 91% of The Warranty Group, Onex Corp. owns only 29% itself.
Today, Virginia Surety performs much the same role for The Warranty Group as American Bankers does for Assurant: it's the in-house insurance company that underwrites most of the service contracts sold by its retail and dealer partners.
Onex shares trade on the Toronto Stock Exchange under the ticker symbol OCX. Though it has offices in New York, its stock does not trade there, and so there are no Form 10-K reports to the U.S. Securities and Exchange Commission. However, all the figures in the annual reports it files in Canada are in U.S. dollars.
In its 2012 annual report, Onex lists revenues for The Warranty Group at $1.205 billion, up $21 million from the 2011 total. Most of that gain, the company said, was due primarily to growth in the consumer product service contract business in Asia and Latin America. It does not break out the U.S. vs. rest of world totals. And though profitability is not specified, The Warranty Group does pay a regular quarterly dividend to its parent.
The Warranty Group's worldwide warranty reserves were reported to total $616 million at the end of 2012, down from $684 million at the end of 2011. Unearned premiums from the company's extended warranty business were $2.524 billion at Dec. 31, 2012, up from $2.443 billion at the end of 2011.
In a November 2012 Financial Strength Rating report, A.M. Best gave the company an A- grade, which is one notch below most of its peers, but which is still considered to be "excellent." However, A.M. Best also attached a positive outlook for the rating, which suggests (but does not guarantee) an upgrade may be coming in the near future. If the reports are updated annually, that upgrade may be only weeks away.
---
AmTrust is the new guy on the block. AmTrust Financial Services was founded in 1998 and went public in 2006. In 2012, it was number 60 on the Fortune list of fastest-growing companies, based on a 34% increase in revenue and a 28% increase in earnings.
As with Assurant and The Warranty Group, the service contract business is a major part of the company's activities. In 2012, the business segment identified as "Specialty Risk and Extended Warranty" accounted for nearly 41% of the entire company's gross written premiums. Top markets include Italy, the U.S., and the UK.
On our retail appliance service contract market share chart, AmTrust and its affiliates were estimated to control about 8.9% of a $1.16 billion industry. Most of that activity involved AmTrust affiliates as both the administrator and the underwriter. AMT Warranty Corp. is the company's established service contract administrator. However, three years ago, AMT Warranty acquired the Warrantech Corp. for a mix of cash and stock. And even today, both names are still commonly found on service contracts underwritten by Wesco Insurance for retail clients such as Gregg Appliances Inc. (doing business as hhgregg) and BrandsMart USA.
In addition, AmTrust has historically been the underwriter for the third party administrator SquareTrade Inc., though this book of business is now transitioning to Starr Indemnity. However, the only SquareTrade retail clients that sell appliances are Costco Wholesale and Abt Electronics & Appliances. And Costco doesn't sell service contracts for those appliances, while Abt sells SquareTrade contracts only to its long-distance customers (it sells its own brand of self-administered contracts to all the locals). So this change of underwriters will be more meaningful in the smartphone and laptop segments of the service contract business than it is in the appliance sector.
Wesco Insurance is one of 11 AmTrust insurance subsidiaries located around the world. Others that are involved in service contract underwriting include AmTrust International Underwriters Ltd, AmTrust Europe Ltd, Technology Insurance Co Inc, and the Rochdale Insurance Co. All are rated A by A.M. Best. AmTrust Europe is based in London. AIU is based in Dublin, Ireland. TIC and RIC are based in the U.S., as is WIC (Wesco).
The "Specialty Risk and Extended Warranty" segment, which includes all service contract underwriting activities, reported $1.12 billion in gross written premiums last year. Claims payments consumed 63% of that and overhead consumed another 19.1%, leaving the segment with an 82.1% combined ratio. The U.S. business was flat but growth in Europe helped propel gross written premiums up by $62.2 million from 2011 levels. Growth would have been even higher if not for the decline in the value of the Euro, the company said. Net income was $111 million for this segment.
However, keep in mind that the specialty risk part of this segment includes coverage for everything from property damage to homes to malpractice insurance for health care providers and medical facilities. And the company's vehicle service contracts are frequently bundled with guaranteed asset protection (GAP) coverage, which for cars that have been totaled in an accident would cover the difference between the amount of an insurance settlement and the amount still owed on a loan. So there's much more in there than just service contract activity.
---
AIG and its service contract administrator Service Net have numerous retail and manufacturer clients, but the only major appliance retailer among them is Best Buy Co Inc. And Best Buy's sales of major appliances is dwarfed by its sales of consumer electronics, home computers and mobile phones. Still, there are enough appliances sold there, and enough Geek Squad Protection plans sold to cover them, to give AIG control of an estimated 7.1% of the $1.16 billion appliance service contract industry.
Best Buy names AIG WarrantyGuard Inc. as both the administrator and obligor of its Geek Squad Protection Plans. In Florida and Oklahoma, the obligor is AIG Warranty Services of Florida Inc. The underwriter is listed as Illinois National Insurance Co. On other AIG-linked retailers' service contracts, the New Hampshire Insurance Company may be listed as the underwriter, and Service Net may be listed as the administrator.
As we detailed back in the September 5 newsletter, AIG and Starr Indemnity have an intertwined history going back to the founding of C.V. Starr & Co. Inc. in China in 1919. But as we've never detailed before, AIG lost some of its largest service contract clients when administrator NEW Customer Service Companies Inc. changed underwriters a few years ago, after it was acquired by Asurion LLC.
In addition, AIG became part of the 2008-2009 bailout when a subsidiary unrelated to service contracts made some losing bets on credit default swaps and collateralized debt obligations tied to the U.S. housing bubble, which were done in by the collapse of Lehman Brothers Holdings Inc. At one point, the U.S. government stepped in and bought just under 80% of AIG's shares. The U.S. Treasury Department and Federal Reserve Bank eventually pumped a total $182.3 billion into AIG, which paid them back a total of $205 billion, meaning that at least in this case, the bailout was profitable.
In its 2012 annual report, AIG mentions that is provides extended warranty insurance. It's part of AIG Property Casualty's Consumer Insurance segment, and is counted under the heading of Personal Lines.
Based on net premiums written in 2011, AIG Property Casualty is the largest commercial insurer in the U.S. and Canada, the largest U.S.-based property casualty insurer in Europe, and the largest foreign property casualty insurer in Japan and China. In essence, it came roaring back from 2010 to 2011, reclaiming its market leadership across the insurance industry.
Net premiums written by the Consumer Insurance segment of AIG Property Casualty were up 2.8% to $14.15 billion in 2012. And that follows a jump of 21% in 2010-2011. Geographically, 60% of the Consumer Insurance business was in the Asia Pacific region, with only 28% in the Americas and 12% elsewhere. Within the Consumer Insurance segment, Personal Lines were up by 2.6% in 2012 to $7.18 billion, following a 26% jump in 2010-2011.
However, we can't find a more granular revenue figure in the annual report just for service contracts or extended warranties. And unlike with some of the other underwriters, the non-service contract lines of business make significantly larger contributions to total revenue. So while we think the service contract business of AIG WarrantyGuard and Service Net is significant, we have nothing to check it against.
---
Continental Casualty was incorporated way back in 1897. The insurance company had its A rating reaffirmed by A.M. Best in January, with a stable outlook. The CNA Financial Corp., its immediate parent, was originally incorporated as an insurance holding company in 1967. In turn, CNA owns the Continental Casualty Company, which is the underwriter for retail clients such as Wal-Mart and Target.
CNA Financial also owns the CNA National Warranty Corp., a leading provider of vehicle service contracts, GAP coverage and tire-and-wheel protection. CNA National was founded in 1982.
But here's where things might get a bit confusing. Loews Corp. is a conglomerate that owns 90% of CNA, which it acquired in 1974. Brothers Laurence and Robert Tisch founded the investment company back in 1946, and retired in 1998. During that period, they bought and sold a variety of companies, including CBS, Bulova, and a chain of movie theaters that brought the name Loews to their company.
Marcus Loew opened his first movie theater in 1904. However, the Tisch brothers sold what eventually became Loews Cineplex Entertainment Corp. in 1985, though they kept the Loews name for their investment company.
Ironically, Onex Corp. was among the companies that passed around ownership of the Loews Cineplex chain over the subsequent decades. But that Loews is no more, having been absorbed by AMC Entertainment Inc. And of course, this Loews is different from the Lowe's chain of hardware stores started by Lucius S. Lowe in 1921.
In addition to its interests in vehicle service contracts, CNA also gained a position in appliance service contracts and consumer electronics service contracts when NEW made its move away from AIG. We estimate that Continental Casualty will be the underwriter for about 5.1% of the $1.16 billion in appliance service contract premiums we expect U.S. retailers to collect from consumers this year.
Because there's another 10% of CNA that's not owned by Loews, both CNA and Loews file their own separate annual reports with the SEC. However, neither company has much to say about its service contract operations, and neither mentions NEW, Target, or Wal-Mart as strategic clients.
CNA does note, however, that it sees its property and casualty insurance operations as part of its core business. Non-core insurance products, most of which have been placed in run-off, include life, accident and health insurance and retirement products and annuities. But CNA Specialty is named as one of the core business units. And CNA Specialty is the business unit that holds the extended warranty and claims administration services. Therefore, we're going to leap to the conclusion that CNA sees service contracts as part of its core business.
In CNA's annual report, the warranty line of business is combined with something called "Alternative Risks." We're going to assume that CNA defines them as different names for the same thing, because by way of explanation, the company states that the "Warranty & Alternative Risks& line of business "provides extended service contracts and related products that provide protection from the financial burden associated with mechanical breakdown and other related losses, primarily for vehicles and portable electronic communication devices." There's not much else in that description besides service contracts.
In 2012, revenue for "Warranty & Alternative Risks& was up by 8.7% to $314 million, after falling slightly from 2010 to 2011. And that $314 million represented about 3.3% of CNA's total revenue last year -- a slightly larger share than in either 2011 or 2010. There is no data on loss ratio or expense ratio, and no mention of the split between service contracts protecting vehicles, consumer electronics, and appliances.
---
So far, we've found only three retailers listing Starr Indemnity as their underwriter, and only two of them were selling household appliances. But Starr is making a major push into the service contract marketplace, and if it can spirit the Sears account away from Safeco or if it can woo SquareTrade completely away from AmTrust, it may just find its opening.
Right now, however, we're expecting Starr Indemnity's name to be on $4 million or less in appliance service contracts sold this year, giving the company only an 0.3% market share right now.
---
Dealers Assurance Co Inc
Upper Arlington OH
Subsidiary of: Helios Financial Holdings Corp
Helios Financial Holdings is a very private company. And that's about all we know about them. However, A.M. Best lists them as the ultimate parent company of the Dealers Assurance Company, which we found to be the underwriter for service contracts sold by two appliance retailers.
SouthwestRe Holdings Inc. acquired the Dealers Assurance Company in early 2004. DAC, meanwhile, was founded in 1935 as an insurance company for the group of auto dealers that launched the company. Meanwhile, Dealers Alliance Corp. is the vehicle service contract administrator and obligor that the company launched in 1977.
Dealers Assurance is rated A- by A.M. Best, with a stable outlook. That rating was last reaffirmed in August 2013, so it's not likely to change any time soon. While DAC has a significant stake in the vehicle service contract business, we estimate their share in the appliance sector to be only 0.2% of a $1.16 billion total.
---
Bankers Financial Corp. is a privately-held holding company that was founded in 1976. Bankers Insurance Company is its insurance carrier, which A.M. Best rates a B+. Its initial lines of business included bail bonds and flood insurance. Soon after it decided to enter the service contract business, it formed a subsidiary named the Bankers Warranty Group.
The Video Aid Corporation was formed in 1980 by Jim Tucker, who had the idea to sell extended warranties and perform repairs for video cassette recorders. The name had changed to VAC Service Corp. by the time we wrote about them in the December 7, 2004 newsletter. A year later, Bankers Warranty acquired VAC, and Tucker became the chairman of its board of directors before eventually retiring.
We found only one appliance dealer selling service contracts backed by Bankers Insurance Co. However, the company's service contract revenue was enough to earn it an estimated 0.2% share of the $1.16 billion industry this year. It's not exactly Sears or Best Buy, but it's enough to get the company onto the list of underwriters.
---
Finally, we also found just one appliance dealer selling service contracts backed by Lyndon Southern Insurance Company. Lyndon Southern is owned by Life of the South, which is owned by Fortegra Financial. A.M. Best gives the company a B++ Financial Strength Rating, which is midway between a B+ and an A- grade.
As with DAC and CNA, Lyndon Southern has a much larger presence in the vehicle service contract industry. Within appliances, we estimate its market share to be only 0.05%.
---
Limited Tools Available
But that's the story we have to tell, with the limited tools available to help us tell it. We found 10 different underwriters working with appliance retailers and service contract administrators. Some such as Safeco and AIG were there because of one really big client. Others such as Bankers Warranty and Lyndon Southern were on the list because of one not-so-big client.
The top-down approach confirmed that the companies we assumed were market leaders were in fact large companies with extensive financial resources and solid industry ratings. However, while some of the underwriters' financial reports segmented their service contract revenues geographically, they never broke it down by type of product protected. Or they included other lines of business in with service contracts. And none listed any clients. So it didn't really add much detail to the market model we developed by shopping for a side-by-side refrigerator.
So at best, the top-down approach we followed this week merely confirms what we found through our bottom-up approach last week. Basically, in appliance service contracts there are two major players: Assurant Solutions and The Warranty Group, plus Safeco as the insurance carrier for Sears. And then there are three middle-tier players: AmTrust, AIG and CNA, who are all capable of taking share from the major players.
Among the remaining four -- Starr, DAC, Bankers, and Fortegra -- only the first seems to be gaining market share in the appliance sector, though two other are well-established as middle-tier players in vehicle service contracts.
What could really shake things up is if Sears Holdings finds a way to sell its service contract business to one of these other underwriters. Add a 28% slice of the pie to AIG's, CNA's, or AmTrust's existing market share and suddenly they're the market leader. Add 28% to either Assurant Solutions or The Warranty Group and suddenly they're market-dominant. Add 28% to Starr's budding business and suddenly they're a major player.
All you need is half a billion dollars and a dream.
---
GWSCA Survey Invitation
The Global Warranty and Service Contract Association (GWSCA) is conducting an online survey to learn what is important to members of the warranty and service contracts industry. The information collected will be used to formulate programs and proposed solutions to commonly experienced industry questions, problems, and fast emerging trends.
The survey is being conducted by Fulcrum Analytics on behalf of the GWSCA. To get started, click here or cut and paste this URL into your browser: surveygizmo.com/s3/1411787/92b03449fbf2
The survey will be open to everyone in the warranty and service contracts industry through Sunday, November 17th.
If you have any questions please email Terry Hawkins at: gterry.hawkins@gmail.com or contact Tara Piazza, SVP of Research at Fulcrum Analytics at 1-212-651-7012, or via email at tpiazza@fulcrumanalytics.com.