November 7, 2013
New Leaf Service Contracts:
Smaller retailers looking to sell service contracts usually had to choose between running the program themselves or selling another company's self-insured product. Now, there's a company trying to make it as easy as possible for small retailers to sell fully-insured service contracts.
Many small regional and independent retailers are shut out of the service contract industry because the major players won't take on such small accounts, and the retailers can't or won't operate such a program by themselves.
There is, however, another option: a company called New Leaf Service Contracts LLC, which was launched three summers ago specifically to make it feasible for small retailers to sell service contracts that were fully-insured and relatively easy for them to manage.
Sean Hicks, the CEO of New Leaf, said the company's name comes from that familiar old saying, "turning over a new leaf," meaning a new beginning. In this case, it's a new beginning for the service contract industry.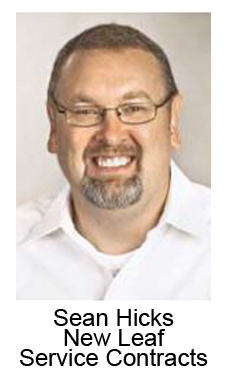 "We have to bring something new, innovative and different to the market," Hicks said. "And that's New Leaf. We were going to turn over a new leaf in our industry."
Both Hicks and New Leaf president Rick Gavino were with Warrantech Consumer Product Services Inc. for decades. But after AmTrust bought the service contract administrator in 2010, they left to form their own company.
"We wanted to be a sales and marketing company," he said, not a subsidiary of an insurance company. "So Rick and I had a discussion about the service contract market, where it was under-served, and where we thought we could step in and be of assistance."
Hicks said the niche they targeted were the smaller independent and regional retailers who weren't big enough to be of interest to the top service contract administration and underwriting companies. "They're not getting the attention or the opportunity to participate in the service contract market in the same fashion that the big boys do," he said. "And we felt that was a place that we could target, and develop a really nice business for all the parties involved: the carriers, the retailers, and New Leaf."
Hicks said the small regional and independent retailers are frequently overlooked because there's a high cost to service them. "The folks like NEW and Assurant view it as expensive to service these people, because at startup it is [expensive]. There's no doubt the amount of time and effort it takes to get somebody moving in a one-store, six-person environment is the same as it takes in a one-store ten-person Staples. But they've got two thousand stores."
It's different for New Leaf because the company has put into place a service contract administration platform that can deal with everything from a state-of-the-art point-of-sale system to handwritten orders. Based on the 4CS iWarranty platform, it can accept Excel or CSV files from most POS systems, or users can type in the data themselves on a web portal. For retailers that don't even have computers, that data entry burden can be shifted to the consumer, who can buy a service contract "gift card" and go home and register themselves online.
"We spent a lot of our earlier time developing that platform to make it easier to interact with people from a front-end servicing standpoint," he said. New Leaf also approached several buying groups who could spread the word to their members. And then New Leaf can consolidate the sales and claims data coming in from all these small accounts and presents a single interface to its underwriters.
Distributor Model
It's almost like the distributor model that many of the retailers used to rely on to stock their merchandise, with New Leaf acting like a distributor of the service contract programs. But actually, in the Northeast U.S., New Leaf itself has a distributor, in the form of Gotham Sales Co. The company, located in Millburn NJ, used to be a distributor for numerous electronics and appliance brands such as Sony, Admiral, Sylvania, and Philco. It still does some distribution for small appliance manufacturers such as Sylvane Inc., but service contract distribution is now its main line of business.
Back when its main business was appliance and electronics distribution, Gotham Sales also used to work with Warrantech on the RepairMaster service contract program, where small retailers sold service contracts using a gift card-like procedure, and where the buyer would then go home and register their purchase.
Danny Schwartzstein, the president of Gotham Sales, said he decided to switch over to New Leaf soon after Hicks and Gavino launched the company. Now the retailers he deals with sell ServicePro cards, which the consumers take home and register on the newleafservicepro.com website.
"After Sean got started at New Leaf, and after sitting down to talk with him, we ended up developing a program for smaller-type dealers," he said. "They don't have POS systems, so they're not good at transferring data files. So the ServicePro program was designed for the consumer to register."
Each ServicePro card contains an activation code, which the consumer can type into the product registration form. "That makes it real easy for the retailer, because he can buy a few pieces, and sells it just like he sells the appliance. Then the customer gets home, goes online, and registers," Schwartzstein said.
He said what makes also New Leaf different are the additional bonuses worked into the program, such one where if a five-year contract expires without a claim, the buyer can get 50% back. "It doesn't cost the dealer anything," he said.
Schwartzstein said he still competes with Warrantech and Assurant Solutions in some of his bigger accounts, but in the smaller accounts the competition is primarily self-insured administrators such as Mack Camera & Video Service Inc. in Springfield NJ, and Consumer Priority Service in Brooklyn NY.
He said he always stresses the importance of selling fully-insured service contracts to the smaller retailers, but not all of them get the message. New Leaf is backed by insurance. Mack Camera and CPS aren't. So while all three might do a good job with repairs and claims management, the liabilities of Mack and CPS are backed only by their own "full faith and credit." And while Mack and CPS might have lower prices, that's primarily because underwriting costs New Leaf some money.
"At the end of the day, if that vendor is gone, the customer is coming back to you," Schwartzstein said he tells them, "because you're the one who recommended and sold it to him. So if you're going to take on that liability, you might as well take the whole thing on."
Years ago, Schwartzstein said, he made the same argument to retailers concerning the self-insured status of RepairTech Inc., which closed its doors at the end of 2008, and took its service contracts with it to the bottom. Some of the retailers who had sold RepairTech service contracts sustained a huge financial loss for unpaid repair services.
"And I've been in this marketplace with other companies where dealers have been stuck," Schwartzstein added. "So it's a big issue. And part of it is education."
Mostly Appliance Service Contracts
Although the majority of the current New Leaf clients are retailers of major appliances, roughly a third are selling consumer electronics, and a few are selling jewelry, furniture, and lawn and garden tools. Hicks said the priority now is to expand the roster of furniture and electronics clients so the size of those programs is comparable to where the appliance business is now. He said New Leaf also is recruiting some small appliance importers who need to outsource their U.S.-based warranty and service contract programs.
Most times, when the smaller retailers or importers can't get into one of the big programs, they face two choices: self-manage their own program, or don't sell service contracts. Both choices have their drawbacks.
If the retailer has its own in-house service department, the drawbacks of self-management are primarily financial. First they have to make sure they're deferring revenue correctly and reserving for losses appropriately. If they're just paying claims out of cash flow, they would have a potentially huge unfunded liability that could complicate the sale of the business, or perhaps even bring it down after years of losses.
In addition, they probably don't even have an accurate picture of whether or not their program is making money. They could be charging $50 for a service contract that ends up costing them $75. But without the ability to generate reports or to perform loss cost analytics, they may never know.
If the retailer doesn't have its own service department, self-management is probably not an option. In that case, the only choice they had was to not sell service contracts, and to therefore miss out not only on the additional revenue, but also on the closer relationship with customers after the sale.
So along comes New Leaf, giving both types of retailers a new choice. For the first group, New Leaf will manage reserves and earn the premium correctly, while the retailer maintains the relationship with the customer. New Leaf also will manage the call center, the dispatching of repair technicians, and the payment of claims. But the retailer can still maintain the local touch, and remain the first point of contact for the customer.
"Our call center is here 24x7x365, so his consumers get a greater level of service," Hicks said. Consumers are free to call either the retailer or the New Leaf call center, because New Leaf also will handle dispatch for the retailer's own staff. So it will be the same people doing the repairs in either case. Conversely, customers can call the retailer's service department directly to open a claim, rather than having to call New Leaf first.
For the second group -- the ones without an in-house service capability -- New Leaf will manage the scheduling and the repairs, in addition to the financial management of the premium and the pricing of the contracts. So the retailer can offer a credible service contract program to its customers, which it was unable to do so before. Those who really don't want to get involved can sell the ServicePro cards off a rack near the cash register.
The Benefit of Multiple Underwriters
In either case, the big difference is that New Leaf is fully insured. Usually, a retailer's own in-house program is not. Nor are competitors such as Mack Camera or CPS. However, New Leaf works with two insurance underwriters now: Starr Indemnity & Liability Insurance Company, and Dealers Assurance Company. Hicks said a third underwriting option may be on the way, and maybe even a fourth.
"I think it's very important, particularly for those guys that don't manage it correctly, in the sense that they're not putting reserves on the books, and they're not tracking whether their program is profitable or not," he said. "With an underwriter in the mix, we do that for them. We track severity and frequency, and we ensure that the program that we designed is priced appropriately in the market."
And that means the programs that New Leaf sells are compliant with state laws. That means state regulators won't be imposing fines on retailers who don't comply with the complexities of various state regulations. For instance, in Florida a retailer can be fined $10,000 for every service contract sold while not in compliance.
Hicks said an insurance underwriter also brings pricing discipline to the program. An outside administrator brings the analytics, which can help a retailer determine what's driving up claims rates. For instance, he said, an administrator can help a retailer determine that a single model of a given manufacturer's product line is failing twice as often as others. The retailer can take that model off the market, simultaneously cutting down claims rates for those customers who bought the service contract and reducing customer dissatisfaction and complaints from those who didn't.
However, it's a bit unusual for one service contract administrator to work with multiple insurance underwriters. There are cases of franchise auto dealers that bring in another administrator and/or underwriter to sell vehicle service contracts for their used car sales, but that's because the OEM that backs the new car program doesn't want to underwrite other vehicle brands. And as we saw in the mobile phone industry, one carrier can work with one administrator and underwriter for tablets, and another for smartphones.
But what we're talking about here is one administrator using different underwriters for different retailers. For instance, Abe's of Maine and AJ Madison Inc. are administered by New Leaf and are underwritten by Dealers Assurance Co.
Meanwhile, Adorama Camera Inc. and Colder's Furniture and Appliance are administered by New Leaf and underwritten by Starr Indemnity & Liability Insurance Co. And in fact, Adorama switched from Mack Camera to New Leaf.
There are advantages to having more than one underwriter, Hicks added. "We do not want to be a vertically-integrated company," he said. And he doesn't want to be tied to one single underwriter. "That makes you, as the third-party administrator -- you're at the mercy of that carrier. Whatever that carrier says, you have to do. We don't want to be in that situation."
For example, in the past some of his electronics retailers were selling high-end headphones that could cost multiple hundreds of dollars. "And I couldn't find an underwriter to agree to do replacement plans on headphones up to $1,000," he said. "We had data on headphones. But they were just not comfortable with a replacement plan over $500."
But with two, three or even four underwriters to work with, he said he would have more options. If one underwriter was reluctant to cover a new product line, another might be willing.
The Downside of Relationships
Conversely, there are disadvantages that Hicks preferred not to discuss. But the drawbacks are fairly well-known. Chief among them is the fact that most underwriters want exclusivity. They tend to be a bit jealous and possessive, and they don't like to share their partners. Therefore, few administrators successfully work with two or more underwriters at once. Usually, when it happens, one is transitioning out of the picture and the other is transitioning in.
Far more common are the situations where two administrators and/or two underwriters are splitting a given retailer's or dealer's product line. For instance, one might do new cars while the other does used cars. One administrator might handle furniture while another handles electronics and appliances. Or one might have the smartphone program, while another has the tablet program.
Another big fear for underwriters is that the other underwriter will somehow end up being the favorite. Retailers with high attach rates for service contracts that have low loss ratios will be steered to the most-favored underwriter. And the retailers who hardly sell any contracts and whose claims rates are high get steered to the second-favorite. It may be a bit far-fetched, but it's nevertheless a fear they have about sharing the love of the same administrator.
But it's been this way for New Leaf since the beginning. And apparently it's working. Hicks said sometimes, he will pitch a new program to both underwriters, and choose the one that responds with the lowest rate. Other times, the retailer wants a very large underwriter that's in multiple states, so New Leaf pitches the program to a specific carrier.
"It's true competition in the insurance market for our retail partners," Hicks said.
Another Benefit of Multiple Underwriters
Tom Balistreri, vice president of merchandising at Colder's, and who's also the chairman of the buying group that the retailer is part of, which is called Resource Plus, said the companies were longtime clients of Warrantech. But then New Leaf made its pitch: lower prices, great service and better information.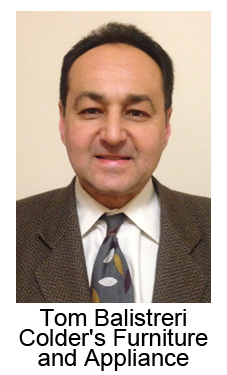 "We knew Sean and his team from Warrantech," Balistreri said. "And we had a great relationship with them." So when the opportunity came up to switch from Warrantech, New Leaf was the first choice.
"The service levels we heard they were providing for other dealers were very strong," he said. "So we did our due diligence and visited their facilities, and were very impressed with the team, the reporting, and the metrics -- and their whole management system was so much more up-to-date and state-of-the-art. And we've been extremely pleased with them."
Hicks said roughly two-thirds of the Resource Plus buying group members are selling service contracts backed by Starr Indemnity. But Balistreri said he also appreciates the value of an administrator like New Leaf having multiple insurance underwriters at its disposal, for a slightly different reason. If, for example, one of those underwriters were to be downgraded by A.M. Best to a relatively low financial strength rating, the administrator can move some retailers to another carrier without much commotion.
"Or if they're too big, they have too much power," he added. "Big insurance companies -- they don't tend to care as much about the individual customer. They all want to make money and that's what we're all in business for, but if they control too much of it, it becomes a one-sided relationship."
On the other hand, Balistreri said he and his partners talked about going to a self-administered service contract program for Colder's. And they also talked about running their own retail financing operation. But they dropped those plans fairly quickly, because of two main obstacles: the amount of reserves needed in each state to avoid having to buy a contingent liability insurance policy, and the management resources needed to run the repair service operations.
"There's a lot more to it than it sounds," he said. "We'd rather not have to worry about all the collateral infrastructure that we'd need to do it. Yes, it could be more profitable, but it could also be very costly."
---
GWSCA Survey Invitation
The Global Warranty and Service Contract Association (GWSCA) is conducting an online survey to learn what is important to members of the warranty and service contracts industry. The information collected will be used to formulate programs and proposed solutions to commonly experienced industry questions, problems, and fast emerging trends.
The survey is being conducted by Fulcrum Analytics on behalf of the GWSCA. To get started, click here or cut and paste this URL into your browser: surveygizmo.com/s3/1411787/92b03449fbf2
The survey will be open to everyone in the warranty and service contracts industry through Sunday, November 17th.
If you have any questions please email Terry Hawkins at: gterry.hawkins@gmail.com or contact Tara Piazza, SVP of Research at Fulcrum Analytics at 1-212-651-7012, or via email at tpiazza@fulcrumanalytics.com.