December 5, 2013
Warranty Book List:
On the occasion of the passing of a noted author of warranty management books, we take a look at the published output of him, his colleagues and others in the warranty and service contract industries.
Sad news to report this week: according to a posting his son made on Facebook, noted warranty management author, teacher and speaker Wallace R. Blischke passed away in California on December 2, 2013. He was 79 years old.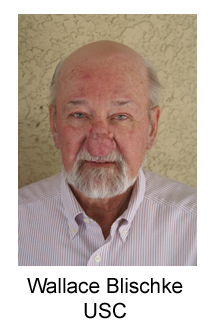 Blischke and his collaborators literally wrote the book on warranty data analysis. As soon as Warranty Week began publishing 11 years ago, we became aware of numerous textbooks and journal articles he had authored -- many with D. N. Prabhakar Murthy as his co-author.
In June 2007 we were fortunate enough to publish a newsletter column about warranty management contributed by Blischke and Murthy, along with co-authors Steve Kakouros and Dorothea Kuettner. And in 2010 we previewed a "master class" on the collection and analysis of warranty data that Blischke delivered at the Warranty Chain Management Conference, held that year in Burbank CA, just over the hills from Los Angeles. A year later, he filled in for Murthy as keynote speaker at the 2011 WCM Conference held in San Diego.
How best to honor a warranty professional? Although he taught statistics for many years at the University of Southern California and delivered numerous presentations at industry conferences, he's likely to be best remembered through his books, which will still be on shelves decades from now. So why not make a list of his books, and place it among a list of other people's warranty books?
Warranty Book List
In the following list, we took some liberties with the format of the book citations. First, we alphabetized the list of authors by surname in cases where more than one author is listed for a given book. Second, we then alphabetized the entire list based on the surname of the first author. In cases where the same author has multiple books, they've been alphabetized by book title.
We didn't include page counts, dates of publication, the name of the publishers, or the place of publication. This isn't a term paper. And we didn't list prices either. This isn't a sales catalog.
Instead, we hotlinked the ISBN-13 number of each book to an online bookseller's website. Until 2007, the International Standard Book Numbers contained 10 digits. Decades ago, they were only 9 digits long, before they were given a leading 0 or 1 that brought them up to 10 digits. Now they contain 13 digits, with most of the new prefixes being 978.
Think of these as the serial numbers of the books in question. They will greatly simplify the process of finding and buying the products in libraries and from both online and brick-and-mortar bookstores, should any titles catch your eye.
Out of respect for the passing of Wallace Blischke earlier this week, we'll begin the list with six seminal warranty-related books for which he was either the sole author or the co-author.

Case Studies in Reliability and Maintenance
by Wallace R. Blischke and D. N. Prabhakar Murthy
ISBN-13: 978-0471413738

Product Warranty Handbook
by Wallace Blischke
ISBN-13: 978-0824789558

Reliability: Modeling, Prediction, and Optimization
by Wallace R. Blischke and D. N. Prabhakar Murthy
ISBN-13: 978-0471184508

Warranty Cost Analysis
by Wallace Blischke
ISBN-13: 978-0824789114

Warranty Data Collection and Analysis
by Wallace R. Blischke, M. Rezaul Karim, and D. N. Prabhakar Murthy
ISBN-13: 978-1447127024

Warranty Management and Product Manufacture
by Wallace R. Blischke and D. N. Prabhakar Murthy
ISBN-13: 978-1852339333



For the remainder of this list, we struggled to include as many titles as possible that were primarily and closely warranty-related, and to exclude titles that probably wouldn't be of interest to a warranty professional. The problem is, on the one hand, warranty is closely related to more engineering- and manufacturing-focused topics such as quality and reliability, though they're not the same thing.
On the other hand, warranty and service contracts also have links to legal, financial and insurance-related topics such as product liability lawsuits, representations and warranties made as part of financial transactions, and collateral warranties, along with torts and fraud and negligence lawsuits and other items that stray far from a warranty professional's usual focus.
There were numerous technical bulletins, seminar papers, and magazine and journal articles that have been packaged for sale as slim books, which we excluded from this list but added to the past decade's Industry Headlines lists, where possible. We excluded all product manuals that came to our attention merely because their back pages contained the terms and conditions of a product warranty. We excluded all books that use warranty as a metaphor for health (e.g. going out of warranty at age 50). And then we also excluded a bunch of advice columns and self-help books that assign warranties to everything from marriages to horse trading (sample title: "Lectures on the Examination of Horses as to Soundness, with an Appendix on the Law of Horses and Warranty"), but which would nevertheless come up on any keyword search.
What remains is a list of some 50 or so hardcover, paperback and electronic books that we think would be interesting to some warranty professionals. Obviously, by their titles, not all would be interesting to all people. But at least now there's a list in one place of them all. In future years we will add new titles as they become available, making this page into a book list for the warranty management industry.

The New Weibull Handbook Fifth Edition, Reliability and Statistical Analysis for Predicting Life, Safety, Supportability, Risk, Cost and Warranty Claims
by Dr. Robert. Abernethy
ISBN-13: 978-0965306232

Root Cause Analysis: Simplified Tools and Techniques
by Bjørn Andersen and Tom Fagerhaug
ISBN-13: 978-0873896924

Warranty Claims Reduction: A Modern Approach with Continuous Improvement Techniques
by Ronald Blank
ISBN-13: 9781482209129

Warranties: Planning, Analysis, and Implementation
by James R. Brennan
ISBN-13: 978-0070075672

Consumer Warranty Law: Lemon Law, Magnuson-Moss, UCC, Mobile Home, and Other Warranty Statutes
by Carolyn L. Carter and Jonathan Sheldon
ISBN-13: 978-0943116105

Consumer Warranty Law: Lemon Law, Magnuson-Moss, UCC, and Other Warranty Statutes
by Carolyn L. Carter and John W. Van Alst
ISBN-13: 978-1602480544

Low Impact Service: A Guide to Automotive Service and Warranty Complaints, How to Avoid Them, How to Resolve Them
by Peter A. Ciullo
ISBN-13: 978-0962604362

Law of Product Warranties
by Barkley Clark and Christopher Smith
ISBN-13: 978-0887120985

Warranty
by Ronald Cohn and Jesse Russell
ISBN-13: 978-5511102184

Warranties for Builders and Remodelers
by David Crump, David S. Jaffe, and Felicia Watson
ISBN-13: 978-0867186123

Little Secrets of the Auto Industry: Hidden Warranties Cost Billions of Dollars
by Clarence Ditlow and Ray Gold
ISBN-13: 978-1559210850

The Weibull Analysis Handbook
by Bryan Dodson
ISBN-13: 978-0873896672

Statistical Methods for Reliability Data
by Luis A. Escobar and William Q. Meeker
ISBN-13: 978-0471143284

After-sales Service of Engineering Industrial Assets: A Reference Framework for Warranty Management
by Vicente González-Prida Díaz and Adolfo Crespo Márquez
ISBN-13: 978-3319037097

Hardware Hacking: Have Fun While Voiding Your Warranty
by Joe Grand, Ryan Russell, and Kevin D. Mitnick
ISBN-13: 978-1932266832

Supply Chain Coordination Contracts with Free Replacement Warranty: A Study on Supply Chain Optimization and Fair Profit Allocation through Contract Design
by Wan-ting Hu
ISBN-13: 978-3639083507

Warranties and Disclaimers for Remodelers
by David S. Jaffe and Bob Merz
ISBN-13: 978-0867184419

What if the Product Doesn't Work?: Warranties and Guarantees
by Margaret Jasper
ISBN-13: 978-0379113815

Weibull Models
by Renyan Jiang, D. N. Prabhakar Murthy and Min Xie
ISBN-13: 978-0471360926

Reliability Engineering
by Kailash C. Kapur
ISBN-13: 978-1118140673

Warranty Inventory Management and Supplier Decision Models
by John Habeb Khawam
ISBN-13: 978-1243666222

Determining Optimal Reliability Targets: Engineering Analysis and Simulation of Product Validation Costs and Warranty Data
by Andre Kleyner
ISBN-13: 978-3838340623

Using the Weibull Distribution: Reliability, Modeling and Inference
John I. McCool
ISBN-13: 978-1118217986

Extended Warranties on Domestic Electrical Goods, a Report on the Supply of Extended Warranties on Domestic Electrical Goods Within the UK
by Derek Morris
ISBN-13: 978-0101608923

New Home and Warranty Inspection Handbook
by Joseph Natale
ISBN-13: 978-0965999908

Quality, Warranty and Preventive Maintenance
by Hakan Polatoglu and Izzet Sahin
ISBN-13: 978-0792382928

Reliability Analysis and Prediction with Warranty Data: Issues, Strategies, and Methods
by Bharatendra K. Rai and Nanua Singh
ISBN-13: 978-0857296467

Homeowners Guide to Home Warranties, Maintenance and Service
by Skip Reier
ISBN-13: 978-1608134038

Consumer Product Warranties under Federal and State Laws
by Curtis R. Reitz and Paul A. Wolkin
ISBN-13: 978-0831804848

The Weibull Distribution: A Handbook
by Horst Rinne
ISBN-13: 978-1420087437

The Home Warranty Handbook Insider Secrets That Will Save You Money
by Barbara J. Shoff
Kindle e-book

Service is Not a Product: The Expert's Guide to Selling Service Agreements
by Joseph Siderowicz
ISBN-13: 978-0615547800

How Reliable Is Your Product?: 50 Ways to Improve Product Reliability
by Mike Silverman
ISBN-13: 978-1607730606

Beyond Warranty: Building Your Referral Business
by Carol Smith
ISBN-13: 978-0867186321

Service Warranty Guide
by Carol Smith
ISBN-13: 978-0867185447

Warranty Service for Builders and Remodelers
by Carol Smith
ISBN-13: 978-0867183672

Warranty Service for Home Builders
by Carol Smith
ISBN-13: 978-0867185447

Warranties in Marine Insurance
by Baris Soyer
ISBN-13: 978-1859419434

A Case Study in Product Development and Systems Engineering: Using Product Warranty Data as a Measure of Process Effectiveness
by Dan Surber
ISBN-13: 978-3639283228

A Consumer Guide to Automotive Service Contracts & Warranties: What to Do When They Refuse to Pay
by Terry M. Thacker
ISBN-13: 978-1470084653

Reliability and Warranties: Methods for Product Development and Quality Improvement
by Marlin U. Thomas
ISBN-13: 978-0849371493

How to Make Your Car Last Forever : Avoid Expensive Repairs, Improve Fuel Economy, Understand Your Warranty, Save Money
by Thomas Torbjornsen
ISBN-13: 978-0760337967



Did we miss a few? Undoubtedly, there are many warranty-related books on the shelves that weren't on the top sellers list at Amazon.com, Google, or Barnes & Noble, and therefore didn't make it onto this list. Please send us your lists, and please try to include not only the titles and authors' names, but also the ISBN numbers (which are usually found somewhere on the title pages).
In particular, please send in titles of books whose covers wouldn't suggest they have much to say about warranties or service contracts, yet they actually do. For instance, titles about quality management, actuarial science and insurance underwriting might not have the word warranty in their title, but it's all over their index.
Small Appliance Warranty Workers
Finally, given the approaching holiday season and the need for warranty-related stocking stuffers for the engineers and actuaries of tomorrow, we're including on our list a children's book about the "warranty people" who apparently reside inside domestic appliances to repair and maintain them until their warranty expires. And then they leave, which of course is why appliances always break a month after they go out of warranty.
The Little Warranty People
by Eduard Uspenski
ISBN-13: 978-0679820635

This incisive lesson on the art of warranty management and the science of winning a mouse war is recommended for ages 8 and up. The original was in Russian; this one's in English, first published in 1994 and translated by Nina Ignatowicz. First editions are on sale for a few dollars at the websites of numerous used booksellers. Compared to some of the impenetrable textbooks on the list above selling for multiple hundreds of dollars, it sounds like a relative bargain.