January 16, 2014
Large Vehicle Warranty Report:
There's only a very narrow gap between the warranty expense rates of large vehicle manufacturers and their suppliers. And while some manufacturers are reducing their warranty costs, many are simply returning to the expense rates they've had for most of the past decade.
While most of the warranty expenses we catalog for the automotive industry arise from sales of passenger cars and light trucks, roughly a third of it comes from sales of large vehicles such as trucks and buses. While fewer of these large vehicles are sold, their warranties generate higher costs per vehicle as well.
With these large vehicles, the way warranties are issued is very different as well. Manufacturers of major components such as the engine issue their warranties directly to the buyer, rather than to the OEM, which then issues an all-encompassing warranty to the buyer.
This approach blurs the line between OEM and supplier, and reduces the typical warranty expense rates of the OEMs while increasing them for the suppliers. It's very different from the passenger car industry, where the OEMs seem to always pay the most and their suppliers pay the least.
Large Vehicle Warranty Providers
For this week's analysis, we trimmed the roster of 155 automotive companies that we used in last week's newsletter down to a list of just those whose principal business is the manufacture of large vehicles. That list of 52 companies includes not only manufacturers of trucks and buses, but also of construction vehicles, fire trucks, garbage trucks, recreational vehicles, and some types of farm equipment and lawn care equipment.
And while we generally trimmed the roster down from all automotive to just large vehicles, we also widened the focus a bit -- pulling in some companies normally counted in other industries, such as Skyline Corp. from the new home category (they also make RVs), Textron Inc. from the aerospace category (they also make turf care vehicles), and Ingersoll-Rand from the appliance category (they also make refrigerated truck equipment).
It's a diverse list. We can't call it heavy equipment or industrial equipment, because there are still some consumer vehicles in the mix (such as RVs). But it's both on-road and off-road; both passenger and cargo; both OEMs and parts suppliers. So let's just call it a large vehicle warranty report, to differentiate it from passenger cars and pickup trucks.
Our list includes 27 OEMs and 25 parts suppliers. The OEMs are led by Caterpillar Inc., Deere & Co., Navistar International Corp., Textron, Paccar Inc., and Thor Industries Inc. Their parts suppliers are led by Cummins Inc., Eaton Corp., BorgWarner Inc., Dana Holding Corp., Wabco Holdings Inc., and Meritor Inc.
We gathered quarterly and annual data for claims paid and accruals made from the beginning of 2003 until the third quarter of 2013. We also collected balance data for the warranty reserve funds of each company, as well as their product sales (total revenue minus service & finance revenue, investment income, apparel sales and other non-warranted revenue sources).
Claims Payments
In Figure 1, we're charting the quarterly claims payments of the 27 OEMs and 25 parts suppliers. In general, the ratio has remained close to 80/20 over the past 11 years, unlike the wider automotive industry, which started out closer to 90/10 and has shifted to 80/20 in recent years.
Figure 1
U.S. Truck, Bus, RV & Heavy Equipment Industries
Warranty Claims Paid, 2003-2013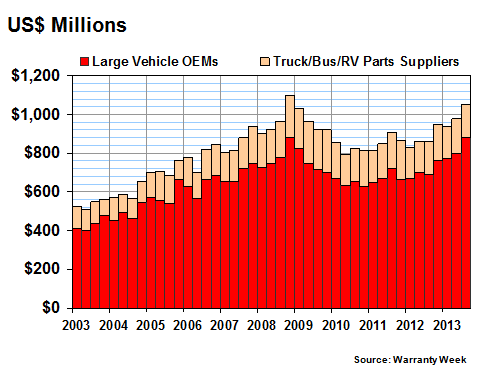 For large vehicle manufacturers as a group, claims payments peaked at the end of 2008, at a level of $1.1 billion in the fourth quarter of that year. But the total for the third quarter of 2013 came awfully close to topping that, at $1.05 billion. In fact, just the OEM portions of those two quarterly totals were within $1 million of each other. So it's a good bet that the year-ending figures for 2013, when they become available in late March, will finally surpass the peak set five years before.
The effects of the Great Recession and the subsequent recovery can be seen in Figure 1, with the bowl-shaped dip in the data from 2008 to 2013. But it is blatantly obvious in the data in Figure 2. That's because there's a lag time between when a vehicle is sold and when it needs warranty work, so the claims data is more flattened out. But the accrual data is timed precisely to sales, so it shows the downturn in 2009 and early 2010 much more conspicuously.
Figure 2
U.S. Truck, Bus, RV & Heavy Equipment Industries
Warranty Accruals Made, 2003-2013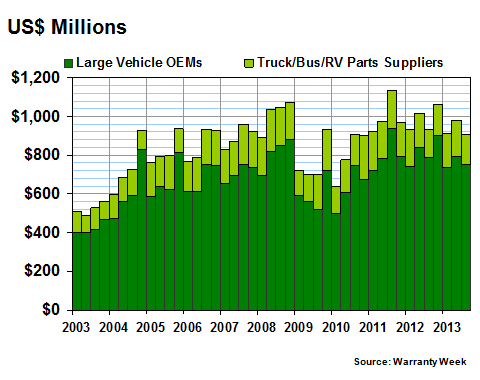 Accruals actually peaked two years ago, in the third quarter of 2011, when OEMs set aside $940 million and their suppliers set aside $193 million in accruals. Industry totals came close to that level in both 2008 and 2012, but have yet to eclipse it. And probably won't: quarterly totals so far in 2013 aren't even in the top 10 of the last 43 quarters.
The problem, we think, is that sales aren't really rising much, so accruals aren't either. For some big players, in fact, sales are falling. Caterpillar's down 18%. Navistar is down 17%. Meritor is down 16%. Oshkosh Corp. is down 6%. In terms of sales gains, Titan International Inc. is up 26%. Wabco is up 15%. And Federal Signal Corp. is up about 8%. Overall, group sales are down about 8% from a year ago.
Warranty Costs vs. Sales
When we take the claims data from Figure 1 and the accrual data from Figure 2 and divide those totals by sales, we get four strings with 43 percentages in each. Those results are charted in Figure 3. The bright red and green lines refer to the OEMs, while the light green and orange lines refer to their suppliers.
Figure 3
U.S. Truck, Bus, RV & Heavy Equipment Industries
Average Warranty Claims & Accrual Rates
(as a % of product sales, 2003-2013)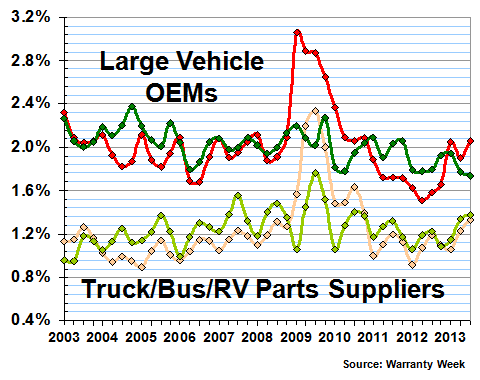 In last week's newsletter, we explained how the gap between all automotive OEMs and all automotive suppliers had historically been around two percent, but had narrowed considerably since 2009. In the large vehicle category, this pattern hasn't appeared. First of all, the gap has been only 0.7% or 0.8% in most quarters. And second of all, while the gap has widened to 1.1% and narrowed to 0.4% on occasion, it's done so on a seemingly random schedule.
The reason, we think, has a lot to do with the way warranties are typically structured in the large vehicle industry. With something like a truck or an RV, the buyer usually receives separate warranties for the engine, the interior, and the chassis, issued by each manufacturer. With a passenger car, the OEM typically takes responsibility for the factory warranty on a "bumper-to-bumper" basis. Therefore, some of the suppliers are acting like OEMs, in the sense that they're issuing warranties directly to their end user customers. Out goes the middleman and out goes some of the gap that such a structure causes.
Increasing Warranty Reserves
And then there is the warranty reserve fund balance. The additions of Figure 2 and the subtractions of Figure 1 don't precisely add up to the balances in Figure 4, because some manufacturers are making additional deposits and withdrawals to correct errors in their past estimates. For some of the unluckiest manufacturers, these corrections have been in the hundreds of millions of dollars per quarter.
Still, the shape of the data in Figure 4 generally supports the story of a recession and a recovery, with a long-term upward trend. Note that while the combined balances of the OEMs and suppliers were below $3 billion in early 2003, they're now approaching $7 billion in late 2013.
Figure 4
U.S. Truck, Bus, RV & Heavy Equipment Industries
Warranty Reserves Held, 2003-2013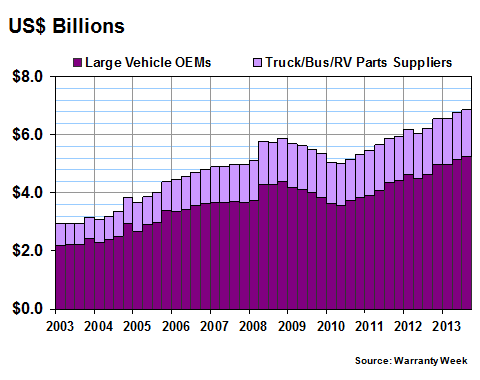 Here there's no doubt that warranty reserve levels in recent years have decisively surpassed pre-recession totals. And that's not necessarily a good thing. For while the data of Figures 1-3 support the idea that the warranty metrics in the large vehicle category have been largely stable for five years, in Figure 4 we see a metric that is still rising.
In addition, the large vehicle makers are now keeping their reserve levels close to what they spend on claims in 20 months. Back in 2003, the ratio between reserves and claims was closer to 17 months. That means either the manufacturers 1) are providing longer warranties, 2) are amassing surplus funds needlessly, or they are 3) worried about rising claims rates in the near future. We haven't seen 1) and can't believe 2), so that leaves 3) as the most likely reason.
Very Large Warranty Reserve Funds
Amazingly, there are four companies in this category that currently keep more than a billion dollars in their warranty reserve fund: Caterpillar, Deere, Cummins, and Navistar. And these four companies together account for more than seven-tenths of all the reserves counted in Figure 4.
What makes it all the more amazing is that there are only 11 U.S.-based companies with reserves at or above the billion-dollar level. The others are GM and Ford in the passenger car industry, Boeing and United Technologies in the aerospace industry, Apple and HP in the computer industry, and GE representing power generation, jet engines, and medical equipment. That's it.
Caterpillar is sixth on that list, with $1.37 billion in its warranty reserve at the end of September 2013. Ten years before that, the company had $646 million in its reserve, so it's more than doubled in a decade. However, in that time the company's claims rate has actually fallen.
In Figure 5, we're charting the claims and accrual rate of just Caterpillar, by dividing its reported totals for claims and accruals by product sales. This means we're not including any service revenue, nor are we including insurance revenue. In the company's financial statements the amount we're using is referred to as "Sales of Machinery and Power Systems."
Figure 5
Caterpillar Inc.
Average Warranty Claims & Accrual Rates
(as a % of product sales, 2003-2013)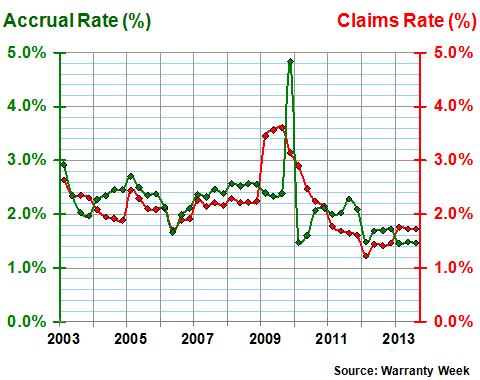 It's clear the company had a pretty awful 2009, and part of the reason is a severe decline in sales. But in 2009 the company also had to add an extra $181 million to its reserves for changes in estimates for pre-existing warranties due to higher-than-expected actual warranty claim experience. So at the very moment when less cash was coming in, more cash had to be set aside.
Warranty Cost Reductions
The past 15 quarters have been much kinder to the company, however. In early 2012 the company's claims rate hit a new low of 1.2%, and in 2013 its accrual rate has remained below 1.5%. And when you're talking about a company with more than a billion dollars a week in sales, the difference between spending 2.5% of it on warranty and spending 1.5% of it on warranty is pretty significant.
As good as the new is for Caterpillar, it's bad and getting worse for Navistar. The company continues to struggle in its efforts to make a diesel engine that meets U.S. government emission requirements, and the cost of not doing so is beginning to spin out of control.
In Figure 6, we see a company that's paid $484 million in claims on $7.9 billion in product sales -- a 6.1% rate. In addition, it's made $342 million in what we'll call normal accruals -- money set aside for warranties on products sold this year -- plus $252 million for unexpected costs arising from products sold in previous years. So this year, once you add those together, it's really had to set aside 7.5% of its revenue to deal with its engine trouble.
Figure 6
Navistar International Corp.
Average Warranty Claims & Accrual Rates
(as a % of product sales, 2003-2013)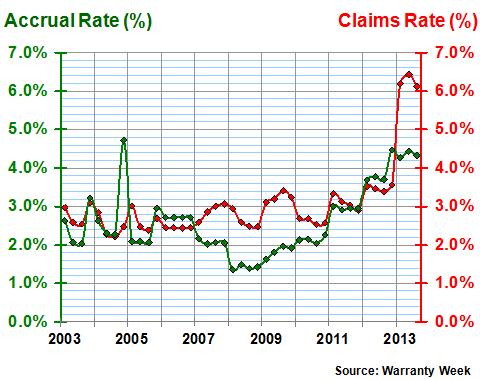 Granted, part of the reason the slope of the chart in Figure 6 looks so ominous is because five years ago accruals were artificially low while a lawsuit between Navistar and Ford wound its way through the courts. But ever since, the rate has slowly crept upwards, to three percent then four percent. And remember, we're not including the additional accruals for unexpected costs from previous years. In 2012 that extra accrual was $404 million. In 2011 it was $79 million. So far in fiscal 2013 it's $252 million, but it's likely to exceed the $400 million level again by the time the year is over.
Getting Back to Normal
At Cummins, meanwhile, the story is one of getting back to normal after a recession-related spike in its claims rate. Cummins has neither the benefits of Cat's expense reduction nor the problems of Navistar's escalating costs. It's more or less continuing to spend about the same proportion of its revenue on warranty as it's done for most of the past decade.
Notice in Figure 7 that although the company's claims rate shot up to five percent in 2009, its accrual rate remained relatively steady in its usual 3.0% to 3.5% range. That's purely a reaction to a drop in sales, which elevates the claims rate because of the time lag but doesn't affect the accrual rate. Since the end of the recession, both the claims and accrual rates have drifted down to their current 2.5% level.
Figure 7
Cummins Inc.
Average Warranty Claims & Accrual Rates
(as a % of product sales, 2003-2013)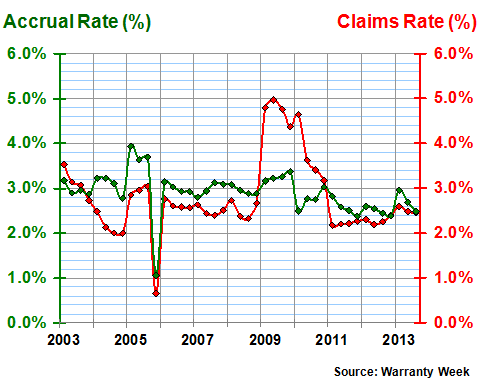 Actually, if you look closely, you'll notice that the diesel engine manufacturer's claims rate has slowly drifted upwards to 2.5% over the past eleven quarters, after plunging in 2010. In the first quarter of 2011, the company's claims rate was only 2.2%. But then for each of the past five quarters, its year-over-year claims rate has been slightly higher. Still, except for that timing-related anomaly at the end of 2005 and the recessionary spike of 2009, the company has kept its warranty expenses relatively stable since 2003.
Worldwide Warranty Provider
Finally, we wanted to take a quick look at Paccar, the owner of the Kenworth, Peterbilt, DAF Trucks, and Leyland Trucks brands, among others. As with all our spotlighted companies, we're looking at the worldwide warranty spending of these U.S.-based companies, so of course we're including Paccar's European manufacturing and sales operations.
In Figure 8 we see a company with warranty metrics somewhat similar to the Cummins chart in Figure 7. The recession made the percentages erratic, but things returned to normal once the recovery began.
Figure 8
Paccar Inc.
Average Warranty Claims & Accrual Rates
(as a % of product sales, 2003-2013)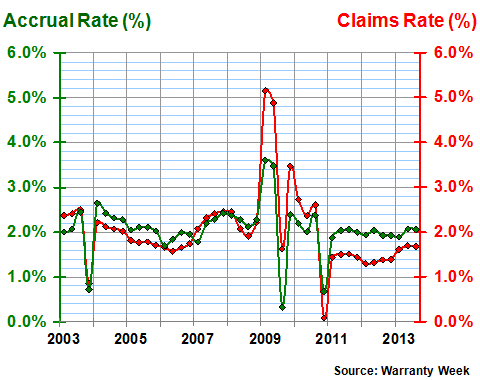 Actually, there's one big difference. Cummins had that timing issue once, in late 2005, when claims and accruals dipped to unrealistically low levels rather suddenly and very temporarily. But it's happened to Paccar three times: in 2003, in 2009, and again in 2010.
The good news is that Paccar's expense rates have now been relatively stable for 11 quarters in a row, with claims around 1.5% to 1.7% and accruals around 1.9% to 2.1%. It's shaping up to be another period of stability, not unlike the five-year period between 2004 and 2008.
Increased Parts Sales
Ron Giuntini, principal of Giuntini & Co. Inc., told Warranty Week that he thinks the fluctuations in Paccar's warranty expense rates from 2009 through 2011 were a direct result of a material change in their sales mix from that of vehicles to that of parts, employed in such product support processes as: correcting/preventing product failure, modifying product capabilities, extending product life (i.e. remanufacturing), and others.
During a recession, and especially a severe one, organizations keep their products longer, but pay the price by spending more on product support. Parts sales require a much lower warranty reserve than vehicle sales. Therefore, Paccar experienced lower warranty expenses during the period, Giuntini noted.
The sales mix change was so large that the U.S. Securities and Exchange Commission fined Paccar for not disclosing the change to the financial investing community. Paccar settled those charges and paid a fine in June 2013.
Giuntini also notes that Paccar is not the only OEM to have experienced a major change in sales mix during the 2008 to 2012 period. But as with Paccar, you would never know that the mix change occurred from their financial reports.
In a way, the experience of Cummins and Paccar mirror what's been happening across the entire large vehicle industry. As can be seen in Figure 3, expense rates were relatively stable from 2003 to 2008, went berserk in 2009, and then stabilized again from 2010 to 2013. So perhaps we should dismiss the recessionary gyrations as an anomaly and look before and after the bad old days for a baseline?
However, other companies are seeing meaningful and long-lasting changes in their warranty expense rates that have continued long after the end of the recession. For instance, Caterpillar is enjoying the benefits of its recent warranty cost reduction efforts, which are all the more remarkable given declining sales volumes. And then at Navistar, warranty cost are rising, sales are falling, and the cost of its noncompliance with U.S. government emission standards continues to escalate.
---
GWSCA Plans Warranty & Service Contract Awards
Recognizing that developing and sustaining exceptional warranty and service contract capabilities has become increasingly critical as the need to improve quality, and retain customers and competitive advantage grows in the recovering economy, the Global Warranty and Service Contract Association (GWSCA) has created a nomination form and process to reward companies who have harnessed these capabilities and achieve greater revenues at higher profitability, and healthier customer loyalty.
The GWSCA will recognize an exceptional few brand owners or companies that offer product warranties, and/or service contracts that are nominated for a Warranty and Service Contract Award, and meet certain criteria.
Nominations will be accepted in the following four categories:
Excellence in Warranty
Innovation in Warranty
Excellence in Service Contracts
Innovation in Service Contracts
Awards will be presented at the 2014 Warranty Chain Management Conference in March. Award recipients also will receive industry recognition in Warranty Week magazine.
To be nominated for an award in Warranty or Service Contracts Excellence, the GWSCA is looking for a company's ability to achieve sustained excellence (year over year) and continuity of excellence in more than one of the following areas:
Warranty costs/cost to serve,
Warranty or service contract reserves accuracy,
Service contract Sales growth,
NPI-related warranty/service contract management,
Supplier cost recovery, management and collaboration, and
Customer loyalty/channel management and collaborative customer and service practices.
Similarly, to be nominated in either "innovation" category, the GWSCA is looking for a company's use of innovation in warranty and service contracts, including utilizing new frameworks, approaches, technologies and the like, with the end result being a major improvement in warranty and or service contract, either internally with suppliers or customers.
Nominations must include a detailed description of areas of performance, and provide actual numbers to back nomination, to show that the organization has achieved excellence in warranty/service contracts, or has been innovative in these areas. Companies submitting a nomination must provide examples/exhibits of performance, financial and other relevant information (including description of time-frame processes or performance reflects and if practices/processes, performance are same or different today), provide a description of how performance was/is achieved (e.g. successful implementation of analytics, early warning, fraud detection, collaborative practices internally and with partners, etc.), discuss organizational structure and support mechanisms to accomplish performance, as well as what metrics were used internally and with partners to measure and achieve progress, and the impact on customers, as applicable.
Click here to download the form or visit the GWSCA website. Completed nominations can be emailed to gterry.hawkins@gmail.com or mailed to GWSCA, c/o Terry Hawkins, President, 740 Zorn Ave, 5C, Louisville KY 40206, USA. The deadline has been extended until tomorrow, January 17, 2014. Good luck!