January 30, 2014
New Home Warranty Report:
Sales are rising and home prices are increasing, but warranty costs are remaining the same. So the cost of new home warranties as both a percentage of sales and on a per-home basis are declining, in some cases to record low levels. Is this the beginning of a long-awaited recovery in the new home industry?
New home builders and passenger car makers felt the recession first and felt it the hardest. But while the carmakers seem to have recovered from the worst, the homebuilders are still operating at a depressed level, as they have been for the past four or five years.
Since 2003, we've tracked the sales and warranty metrics of 48 different new home builders whose shares are traded publicly on a U.S.-based stock exchange. In their quarterly and annual reports to the U.S. Securities and Exchange Commission, each company details its sales revenue, the number of homes sold, the totals for claims paid and accruals made, and the balance left in their warranty reserve funds at the end of each quarter. We collect that data, compile it, and use it to produce the charts below.
New home builders were among the first to feel the effects of the recession and seem to be among the last to see a recovery. However, most observers say the recovery has now begun, even in homebuilding. According to the latest data jointly released by the U.S. Census Bureau and the U.S. Department of Housing and Urban Development, an estimated 428,000 new homes were sold in 2013, up 16.4 percent from the 2012 figure of 368,000 new homes sold.
That's not a very strong number compared to 2006 or before, but it's far above the bottom five years ago. And the sales figures show it. New home sales revenue is up by 21% to 55% for the top publicly-held new home builders, according to the data we collect from their quarterly and annual financial reports.
Among the companies that have already filed their annual reports for 2013, Lennar Corp. saw sales rise 52%; KB Home saw sales rise 35%; Hovnanian Enterprises Inc. saw sales rise 27%; and Toll Brothers Inc. saw sales rise 42%. However, other large builders such as NVR Inc. and PulteGroup Inc. have yet to file their annual reports, so we can't yet calculate any year-end averages or totals for the industry as a whole. The latest date for which we have reports from all the major players is September 2013.
Warranty Metrics
From each of those financial reports, we also collect figures for claims paid and accruals made, as well as for the resulting balance left in the warranty reserve fund after all the additions and subtractions have been made. In Figure 1, we're detailing the amount of claims paid by the top builders from the first quarter of 2003 until the third quarter of 2013.
The industry peak came in the very last quarter of 2006, when the builder paid out nearly $253 million in warranty claims -- one of only two quarters where the industry total surpassed $250 million. Claims payments began falling in 2007, as less homes were sold and less warranty work was needed.
It's hard to see a clear bottom in the data, as was obvious in the automotive data in the January 9 newsletter. But in each of the past three years, the amount of claims paid in the first quarters of each year (covering the cold months of January, February and March) has dipped below the $70 million level. So there's not one bottom; there are several.
Figure 1
U.S.-Based New Home Builders
Warranty Claims Paid, 2003-2013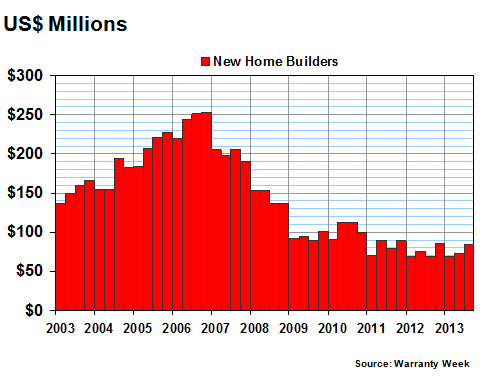 It's as if the industry has been bumping along the bottom for years, with claims rising then falling back. And it's the same pattern that can be seen in the accrual data of Figure 2. For almost five years, the quarterly accrual totals have orbited around $65 million -- sometimes a little above, sometimes a little below. But they haven't exceeded $100 million since the end of 2008.
However, with this warranty metric, the peak came a bit earlier, at the end of 2005 ($344 million accrued in the fourth quarter of 2005). The all-time lowest level was reached at the start of 2011 ($39 million for the first quarter of 2011).
Past the Peak
This coincides rather precisely with the peak in new home sales, which the Census Bureau's monthly data pegs as occurring in October 2005. In fact, there's an unbroken string of months between April 2003 and June 2006 in which the annual run-rate for the industry as a whole surpassed one million units.
Then it began to slow down. Since June 2006, the industry has run at less than half that speed, bottoming out at some point between the summer of 2010 and the winter of 2011, according to the Census data. The observed minimum in industry accruals that we've measured came at the end of that period. So the warranty data is apparently in rough agreement with the official sales data in regards to the timing of the worst point of the recession.
Figure 2
U.S.-Based New Home Builders
Warranty Accruals Made, 2003-2013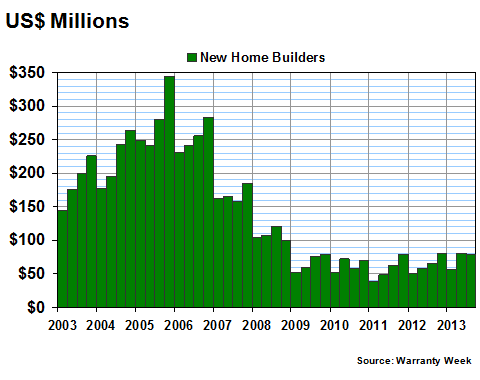 Therefore, we have a peak for both new home sales and accruals in late 2005, and a peak in claims in late 2006. That implies a lag time of about a year between the peaks. The reason for this has to do with the timing of warranty work. Accruals are made at the time a home is sold, while the claims are paid some time later, after the new homes go through a few seasons and problems become apparent.
Another reason for the elevated accrual levels in 2005 has to do with the problems caused by the odors emitted by drywall made in China, which had to be replaced under warranty once the problem became apparent. Major homebuilders such as Lennar increased their accruals specifically to pay these bills. However, most of the additional accruals made for this reason were made above and beyond the normal accruals, as one-time changes in estimate. So they aren't all counted in Figure 2 as what we'd call "normal" accruals.
Costs As Percent of Revenue
No matter what the cause of the additional costs or how they're classified, however, it's pretty clear that both claims and accruals fell once new home sales volumes slowed. That's to be expected. Less units sold means less warranty work. The thing that's more unexpected is the relationship between a builder's total warranty costs and total sales revenue.
Basically, you're always fixing last year's units with this year's money. So if you sold more units last year than you did this year, your claims payments will probably be higher this year than next. However, to calculate the claims rates found in Figure 3 below, we're comparing this year's claims payments to this year's sales totals. So what happens when sale fall faster than claims can be seen in Figure 3. The red line, representing the percentage of sales revenue spent on claims, rises significantly from 2006 to 2010 as the sales volume declines. And then, as sales volumes recover, the claims rate falls back to "normal" from 2010 to 2013.
Figure 3
U.S.-Based New Home Builders
Average Warranty Claims & Accrual Rates
(as a % of product sales, 2003-2013)
During normal times, builder spend less than one percent of their sales revenue on warranty claims. So if they're selling $200,000 homes, they're spending $2,000 or less on each home's warranty work, over the life of its warranty.
But when the recession hit, they were selling vastly fewer new homes, and were fixing last year's sales with this year's claims payments. So the claims rate shot up as high as 1.9% when sales were at their bleakest level.
It doesn't mean the homes were more problem-prone. It simply means that low sales rates produced high claims rates, because of how the calculation is done. In contrast, the accrual rate, which is calculated by comparing this year's sales to this year's accruals, always remained close to one percent no matter how slow sales became.
In Figure 3, the long-term average claims rate is 1.1% while the long-term average accrual rate is 0.9%. Without the aberration in the claims rate caused by the recession, both metrics would be close to 0.9%, which is more or less the industry average.
Therefore, if you're building a new home that sells for the current industry-average price of $311,000, then you should set aside the industry-average accrual of $2,850 once that home is sold, to finance its future warranty costs. Some homes cost more and require less warranty work. Some homes cost less but require more warranty work. It's up to each company to predict their own specific future warranty costs, and to then budget accordingly.
So far this year, both the industry's claims rate and accrual rate are declining. In the third quarter, both rates fell below 0.7% for the first time ever. Increasing sales are helping drive those percentages down, because now sales are rising but warranty costs aren't. Perhaps builders, having made it through the recession, are successfully applying the lessons learned to keep costs low as sales return to normal levels?
The Warranty Reserve
As claims are paid and accruals are made, they add or subtract from the balance in each company's warranty reserve fund. When unexpected events such as the Chinese drywall problems arise, they may have to make additional accruals to compensate. Once those problems are fixed, they might remove excess reserves through a change of estimate. And then there are the occasional acquisitions and divestitures that add or remove funds from the warranty reserves.
The bottom line is that the cumulative warranty reserve fund balances of the new home builders are always changing, depending upon sales, claims, and accrual rates. In Figure 4 we've tracked the total balance in all the builders' funds at the end of the past 43 quarters.
The balance peaked at $1.35 billion at the end of 2006, and briefly dipped under $600 million in the first quarter of 2013. We've been calling a bottom in new home sales for each of the past three or four years, only to be contradicted when one or more of the industry metrics hits a new low. So let's just say it appears that with this metric it also appears that the industry continues to bump along the bottom.
Figure 4
U.S.-Based New Home Builders
Warranty Reserves Held, 2003-2013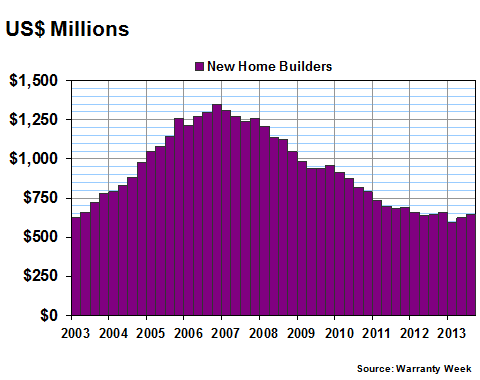 Of course, we're also losing builders along the way. In 2003 we started out by tallying claims payments made by 41 different builders. By 2008, we were down to only 28 because of industry attrition. And we've continued to lose a few more builders each year, to where only 18 remained in 2013. Some of the formerly publicly-traded builders have gone private, but most have either gone out of business or have been acquired. Hopefully, their customers' warranty claims continued to be paid through the expiration of their warranties, though some builders simply liquidated and disappeared, leaving worthless guarantees behind them.
Individual Company Metrics
Now we'd like to do a bit of an update of some warranty metrics that were included in the August 16, 2012 newsletter. By taking the amount of accruals reported by each builder per quarter, and then dividing that total by the number of homes delivered over the same period, we are able to calculate the amount of warranty accruals being set aside for each home.
For instance, let's say a builder sells 1,000 homes at an average price of $200,000 each. And let's say its accruals total $2 million. That builder's accrual rate would be one percent of revenue, based on $2 million in accruals divided by $200 million in revenue. But its accrual rate per home sold would be $2,000, based on $2 million in accruals divided by 1,000 units sold.
The rate per home sold is closer to the way a builder actually calculates its accruals. Traditionally, the builder will predict the future cost of a new home's warranty over its lifespan, and will set aside precisely that amount in warranty accruals at the time of sale. The exact amount varies between one and four thousand dollars per home, depending upon who the builder is, what kind of home it is, and what materials are used.
In other words, it varies tremendously between builders, and one builder's accrual rates can be higher or lower than another's for reasons that have little to do with the quality of the product. But for any given builder, it should not vary tremendously from one quarter to the next. In fact, the flatter the line, the better the warranty manager behind it.
In Figure 5, we've taken the quarterly accruals of Lennar over the 44 quarters from the beginning of 2003 until the end of 2013 and divided it by the corresponding total for homes delivered. As can be seen in the chart, Lennar set aside around $4,000 from 2003 until 2006, but has kept the accruals per home at or below the $3,000 level since then.
Figure 5
Lennar Corp.
Warranty Accruals per Home Sold, 2003-2013
(in dollars per quarter & per home)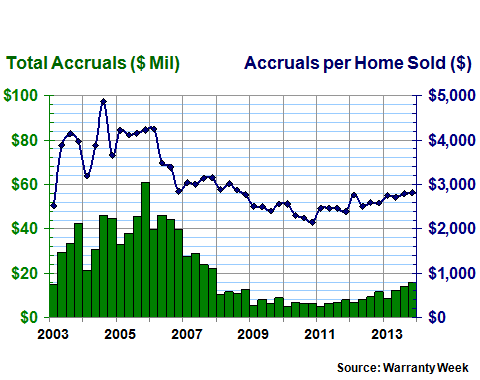 More importantly, the amount that Lennar accrued per home sold was much more stable from 2007 until 2013 than it was from 2003 to 2006. The shape of the line is a marker for warranty management skill: the flatter the better. And a downward slope is better than an upward slope, but a flat line is always better than a wavy line.
As was mentioned, the late 2005 spike in Lennar's accruals had much to do with the Chinese drywall situation. And then the recession caused total accruals to fall significantly from 2005 to 2008, although the accruals per home sold remained close to that $3,000 level through 2013. This is a sign that an adequate amount of money is being set aside to cover future warranty costs. And the relative flatness of the line from 2007 until 2013 is a marker for good warranty management practices.
Variable Accrual Rate
In contrast, KB Home in Figure 6 doesn't seem to know what accrual-per-home level is appropriate. Long term, there are a lot of data points near the $2,000 level. But along the way, the extremes go from $4.900 per home at the end of 2006 to $0 per home at the end of 2007. The good news is that accruals per home seem to have once again stabilized at the $2,000 level.
Figure 6
KB Home
Warranty Accruals per Home Sold, 2003-2013
(in dollars per quarter & per home)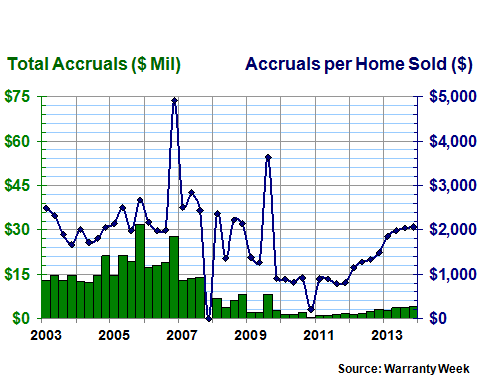 As a contrast to KB Home, D.R. Horton has over the past 11 years never accrued more than $1,750 nor less than $900 per home. In Figure 7, it's clear that the company has kept its accrual rate per home delivered very close to its long-term $1,140 average. Again, the relative flatness of the line is a sign of good warranty management.
Figure 7
D.R. Horton Inc.
Warranty Accruals per Home Sold, 2003-2013
(in dollars per quarter & per home)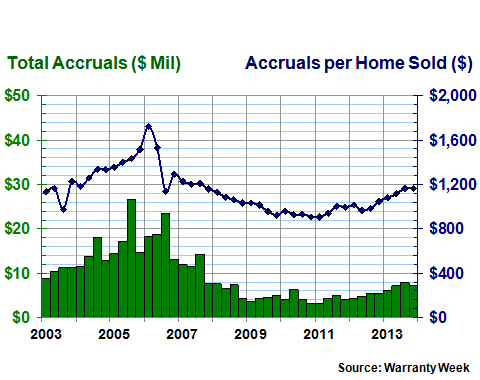 Finally, in Figure 8 we have data from the Toll Brothers. For some reason, the company details its warranty accrual totals quarterly but provides data for homes delivered only once a year. So some of the seasonal fluctuations in the chart below are caused by that anomaly.
However, one can also see that accruals are indeed done in a way where progressively more is set aside each quarter. And the accrual in the fourth quarter of 2013 was the highest since 2008, both in terms of the total ($5.6 million) and the accrual per home ($5,350).
Figure 8
Toll Brothers Inc.
Warranty Accruals per Home Sold, 2003-2013
(in dollars per quarter & per home)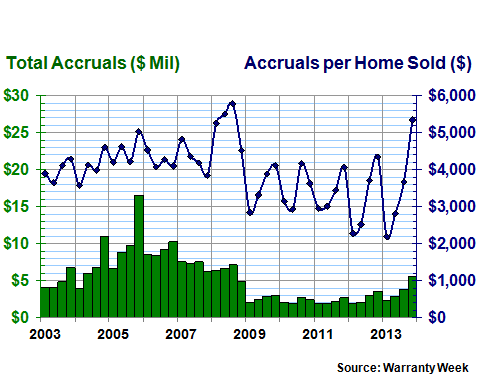 The reason we emphasize the accrual figures is because it isn't subject to any time lag, and it's an amount that can be adjusted up or down by the builder. Theoretically, the builder is supposed to estimate the future cost of the new home warranties, and then set aside an adequate amount to cover that cost when the home is sold. Theoretically, that amount should be fairly stable, as it is for D.R. Horton as well as for Lennar, at least in recent years.
Unusual Timing of Reimbursements
Theoretically, the only way a company could sell homes yet accrue nothing would be if every home were deemed to be perfect and free of future warranty cost at the time of sale. However, some companies compensate for past over-accruals by ceasing current accruals until the totals catch up. Others are factoring in reimbursements by suppliers or contractors and other timing-related issues that raise and lower the net amounts of accruals set aside each quarter.
However, as also happens when we compare accruals to sales in dollars, the accrual rate per home should remain relatively steady from one year to the next. It's the mark of a well-run warranty management operation to have a flat line when it comes to warranty accruals per home sold.